Kurt Budke: Twitter Reacts to Shocking Loss of Cowgirls' Coach
November 18, 2011
Oklahoma State University women's basketball coach Kurt Budke and assistant coach Miranda Serna were killed in a plane crash in Arkansas that took the lives of all four people aboard, according to NewsOk.com.
The devastating and shocking loss has sent shock waves throughout the sports world and the NCAA community in particular.
Many have taken to Twitter to share their grief and condolences.
Update: Friday, November 18th at 12:13 p.m. ET
Unbelievably, this isn't the first plane crash an Oklahoma State basketball team has had to endure. The Oklahoman's Berry Tramel posted an article on the tragic plane crash that the men's team sustained a decade ago.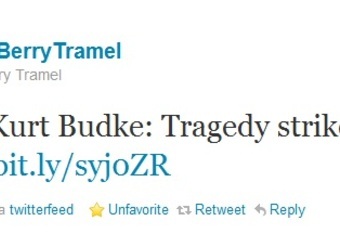 The article features this picture of the memorial.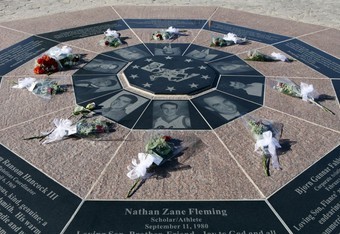 Update: Friday, November 18th at 12:05 p.m. ET
The Oklahoman's Joe Hight tweeted out the link to the Kurt Budke and Miranda Serna guest books, where people are encouraged to sign and share their condolences.

Update: Friday, November 18th at 11:54 a.m. ET
Oklahoma State's most recognizable alumni, Barry Sanders, shared his thoughts and prayers with the families of those affected by the tragedy.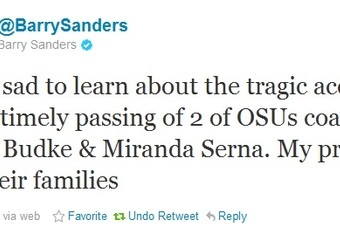 Update: Friday, November 18th at 11:48 a.m. ET
This tragedy not only affects the sports world, but also the Oklahoma community. Oklahoma governor Mary Fallin weighs in.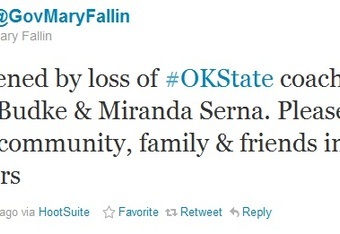 ESPN's Jalen Rose tweeting about the tragedy is a testament to just how strong the NCAA community is. Rose is now an analyst far removed from his collegiate playing days, and though he has no allegiances to the women's side of basketball or Oklahoma State whatsoever, he is still affected by the tragedy.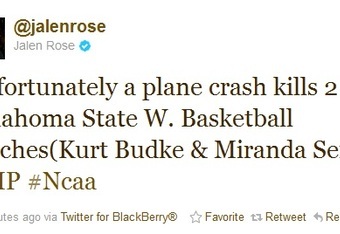 Basketball announcer Brenda VanLengen tweeted out an article containing a picture of Budke with his family. It's bad enough that tragedy stuck a talented coach. The fact that it took away a husband and father makes it that much worse.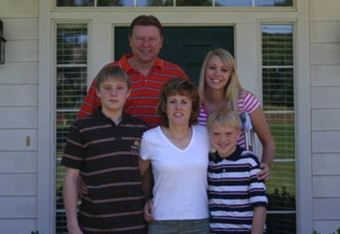 Fox16 News anchor Kevin Kelly tweeted out the official press release from the university.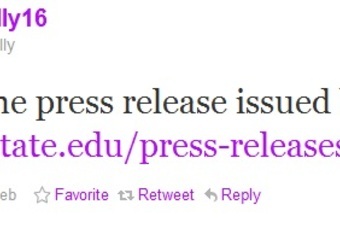 More tweets are pouring in as the sports world weighs in on this horrific tragedy, and we will be updating accordingly.