Syracuse Orange Scandal: Bernie Fine's Accusers Come Forward, Boeheim Responds
November 18, 2011
Jim McIsaac/Getty Images
The sports world has been shocked tonight with the allegations of another assistant coach molesting young men. Syracuse University basketball, similar to Penn State football in so many ways, has been rocked with allegations from Bobby Davis via ESPN that assistant coach Bernie Fine had molesteded him numerous times while Davis was a Syracuse ball boy. 
Thanks to the ESPN coverage, we now know the other accuser, Mike Lang, is Davis' stepbrother. Davis said that Fine always tried to make himself look like the father figure. Davis claimed on ESPN that Fine would tell him "just relax" as he grabbed and rubbed his legs or private area. Lang says that he spoke up to Fine and would not put up with his antics and made him feel weird.  
Davis seemed nervous on ESPN, and rightly so: If these allegations are true, Davis and Lang are going to be the undoing of one of the biggest collegiate dynasties in NCAA history. The ESPN report goes on to reiterate that Lang was picked up by police shortly after the ESPN interview.
The University has taken action already, placing Fine on administrative leave, and Kevin Quinn, Senior Vice President of Public Affairs also commented reiterating the 2005 investigation.  
Jim Boeheim released this official statement defending his longtime friend and colleague: 

"This matter was fully investigated by the University in 2005 and it was determined that the allegations were unfounded. I have known Bernie Fine for more than 40 years. I have never seen or witnessed anything to suggest that he would been involved in any of the activities alleged. Had I seen or suspected anything, I would have taken action. Bernie has my full support."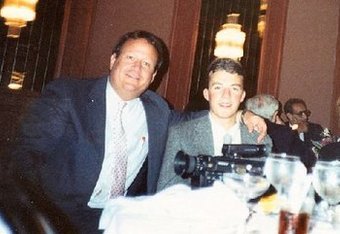 As of now, Jim Boeheim has told ESPN that Davis is "lying," timing is "suspicious," and "I know this kid, but I never saw him in any (hotel) rooms or anything," according to Jeff DiVeronica.
Boeheim continued to draw the battle lines, saying, "I believe they saw what happened at Penn State and they are using ESPN to get money"
There is still a lot of information to be uncovered, and that is the job of the police investigation that started spinning this whole story. Bottom line: The world's eye is on Cuse, Jim Boeheim is all in and this is sure to be anything but a stress-free Thanksgiving break.
For more information and news concerning the Syracuse scandal, follow @ACPregler on Twitter.