Basketball Coach Bernie Fine Being Investigated by Syracuse Police
November 18, 2011
News just came across that the Syracuse police department has opened an investigation against Syracuse basketball assistant Bernie Fine. 
Fine has been involved with the team dating back to 1963 and has been on Jim Boeheim's staff since the onset of Boeheim's coaching career. 
Bobby Davis, now 39, told ESPN's "Outside The Lines" that he was a constant companion of Fine beginning in 1983 when Davis was entering the seventh grade. The alleged actions took place at Fine's home, Syracuse basketball facilities and on road trips. 
The video and interview with Mark Schwarz, the ESPN reporter who broke the story, can be seen here and a fair warning, what Schwarz says is very graphic and viewer discretion is advised. 
The synopsis is that Davis alleged there were several other victims, and because of the lack of other sources, ESPN squelched the story in 2003. The police could not get involved because the statute of limitations had expired on Davis. 
What makes this story troublesome for Boeheim is that while the head coach may not have had explicit knowledge of these incidents, Boeheim allegedly walked in on Fine in his shorts or Davis on Fine's bed. Furthermore, no one questioned this close relationship between an adult and teenager. 
In 2005, Syracuse University looked into this matter with the official statement: 
"On hearing of the allegations in 2005, the University immediately launched its own comprehensive investigation through its legal counsel. That nearly four-month long investigation included a number of interviews with people the complainant said would support his claims. All of those identified by the complainant denied any knowledge of wrongful conduct by the associate coach. The associate coach also vehemently denied the allegations.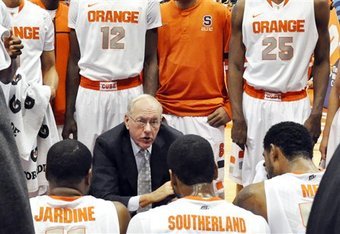 "Syracuse University takes any allegation of this sort extremely seriously and has zero tolerance for abuse of any kind. If any evidence or corroboration of the allegations had surfaced, we would have terminated the associated coach and reported it to the police immediately. We understand that the Syracuse City Police has now reopened the case, and Syracuse University will cooperate fully. We are steadfastly committed ensuring that SU remains a safe place for every member of our campus community."
There are still a good number of questions to be answered here, and I stress that this is all alleged. There is no grand jury document nor other victims coming forward as Davis is. Syracuse will more than likely suspend Fine and cooperate with the investigation.
What this investigation uncovers though, remains to be seen. 
For more information on this story, follow Twitter.