Duke Basketball: Are the Plumlees Ready to Step Up and Take on Leadership Roles?
November 17, 2011
Jonathan Daniel/Getty Images
According to Duke's Mike Krzyzewski, "In leadership, there are no words more important than trust. In any organization, trust must be developed among every member of the team if success is going to be achieved."
If this statement also applies to player leadership within the team, then are Miles and Mason Plumlee, as the headline queries, finally ready to become leaders on the 2011-2012 edition of Krzyzewski's Duke Blue Devils?
Simply put, I think the answer is "Yes."
Through Duke's first three games, including Tuesday night's 74-69 win over Michigan State which made Krzyzewski the winningest coach in the history of collegiate men's basketball, some may argue that there seemed to be little to no empirical evidence to support that contention.
In the early going, Miles is averaging six points and seven rebounds per game with one double-double. Over that same span, Mason is averaging 11 points, nine rebounds and two blocks per contest, with a double-double to his credit against Belmont.
To hoops aficionados and novices alike, these numbers may appear, well, underwhelming.
The apparent contradiction between the stats and the contention that MP1 and MP2, as Miles and Mason have been dubbed since the arrival of baby brother Marshall (MP3) at Duke, are ready to lead, however, may lie within a mistaken or flawed premise—that stuffing a stat sheet equates to leading.
In the minds of many fans, the two are absolutely correlated. Many fans perceive the players who put up the most gaudy numbers to be team's leaders on the floor.
In reality, however, this just simply isn't always the case. As Coach K postulated, leadership really derives from earning the trust of your teammates, from them being confident that you will consistently give your best and will work to fulfill your assigned role on the team. Conversely, leadership also entails trusting that your teammates will do the same.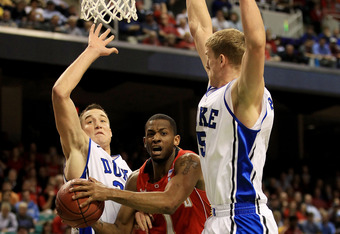 Streeter Lecka/Getty Images
Leading can manifest itself in what you say and how you say it, through your words, body language, emotions and/or in what you do, how you fill your niche on the team and how you respond to challenges and to adversity.
Most easily, and sometimes mistakenly, recognize overt exhibitions of leadership. Oftentimes, however, team leaders and the act of leading are subtle and are difficult to identify by those not intimately familiar with the culture and dynamics of a given group.
As a result, examining a very small sampling of a few measures of player game performance will likely shed very little light on whether or not players are ready to lead or are already doing so.
In the case of Miles, you first have to come to grips with this reality. While a big, talented, agile athlete, Miles is a role player. Plain and simple. Many fans look at his physicality, hark back in their minds to the hoopla of his high school days and the announcement that he had opted out of his commitment to Stanford to attend Duke instead and to the anticipation of the player that he might become and find themselves unimpressed with the player that he is today as he embarks upon his senior campaign. They just expect too much of the wrong thing from him.
But more objective eyes recognize that he is a player with a limited offensive skill set.
Yes, he can make the occasional mid-range jumper when left alone outside of the lane. And yes, he has clearly worked very hard to develop fairly sweet-looking jump hook and hook shots with either hand around the rim. And when on the run in transition or left alone sliding along the baseline from the short corner, he is capable of high-flying, rim-rattling, crowd-pleasing dunks.
But in a nutshell, that's pretty much it. That's all he has.
To be fair in assessing him, you have to accept that scoring is simply not his role on the team. Offensively, he is a screener, a facilitator and a safety valve pressure release when perimeter players find themselves in a jam with the ball.
In terms of scoring, he is simply a junk player. Every third or fourth game, because of the attention that his sharpshooting and basket attacking perimeter teammates demand, he will have a nice night and will double up. That's what we can expect, that's his role on the scoring end of the court.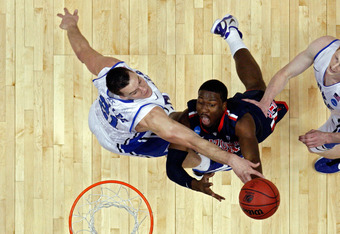 Harry How/Getty Images
The elder Plumlee's primary role is to provide a steady defensive and rebounding presence that provides depth, stability and the fruits of the experience accrued from having played bigtime college basketball for four years. He is counted upon to be a rock rather than a shooting star.
Though only very occasionally in spectacular fashion, he can be trusted and counted upon by his teammates to be there when it counts.
After all, that's what senior role players do. Keep in mind that increasingly few teams today, when the competition reaches fever pitch in March, can boast an abundance of senior experience and leadership—especially experience gained through winning championships.
Miles has been in the fray. He will be there night in and night out. He can be trusted.
Mason is the more ballyhooed of the veteran Plumlee brothers, and as a result, the target of higher expectations. His arrival at Duke was much anticipated by the post-player-starved Blue Devil faithful awaiting the next Christian Laettner or Carlos Boozer.
Though expected to make a quick and big splash as a freshman, he instead dutifully served his apprenticeship behind Lance Thomas and Brian Zoubek during the championship season of 2009-2010 and awaited his turn.
As last season got underway, Duke fans expected him to be a force. While occasional flashes teased, the year came and went, however, with the middle Plumlee's star managing to do little more than peak above the horizon. 
Even as late as last summer's exhibitions in Asia, befuddled Dukies found themselves nonplussed by his understated performances. To most observers, all of the springtime prattle regarding Mason considering an early leap to the NBA draft seemed somewhere between a stretch and a pipe dream.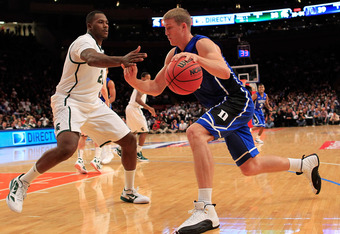 Chris Trotman/Getty Images
Enter stage 2011-2012.
With an inexperienced backcourt sans the experience and the 4000 plus points lost with the graduation of stars Nolan Smith and Kyle Singler, this Blue Devil squad needs leadership that absolutely does manifest itself in solid productivity on the offensive end in the paint.
With his pedigree and obvious talents, Mason Plumlee is expected to provide that by his teammates and coaches.
To this early point, his offensive production has increased. Evidence of the higher expectations, the expanded role and greater trust in him as a player has manifested itself in increased touches on the offensive end.
It is becoming more and more apparent that the Blue Devils plan to play inside-out through Mason Plumlee as often as they are able to get him the ball.
Based upon the strong spin move along the baseline, the jumper swished from near the free-throw line and the sweeping full hook tickling the bottom of the net, Mason Plumlee appears ready to accept that trust. He has clearly augmented, honed and gained confidence in the weapons in his offensive arsenal.
And while it has yet to manifest itself in results, his stroke from the free-throw line appears confident and much improved. As he has always been, Mason remains a gifted and willing passer who will give the ball up to a teammate with a better look.
Defensively, in addition to blocking shots, he is altering many, many more. He is rebounding the ball with authority. He possesses good instincts and anticipation of where and how the next pass will be attempted and is threat to steal a telegraphed pass to begin Duke's early offense.
All around, Mason Plumlee seems willing, at long last, to answer the bell and to accept his spotlight—one destined to be considerably larger than his older brother's. It appears as though his teammates can and do trust him to deliver, perhaps bigger some nights than others, but to play consistently on both ends of the court.
And he appears prepared to trust them in return.
This year's Duke team is a work in progress, diversely and immensely talented, but under construction nevertheless. At present, it is a team without stars and, in the eyes of some, without leaders. The second conclusion is misleading, I think.
As the players on this team develop more and more trust in themselves, in each other and of their roles on this team, this team will likely have many leaders who step forward in their own ways and within their own games, against the backdrop of team and selflessness, to lead the way in a given game.
Shooting stars shine bright for a brief time and then disappear from sight. On the other hand, trust, once developed and reciprocated, is something you can count on. It's there—rock solid. 
Miles and Mason Plumlee appear ready, willing, able and prepared to bear their share of the yoke of leadership on this Duke squad. You can count on them.