Northern Kentucky Men's Basketball Celebrates 40th Birthday, Defeats UC-Clermont
November 12, 2011
Today marked the 40th anniversary of Northern Kentucky University basketball team's inaugural game. On Nov. 12, 1971 the then Northern Kentucky State College defeated Calvary (Ky.) at Newport High School. Today, NKU defeated the University of Cincinnati-Clermont Cougars at home, at the Bank of Kentucky Center, 106-58.
NKU started with a 7-0 run, with senior guard Tony Rack scoring two three-point baskets within the first three minutes. Senior center, Deandre Nealy, followed suit and scored six points in the first seven minutes for the Norse. Ironically enough, the Norse led by 40 points at halftime. Rack said that you can't just get hyped up for the bigger opponents and that you have to be ready to play every game.
"We just have to keep it up." Rack said.
The Norse did keep up the intensity and had a field goal percentage of 52.9 for the game to the Cougars' 33.3 percent. Senior guard, Jon Van Hoose was the leader of the Norse in total points, with 17. He scored 12 of those in the first half. Van Hoose also scored two free throws, and attributes the point total to playing at home, at the Bank of Kentucky Center.
"We take a lot of pride in our building," Van Hoose said. "We like to think we shoot better here."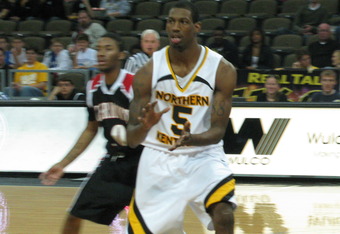 The Norse' rebounding ability in the paint was a factor, too. They had a total of 47 rebounds, to the Cougars' 30. Junior forward, Ernest "Stretch" Watson and Nealy leading the category by each getting nine boards. According to Watson though, teamwork was the most important thing in getting the win.
"I don't know about the past, but this is the best team I've ever been on," Watson said. "It's a very unselfish team."
Next, the Norse will take on Lane College at home on Nov. 18. Tip off is 7:30 p.m and the game is a part of the John L. Griffin/Lions Club Classic.