5 First Impressions from University of Arizona Basketball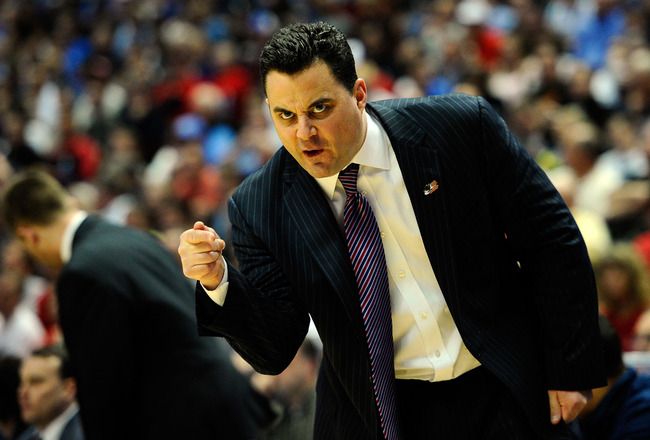 Kevork Djansezian/Getty Images
The 16th-ranked University of Arizona basketball team has gotten off to a 2-0 start of the 2011-2012 season. After unsettling home victories against Valparaiso and Duquesne, the Wildcats are still looking for their identity.
After last season's amazing tournament run on the shoulders of second-overall pick in the NBA Draft Derrick Williams, players need to step up to void his absence. Already with the No. 1 ranked recruiting class for the 2012-2013 season, coach Sean Miller is counting on some of his current freshmen to make an immediate impact.
Freshman Nick Johnson has gotten off to an impressive start, while highly recruited freshman Josiah Turner has struggled coming out of the gate.
While it is early in the season, Sean Miller has definitely learned a few things going into some better competition.
Offensive Inconsistency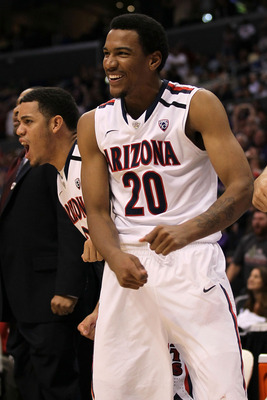 Stephen Dunn/Getty Images
Through Arizona's first two games, it is clear the absence of Derrick Williams is felt on the offensive end. His 19.5 points per game and 8.3 rebounds are a huge hole to fill, and coach Sean Miller is trying to find out who is going to step up when it really matters.
There is no doubting the Wildcats talent, but with Sean Miller's motion offense, there seems to be a hesitant feeling when the shot clock dwindles down and someone has to make a move.
Against Duquense, sophomore guard Jordin Mayes had the hot hand. Getting the start because freshman Josiah Turner showed up late to a shoot-around, Mayes went 4-7 from downtown and looked confident running the offense.
Jesse Perry earned his second double-double of the season with 11 points and 11 rebounds, after not recording a single double-double all of last season.
Perry will be leaned on heavily this season on the offensive end, along with Solomon Hill, who has looked less than impressive in the seasons' first two games.
Similar to baseball, the Arizona Wildcats might have to instill a "closer by committee," and ride the hot hand. Against Duquense, Mayes led the charge, but look for a deep Arizona roster to contribute on any given night.
Nick Johnson Is the Real Deal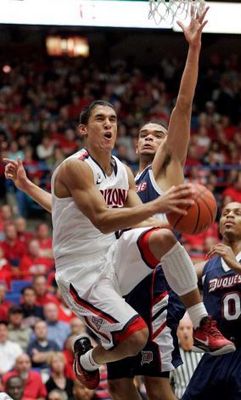 Freshman guard Nick Johnson is going to turn some heads across the nation this season. This kid has springs and is explosive getting to the rim.
Coming into the season, Johnson and fellow freshman guard Josiah Turner, make up one of the most interesting young backcourts in the country. Both with NBA potential, they are tremendously talented and give Arizona a strength they did not have last year.
In Johnson's first two games he has gotten to the free-throw line 19 times. That is an amazing rate for an Arizona team that is really struggling to find their offensive identity. Even though Johnson is a freshman in a crowded Arizona roster, look for Sean Miller to make Johnson a focal point of the offensive attack as the season progresses.
Johnson may not be able to fill Derrick Williams' shoes, but Arizona basketball will definitely have some spots in the "SportsCenter Top 10 Plays" with this high flyer.
Josiah Turner Needs to Come into His Own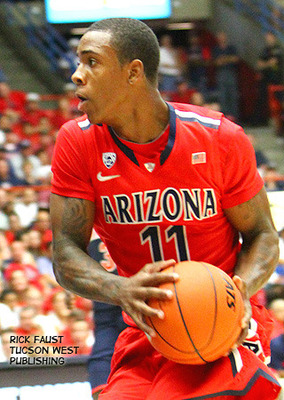 Coming in as one of the top point guard recruits in the country, Turner is struggling to produce early in the season. After starting the season opener against Valparaiso, Turner was late to the shoot-around before the Duquesne game.
Coach Sean Miller scratched Turner and let sophomore Jordin Mayes start the game, who put up huge numbers. Turner on the other hand, had a miserable game never really getting into the flow of the game.
In 21 minutes, Turner did not make a field goal and committed three turnovers, which all seemed to be costly. Most notably, Arizona got a stop of the defensive end in a tie game at the end of the first half. Turner could have slowed the ball down and played for the last shot.
Instead, Turner forced a bad pass leading to an eventual Duquesne bucket and a two-point deficit going into halftime.
Turner is adjusting and Sean Miller seems to be in his ear throughout the game. For Arizona to be successful, Turner needs to come into his own before the competition level rises.
Jesse Perry Needs to Be a Leader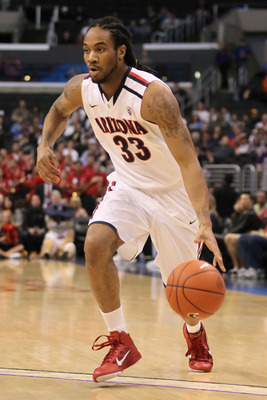 Jeff Gross/Getty Images
Last year Jesse Perry did not record a double-double all season. Perry has put up a double-double in Arizona's first two games of the year and they need him to do so consistently.
In Arizona's win over Duquesne, Perry looked especially impressive adding two blocks and controlling the boards. Obviously losing Derrick Williams on the offensive end is going to hurt the Wildcats, but his absence on defense and the glass will also be a big hole to fill.
Perry is not a back to the basket type player, but his mid-range shot is solid and his range seems to be improving. Even though he is confident in his shot, he has to attack the basket. His off the dribble game needs to be a focal point of the offense.
Last year, it was easy for Arizona to dump the ball to Williams and let him earn a trip to the line or create his own shot. Perry needs to develop leadership and skills his teammates can rely on. Carrying the team on offense will help open up shooters on the perimeter and guys like Nick Johnson cutting to the basket.
This Is a Very Deep Team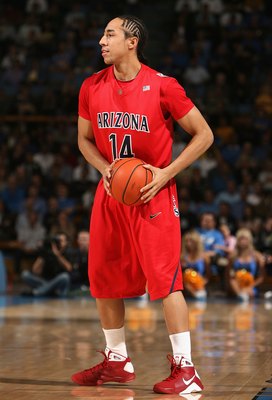 Christian Petersen/Getty Images
There is no secret in the fact coach Sean Miller loves mixing up rotations. Miller is constantly subbing guys in and out of games, getting a feel for every combination of players early in games.
Center Kyryl Natyazhko has started both games for Arizona, but only finished with six minutes in the game against Duquesne. Freshman Angelo Chol has been a pleasant surprise for coach Sean Miller, and he earned 21 minutes against Duquesne. Chol posted six points, seven rebounds and a blocked shot.
He seemed to spark the Wildcats after looking sluggish and unaggressive on the glass. Early in the season, Miller has put an emphasis on energy and effort. It almost seemed as though every player had a short leash on the court and any lack of hustle, could knock them out of the game.
Putting Chol or Jesse Perry at the center allows Arizona to play with a smaller, more athletic lineup. Having the ability to switch in two extremely talented freshmen, and a combination of a senior guard in Kyle Fogg, and sophomore standout Jordin Mayes is a great luxury.
Solomon Hill and Brandon Lavender are going to be counted on as veterans who know the offense and understand the effort Miller desires. This nine-man rotation will be enormously important come tournament time.
Teams with the deepest and most experienced benches always seem to make a long runs in March…
Keep Reading

Arizona Wildcats Basketball: Like this team?