College Basketball: Big Ten Preseason Rankings, Is Ohio State No. 1?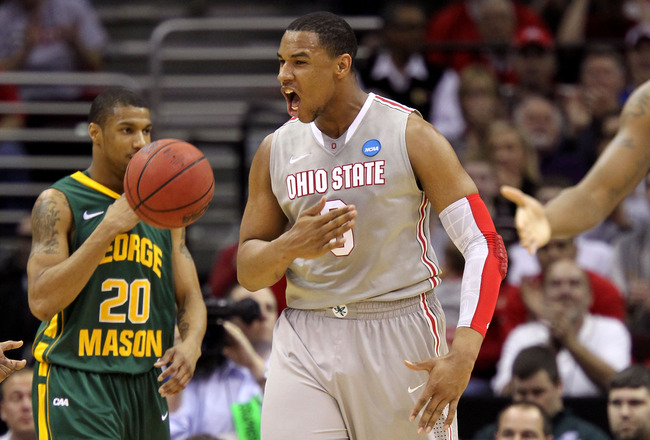 Andy Lyons/Getty Images
After a baseball-filled summer, and now some of you have your college football in, the time has come for college hoops to start back up, as most teams are already playing some exhibition match-ups.
Although there is a lot of talk about the NBA lockout, who cares? College basketball season has arrived which is bigger, better, and more exciting than the NBA anyway.
If you are ready for exciting performances, countless buzzer beaters, and upsets, then you are ready for this year.
After a strong showing last season by the conference which included many powerhouse teams, it will be a rebuilding year of sorts for the conference, but that just makes for more excitement and unpredictability.
Here is my preseason rankings of the Big Ten this season.
12. Penn State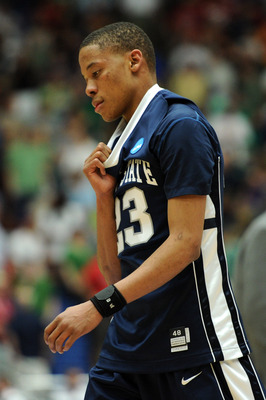 Harry How/Getty Images
Let's face it, Penn State has never really been known as being a basketball school, some believe that even the alumni have no clue there is a basketball team, but all jokes aside, they aren't going to be very good this season.
They are losing one of the best and underrated guards in the country Talor Battle, who last season averaged over 20 points per game, and could hit a jumper from anywhere.
A team that has depended on one player for the past three seasons and still not done well will struggle to find it's identity.
But not only do they lose Battle but they also lose their big man Jeff Brooks who played really well last season averaging 14 points and over six rebounds per game.
Tim Frazier is their best player returning this season. Frazier averaged almost six points per game and led the team in assists.
Penn State is going to have a rough year this season, with only one returning starter. Hopefully they can get this team built for a bright future, and finally put Penn State on the map as a basketball program.
11. Nebraska
Jamie Squire/Getty Images
Nebraska finished last season 19-12 in the Big 12 which was highlighted by a victory at home against 11th ranked Texas A&M.
They made the NIT but lost to Wichita State in the first round of the tournament.
Nebraska is returning a lot of size this season which will surely help them win a few Big Ten games this season.
Jorge Diaz will be a definite player to watch this season. The 6'11 senior could make some serious noise in the paint this year for the Cornhuskers.
With the experience they have, they should be able to compete, and could make their way up higher on this list, with a little bit of luck.
Nebraska could surprise some people this season, but I don't see them competing with the top teams, as they will more than likely finish towards the bottom of the conference.
10. Indiana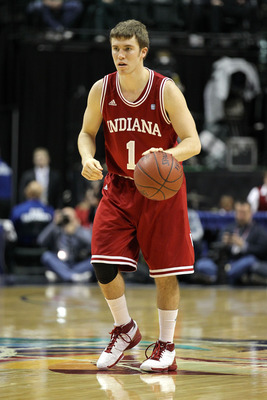 Andy Lyons/Getty Images
Indiana has a lot of hype surrounding them this season as a program that is rebuilding following its collapse in 2007, and although there is hype surrounding them, I'm not sure they are ready to be in the middle of the conference quite yet.
A lot of this hype is on incoming freshman Cody Zeller who will surely make an impact for the future of the program, but is more than likely not up to physical shape for Big Ten play, or ready for the speed of the game.
This isn't a guy like Jared Sullinger who is going to come straight out of high school and be considered one of the best in the nation.
After ending the season with nine straight Big Ten losses and only three wins in conference play, the Hoosiers are looking to improve under Tom Crean.
Look for Jordy Hulls to emerge as the leader of the team, and to really take control of all things on and off the court.
The Hoosiers may surprise me this season, but I just can't see them finishing in the middle of the conference or making the tournament again this season, which might be tough to grasp for some of the loyal Hoosier faithful.
9. Minnesota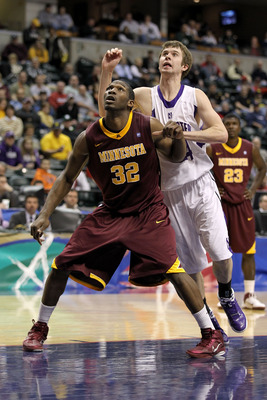 Andy Lyons/Getty Images
Minnesota is one of those teams that definitely has the potential to make the NCAA tournament, but it will take some serious motivation to make that happen.
After a disappointing 17-14 season just a year ago, they return their key players, but will need to make up for the loss of guard Blake Hoffarber who averaged 13.6 points per game last season.
They return highly touted player Trevor Mbakwe who is quite questionable everyone once in a while, but a freak athlete.
Minnesota returns a talented team with a lot of size, but the question of motivation still remains.
They seemed to almost quit on Tubby Smith last season, so we will see if the Golden Gophers can have a successful season this year.
8. Iowa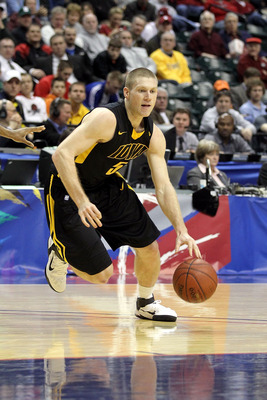 Andy Lyons/Getty Images
Iowa is one of those squads that could surprise a lot of people this season. They lose a great player in Jarred Cole but have the foundation built to have a great season.
Iowa returns their top three scorers from a season ago, and have already had success with the line-up that will be playing for the Hawkeyes last season.
Their home floor is a tough place to play and has led to a few upsets in the past few years, including then number six Purdue on senior night.
Iowa plays very physical defense and has what it takes to stop even the most prolific offensive attacks.
The Hawkeyes have all the pieces in place for a great year. The question remains if they will be able to make the tournament, but they definitely have a shot, if a few things fall their way.
7. Northwestern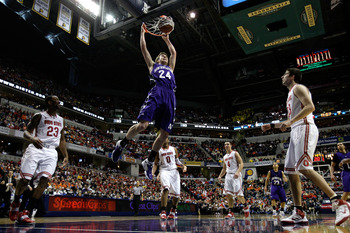 Andy Lyons/Getty Images
Oh Northwestern, it seems as though every season we talk about the Wildcats as being the only team from a major conference never to make the NCAA tournament. Well you purple clad warriors, it's now or never with the current make-up of the team.
In John Shurna's final season as a Wildcat will they have what it takes to finally get to the big dance and make headlines.
Shurna will obviously be the leader of this team again this year. If he is healthy, he is one of the best players in the conference.
Last season in an injury ridden season Shurna averaged 16.6 points per game and almost five rebounds. If he can continue this production for a whole season, he will be able to lead the Cats to the dance.
Shurna will be helped by Crawford who emerged as a player last season averaging 12.1 points per game.
Northwestern should be able to combat the loss of Michael Thompson, but will miss him on the defensive end of the court, and of course his toughness.
Northwestern is going to be a bubble team this season.
6. Illinois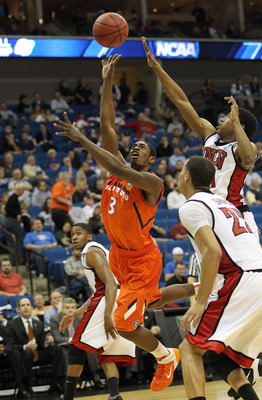 Ronald Martinez/Getty Images
The Illini are a talented squad once again this season that will also need to find an identity, but should be able to get things under control rather quickly.
Whenever you lose a player like Demetri McCamey you will struggle on the offense end. McCamey was one of the best slashers in the country and regarded as one of the best point guards in the country just a year ago.
He will definitely be missed this season by the Illini.
This year the Illini have some key pieces back, but are basically starting fresh. They have four freshman on the team which will have to come up and play.
Although they may not look the greatest on paper, this team is going to be a pretty decent squad. Look for them to make some real noise in the Big Ten this season.
5. Purdue
Andy Lyons/Getty Images
Purdue is going to definitely need to find out who they are offensively after losing two of the greatest scorers in school history, in JaJuan Johnson and E'Twaun Moore.
Although they lose these two guys, they get back Robbie Hummel, the 6'8" senior who was sidelined a season ago with an ACL injury.
Hummel will bring back leadership and his diverse style of offense to the squad this season.
Purdue also has a lot of experience with seniors Ryne Smith and Lewis Jackson also on the squad who both started a year ago, and return two juniors Kelsey Barlow and DJ Byrd.
Although they will struggle to score points towards the beginning of the season, expect the Boilermakers to be in the battle for the top of the Big Ten, with their solid defense and stiff home-court advantage, of Mackey Arena, which is one of the toughest places to play in the country.
4. Michigan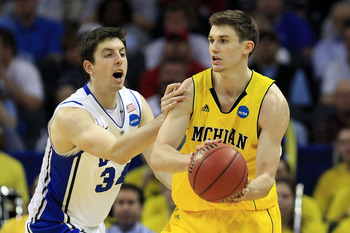 Streeter Lecka/Getty Images
It's good to see Michigan back with a great team full of talent and experience once again.
This team would probably be number two this season if Darius Morris hadn't went off to play in the locked out NBA, but this team should still be great this season.
Returning four of five starters is a plus, especially how they ended last season with a trip to the finals of the Big Ten Tournament, and a close battle with Duke in the NCAA tournament.
It looks like Michigan is set out again to make a huge impact.
Look for senior Stu Douglass to be a major leader on this team and really provide that defensive spark that is needed in the Big Ten.
If a few things fall their way, the Wolverines might be able to jump up a few spots, but they are defeinitely a lock for the tournament this season.
3. Michigan State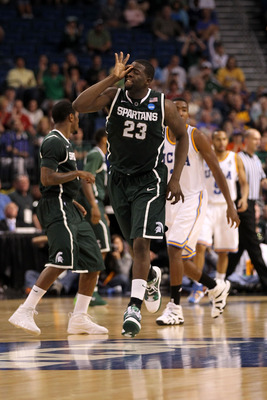 Mike Ehrmann/Getty Images
Sparty always seems to field a great team, and after a disappointing season a year ago, look for this Izzo team led by Draymond Green to be fired up and ready for a great year.
Green had a great season last year averaging 12.6 points and over eight rebounds per game.
Look for him to be the heart and soul of this team.
Along with Green expect big play from Keith Appling who will take over for Lucas and Delvon Roe.
Michigan State has a great future lined up for itself, who wouldn't want to play for the great Izzo one of the greatest college basketball coaches of all time.
This season should be a great one for Sparty, even though they have a really tough non-conference schedule.
2. Wisconsin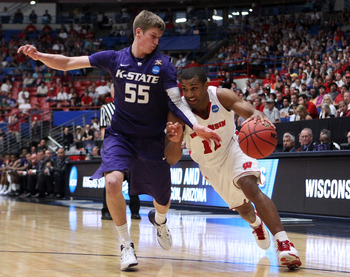 Christian Petersen/Getty Images
Jordan Taylor, that is really what you need to know about this team.
Taylor last season was by far the most underrated player in the country getting hardly any national respect, and putting up numbers, quietly.
Last year Taylor put up 18.1 points and four assists per game and can do it all. He is a tough defender and is really what Wisconsin is all about.
Wisconsin will obviously be built around Taylor this season and will of course miss Jon Leuer, but will have to make up for it.
Look for this Bo Ryan team to really be great. They are returning 3 starters and will be a team to watch out for in the Big Ten.
1. Ohio State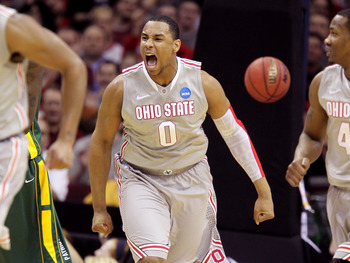 Andy Lyons/Getty Images
Well this one is a no brainer really. Ohio State is by far the best team in the Big Ten again this season and will have to really mess up to blow this conference race.
They return one of the most prolific players in the country in Jared Sullinger who could have easily went to the NBA, but decided to stay for one more season.
Last season Sullinger averaged 17.2 points and 10 rebounds last year and was just a beast as a freshman.
William Buford also returns for the Buckeyes. Last season he averaged 14.4 points per game.
Along with these two great scorers, the Buckeyes have arguably one of the best defenders in college basketball in Aron Craft at the point this season.
It's going to be tough for anyone to beat the Buckeyes this year, and they have a strong shot at not only the Big Ten title, but at the National Title.
Watch out for the Buckeyes this season.
James Evens serves as a National Featured Columnist for college football and basketball as well as the FC for the Purdue Boilermakers. Follow him on Twitter or like him on Facebook.
Keep Reading