Bill Kennedy: Texas A&M Head Basketball Coach Diagnosed with Parkinson's Disease
October 27, 2011
The thing about sports is that its fans take it very seriously.
There's nothing wrong with that, but every now and again, something happens in the sports world that reminds us all of one thing: This is just a game.
Thursday, October 27 at 7:30 p.m. EDT
ESPN's Andy Katz reports that Texas A&M men's baskeball Coach Billy Kennedy has been diagnosed with early stages of Parkinson's disease.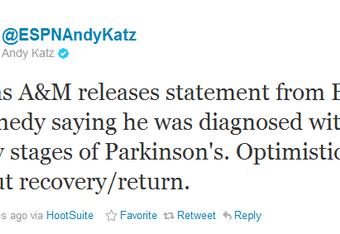 While there is reason to be optimistic about his return, nobody knows exactly when that return will come.
This season is supposed to be Kennedy's first on the sidelines for the Aggies. He was the head coach at Murray State from 2006 through last season.
Kennedy, 47, notched a 107-53 record in his time at Murray State, making it to the second round of the NCAA Tournament in 2010.
Prior to that, Kennedy was an assistant at Miami for a year. That job came after six seasons at Southeastern Louisiana, where he made the NCAA Tournament once.
Before hiring Kennedy, Texas A&M's head coach was Mark Turgeon. Turgeon made the NCAA Tournament in all four of his seasons with the Aggies, but never made it out of the second round.
The Associated Press is reporting that assistant Glynn Cyprien will coach for the Aggies in Kennedy's absence. Cyprien had previously said that he didn't expect to be the head coach for a long time, but that was before the details behind Kennedy's absence became public.
The Aggies begin their regular season on November 9 against Liberty in the Coaches vs. Cancer Classic.