College Basketball: Top 10 7-Footers in the Country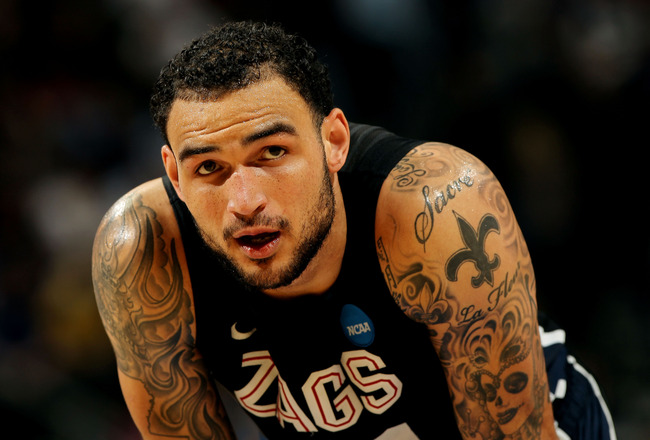 Doug Pensinger/Getty Images
One of the most obvious effects NBA early entry has had on college basketball is a dearth of true centers. Few big men with NBA bodies stick around for anything close to four years at the college level.
This season, however, there are still some true seven-footers to be reckoned with on campus. Gonzaga standout Robert Sacre, a major center in a mid-major conference, is just one of the rising-star big men scattered around the country.
Read on for a look at Sacre and nine other centers who will look to make their presence felt this season.
10. D.J. Haley, Virginia Commonwealth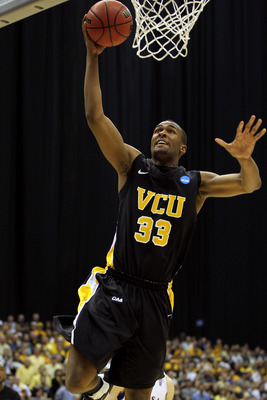 Jamie Squire/Getty Images
On last year's senior-laden Rams squad, freshman D.J. Haley served as the designated jump-ball specialist. After taking the opening tip, though, Haley was usually buried on the bench in short order.
Haley played just under eight minutes a game, averaging 1.6 rebounds in that time but attempting only 33 shots all season. Expect him to see a lot more playing time, and contribute a lot more on both ends of the floor, in 2011-12.
9. Aziz N'Diaye, Washington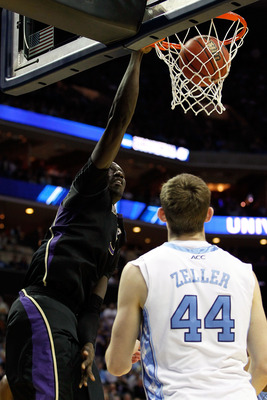 Kevin C. Cox/Getty Images
As a raw sophomore, Aziz N'Diaye didn't get a lot of minutes for the Washington Huskies. Even so, the Senegalese center finished second on the roster with 5.6 rebounds a game last season.
N'Diaye, whose 7'0", 260-lb frame is more than up to the rigors of Pac-12 play, should get more shot opportunities now that Matthew Bryan-Amaning has graduated.
He may not keep up his .579 shooting percentage, but he should be able to boost his 4.6-point scoring average considerably in his second season of playing time.
8. Assane Sene, Virginia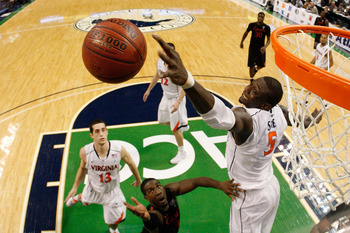 Streeter Lecka/Getty Images
Seniors Mike Scott and Mustapha Farrakhan dominated the offense for the Cavaliers last season, but Assane Sene proved himself as a valuable presence in the middle.
The 7'0", 239-lb center led Virginia with 1.3 blocks per game and was second (to Scott) with 5.5 rebounds a night.
Sene finally found his shooting touch last year after two seasons of sub-.400 field goal percentages. Now that he'll be getting more than three attempts a game, his 5.1-point average of a season ago should rise accordingly.
7. Todd O'Brien, UAB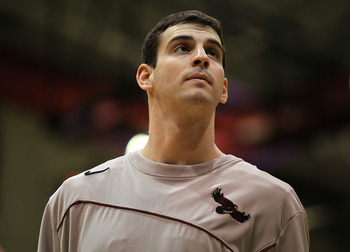 Chris Chambers/Getty Images
A fifth-year senior transfer from St. Joseph's, Todd O'Brien is expected to be eligible to play immediately at UAB. Although his 2010-11 season was hamstrung by disciplinary issues, O'Brien showed significant promise in his first two years of college competition.
As a sophomore in 2009-10, O'Brien averaged 5.6 points and 6.3 rebounds a game after transferring to St. Joe's. With Cameron Moore likely to attract the lion's share of attention in the Blazers' frontcourt, O'Brien should be a valuable complementary player in his final college season.
6. Ty Walker, Wake Forest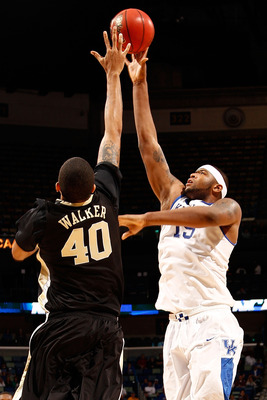 Chris Graythen/Getty Images
As many problems as Wake Forest had during last season's 1-15 finish in ACC play, the frontcourt actually showed some flashes of promise. Freshman Travis McKie was the biggest star, but center Ty Walker proved he can be a defensive force down low.
Walker recorded 2.5 blocks a game, second in the ACC behind John Henson, but only averaged 3.6 points and 3.5 rebounds a night.
With Ari Stewart gone to USC, the starting center's job is effectively Walker's to lose, and he'll have a chance to put up much bigger numbers assuming he can keep it.
5. Ryan Olander, Fairfield
At 7'0", 220 lbs, Ryan Olander isn't exactly a bruiser underneath. Last season, however, Olander showed that he knows how to use his length (especially against undersized MAAC competition).
Olander led the Stags with 6.8 boards and 2.1 blocks a game, and finished second with 10.4 points a night. With much of the same roster around him and another year of experience under his belt, it wouldn't be a surprise to see him top those numbers in 2011-12.
Image from fairfield.prestosports.com
4. Garrett Stutz, Wichita State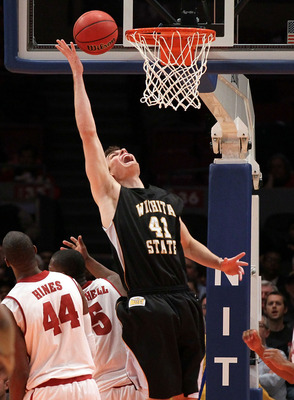 Jim McIsaac/Getty Images
Of the many players returning from Wichita State's NIT championship squad, few are as critical to the Shockers' chances this season as Garrett Stutz. At 7'0", 256 lbs, Stutz has the muscle to bang with any post player in the country.
Stutz, who averaged 7.2 points in just 14.7 minutes per game last year, is likely to pick up much of the playing time vacated by the graduation of leading scorer J.T. Durley. Expect his scoring and other stats (especially his underwhelming 3.5 rebounds a game) to jump accordingly.
3. Kenny Frease, Xavier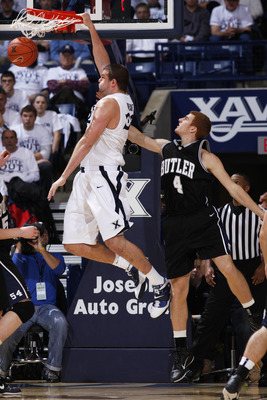 Joe Robbins/Getty Images
After languishing on the Musketeers' bench for two years, Kenny Frease finally gave Xavier something resembling an inside presence in 2010-11. Frease averaged 11.7 points and 7.1 rebounds as a complement to All-America guard Tu Holloway's perimeter efforts.
The graduation of leading rebounder Jamel McLean puts even more pressure on Frease to dominate in the paint this season. With defenses keying on Holloway, expect the Musketeers' big man to step up.
2. Robert Sacre, Gonzaga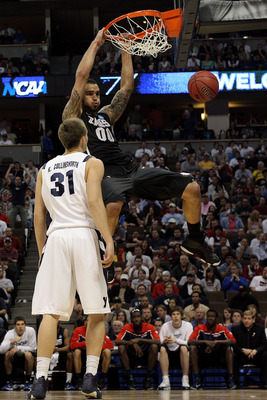 Justin Edmonds/Getty Images
Junior Elias Harris may have been Gonzaga's only representative on the preseason Wooden Award watch list, but he's far from the only serious threat in the Zags' frontcourt.
Center Robert Sacre was one of Gonzaga's most important weapons even when Steven Gray was still around to run the offense.
Sacre was second on the team to Gray last season with 12.5 points per game while leading the Bulldogs with 6.2 rebounds a night. In a lineup likely to rely heavily on pounding the ball into the post, Sacre will have ample opportunity to improve both numbers in his senior season.
1. Tyler Zeller, North Carolina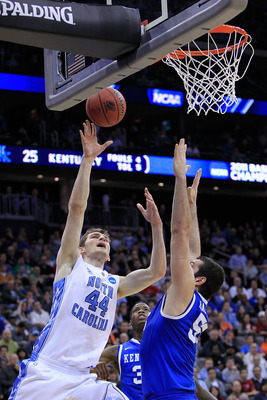 Chris Trotman/Getty Images
On almost any other team in the country, Tyler Zeller would be the defining player around whom the entire game plan is shaped. At North Carolina, he's the third-best player in the frontcourt.
Zeller averaged 15.7 points a game—tied with explosive SF Harrison Barnes—along with 7.1 rebounds and 1.2 blocks (second in both categories to ACC leader John Henson). As tough as it is to stand out in Chapel Hill, though, Zeller will still be the country's best true center in 2011-12.
Keep Reading