College Basketball: 5 Can't Miss Non-Conference Games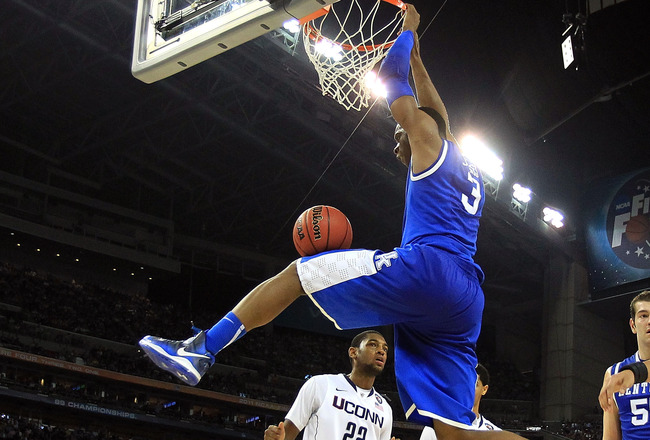 Streeter Lecka/Getty Images
Before I start, I would like to thank the NBA owners and players.
Their arguing over revenue sharing and salaries will result in one of the best college basketball seasons in over 30 years.
The players that would have normally decided to "test the waters" have decided to come back for another year, and even some players that normally would have jumped at the first chance to play professionally have decided to come back for another shot at a title.
The fear mongering of the owners and the empty wallets of the players will result in one of the best college basketball seasons in a really long time.
Not only does this season promise to have off the charts talent, but the non-conference schedule promises to have off the charts games. Here are the five best non-conference games.
North Carolina at Kentucky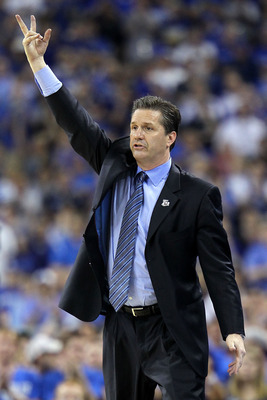 Andy Lyons/Getty Images
Besides the mega matchups of the late 1970's and early 1980's featuring Jordan, Sampson, Ewing, Bias, Bird and Johnson this year's matchup in Rupp Arena between North Carolina and Kentucky might be the most pro talent we have ever seen on a college floor.
Kentucky has five lottery picks on their team (Teague, Lamb, Gilchrist, Davis and Jones) and seven draft picks overall (Teague, Lamb, Miller, Gilchrist, Jones, Davis and Wiltjer.)
North Carolina matches the Wildcats with five potential lottery picks (Barnes, Zeller, Henson, McAddo and Marshall) and has six potential drafts picks overall (Barnes, Zeller, Henson, McAddo, Marshall and Hairston).
This game also has great storylines:
Can Calipari's freshman first rounders keep up with the skilled veterans of Williams Carolina team?
Will UNC get off to a quick start to try to avenge their shocking loss to the Wildcats in the Elite Eight last season?
How will Kendall Marshall be able to deal with the speed of Marquis Teague?
Who on Kentucky's team will be able to guard Harrison Barnes?
Who wins the matchup between Anthony Davis and John Henson?
Will Terrence Jones avenge his mediocre regular season performance against the Heels last season?
Will Carolina's depth be a huge advantage against the Wildcats?
Have these games started to be so good that we have to consider Kentucky and Carolina a rivalry?
Will this be a preview of the national championship game?
This is probably going to be one of the most hyped games in recent college basketball history.
Its John Calipari's most talented team ever against Roy Williams' most talented team ever.
It's the one and dones against the run and guns, it's dark blue against light blue, it's the SEC's best against the ACC's best, it's the vacated against the vindicated, but most importantly, it is a matchup of two of the most talented teams in modern college basketball history.
You might not want to watch, but you probably will not be able to take your eyes off the talent on the floor.
North Carolina vs. Michigan State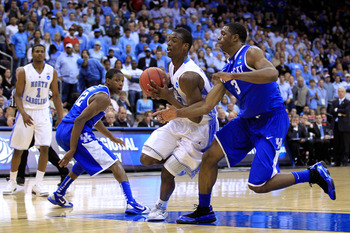 Chris Trotman/Getty Images
This is a game that may be far more radical than it is actually competitive.
The game will be played on an aircraft carrier instead of in an arena.
The game will be attended by the likes of Barack Obama, James Worthy and Magic Johnson instead of being attended by a bunch of obnoxious college kids.
The game will serve as a way to honor our veterans instead of just being a normal two-hour college basketball game.
Even though North Carolina should be able to beat Michigan State by at least 15 points, this really is not what this game is about.
This game is about honoring our veterans through sports, giving our president a break from discussing job plans and unemployment and playing on an aircraft carrier instead of in front of a wine and cheese crowd in East Lansing or Chapel Hill. Most importantly, this game is about these veterans being able to see one of the most talented teams in college basketball history in action.
And to think that just watching a game on an aircraft carrier itself was going to be a once in a lifetime experience…..
Louisville at Kentucky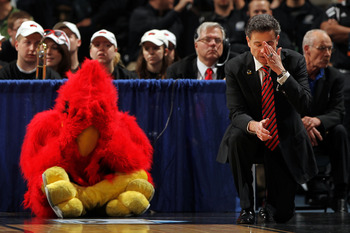 Doug Pensinger/Getty Images
The Kentucky-Louisville rivalry was already pretty big when it was Rick Pitino versus Tubby Smith.
But now that it is Rick Pitino against John Calipari, the rivalry might be the best in the country.
Pitino and Calipari have taken jabs at each other throughout the offseason.
Calipari thinks that Kentucky is the only basketball program that really matters in the state of Kentucky.
Pitino thinks that Calipari is just jealous of his accomplishments at Louisville.
Calipari thinks that he has already accomplished more in his two years at Kentucky than Pitino has accomplished in his almost decade at the University of Louisville.
If Pitino and Calipari end up fighting over a woman, then this might be more One Tree Hill than it is a game of basketball.
Duke at Ohio State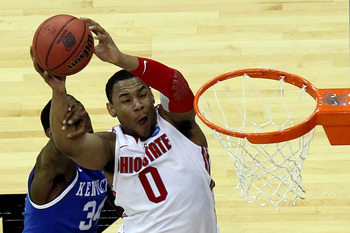 Nick Laham/Getty Images
A matchup that should not only tell us a lot about both teams, but a lot about what style of basketball is more effective in 2011.
Duke has the best backcourt of the nation and should be one of the best three-point shooting teams in the country once again.
Ohio State, on the other hand, is one of the most physical teams in the country, and an improved Jared Sullinger should not only be one of the best big men in the nation, but he should also be one of the best players in the entire country.
If Ohio State wins, they are a legitimate Final Four contender that proves that the 2012 title might be won from the post.
If Duke wins, they have an argument that they are the best team in the ACC, and they will prove just how important good guards and three-point shooting are to a deep tournament run.
Vanderbilt at Louisville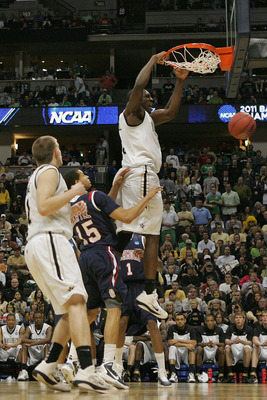 Justin Edmonds/Getty Images
Vanderbilt may have one of the best starting fives in all of college basketball.
Brad Tinsley has a chance to be an all-SEC point guard, John Jenkins and Jeff Taylor are two of the league's best three point shooters and could also be all SEC players, Lance Goulbourne looks like he will be one of the teams better defensive big men, and Festus Ezeli is one of the best post players in America.
Louisville, on the other hand, has one of the deepest teams in all of America
The Cardinals can go two deep at just about every position and will once again be one of the nation's best defensive teams.
This game will show us if Louisville depth can win over Vanderbilt's individual talent, and it should be a very interesting matchup.
Follow me on Twitter.
Keep Reading