KU Basketball: Jayhawks Playing Professional Basketball Overseas
Elsa/Getty Images
With the NBA regular season in doubt, NBA players are hedging their bets by signing opt-out contracts with overseas clubs. From Turkey to Russia, Italy to Israel, overseas leagues are filling up with NBA talent.
Now is a perfect opportunity to branch outside the NBA and locate NCAA fans' favorite alumni players who have made careers playing basketball overseas.
At the plate: Kansas Jayhawks
Keith Langford: $$$$$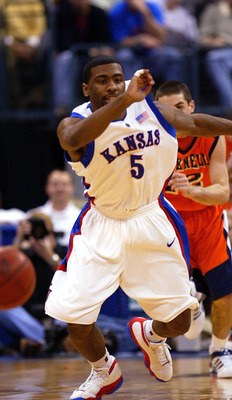 Ronald Martinez/Getty Images
For those that don't know, taxes are handled much differently in Europe and Eastern Europe than in the U.S. No one takes advantage of this more than Keith "Freeze" Langford.
Langford went undrafted in the 2005 NBA Draft, and after stints in the NBDL and with the San Antonio Spurs, found himself playing for Virtius Bologna in Italy. While in Italy, Langford helped the club win the EuroChallenge championship and was named MVP of the EuroChallenge Final Four.
In 2009, Langford signed a two-year contract with Khimik Moscow in Russian League worth $2.6 million net income. If that's not enough, in 2011, he gained a four-year extension from Khimik Moscow worth $9.4 million guaranteed, after taxes.
Aaron Miles: The Universal Floor General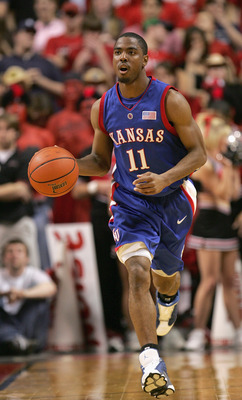 Ronald Martinez/Getty Images
As the Oregon 4A Player of the year his senior year, Aaron Miles ran the point for Kansas for four seasons and is the current career leader in assists for Kansas (954).
After being an undrafted rookie free agent with the Golden State Warriors, Miles played for a laundry list of overseas clubs from 2006-2010.
Miles won the French National Cup Championship in 2006-2007 with the French League Club Elan Bearnais Pau-Orthez. He also played for the Spanish ACB club Cajasol Sevilla and the Greek League team Panionios in the Euroleague.
Last season, Miles returned to the summer league for the Golden State Warriors, but wound up in the NBDL playing for the Bakersfield Jam.
Sasha Kaun: The Cold War 2.0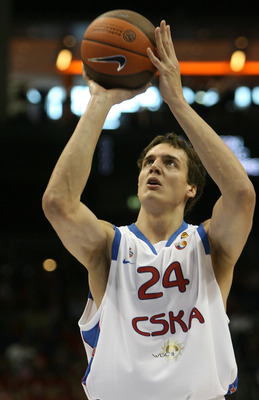 Matthias Kern/Getty Images
This three-time Academic All Big 12 Member Sasha Kaun was born in Tomsk Russia. Surprisingly enough, after being drafted 56th overall in the 2008 draft by the Seattle Supersonics, he returned to Russia to play.
His first contract, with Russian Superleague A Club CSKA Moscow (pictured above), was worth 2,700,000 euros over three years. Additionally, Kaun is a member of the senior Russian National Basketball Team.
At only 26 years old, Kaun has played in the PBL, Euroleague, VTB United League and the Russian Cup.
Sherron Collins: The Puerto Rican Pirate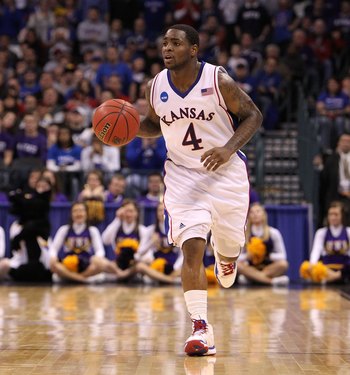 Ronald Martinez/Getty Images
As an NCAA All-American, Sherron Collins led Kansas to a national championship in 2008. After going undrafted in the 2010 NBA Draft, Collins signed a free agent contract with the Charlotte Bobcats.
He has since played in several countries, most notably for the Hacettepe Universitesi club in the Turkish Basketball League.
Collins also played for Lietuvos Rytas in Lithuania alongside D.J. Strawberry and the Quebradillas Pirates in Puerto Rico.
Wayne Simien: The Missionary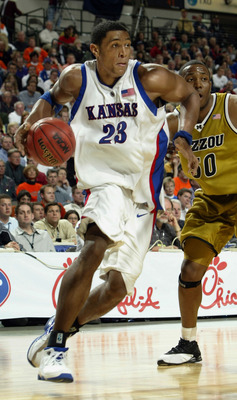 Brian Bahr/Getty Images
Wayne Simien was a two time All American, Big 12 Player of the Year, Lowes Senior CLASS Award Winner and member of the Miami Heat NBA Championship Team in 2005-2006.
Because of several injuries (hamstring, knee) and a rare case of salmonella infection, Simien found himself outside the NBA.
In 2008, Simien signed with Spain's Caceres 2016 Basket, which competes in the country's second level the Liga Espanola de Baloncesto.
In May of 2009, Simien retired from professional basketball in order to pursue work in Christian ministry.
JR Giddens: The Troubled Talent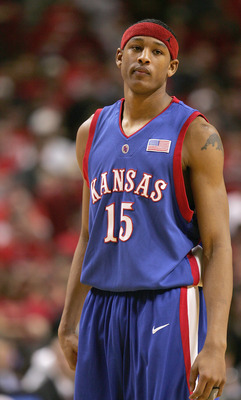 Ronald Martinez/Getty Images
I know, I know, J.R. Giddens isn't technically a Kansas Alum. He transferred to New Mexico after his sophomore season with the Jay Hawks.
Giddens had a rocky relationship with new coach Bill Self and was involved in a bar fight in Lawrence where he was stabbed in the leg and required 30 stitches.
Still, I remember him more for his All-Big 12 Freshman honors than anything at New Mexico.
After stints with the Boston Celtics and New York Knicks, Giddens spent the 2010-2011 season with Asseco Prokom Gdynia in Poland and currently plays for PAOK Thessaloniki of Greece.
Keep Reading

Kansas Jayhawks Basketball: Like this team?