North Carolina Basketball: Analyzing UNC's Toughest Non-Conference Games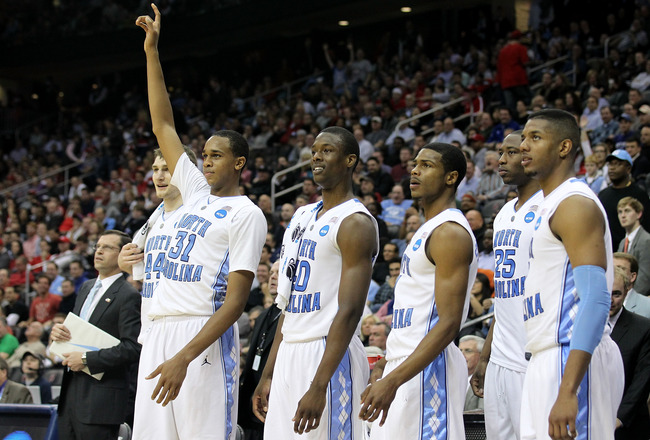 Nick Laham/Getty Images
The North Carolina Tar Heels are expected to have a great 2011-12 season.
The ACC will certainly provide the usual competition for UNC, with teams like Duke, Miami and Maryland poised to have great success.
The Tar Heels will also be tested in the non-conference slate of their schedule as well. North Carolina will play against some inferior competition before ACC play begins, but it also has a handful of non-conference games against high-profile programs.
With that in mind, let's explore UNC's toughest non-conference games for the 2011-12 season.
Michigan State (November 11)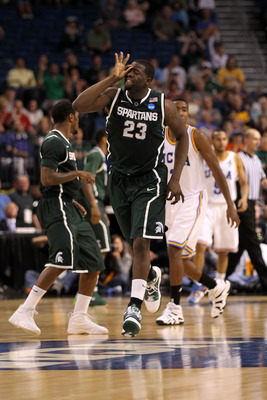 Mike Ehrmann/Getty Images
In an extremely unique game, the North Carolina Tar Heels will go up against the Michigan State Spartans aboard the USS Carl Vinson in San Diego, Calif.
Both teams will be faced with whatever challenges the environment provides, and the fact that the game will be played outdoors is interesting, regardless of the competitors. Having said that, UNC and Michigan State are both elite teams, so the game will draw tons of media attention.
The Spartans are led by Draymond Green, a multi-talented senior who will be a force at the forward position.
The backcourt was poised to be relatively weak, but MSU landed transfer Brandon Wood via Valparaiso. The senior guard averaged 17.2 PPG in two seasons for the Crusaders, and he will make an immediate impact in the Big Ten. Wood and sophomore Keith Appling will form a potent backcourt combo.
UNC will be able to win this game if it can take advantage of Michigan State's inexperienced big men. Adreian Payne, Derrick Nix and Garrick Sherman have yet to play up to their potential, and John Henson and Tyler Zeller should be very effective.
Watching the Harrison Barnes and Draymond Green matchup will be fun, and this game will surely not disappoint viewers. I expect UNC to win, but the final score will be close.
Wisconsin (November 30)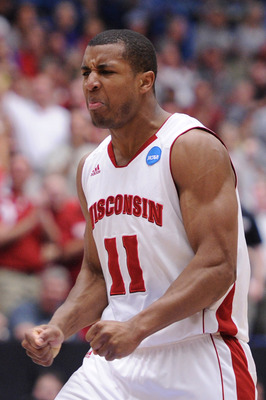 Harry How/Getty Images
The Wisconsin Badgers only return one double-digit scorer from last season in Jordan Taylor, who is an outstanding player and leader. He averaged 18.1 PPG last season and will be expected to carry the scoring load for Wisconsin in 2011-12.
In the backcourt with Taylor will be Josh Gasser, who will look to build off of a solid freshman campaign. The Badgers' backcourt will be able to matchup with almost any opponent in the nation.
Wisconsin's frontcourt, however, will be extremely inexperienced. The Badgers lost Jon Leuer and Keaton Nankivil, two productive bigs from a season ago, and they will be difficult, if not impossible, to replace.
Wisconsin always takes care of the ball, so it will be interesting to watch the Tar Heels' fast tempo pitted against Bo Ryan's disciplined team. The Badgers take care of the ball better than any team in the nation year after year, so they should be able to give UNC a good fight.
The Tar Heels will simply out-talent the Badgers in this game and could win by double-digits.
Kentucky (December 3)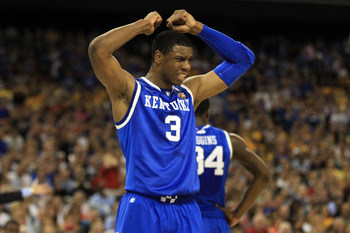 Streeter Lecka/Getty Images
This game consists of the finest teams in the ACC and SEC, and perhaps even the finest teams in the entire country. North Carolina and Kentucky both have illustrious basketball histories, and each team has the potential to bring an NCAA title to its respective campus.
The Wildcats return super-sophomores Terrence Jones and Doron Lamb, two players who proved to be extremely capable of playing at elite levels last season. Jones could be the best player in the nation, and he and Harrison Barnes will be matched up all game long.
Along with Jones and Lamb, senior Darius Miller was a double-digit scorer from a season ago. These three players alone provide Kentucky with more experience than it has had in past years.
As usual, John Calipari brought in a talented group of freshmen, headlined by Marquis Teague, Michael Gilchrist and Anthony Davis, who will all look to contribute right away for the Wildcats.
This game will take place about a month into the season, so if Kentucky is running on all cylinders, this could be the Tar Heels' most difficult game of the year.
It could even be a preview of the national championship game in April.
Texas (December 21)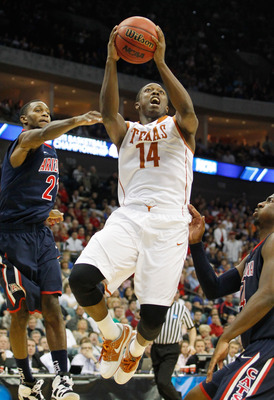 Tom Pennington/Getty Images
While this season will be a rebuilding one for Texas, the Longhorns still have plenty of talent. It will be nearly impossible, however, to make up for the loss of Dogus Balbay, Gary Johnson, Tristan Thompson, Jordan Hamilton and Cory Joseph.
The Longhorns do return J'Covan Brown, who is a very talented scorer, despite a shot selection that is oftentimes horrid. The freshmen arriving at Texas are very talented, especially Myck Kabongo, the second-ranked point guard in the 2011 recruiting class.
Along with being a special player, Kabongo is an exceptional leader, so his savvy style of play could help the young Longhorns win some close games this season.
His leadership alone, however, won't be nearly enough to stop the high-powered Tar Heels, and the experienced UNC squad will likely win big over a young, yet potentially dangerous, Texas team.
Keep Reading

UNC Basketball: Like this team?