Arizona Basketball: Parrom's Accident Leaves the Wildcats Thin on the Wing
September 30, 2011
Stephen Dunn/Getty Images
Kevin Parrom is alive and doing okay. That is what is most important.
Parrom was shot last weekend during his trip home to NYC.
The Arizona Wildcats breathed a collective sigh of relief when it was reported that he left the scene of the accident in stable condition.
What is not clear at this point is the prognosis for Parrom's recovery in terms of basketball.
Parrom (7.6 ppg; 3.4 rpg; 2.0 apg) was a key player off the bench for the Wildcats (30-8; 14-4 Pac 10) last year.
The forward from the Bronx not only logged 20 minutes per game, but he filled a vital role as defensive stopper/enforcer.
Ever since coming to Tucson two years ago, when he enters a game, Parrom's toughness and determination have been contagious. He gives the Cats a swagger that influences everyone else's play.
If Parrom is not ready to go as practice starts in just a few weeks, how big of an impact will that have on Arizona's attempt to defend their 2010-11 Pac 10 regular season title?
The immediate answer to that is Parrom's absence would leave Arizona a little thin on the wing.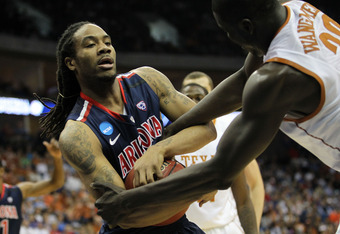 Ronald Martinez/Getty Images
It's pretty much a given that junior forward Solomon Hill (8.0 ppg; 4.7 rpg) will start again at SF.
However, head coach Sean Miller does not have another true SF on the roster.
If Parrom isn't able to go, Miller will be forced to go in one of two directions.
Miller could slide senior power forward Jesse Perry (pictured; 6'7" 210 lbs; 6.7 ppg; 4.4 rpg) over for spot duty on the perimeter when HIll needs a breather. Perry is more than capable of defending forwards on the wing.
Miller could also go with a three-guard approach for a stretch.
Kyle Fogg (6'3 180 lbs), Jordin Mayes (6'2 185 lbs), and Brendon Lavender (6'5" 215 lbs) return. The additions of super-freshmen guards Josiah Turner and Nick Johnson provide talent, depth and options.
The issue is not having bodies to put on the floor. The concern is: With already having to reconfigure the Wildcats attack because of the departure of sensational sophomore Derrick Williams, Miller needs someone to step up and bring physicality and tenacity to the Arizona lineup. 
Get well soon, KP!