Could Baylor Have National Player of the Year Winners in 3 Major Sports?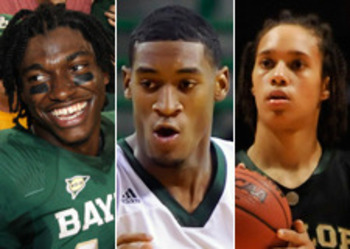 Robert Griffin III, Perry Jones III, Brittney Griner
If you are a diehard Baylor Bear athletics fan, this is the year you have been waiting for your entire life.
Robert Griffin III has started off his junior season in fantastic fashion, leading the team to a 3-0 start while posting statistics that you wouldn't even find in video games.
The Bears men's basketball team is being hyped as the preseason Big 12 champion, and Perry Jones III is being touted as the Big 12 Player of the Year.
The Bears women's team is headlined by Brittney Griner, last year's National Defensive Player of the Year. This year, she is predicted to be the 2012 Women's National Player of the Year, while the Lady Bears are looked at as the team to beat for the national title.
Robert Griffin III

RGIII is an early Heisman candidate

Robert Griffin III has gotten off to a fantastic start in his junior football season. First, he led Baylor to a 50-48 upset victory over TCU, throwing five touchdown passes in the process. Over the next two weekends, the Bears rolled to victories over Stephen F. Austin and Rice, with RGIII tossing for eight more scores, and running for another.
He has evolved into an early Heisman front-runner, throwing more touchdown passes (13) than incomplete passes (12). He has an incredibly strong arm, and has shocked the nation with his passing accuracy improvement coming into this fall.
He has the running ability of Michael Vick, and is also a potential Olympic track runner. If he continues his rapid improvement over the course of the season, look for him to climb Mel Kiper's Big Board for the 2012 NFL Draft.
Though the chances of Baylor winning a Big 12 title may not be favorable, Robert Griffin shredding through the top-notch conference could still sway a majority of Heisman Trophy votes his way.
Perry Jones III

Perry Jones III killing it in high school

As perhaps the most hyped incoming freshman in college basketball last season, and most certainly the most hyped Baylor Bear basketball recruit in the history of the school, Perry Jones did not disappoint. The 6'11" combo forward posted season averages of 13.9 points and 7.2 rebounds, while showing his extreme versatility.
After turning down a chance to be a lottery selection in the 2011 NBA Draft, Jones surprisingly announced that he would be returning to Waco. Immediately, Baylor landed in the preseason top 10 teams in America, and Jones is being projected as a potential 2012 All-American and NBA Draft top five selection.
Don't be shocked if he averages a double-double for the Bears, while leading them deep into March. If that's the case, look for the Naismith Award to make its way deep into the heart of Texas.
Brittney Griner

Brittney Griner is a once-in-a-generation talent

The Lady Bears landed a once-in-a-generation talent when Brittney Griner chose to attend the Waco school in 2008. Not only is she a towering 6'8", a rarity in the women's game, but she also dunks often, and with force.
This is what sets her apart from the rest of the competition.
As a sophomore, she was named the 2011 Women's National Defensive Player of the Year. This year, she is the front-runner to win the Wade Trophy, awarded to the nation's top NCAA women's basketball player.
Her statistics last year included 23 points and 7.4 rebounds per game. Also, she averaged an astounding 4.6 blocks per game. The scary thing is that this season, look for all of her statistical averages to go up.
With the supporting cast she has, a 2012 National Championship is likely, and if that is the case, so is the Wade Trophy.
Keep Reading

Baylor Football: Like this team?