College Basketball: Five Keys to Success for Georgia State in 2011-2012
Brian Bahr/Getty Images
It has been a few years since the Panthers had much to celebrate on the hardwood. The 2001 NCAA Tournament is a distant memory to most.
The Georgia State Panthers are usually cellar dwellers when it comes to basketball. Many sites and services are already rolling out their preseason predictions, and while everyone acknowledges positive changes have been made, the Panthers still have a long way to go.
There are a lot of questions swirling around the program this offseason, so we take a look at five key factors that can make or break the upcoming season for GSU.
Begin Slideshow

»
The 6'6", 230-lb redshirt senior was probably the biggest victim of the puzzling substitution patterns employed by previous head coach Rod Barnes. McGee went off for a team season-high 31 points against Northeastern on February 12 but only saw seven minutes of action, with one attempted shot, in the next game against Old Dominion. Only one person on the team (Eric Buckner) made more shots and had more rebounds, yet McGee only started 10 out of the Panthers' 31 games.
McGee is a nightmare matchup for just about every lineup in the CAA. He has size and speed and can rebound and shoot the three extremely well for a big man (35 percent last year). With McGee capable of going off for 30-plus points a night, coach Ron Hunter cannot let this weapon sit on the bench. McGee is a double-double threat every time out, and the Panthers need stat-sheet fillers.
When Barnes was fired, a lot of people pointed to his handling of McGee as one of the reasons why. If Hunter can convince him to buy into his system, McGee could very well compete for All-CAA honors.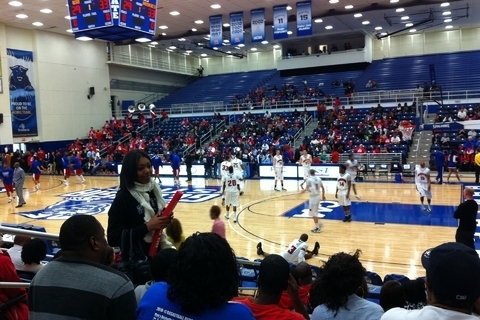 The GSU Sports Arena is already one of the smaller D1 arenas in the country, seating 3,455, and the recent program struggles have made it seem even smaller. GSU had the lowest attendance average in the CAA this past year with 915 people per game.
With the level of play the Panthers face every day, any advantage they can get is huge. Playing in front of at least half-capacity crowds would be a monumental improvement to the atmosphere. Players are fueled by crowds, and it cannot be easy to get fired up for a empty arena.
Not to mention the effect that it could have on recruiting. Coach Ron Hunter is already bringing in some of the best talent in the country for visits, and the last thing they want to do is play in front of 900 people when they could easily play elsewhere in front of 8,000 fans every night.
If fans show up in decent amounts, GSU basketball could be poised to take off—or at least win those buzzer-beater games that never seemed to go the Panthers' way.
There was not a more frustrating player to watch last season than Buckner. He seemed to flourish when given the ball in the open court and seemed to disappear other times in Barnes' slow-motion offense. And a player of Buckner's skill set should never be allowed to disappear.
He led the team in scoring nine times throughout the year and was the only player to reach the free throw line more than 100 times. He also led the team in rebounds and shots made, but again with a defensive-minded coach Buckner only managed to put together 9.4 points per game and 5.6 rebounds per game. To win at a high level consistently Buckner is going to have to contribute more than that.
Given the up-tempo style that Coach Hunter will look to employ, Buckner could be in for a monster year.
If Buckner can continue to be a fierce rebounder and disrupt shots (team-leading 49 blocks), then this new offensive system should maximize his basketball potential. The Panthers do not need him to score 25 a night, but solid contributions in the range of 15 and eight alone should net the Panthers two to three more wins.
MVP. Captain. Engine. Boss. General. Whatever you want to call it. I typically call these players THE Man on their team. In my humble opinion GSU has to have strong play from Mr. White to compete. He has to play to the level everyone knows he is capable of playing at. He, as a sophomore, has to run a team with seven seniors.
Last year Devonta White was playing like he was going to run away with CAA Rookie-of-the-Year honors. And then a horrible ankle sprain forced him out for over a month, and the Panthers went on to lose eight of the next nine games. The offense was just starting to really gel, and suddenly the flow was disrupted beyond repair.
With a guard-heavy roster, White will have plenty of people vying for his job, but if he does what he showed flashes of in his shortened season then expect to be amazed on a nightly basis. He showed a high basketball IQ and rarely made offensive mistakes.
I am not saying he will garner All-CAA honors just yet, but White has enough talent to compete with anyone in the conference. What he lacks in size he makes up for in smarts and tenacity. If he stays healthy there is no way the Panthers would have finished 12-19 last year.
With the weapons at his disposal this year and a offense that could really suit his abilities, there is no telling what White can accomplish. I think he could very well put up 12 points and five assists a game. If this offense works like Hunter claims it will, he could put up twice that, but I will play the conservative game.
Mark it down, if Devonta White is healthy all year, the Panthers will have their best record since Lefty Driesell.
If new head coach Ron Hunter can do half the things he wants to with this program, he will be the winningest coach in GSU history. Period. He has a complement of scholarships to lure recruits in next year and already nabbed a verbal from his son RJ, who could have picked from just about whatever major program he wanted. He brought in Tony Kimbro, Jr. this year in the late signing period and has Manny Atkins taking a redshirt after transferring from Virginia Tech.
After 17 years at Indiana University - Purdue University Indianapolis he put together a 293-219 record with a 106-56 Summit League record. He knows a thing or two about building teams too, as he was the head coach for IUPUI's transition from NAIA to D1. And Hunter still found ways to win. In those 17 years his teams experienced only three losing seasons, and those came during their independent period. He even took his team to the NCAA Tournament in 2002, just their fifth year as a D1 program.
He brings a fast-paced style of play that should work favorably in the CAA, especially with the current players on the roster. It is almost as if Barnes knew that Hunter was coming in after him so he helped by recruiting players fit to run. At his introductory press conference he vowed to "never let the shot clock run out." If that is the case GSU could put up big numbers.
He left a job he would never lose. He changed geographic regions. He left a good gig for a gig most coaches would not touch with a 10-foot pole.
He saw something. He had some hope he could change things down in Atlanta. Let us just hope he was right.