ACC Basketball: What's Happening to Wake Forest Basketball?
September 24, 2011
Wake Forest's men's basketball team, it seems, has always been on the losing end of things.
Never have they won a national championship, unlike the other three Tobacco Road schools. They've only made the Final Four once, and they consistently seem to come up short of expectations.
Even with a starting line up featuring three NBA players, Jeff Teague, James Johnson and Al-Farouq Aminu, and a solid supporting cast, the Demon Deacons could not make it past the first round of the NCAA tournament. But recently, it seems, Wake has hit a new low.
One season after the aforementioned early exit, Dino Gaudio was fired from his position as head coach and Jeff Bzdelik was hired to replace him. Before Bzdelik could even coach a single game, starting center Tony Woods was kicked out of Wake Forest on charges of physically abusing the future mother of his child.
The outlook did not improve from there as the team went 8-24 and had the lowest RPI in ACC men's basketball history. In most programs this would be considered the absolute lowest point, but Wake just could not catch a break.
Even after the worst season in team history, the team is only looking worse this year.
Ari Stewart, the starting small forward, has fled for the greener Los Angeles pastures of USC. Ty Walker, the blocked-shots statistical leader of the Deacs last year, has been prohibited from playing for the first semester and J.T. Terrell, one of the few highlights of last year, has withdrawn from the university after a D.U.I.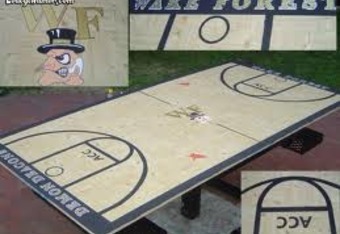 As if things couldn't get any worse, Melvin Tabb, a highly touted forward, has also been released due to criminal allegations, and one of the team's leading scorers from last year, Gary Clark, graduated amidst allegations of sexual misconduct that even made The Today Show.
The bottom line is that Wake Forest basketball is in the middle of a major decline. Not only does the program not look good now, but the immediate future does not look any better.
There are rumors that the 2012 recruiting class might actually be noteworthy, but it is early in the recruiting period and Wake's recruiting class rank could fall fast. Many Deacon fans seem to want to blame it on Bzdelik, and while frankly I can't fault them for it, it is not entirely his fault.
Even Ron Wellman, the trusted Athletic Director who has led Wake Forest sports teams to four national championships during his tenure, has stuck by Bzdelik and acknowledged that perhaps the recruits that Bzdelik had coming in were not the best either morally or talent-wise.
I have been a Wake fan my whole life and it kills me to say this, but I think that the Wake basketball team will not be good for a long time to come. While we had a good run with Dave Odom and Skip Prosser, I must say that it is still sad to see such a great time for Demon Deacon basketball to come to an end.
All I'll say is keep hope alive, maybe go watch a Wake Forest women's soccer game (they're ranked seventh in the nation at the time of this writing) and Go Deacs!