UCLA Basketball: 1998 and 2008 Recruiting Classes Share Common Thread
September 16, 2011
Jeff Gross/Getty Images
On March 4, 2000, UCLA forward JaRon Rush received a pass on the Maples Pavilion baseline, squared himself and proceeded to nail the 15-foot jump shot that would sink then No. 1 Stanford.
It was a prime time play by one of the premier recruits signed by UCLA in recent memory. It was also perfectly indicative of the type of program UCLA was at the time.
They had upsets over No. 1 Stanford in 2000 and 2001 and an unpredicted run past No. 1-seeded Cincinnati in the second round of the 2002 NCAA tournament, coupled with infuriating, unfathomable losses to middle-of-the-road programs like Colorado State (1999), Cal State Northridge (2000), Ball State and Pepperdine (2001).
For every promising end-of-season run, it seemed the Bruins got blown out in the Sweet 16 of the NCAA tournament, outplayed and outhustled by Iowa State in 2000, Duke in 2001 and Missouri in 2002.
Despite head coach Steve Lavin's success during his seven year run with the Bruins, the 1998 recruiting class might best sum up his time in Westwood:
An abundance of talent dimmed by an inability to produce big-time results on a consistent basis.
That '98 group was one of the best in recent memory, with Rush joined by headline acts Dan Gadzuric, Jerome Moiso, Ray Young and Matt Barnes.
What should have been a golden age for UCLA instead devolved into an era of sputtering returns. For every scintillating performance there was an unfathomable upset. The only consistency at Pauley Pavilion resided in Lavin's well-gelled coif.
Elsa/Getty Images
Rush and Moiso were gone by 2000, opting to jump to the NBA after their sophomore seasons. Rush had seen his UCLA career shortened by suspension (44 games because of involvement with a sports agent), and never really had a chance to deliver upon his considerable promise.
Gadzuric eventually developed into a solid option down low, but for a former McDonald's All-American considered one of the best center prospects in years, much more was expected.
Barnes and Young had relatively muted careers at UCLA, but both did come on strong toward the end of their tenures.
Barnes averaged 13.5 points his senior year, and was a menace on the defensive end, where his length gave opposing players fits.
Young, another McDonald's All-American out of Alameda, Calif., was perhaps the most frustrating of all five, considering that he appeared to have waited until the Pac 10 tournament his redshirt senior year (2002-03) to begin playing with any sort of purpose.
It is worth mentioning that he was plagued by a hip injury during his career, however.
He played like prime time prospect in UCLA's stunning upset of No. 1 Arizona in the first round of the tourney, netting 17 points. The fact that that game is an aberration to his otherwise ordinary career is what proves most irksome.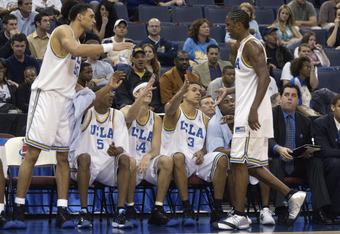 Ezra Shaw/Getty Images
To their credit, Barnes and Gadzuric have both enjoyed very solid, if unspectacular, NBA careers. Rush and Moiso both flamed out years ago, relegated to cautionary tale status.
As if he had never learned from the prior mistake, current Bruins head coach Ben Howland (Lavin's successor) assembled his own No. 1 ranked class in 2008, bringing in Jrue Holiday, Malcolm Lee, Jerime Anderson, Drew Gordon and J'mison Morgan.
This type of crop, brought in just as UCLA was coming off its third consecutive trip to the Final Four, appeared certain to usher in a new period of Bruin dominance. It's been anything but.
Howland, who once so impressed Jordan Farmar on his recruiting visit by telling the highly-touted guard he would rebuild UCLA from Lavin's ash-riddled wreck with or without him, seemed to eschew his tried-and-true practice of building a team through a melange of talented individuals and consummate role players unafraid to do the required grit work.
It's a team building framework as old as time and a remarkably successful one at that.
Phil Jackson followed a similar script in building both his Chicago Bulls and Los Angeles Lakers dynasties, surrounding Michael Jordan, Scottie Pippen (Bulls) and Kobe Bryant and Shaquille O'Neal (Lakers) with dutiful supporting players.
During that superb run from 2005-08, when UCLA went a combined 97-17 over three seasons, headline acts such as Jordan Farmer, Arron Afflalo, Darren Collison, Russell Westbrook and Kevin Love teamed with dedicated role players like Luc Richard, Mbah a Moute, Alfred Aboya and Lorenzo Mata to rampant success.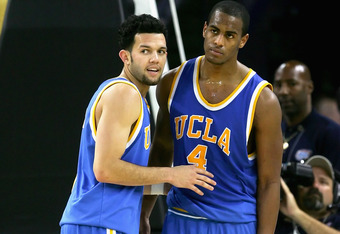 Jed Jacobsohn/Getty Images
Why Howland moved away from that formula, no one knows. But the '08 class quickly devolved into a mess.
Within two years, Gordon and Morgan had both transferred. Holiday bounced to the pros after his freshman season when the former high school Gatorade Player of the Year largely failed to deliver on the promise that saw many compare him (favorably) to Dwyane Wade.
Lee and Anderson were the holdovers and while the former had a very good season in 2010-11, becoming one of the premier on-ball defenders in the Pac 10, he jumped ship for the draft this past offseason.
Anderson, the sole survivor, has recently come under fire for his involvement in a stolen laptop scandal, resulting in an early season suspension.
You might say it's more of a ballybooed class. So much promise, yet so little return.
To the class of '98's credit, they won a combined six NCAA tournament games (Sweet 16s from '00-02). The class of '08 has won but two and to be fair, Holiday, Gordon and Morgan had already left before last season's first-round win over Michigan State.
While recruiting rankings are often ridiculed and certainly don't always indicate success at the collegiate level, there is no doubting the collective talent within those two remarkable groups.
Potential oozed from their sneakers, yet it eventually pooled into a stagnant mess.
Lavin's drawn enough ire for his inability to take UCLA to the heights expected of a school with an NCAA-record 11 national championships, but Howland certainly hasn't.
While the former Pittsburgh boss has received criticism for his deliberate offensive style, you can't argue with the results he enjoyed during his first five years in the program (2003-2008).
Yet his misfires on the recruiting trail (of which he, himself has admitted there were many), coupled with solid—if unspectacular—recent seasons, have seen him cut a much more embattled figure on the sidelines.
His hiring of AAU coach Korey McCray this past summer as an assistant reeked of desperation.
McCray's inroads with several premier recruits who played for his Atlanta Celtics team has already paid off with Jordan Adams, a touted small forward from Atlanta who verbally committed for the class of 2012.
While UCLA is certainly not the only school to have hired an assistant from an AAU side (Arizona and Kansas State have both done it), you'd never have expected it from the Bruins.
Whether it reflects the shifting sands of the collegiate landscape is up for debate, but you would hope that Howland wouldn't be resigned toward relying upon package deals to seal prospects' signatures.
There's no doubt that the class of '08, though not by itself, dropped the UCLA program into a hole, from which it is furiously attempting to re-emerge.
Whether it can do so this season remains to be seen.