NCAA Basketball Mid-Major Watch: Long Beach State 49ers
September 22, 2011
Victor Decolongon/Getty Images
Just over six months ago, an underachieving UC Santa Barbara squad knocked off Long Beach State in the Big West championship, relegating the 49ers to the NIT and diverting their share of the national spotlight to other mid-majors.
As strong as the 49ers were last year—they won 22 games, found themselves a few buckets shy of toppling North Carolina and Saint Mary's, and finished the season at No. 18 in College Insider's mid-major poll—they could be even more formidable in 2011-12.
Building an offensive foundation won't be an issue as head coach Dan Monson returns his top three scorers—seniors Casper Ware, Larry Anderson, and T.J. Robinson.
Ware, the 2010-11 Big West Player of the Year and Defensive Player of the Year, averaged 17.2 points, 4.4 assists, and 1.6 steals per game as a junior.
The point guard gained invaluable experience this summer, teaming up with Lebron James in the Drew League and garnering Player of the Week honors in Week Six. For some perspective, Oklahoma City's James Harden and Washington's Nick Young received the honor in Week Five and Week Six, respectively.
Anderson, Ware's backcourt mate, poured in 14.3 points and dished out 3.3 assists per game last season.
An experienced backcourt is a crucial factor for mid-major success in March. Just to list two recent examples: last year, Shelvin Mack (albeit the same Shelvin Mack whose boneheaded foul almost derailed Butler's upset of Pitt in last season's NCAA tournament second round,) and Shawn Vanzant led the Bulldogs to a runners-up finish for the second year in a row (they lost to Duke in the '10 final)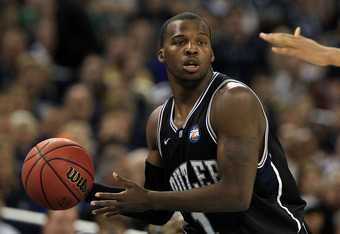 Streeter Lecka/Getty Images
Virginia Commonwealth's trio of Joey Rodriguez, Bradford Burgess and Brandon Rozzell carried the Rams to an unpredictable run to the Final Four.
However, we've seen in the past that mid-majors relying solely on a backcourt don't achieve much in the Big Dance. Every mid-major that advanced in the 2011 Tournament boasted experienced guards along with an established frontcourt presence.
Butler had Matt Howard and Andrew Smith, VCU had Jamie Skeen, and George Mason had Ryan Pearson to list a few examples without belaboring the point.
Robinson, a 6'8" all-conference forward, is the foundation of that presence for the 49ers.
As a junior, Robinson posted 15 double-doubles en route to averaging 13.6 points and 10.1 boards per game while shooting 50 percent from the floor.
Another senior, Eugene Phelps, complements Robinson in the frontcourt. Phelps posted 9.7 points and 6.8 rebounds per game in 2010-11.
Edis Dervisevic, a physical senior forward, will likely be Monson's fifth starter.
Other than the five aforementioned players, Monson does not return anyone who played more than 6.8 minutes per game last season, flagging depth as a pressing concern for the Big West side.
Freshmen Michael Caffey and Shaquille Hunter, two highly-rated recruits, could have an opportunity to crack the rotation early while Corey Jackson and Kyle Richardson will also likely compete for a spot.
With trips to Pitt and San Diego State in the season's opening week, Long Beach State's depth will be tested immediately. The 49ers will also play games at Louisville, Kansas, and North Carolina before appearing in the Diamond Head Classic.
Though Monson's starting five is the most experienced and talented in the Big West, it won't survive against superior competition without effective contributions from the bench.
If the 49ers can't pull off an upset in non-conference play, keep in mind that the bench will inevitably mature in the months leading up to March, enhancing the team's ability, cohesiveness, and upset potential.