Austin Rivers: The Case for Playing Him at the Point
September 9, 2011
If there is a universal truth among coaches, it is that every fan is the world's greatest coach sitting in the La-Z-Boy the morning following the big game. Now mind you, among prep coaches, there is one aphorism that supersedes this one. It is that the very best line up that one could possibly ever play is "my boy" (son) and the next best however many players there may be in that game (sport-specific) . Regardless, the fan/coach axiom is still a given.
With an awareness of this adage, it is with great caution that I proceed, lest I give the impression that I am questioning the inimitable coaching wisdom of Mike Krzyzewski. Far be it from my purpose here to do so, so I offer this humble disclaimer in advance. However, as Rene Descartes once said, "I think, therefore, I am," so let's do this.
Except for watching some snippets on YouTube here and there, I had never watched super-frosh Austin Rivers play prior to the recent televised games on Duke's Asian "Friendship Tour." He struggled at times. Rivers frequently got caught in the air, making well-intended, but silly turnovers as a result, and occasionally did not hustle back on defense after mistakes or when his position on the floor required him to protect Duke's basket after missed field goal attempts. However, it was still crystal clear that the massive hype surrounding his abundant talents, both natural and nurtured, is well warranted.
Let's examine his apparent assets. That he is an elite basketball athlete (meaning that his 40 time and bench press are not all that critical) is apparent. His offensive skill set is diverse. He is the epitome of a "scorer" in the sense that a) he has the complete arsenal (a three-point game, a mid-range game and he attacks the basket like nobody's business), and b) he appears to suffer no pangs of demurring, diffidence or doubt regarding assailing the opponent's rim. In sum, he seems to have an assassin's temperament on the offensive end of the court. I, for one, love that already.
He appears the master of virtually every fake and feint known to the game. His first step to the basket is at warp speed, his jet to the right appearing slightly better than his burst to his left (which ain't half bad either). Upon arrival at the rim, he possesses an array of tricks for finishing that would make Houdini proud, including ebullient, thunderous dunks that would make any guard of his size and maturity swell with swagger.
His three point shot is a little unconventional, a high release, a little quirky and a tad slow, He looks to have extended range, is perhaps a bit streaky but, when in his element, is reputed to have ice in his veins shooting the deep ball. I am certain that, playing in his first games in a Duke uniform, jet-lagged and on the other side of the world, he was not in his max comfort zone.
The starting line up next season will apparently consist of Rivers, Seth Curry, a deadly jump shooter, Andre Dawkins, a knock down jump shooter, Ryan Kelly, a very good jump shooter, and Plumlee 1.0 or 2.0. Though a classic combo guard, I am convinced, after finally watching him play, that Austin Rivers would be best utilized, within this combination of talent, as the point. Here are the reasons why: 
1) No one on Duke's roster possesses Rivers' ability to break down the opposing defense, whether in transition or directing the offense from sets started near the top the key. No one.
2) Even as a freshman, Rivers will be the most explosive scorer on the Duke roster. Like a powder keg, he will be ready to blow given the smallest spark.
3) To a defense, the most threatening position that the ball can be in is in the middle of the floor. Ergo, place your most difficult to guard off the dribble, most explosive scoring player in the middle of the floor with the ball as often as possible so that he can attack the defense in either direction.
4) Given his bloodlines and nurturing in the game, Rivers understands the game, has a natural feel for its angles, either attacking or passing, possesses an impeccable sense of timing, and is skilled passing or finishing.
5) At 6 '4' to 6' 5", Rivers has the size that provides him with the court vision to make some passes and finish some plays that smaller players will find more problematic. 
6) At the point, he will create match up problems by either a) forcing the opponent's best middle of the floor ball defender, often a smaller point guard capable of angling or flattening out entry dribbles toward the wings, to defend him, or b) forcing bigger, more natural wing defenders to guard him in the middle of the floor.
7) A strategy that opposing coaches will most certainly employ to minimize Rivers' plentiful skills and obvious threat to the basket will be to keep the ball out of hands as much as possible (the old "he can't score if he doesn't touch the ball" gambit). It is much easier to deny a perimeter player the ball on the wings than from the middle. Keeping the ball out of his hands at the point requires either a quick pick up after scores or traps in the back court and mid-court areas, as Carolina sometimes does. As mentioned, trying to deny a player near the top of the key is both problematic and dangerous.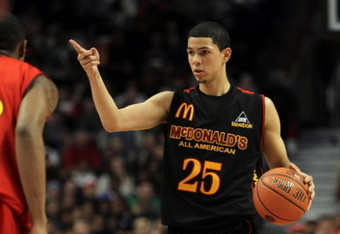 8) When the Devil's employ the UCLA entry to the offense, which they have with frequency the last couple of seasons, Rivers becomes a more problematic option to defend on the UCLA cut in that a) if he scrapes off the post with any daylight he will either draw weakside help or be a mismatch in the lane area, his turf, for his defender, or b) if he pops as his defender dives to stop his cut he will be open again at the top the key for the return pass followed by either the three or the opportunity to attack the defense again, scrambling to recover to his threat, in the middle of the court.
9) In his launching his assaults on defense from the top, rather than from the wings, the ability and freedom of opposing defenses to help off of Curry and Dawkins on the wings will be drastically diminished. For obvious reasons, they would be doing so at their own peril. These bombers will make defenses that hedge and help toward the middle pay "three"-fold. Not doing so, however, strands a single defender in the middle of the floor versus Rivers, a not so friendly circumstance to find one's self in.
10) If, then, help from the wings is deemed too expensive an option to consider and Rivers is permitted to operate from the center of the court one-on-one, the opposing post defenders will become prey to the tender mercies of this steely-eyed basket thief. This scenario will unfetter Miles and Mason Plumlee to do what they do best, to use their athleticism and leaping ability on the move around the basket and along the short corner, feasting upon the rim on spectacular dunks via drop-off passes from Rivers and on "trash" follow-ups of his misses in the midst of the chaotic scrum caused by his penetration. We all recall what a boon having this type of penetrator was to Mason's game at the beginning of last season prior to Kyrie Irving's toe injury.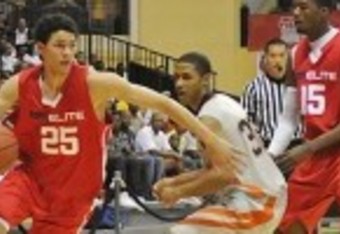 11) You always want your biggest weapon to average the must touches per possession over the course of a game or a season. Putting the ball in Rivers hands will, on most possessions, guarantee him at least one. Given the unselfishness stressed in Duke's system and team culture, the chances that he will get second touches on many possessions is relatively great, whereas, playing from the wing reduces that likelihood. A recent, prime example of this is how well Nolan Smith, Duke's most explosive player last year, played from the point position after Kyrie went down . At the point, Austin will, as Nolan did last year, average more touches per possession over the long haul, and the more touches that he has the more dangerous this Duke offense will become.
12) Finally, Austin Rivers provides the Duke starting line up with the greatest opportunity to push the basketball. Their personnel is well suited to it, with great shooters to stretch the floor and fleet, athletic bigs to streak to the rim, as long as Rivers is bringing the ball up in transition. Let's face it, defensive assets will have to be devoted to stopping him in the open floor, if they can, providing more opportunities for the others. And with Rivers possessing an apparently keen instinct for leaking out on opponent misses, the Duke system of teaching guards to be guards, players to be players, allows the flexibility for a player like Curry to take the outlet and get the team into its offense if an easy "snow bird" basket does not materialize.
It has certainly occurred to me, of course, with Rivers being a freshman and Duke having only ten practices to prepare for their Asian trip, that Coach K may have decided that it was simply most desirable and expedient to use the more experienced Curry and Tyler Thornton to handle the primary floor general responsibilities on this summer's overseas tour and that he may well have it in his master plan for the year ahead to use Rivers and his vast array of skills in this capacity. However, if not, then K knows best. He's at practice every day.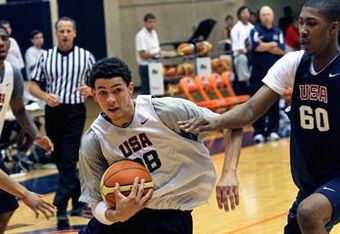 In sum, I think using Rivers as the lead point guard makes Duke a more dangerous team this year. With Curry having some experience playing the point, Thornton and Quinn Cook developing and ready when called upon, and a system that does not obsess over positions on the perimeter anyway, this will simply mean that Rivers gets more touches and that, as the most dangerous attack guard, he would make all of the other pieces better able to make the most of their own skills. You want your point guard to do just that, to bring out the best in those around him. He would enable Duke to use more of their traditional stacks and crossing action to free up the shooters in combination with their UCLA and ball screen attacks.
Major concerns or potential drawbacks? He will be a one and done, so why bother. Well, Kyrie's gone too. In the ebb and flow of the game and season, it won't be exclusive anyway, and Seth (most likely), Tyler and Quinn will be here to man those duties in 2012-13. The other most salient question? Will he be unselfish enough to involve the other players and to sometimes pass up his own opportunities for someone who has a better one? His heredity and acculturation to the game say yes. And besides, with Coach K and a staff laden with point guards, I don't think that we need fear that he would not get the message if he did not. So, no worries, it's simply the Duke way.
Now, back to that La-Z-Boy.