John Wall and the Top 10 Most Loved University of Kentucky Basketball Players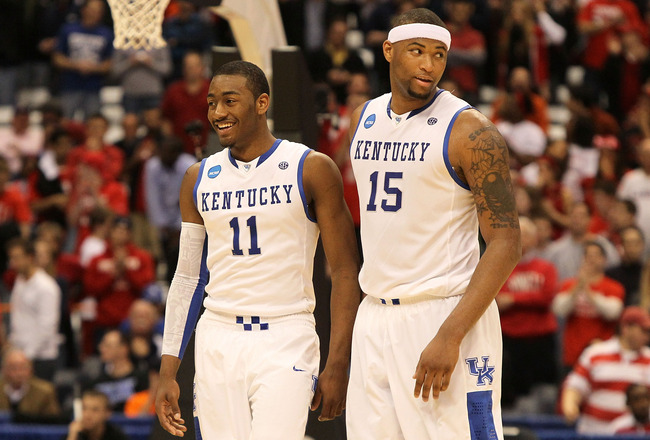 Jim McIsaac/Getty Images
The Big Blue Nation always stands behind its team's players. The fans possess a deep desire for every player to do well. It is a relationship which is reminiscent of that between a parent and child.
Although they root for every Kentucky jersey, there are, naturally, a handful of players who are quickly placed under the "fan favorite" category.
Kentucky Basketball players are the cream of the crop, but it takes a certain charisma and swagger on top of sheer talent to be inducted into the upper echelon of immortality.
Kentucky loves a champion. Many of these men did their part to raise a banner that hangs in the rafters of Rupp Arena. Others on this list are champions in another sense of the word.
They aided, and succeeded, in ushering in a new and exciting era in Kentucky Basketball. In seasons of darkness they were the light bearers leading the way to hope and greatness.
They are some of the most beloved Kentucky Basketball players.
*NOTE: It is impossible to put such a subjective ranking in order; therefore these numbers do not correspond to standings. In addition, there are many more players not included in this list that one could argue are equally loved and revered.
10. Richie Farmer (1988-1992)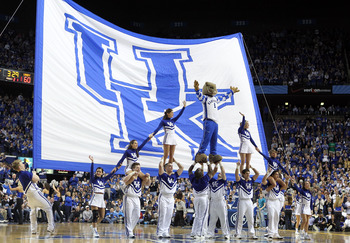 Andy Lyons/Getty Images
A good ole' boy from Manchester, Kentucky—Richie Farmer earned the title of Mr. Basketball in high school.
Farmer went on to be a shooting guard as part of "The Unforgettables" team his senior year.
The people love him so much that they retired his jersey and elected him the Commissioner of Agriculture for the Commonwealth of Kentucky.
9. Tayshaun Prince (1998-2002)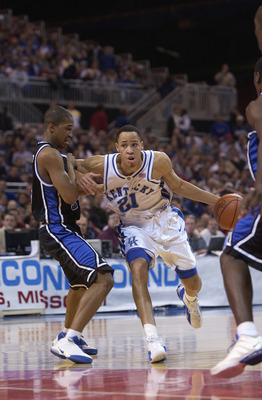 Elsa/Getty Images
One of the most calm, cool, and collected players in UK history, Tayshaun Prince was a beacon of light in an otherwise inconsistent and pedestrian Tubby Smith period.
He never seemed phased, especially when he sunk five consecutive three pointers in a memorable win against North Carolina.
He continues to make the Big Blue proud as an integral part of the Detroit Pistons.
8. Rex Chapman (1986-1988)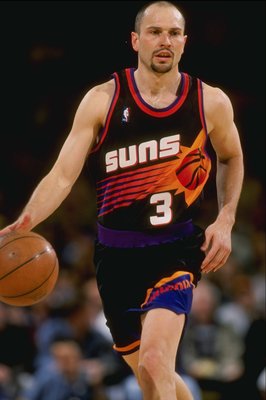 Aubrey Washington/Getty Images
Another Kentuckian showing his loyalty despite myriad scholarship offers, Rex Chapman burst onto the court with a flourish of talent.
The two years he played, he led the Wildcats to their 37th SEC title and the Sweet Sixteen in the NCAA tournament in 1988.
7. Tony Delk (1992-1996)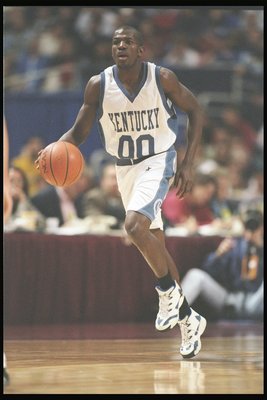 Jonathan Daniel/Getty Images
Tony Delk was named Mr. Basketball of Tennessee, but he left the Rocky Top for the Bluegrass.
He was the Most Outstanding Player of the Final Four of the 1996 NCAA Tournament, which led to Kentucky's sixth National Championship.
In 2009, he came back to coach at UK on Calipari's staff where he was embraced by all.
6. Dan Issel (1966-1970)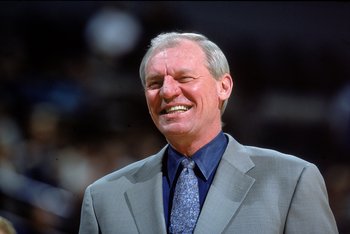 Brian Bahr/Getty Images
Dan Issel played under the great coach Adolph Rupp and held the single-game record for points scored (53) until broken by Jodie Meeks (54) in 2009.
He still holds the men's career scoring record at 2,138. One could always count on Issel to put up big numbers every night.
5. John Wall (2009-2010)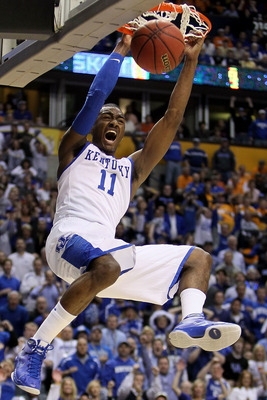 Andy Lyons/Getty Images
In only one season, John Wall made a huge impact.
With the dark Gillispie years thankfully behind, Calipari brought excitement and a big recruiting class with him.
John Wall was the reason for Wildcat fans to be enthusiastic once again about Kentucky Basketball.
He had a lasting first impression when he came out for Midnight Madness with a unique dance, later called the "John Wall Dance".
People all over were spotted mimicking the move.
The tradition of winning was reinstated in a new era, all headed by a freshman. His smile, speed, and instant connection with fans made him the face of the program, and he lived up to all the hype surrounding him.
Flanked by DeMarcus Cousins and Patrick Patterson, he led the team to a thrilling SEC title. He was the No. 1 overall pick in the 2010 NBA draft and will forever be known as the one who brought Kentucky Basketball back to the national stage.
4. Jamal Mashburn (1991-1993)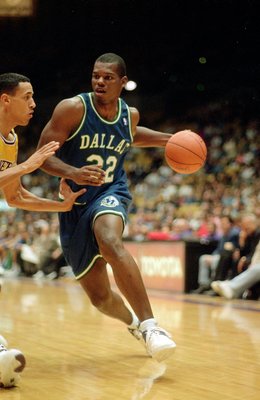 Stephen Dunn/Getty Images
Jamal Mashburn was Rick Pitino's first signature recruit and led Kentucky back to national prominence after the probation caused by Eddie Sutton's regime.
Mashburn's inside and outside game was peerless.
He led Kentucky to its first Final Four since 1984 when the Cats made it in 1993.
3. Jack "Goose" Givens (1974-1978)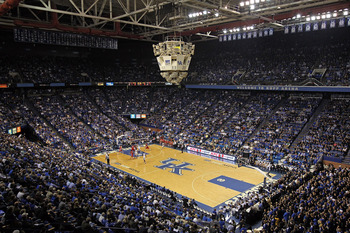 Andy Lyons/Getty Images
Born right in the backyard of the University of Kentucky, the 1974 Mr. Basketball from Bryan Station High School in Lexington was a special addition to the team.
After being runners-up in the NCAA tourney in 1975, Jack Givens returned in 1978 to claim the national title.
He scored 41 points in that title game, which is the second-highest point total of all time.
2. Jeff Sheppard (1993-1998)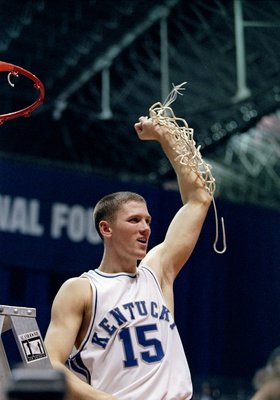 Todd Warshaw/Getty Images
This Georgia Player of the Year was part of two championship teams, in 1996 under Rick Pitino and 1998 under Tubby Smith.
Jeff Sheppard was awarded Most Outstanding Player in the latter.
His wholesome image and pure love for the game made one feel the corruption of the sports world disappear whenever he was on the court.
He still resides in Kentucky and has involved himself in the community.
1. Kyle Macy (1976-1980)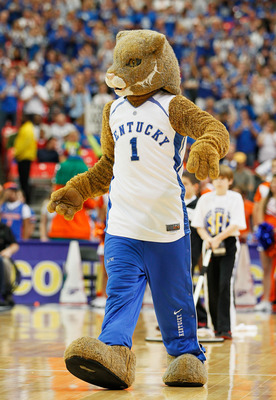 Kevin C. Cox/Getty Images
Kyle Macy transferred from Purdue after his freshman year to join Kentucky in the quest for a national title.
This goal was achieved in 1978 as a starter. He still holds the record for career free throw shooting percentage at Kentucky.
As Cawood Ledford said, "Kyle had ice water in his veins."
He maintains ties with the program as a color commentator for Kentucky basketball games.
These ten players have the smile, charm, and various endearing quirks that make fans fawn over them.
After their tenure at UK, they remain atop a pedestal and are talked about just as frequently as when they were current players.
Their impact on the University of Kentucky Basketball program will last decades and forever produce smiles on the faces of Cat fans everywhere.
Keep Reading

Kentucky Wildcats Basketball: Like this team?