Memphis Basketball: What Does New Assistant Coach Luke Walton Bring to Tigers?
August 23, 2011
If the Memphis Tigers know what's good for them, they won't be challenging their coaches to too many games of H-O-R-S-E.
Head coach Josh Pastner found himself with two vacancies this offseason in the ranks of his assistants. Having already brought in ex-Memphis Grizzlies assistant Damon Stoudamire (who played in the NBA as recently as the 2007-08 season), Pastner announced yesterday that the second spot would be filled by Lakers SF Luke Walton.
Walton's employment in Memphis is slated to last only as long as the NBA lockout does. Sadly for NBA fans, though, it doesn't seem implausible that Walton could still be with the Tigers all the way through any postseason tournament games they get to play.
Both new Tigers coaches have ties to Pastner through the University of Arizona. Stoudamire played with his new boss under the legendary Lute Olson, while Walton played for him when Pastner was an assistant in Tucson.
Obviously, Walton's hiring is going to generate plenty of buzz, but how significant is it for the team? What does he bring to the table that a more experienced assistant coach wouldn't?
The most obvious advantage of bringing in an NBA player in general would be as a recruiting inducement for aspiring pros. The problem with that argument, though, is that Walton's position is contingent on the league remaining locked out.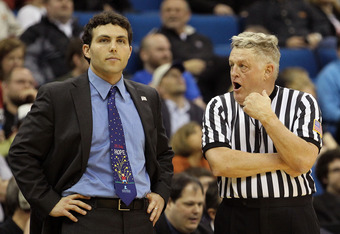 It's hard to imagine recruits being willing to come to Memphis hoping to play for Walton when they know that, by any reasonable estimate, the lockout will have ended well before they arrive on campus.
Fortunately for the Tigers, recruiting cachet isn't all Walton has to offer. Even going back to his days at Arizona, he's always been an exceptionally cerebral player (likely due, in part, to his dad's endless waving of the John Wooden banner).
Even without direct coaching experience, Walton has more Xs-and-Os sense than many professional coaches. Plus, who better to demonstrate an idea in practice than a coach who still has the skills to mix it up with his players?
On a side note, it's remarkable what different standards the NBA has for owners and players. Nets co-owner Jay-Z sparked a league investigation with one visit to the Kentucky locker room, but Walton gets to coach the Tigers, interacting with them on a daily basis for (presumably) a few months at least, and nobody bats an eye.
The most obvious downside for Pastner is that he now has two coaches filling key assistants' roles who have a combined three years of coaching experience, none of it at the college level. The parts of their jobs that don't come as naturally to ex-players (especially some of the nuances of recruiting) might be a bit of a struggle for Stoudamire and Walton.
Still, at worst, the Tigers are probably no worse off in the locker room for having Walton rather than a more traditional coach, and Pastner and the team get a nice chunk of free publicity to boot. It's hard to find much to criticize in Memphis' latest hire.