If A&M Leaves, the Aggies Will Leave a Huge Hoops Hole
August 16, 2011
Jamie Squire/Getty Images
Make no mistake about it. Nobody is talking about the implications of the Aggies departure from the Big 12 in terms of sports like volleyball, softball or track.
Texas A&M's consideration to leave for the SEC is driven by one thing: football.
But if the Aggies switch conferences, their exit would create a huge hole in the Big 12 men's basketball world.
From 1990-2004, the program stumbled to an overall record of 145-260 under Tony Barone and Melvin Watkins. In Watkins' last season, the Aggies finished dead-last in the Big 12, not winning a single game in conference play.
However, life has been much better recently for Texas A&M basketball.
In fact, the Aggies' hoops program has won as many games in the last six seasons as they did in the previous 14.
Billy Gillispie brought basketball back to life in Bryan-College Station. Gillispie took the Aggies to the NIT in his first season as head coach. Their two wins in the 2005 National Invitational Tournament were the school's first postseason victories in 23 seasons.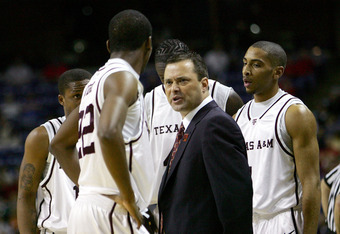 Elsa/Getty Images
In his three years as head coach, Gillispie (pictured) went 70-26, going three-for-three in the postseason, including a trip to the Sweet 16 in 2007.
After Gillispie, Mark Turgeon kept things going by leading the program to a 73-31 record and three more NCAA appearances.
The torch has now been passed to Billy Kennedy (107-53 the last five years at Murray State), who hasn't coached a game but is already making his mark on A&M basketball.
This summer, the first-year coach has received commitments from a pair of elite-level guards in senior J-Mychal Reese and now junior Kendrick Nunn.
ESPN's Andy Katz thinks a move to the SEC would not cause major trauma for Kennedy, based on his past assistant coaching assignments at New Orleans, Northwestern State and Tulane and head coaching stops at Southeastern Louisiana and Centenary.
In terms of competition, SEC basketball, unlike SEC football, would be no more than a lateral move for A&M.
In the SEC, the Aggies would have to go up against perennial powerhouses Kentucky and Florida. But after that, SEC hoops is up and down.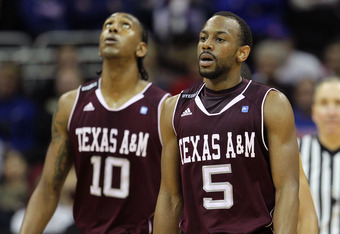 Jamie Squire/Getty Images
The Big 12 not only has Kansas and Texas at the top of the conference, but also has other Top 25 programs such as Missouri, Kansas State and Oklahoma State with which to contend.
Texas A&M basketball will be in good shape whether they move to the SEC or stay put in the Big 12.
But the hit the conference would take if they left would be painful.