20 Most Memorable NCAA Basketball Teams of the Last 20 Years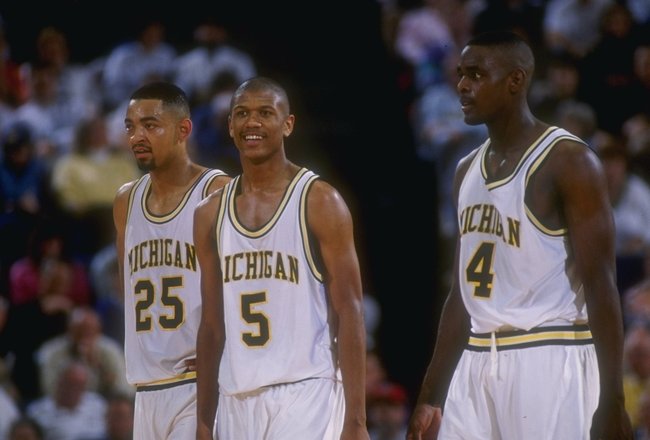 Duane Burleson/Getty Images
Every preseason there is at least one team that shines stands out from the pack and has their followers salivating at the start of the season.
This season two teams stand out from the rest, four if you believe in Vanderbilt and Ohio State.
Kentucky has four incoming 5-star recruits to add to a rising sophomore Terrence Jones and Doron Lamb.
North Carolina is strong at every position in their starting five. Vanderbilt has some solid upperclassmen but they did get upset by Richmond in the last NCAA tournament.
Next season will be probably the most watched college basketball if the NBA lockout does not end soon enough.
In the mean time lets have a look back at some of the greats teams since 1980.
Ohio State Buckeyes 2006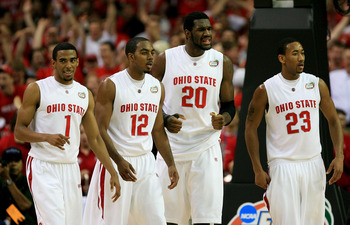 Streeter Lecka/Getty Images
Once Thad Matta brought a recruiting class to Ohio State that could rival any top recruiting class ever.
Greg Oden, Daequan Cook and David Lighty and point guard Mike Conley were meant to build a power house for the Buckeyes. Defensive player, junior Othello Hunter completed that team.
That team was beaten only three times that season. Once by Bo Ryan's Wisconsin, Roy Williams' North Carolina and twice by Billy Donovan's Florida team.
The second time just happens to be in the NCAA finals.
Forget Kevin Durant, if Portland had taken Joakim Noah or Al Horford instead of Oden they would be better off today.
Saint Joseph's Hawks 2003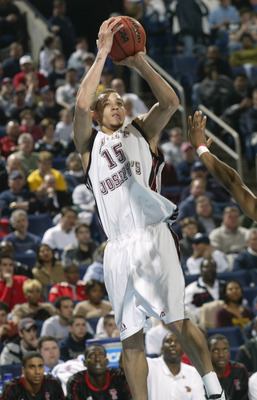 Rick Stewart/Getty Images
Delonte West and Jameer Nelson were the leaders of this team, but Dwayne Jones provided toughness and rebounding while Pat Carrol was a gunner.
They won all 27 of their regular season games but lost their first game in the Atlantic 10 tournament. In the NCAA tournament they won their first three games but crashed in the Elite Eight to Oklahoma State.
Nelson the consensus player of the year at the end of the season led the team in scoring and assists. He averaged 20 points, 4.7 rebounds and 5.3 assists.
West posted averages of 18.9 points, 5.4 rebounds, 4.7 assists a game. St Joe's was ranked as high as No.1 as of March 2004.
Tyrone Barley a senior guard rounded out the starting five.
The Hawks record that year was 30-2.
UCLA Bruins 2008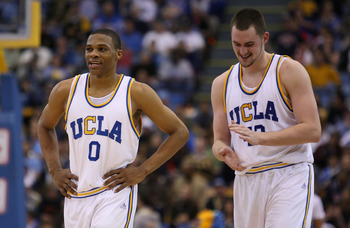 Lisa Blumenfeld/Getty Images
Luc Richard Mbah a Moute, Darren Collison, Kevin Love, Russell Westbrook and Josh Ship. There are two NBA All-Stars amongst these guys and three of them are current NBA starters.
This team was the PAC-10 regular season champions and also tournament champions. They lost in the Final Four to Memphis Tigers. Due to Derrick Rose being ruled ineligible that win has since been vacated.
I think it is only fair that we get that Kansas team that beat Memphis in the Finals and have them play this UCLA team for the championship again.
Love only spent one year at UCLA before the NBA lured him away but Westbrook, Collins and he were a match made in heaven.
Darren Collison currently is the floor general for Indiana Pacers.
Westbrook is half of the best Dynamic Duo in the NBA with Kevin Durant for Oklahoma City Thunder. He is an All-Star along with Kevin Love who now plays for sorry Minnesota Timberwolves.
Duke Blue Devils 1999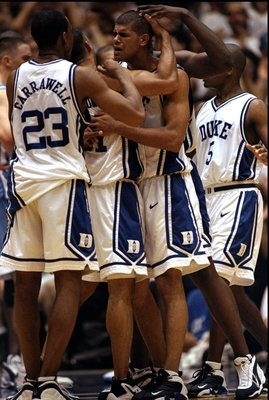 Craig Jones/Getty Images
For all of Duke this team was the one that got away. Elton Brand, Shane Battier, Chris Carrawell, Trajan Langdon and William Avery lost two games that season. They last lost in the NCAA finals.
Sophomore William Avery averaged 15 points and 5.1 assists. Elton Brand almost averaged a double-double, with 17.9 points and 9.1 rebounds. Senior Trajan Langdon chipped in with 17.3 points.
Their first loss was a two point heartbreaker to Cincinnati in the great Alaska Shootout. Then they went on a winning streak that saw them claim the ACC regular season tittle and tournament champions.
Beating their arch rivals North Carolina three times, twice in the regular season and in the ACC tournament finals.
The closest winning margin through the first four games of the NCAA tournament was 17 points. The Final Four matchup with Michigan State was more competitive but Duke prevailed by six points.
In the finals they lost their second game of the season to UConn by a mere three points.
At the end of the season, Brand, Avery and freshman Corey Maggette, who averaged 10 points off the bench, would declare early for the NBA.
The next season Jason Williams, Mike Dunleavy and Carlos Boozer came to Durham. You see, what if this team had stayed together another year?
Kansas Jayhawks, 1997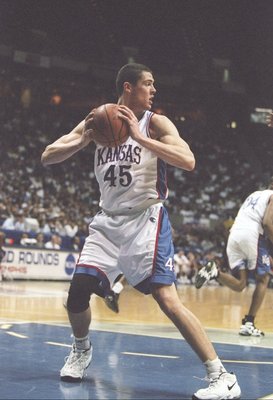 Andy Lyons/Getty Images
Jacque Vaughn, Raef Lafrenz, Scot Pollard, Billy Thomas (Jerod Haase) and Paul Pierce led that Jayhawk team to a 34-2 record. They lost the one game that mattered in the Elite Eight.
Lafrenze and Paul Pierce were All-Americans at the end of the season.
Roy Williams cried after the heartbreaking loss to Arizona Wildcats and that was understandable. Arizona had finished sixth in the Pac-10! The Jayhawks won their first 22 games that season.
The majority of these guys have played in the NBA.
Butler 2010/2011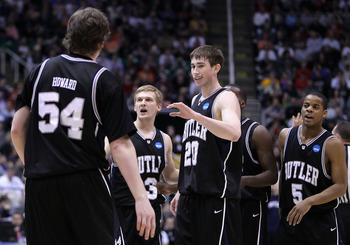 Christian Petersen/Getty Images
If you had to pick a team of any player of the last four years from any team in college, a Butler player would be lucky to be a runner up.
However they made it to not one but two consecutive NCAA Final Four. If that was true that would be a very special feat. However they made it to two consecutive finals.
They made it the finals where they lost to Duke in 2010 then lost arguably their best player, Gordan Hayward to the NBA, then made it back to the finals again, where they lost to UConn this past April.
Matt Howard, Shelvin Mack, Andrew Smith, Ronald Nored and Shawn Vanzant all deserve to be in the Hall of Fame for overachievers.
Arkansas Razorbacks, 1994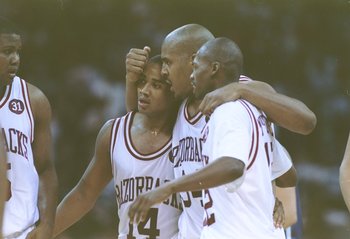 Doug Pensinger/Getty Images
Forty minutes of hell! That's the affectionate name Nolan Richardson gave to his full court defense. If you were a credible point guard and you was about to play these guys, you were stepping into a nightmare.
Forwards Corliss Williamson (20.4 ppg) and Scotty Thurman (15.9 ppg) were the leading scorers with center Dwight Stewart and starting guards Corey Beck and Clint McDaniel.
The overall record that season was 31-3 (14-2 SEC).
They beat a talented Duke team in the NCAA tournament finals 76-72 in 1994.
The following season they were the NCAA runner-up.
Memphis Tigers 2008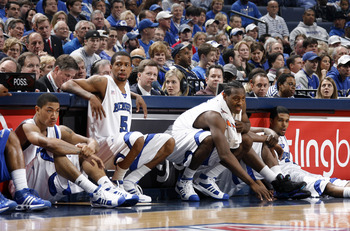 Joe Murphy/Getty Images
Derick Rose's lone season in College basketball was very entertaining. Bruiser Joey Dorsey was at center. Robert Dozier looked more like Scottie Pippen and was just as versatile.
Chris Douglas Roberts and Antonio Anderson were effective wing scorers.
Rose was the leader.
How did they do for the season? They made it to the NCAA finals where a Mario Chalmers three-pointer in the last second sunk them.
However they were later disqualified.
All their wins had to be vacated as Derrick Rose was unfortunately ruled ineligible for the entire season.
Michigan State 2000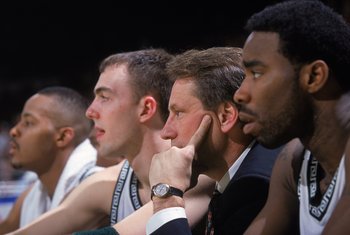 Doug Pensinger/Getty Images
Tom Izzo has been in college basketball for eons, it may seem. He won his first and only championship in 2000. That championship game will always be known for Mateen Cleaves's resilience.
He sprained his ankle shortly into the second half but was able to lead the Spartans to victory in spite of it.
That team started three seniors and two juniors.
Senior Morris Peterson was the leading scorer (16.8), Cleaves (12.1), also a senior and so was A.J. Granger (9.5).
Juniors Charlie Bell (11.5 ppg) and Andre Hutson (10.2) rounded out the starting five.
On the bench was a high flying freshman called Jason Richardson.
Connecticut Huskies 2004
Stephen Dunn/Getty Images
The 2004 national champion Connecticut Huskies were led by Emeka Okafor and sharp shooting guard Ben Gordon.
Josh Boone played power forward and Taliek Brown was the floor general. Denham Brown, one of the best defensive wing players in the nation, rounded out the starting five.
Charlie Villanueva was a freshman off the bench.
Okafor averaged 17.6 points, 11.5 rebounds and an astounding 4.1 blocks a game.
UConn won the national championship by defeating Georgia Tech in the finals.
Syracuse Orange 2003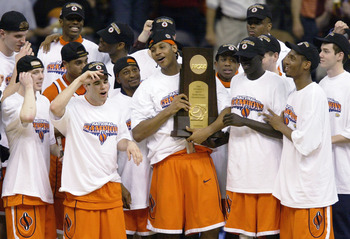 Andy Lyons/Getty Images
Carmelo Anthony is the best performing freshman in college basketball, ever. He could not have done it without Gerry McNamara's shooting or Hakim Warrick's ability to finish around the rim.
However he led Syracuse to a championship in his first season in college. Anthony averaged 22.2 points, 7.1 rebounds, 2.2 assists and 1.6 steals a game. He was the leading scorer and rebounder.
Warrick poured in 14.8 points per game and 5.3 rebounds. McNamara dished out 4.4 assist and scored 13.3 points a game.
Senior Kueth Duany and sophomore Craig Forth rounded out the starting five.
The orange were 30-5 on the season and beat a very good Kansas team, led by Nick Collison and Kirk Hinrich, in the finals.
North Carolina Tar Heels 2005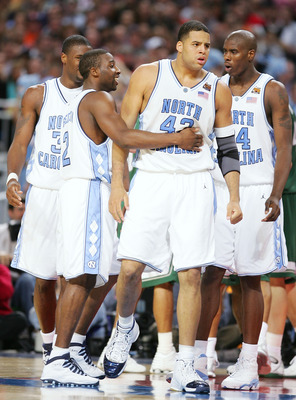 Elsa/Getty Images
Roy Williams returned to his Alma Mater at the right time. North Carolina had a talented team but unfortunately Matt Doherty lost his way leading this bunch.
Williams was able to inject some enthusiasm, and Marvin Williams won his first ever national championship as a head coach.
Sean May, Raymond Felton, Rashad McCants, Jawad Williams and Jackie Manuel were favoured to win it all from preseason and delivered on this promise.
With freshman Marvin Williams as a solid sixth man, UNC won 33 games and lost only four.
They played Illinois in the finals with both seeded No.1. North Carolina won 75-70.
Arizona Wildcats 1997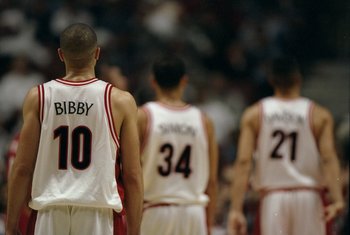 Todd Warshaw/Getty Images
The very mention of the names Mike Bibby, Miles Simon, Michael Dickerson, A.J. Bramlett, Bennett Davison and Jason Terry is enough to bring a sour taste in the mouths of Kansas Jayhawks fans.
This underdog team upset the 1997 No.1 seeded Kansas team that won 34 games and only lost two in the Elite Eight. They then defeated No.1 North Carolina in the Final Four.
They went on to beat another No.1 seeded team the defending champion Kentucky Wildcats in the finals.
Terry averaged 10 points off the bench.
Current Memphis head coach, Josh Pastner, was a substitution with the least amount of fouls per game.
UCLA Bruins 1995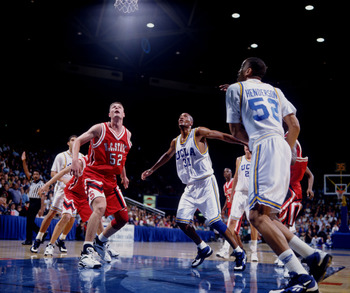 Mike Powell/Getty Images
UCLA had not won a national championship since John Wooden retired in 1975. This 1995 team coached by Jim Harrick would change that.
Senior Ed O'Bannon was a do everything forward. He averaged 20.4 points, 8.3 rebounds and made 43.3 percent of his three-point attempts. He won several Player of the Year honours after the season.
Tyus Edney, another senior, was the point guard who dished out 6.8 assists along with over two steals a game.
The other starters were freshman Charles O'Bannon (Ed's brother), seven-foot senior George Zidek and Toby Bailey.
This team had a 32-1 record for the season.
Ed O'Bannon had 30 points and 17 rebounds in the championship game against Arkansas Razorbacks.
Duke Blue Devils 2001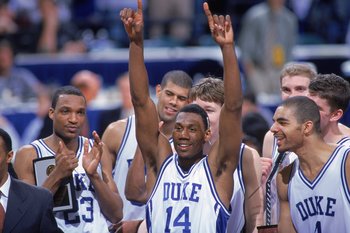 Craig Jones/Getty Images
Shane Battier, Jason Williams, Mike Dunleavy Jr., Carlos Boozer, Nate James and Chris Duhon delivered Mike Krzyzewski's third national championship in 2001.
They won 35 games and lost four. Conference record was 13-3.
Duhon was the sixth man.
Jason Williams was the leading scorer but Shane Battier was a stat stuffer and at the end of the season he was named the consensus national player of the year.
That whole starting five except for Nate James, currently a coach for Duke, made it to the NBA. They would all still be there if Jason Williams had not suffered a motorbike accident early in his professional career.
Kentucky Wildcats 1996
Jonathan Daniel/Getty Images
It is incredible to believe that Rick Pitino was once a beloved coach of the Kentucky Wildcats. Now he coaches their oldest rival, Louisville.
Nine players on this team made an NBA roster at some point.
They were led by Tony Delk, Antoine Walker, Ron Mercer, Derek Anderson and Walter McCarty.
This team had a record of 34-2 and Delk sank seven three-pointers to bury Syracuse 76-67 in the NCAA finals.
They were undefeated in SEC play.
I wonder if Pitino ever regrets following Ron Mercer and Anderson to the NBA where he coached them to a dismal record on the Boston Celtics!
Michigan Wolverines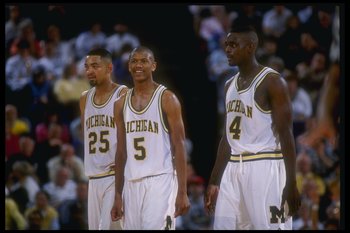 Duane Burleson/Getty Images
Technically this team does not exist. Of all the players on that team, the last player anyone expected to be pulling in a paycheck while in college was getting paid.
Because of Chris Webber's actions the NCAA has had to vacate the wins of this team so anything they did is irrelevant.
Jimmy King, Chris Webber, Jalen Rose, Juwan Howard and Ray Jackson started a trend picked up by John Calipari some years later. Some can say even LeBron James his guilty of it.
That trend: pick the best team you can and give yourself an easy life. These five guys were at the top of their class.
UNLV Runnin Rebels 1991
Ken Levine/Getty Images
Does anyone on here remember when Converse was cool and Grandmama would dunk on you? Those were the days of Larry Johnson, who first came to fame as the leading scorer of Gerry Takanian's Runnin Rebels.
In 1990 they blew out Duke in the national finals to win the championship. The next year they won their first 34 games by a 27 point average. They were an unstoppable force, like a runaway train. But they lost to a more determined Duke team in the tournament finals.
David Butler played at center. Greg Anthony was the leader and point guard. Stacy Augman was a defender. Anderson Hunt was a 6'2" scoring machine. Then there was Larry Johnson or was he would be know later as Grandmama.
Johnson literally moved like he was walking on air, averaged 22 points and almost 11 rebounds as he anchored that team.
This team was just as athletic and quick as the Fab Five, how come they never met!
Interesting thing to note HBO did a documentary about this team but it seemed to have been overshadowed by the Fab Five's controversial documentary.
Florida Gators 2006/2007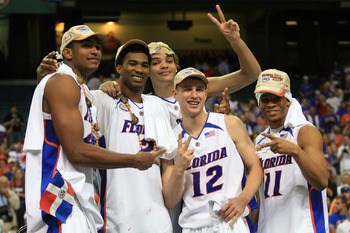 Streeter Lecka/Getty Images
These guys made the media all but declare Billy Donovan the best coach in college. Al Horford was a best on the block. Lee Humpries was the best shooter in all of college basketball but never got the proper credit for it.
Corey Brewer could create his shot off the dribble occasionally he went on the odd three-point shooting spree. Taurean Green had his moments but he was more of a shooting guard playing point guard.
The facilitator of that team was Joakim Noah. He hustled, blocked shots, rebounded and defended. He did everything that team needed.
They won unexpectedly in 2006 then repeated it in 2007. Unbelievable that they were able to stay focused in today's 24 hour media coverage frenzy.
Duke Blue Devils 1991/1992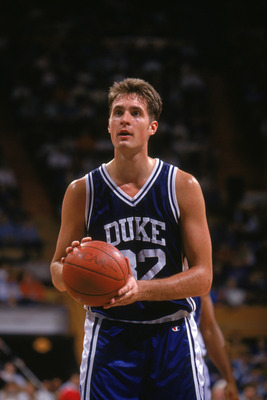 Rick Stewart/Getty Images
It's been almost two decades since this team was together but the ricochet effect is still being felt. Kentucky and Duke are still banging heads over a game they played in that era.
The Fab Five wants a piece of the action when they did a documentary recently calling Duke players derogatory names. Soon UNLV will come up with their own controversial angle.
Duke thinks that Kentucky can't get over that miraculous last-second shot that sank Kentucky in the 1992 tournament. Kentucky can't forgive Duke star player, Christian Laettner for stepping on the stomach or chest of one of their players.
Either way these guys are legendary, and until Florida defended their championship successfully in 2007 they were the lone back-to-back champions for around 15 years.
When you think of Duke, these are the players that come to mind: Grant Hill, Bobby Hurley, Laettner, Thomas Hill (no relation to Grant) and Brian Davis.
They were not the first Blue Devils to play in a final but they were Mike Krzyzewski's first champions, and second.
This is the resume of Davis, Laettner and Hurley's while in college, from 1989.
Freshman Year: Final Four
Sophomore year: Runner Up
Junior year: Champions
Senior Year: Champions.
Thomas Hill enrolled in 1990 and then Grant Hill was the last piece before the championship, in 1991. In 1990 UNLV blew them out in the finals. Next year they got revenge when they met in the Final Four.
In the HBO documentary on the Runnin' Rebels, Mike Krzyzewski said he felt that in 1990 they were overmatched but with Grant Hill (1991) they were even with the Runnin' Rebels.
They beat two of the greatest ever teams assembled. The 1991 UNLV Runnin' Rebels and the Fab Five. these two teams never played each other but Duke is the link between them.
You hardly see such clear and precise progress in college these days. Probably because talented players do not hang around until their senior years.
Keep Reading