College Basketball: 30 Impact Defenders for the 2011-12 Season
July 5, 2011
Jeff Gross/Getty Images
We all know that the offensive players get most of the love in college hoops, so this list is for the guys that do the unheralded dirty work on the defensive end—the pests, the lockdown guys and the shot-blockers—in leading their teams to success.
And does defense really win championships?
Just ask Kemba Walker, Shabazz Napier, Jeremy Lamb, Roscoe Smith and Alex Oriakhi.
UConn's legendary defensive performance against Butler in the 2010-11 championship game could be used as an instructional video for the next 100 years. And with four of those five returning next season for Jim Calhoun, the Huskies will once again thrive off their stellar play at the defensive end.
Here are 30 more impact defenders to keep an eye on during the upcoming 2011-12 season.
Kent Bazemore, Old Dominion
After being lightly recruited out of high school, the redshirt senior-to-be has established himself as one of the more versatile players in the country and NBA scouts are quickly taking notice. Blessed with long arms and leaping ability, the 6'5" slasher is well known for his athleticism, dynamic playmaking and posterizing opponents with his dunks.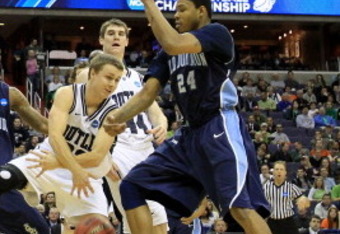 Rob Carr/Getty Images
But it's his ball-hawking defense that makes him such an intriguing prospect at the next level. After utilizing his length to become a difference-maker on defense, Bazemore led the Colonial Athletic Conference in steals (2.2 SPG), recorded 30 blocks and routinely locked down the opposition's best scorers and in return, earned the Lefty Driesell Award (for best defender in the country) and Colonial Defensive Player of the Year honors. 
John Henson, North Carolina
The reigning ACC Defensive Player of the Year has elevated his game to a whole new level, especially on the defensive end. Standing 6'10" with a wingspan of 88 inches, Henson has phenomenal physical tools. His freakish length and mobility allow him to recover quickly defensively, proving himself as a valuable help-side defender.
Henson also blossomed into one of the elite shot-blockers in the country after averaging 3.2 blocks per game last season. Because of his long strides and athleticism, he can get up and down the floor in a hurry—making him a deadly defender in transition. The junior-to-be also pulled down 254 total defensive rebounds, good for sixth overall in the country.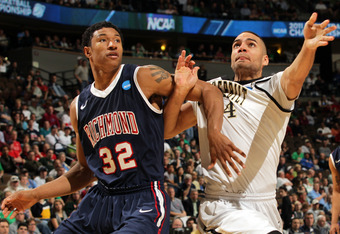 Doug Pensinger/Getty Images
As his body matures and he continues to beef up his frame, Henson has the potential to be an outstanding defender at the next level as well.
Jeffery Taylor, Vanderbilt
Taylor is an excellent perimeter defender with quick feet and good lateral movement. Standing 6'7", 225 pounds, the senior-to-be small forward also has great size, length and timing out on the wing which leads to plenty of deflections and steals. He added more bulk last summer to an already decent frame which prevented small forwards from posting him up and gave him the strength to cover some of the shorter power forwards in smaller lineups.
Taylor's ability to guard four positions on the floor makes him the most versatile defender in the country.
Reginald Buckner, Ole Miss
Buckner reminds me quite a bit of former Mississippi State standout center Jarvis Varnardo in terms of shot-blocking ability and development. He arrived at Ole Miss as a fantastic athlete with length and skill but needed to add bulk to his frame. Buckner responded by putting on nearly 30 pounds since his senior year of high school and has developed into a force to be reckoned with in the paint.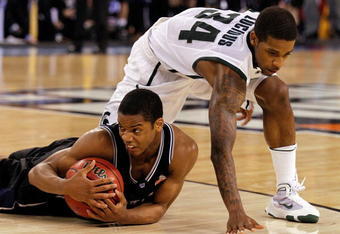 Jonathan Daniel/Getty Images
The 6'9" 230-pound junior-to-be power forward earned SEC All-Defensive Team honors after averaging 2.9 blocks per game for Ole Miss. Buckner will again play alongside forward Terrance Henry to form one of the more underrated frontcourts in the SEC.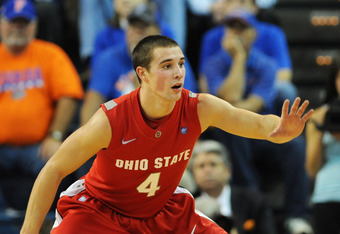 Al Messerschmidt/Getty Images
Jorge Gutierrez, California
If you enjoy watching scrappy basketball, I suggest tuning in to a Cal game sometime next season to watch Jorge Gutierrez. The Mexican native is such a joy to watch because he plays with a relentless motor, dives after loose balls and leaves every ounce of energy he has on the court. I've never seen a kid work so hard in the man-to-man—his smothering defense has stifled some of the Pac-12's best guards over the years. 
Gutierrez saw an increase in his offensive workload last season, and because he uses so much energy defensively, you could see his legs tiring, which took a toll on his perimeter jumper as games progressed. I've witnessed him barely able to stand up near the end of games and it's not because he's out of shape.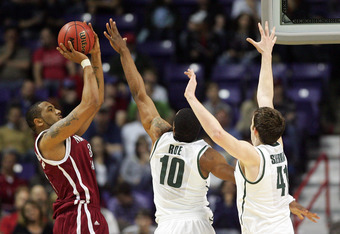 Jonathan Ferrey/Getty Images
Ronald Nored, Butler
Ever wonder how Butler was able to make back-to-back national championship appearances? Sure, guys like Gordon Hayward, Shelvin Mack and Matt Howard were instrumental in the Bulldogs' success, but without Nored locking down the opposition defensively in the halfcourt, chances are Butler doesn't achieve those accomplishments.
Known as "The Professor of Defense" and the "Glue Guy" at Butler, Nored uses a combination of intelligence, quickness and great lateral movement to shut down the opposition's leading scorer. The future coach in-the-making has a true passion for the game and takes pride in his defense, often studying film of his assignment and schematically breaking down the game.
Aaron Craft, Ohio State
Craft proved many of the critics flat wrong who said he wouldn't be able to play at the high-major level. He competed on every possession last season, especially on the defensive end. He played outstanding on-the-ball defense and consistently kept opposing guards out of the lane.
Craft showed great lateral quickness, good hands, physical toughness and hustle. He's not afraid to mix it up and is known for giving a few "love bumps" out to opposing guards.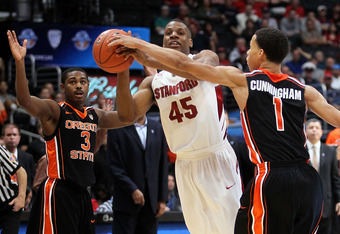 Jeff Gross/Getty Images
Like Ronald Nored, Craft is a cerebral player. He studies film and tries to recognize tendencies and habits of his assignment so he can anticipate—both significant factors leading to his 2.0 steals per game and Big Ten All-Defensive Team honor. 
Jamelle Hagins, Delaware
After being under-recruited in high school out of Roanoke, Virginia, the 6'8" power forward is making high-major teams wish they'd have spotted him on their radars back in 2009. Hagins has excellent athletic abilities, including quickness, agility and a high vertical jump, which have helped him progress into a dominant defensive post player last season as a sophomore.
He also moves his feet well on defense, and plays with intensity. Hagins is always one of the most active players on both ends of the floor, using his high-major length to blocks shots and clean the glass, as he averaged 7.3 rebounds and 3.0 blocks for the Blue Hens last season. He recorded seven blocks against both Villanova and William and Mary and even had an eight-block game against Northeastern.
With two years left and having only begun to tap into his potential, keep an eye on this young man going forward.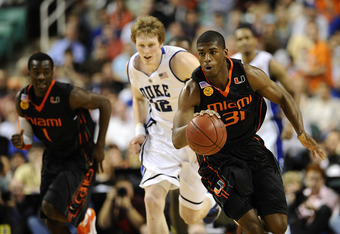 Jeff Zelevansky/Getty Images
Dario Hunt, Nevada
Hunt's biggest assets will always be his defense and rebounding. Simply put, the man is a physical specimen. Hunt has an outstanding frame with broad shoulders, long arms and very good length. His superior athleticism and bounce along with his 6'8" muscular frame is what separates him from other power forwards, as he's projected as an early second-round draft pick in the 2012 draft.  
A few seasons back, Hunt set the Nevada freshman single-season block record with 67. He averaged 1.7 blocks per game last season for the Pack and is only six blocks away from passing Nick Fazekas for the school's all-time career block record.
Zeke Marshall, Akron
The Zips 7'0" center isn't a player typically seen outside college basketball's Power Six Conferences. In 2009, Marshall was rated No. 43 overall and the sixth-rated center according to Rivals. The McKeesport, Pa. native spurned offers from Pittsburgh, Boston College and Virginia before choosing Akron.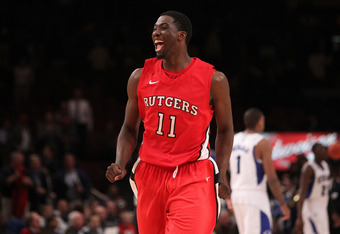 Nick Laham/Getty Images
Marshall's length and timing allows him to start many fast-break opportunities through his shot-blocking ability. He's a great athlete that jumps well and continues to get stronger each year for Akron. Marshall averaged 2.6 blocks per game last season and recorded nine blocks against Kent State in the MAC conference tournament championship.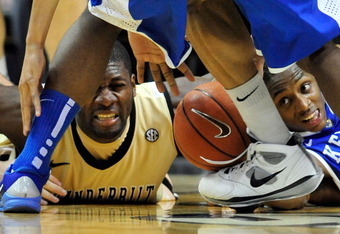 Grant Halverson/Getty Images
David Foster, Utah
Standing 7'3" with a 7'8" wingspan, Foster basically serves as a 10-foot wall in the middle for the Utes. He can stand on his toes, reach up and grab the rim of the basket—something few players in the world can do.
Besides being tall, Foster has an uncanny knack for blocking shots, averaging 4.0 blocks per game during his sophomore season and 3.2 this past season as a junior. He anticipates well and can block shots with either hand, unlike many players who have to reach across with their dominant hand. Foster's mere presence in the middle is intimidating in itself as many opponents will avoid the lane and settle for the perimeter shot.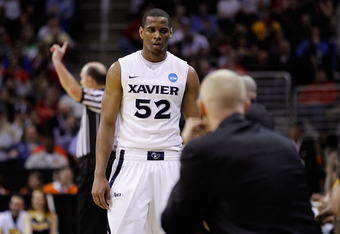 Gregory Shamus/Getty Images
Laurence Bowers, Missouri
Not very highly regarded by the various recruiting services coming out of high school, Bowers has established himself as a key cog in the Missouri frontcourt. Standing 6'8" with a strong frame, superb wingspan and tremendous athleticism, the 21-year-old has utilized these tools to earn a spot on the Big 12's All-Defensive Team after averaging 1.8 blocks and 1.1 steals last season.
Bowers is very active on the defensive end and gets his hands on a lot of loose balls, helping him stuff the stat sheet. Missouri's unique style of play under former head coach Anderson allowed Bowers to show off his versatility in guarding virtually every position on the floor.
Delvon Roe, Michigan State
Roe has adopted defense as his ticket to professional basketball, making a name for himself as the Spartans' defensive stopper. To say that Roe is tough is an understatement—"warrior" would be the best word to describe him.
After all the injuries (knee problems) he's been through and not developing the way he and Sparty nation had envisioned offensively out of high school, a lot of young men would have quit.
Not Roe.
This is a man who played through a torn meniscus and never told anyone until the end of the season. Besides being mentally and physically tough, the 6'8" power forward understands the game so well and takes enormous pride in guarding his man and helping his teammates. Despite his athletic deficiencies, Roe shows excellent fundamentals, energy and uses the aforementioned intangibles to thrive defensively.
Jared Cunningham, Oregon State
Steals can be a bit misleading because sometimes it involves being in the right place at the right time on the court. Still, Cunningham's 2.8 steals per game is hard to ignore, which led the Pac-10 and ranked fifth overall nationally.
His lengthy 6'4" frame creates havoc in the passing lane and eight times this season he's posted at least five or more steals in a game. That's not luck—that's being a straight menace. Cunningham's knack for anticipating the ball in Oregon State's zone is the best I've seen in quite some time.
Kyle Fogg, Arizona
With the new wave of players that arrived last year, Fogg's scoring average dipped back into single digits in 2010-11. But with defense, Fogg remains a significant part of the Wildcats' success.
He has long arms, excellent lateral quickness and does a great job of pressuring the ball and getting into guys. At 6'5", he possesses an ideal frame, athleticism and attitude that make him the type of defender he is today. Fogg is more of a quiet, blue-collar guy that goes about his business knowing his role for Sean Miller.
DeQuan Jones, Miami (FL)
Jones is an elite athlete with tremendous size, strength, leaping ability and explosiveness out on the wing. He arrived to Miami with big-time expectations being the highest-rated recruit former Miami head coach Frank Haith had ever reeled in. But things haven't gone the way he and fans had planned after struggling to develop offensively during his first two seasons.
And last season as a junior, he broke his hand in mid-January causing him to miss seven games and was never quite right until the NIT tournament. Jones has adopted the defensive stopper role with welcomed arms and will be a key to Miami's success if he can stay healthy in his final season as a Hurricane. 
Bernard James, Florida State
James is a strong, physical, mobile post defender with great hands and his running and jumping ability at 6'10" make him the second-best shot-blocker in the ACC with 2.4 blocks per game.
Before arriving to Florida State, James completed a six-year hitch in the U.S. Air Force, where he was deployed three times. He had never played organized basketball before entering the Air Force, where he started playing in an intramural league.
After being a standout player and chosen for the Air Force All-Star team, James enrolled at Tallahassee CC where he played for two seasons—his first stint playing organized basketball. At 26 years old, his maturity level and leadership qualities are off the charts. And he's just beginning to tap into his basketball potential.
Dane Miller, Rutgers
After being somewhat of a liability on defense during his freshman season, Miller manned up and turned himself into one of the elite defenders in the Big East last season. The 6'7" junior-to-be wing has made enormous strides defensively, getting better each game he plays by using his breathless athleticism and length to his advantage.
Rutgers head coach Mike Rice said you could write books about Dane's maturity process defensively. Miller drew the assignment of the opposition's best player each game out, averaging 1.6 blocks and 1.0 steals out on the wing.
Jordan Taylor, Wisconsin
On the offensive side of the ball, it's hard to find any weaknesses in Wisconsin's All-American point guard. And as his selection to the 2011 Big Ten All-Defensive Team proved, Taylor was also a lockdown defender, capable of shutting down top guards in the country.
Taylor isn't blessed with the physical tools of a prototypical point guard, especially at the NBA level. But he does a great job at utilizing his strength, toughness and basketball IQ to succeed at Wisconsin. Taylor is the most well-rounded point guard at the collegiate level. 
Gregory Enchenique, Creighton
The former Rutgers transfer immediately established himself as the top interior defender in the Missouri Valley after becoming eligible in December when he recorded seven blocks on the road against the conference regular-season champion, Missouri State.
Enchenique is a hard-to-move fixture on the block, runs the floor well and gets nice lift for his bulky frame. Prior to transferring, the Venezuelan native averaged 2.4 blocks in 39 total games in one season and change for Rutgers and led all Big East freshmen in blocks and defensive rebounding. 
T.J. McConnell, Duquesne
Last season as a freshman, McConnell led the Atlantic 10 in steals with 91 (2.8 spg)—good for fourth overall in the nation and nearly breaking former Temple standout Pepe Sanchez's single-season steals record.
Standing only 5'9" 165 pounds, McConnell's quickness, speed and basketball IQ are the tools that make this turnover-forcing machine such a special talent. Running the floor, playing pressure defense, getting his hands on the ball to create deflections, creating turnovers into points and hitting the open three in transition are the things he does best.
The kid who grew up playing on the playgrounds of Pittsburgh proved all his naysayers wrong by making a smooth transition to the collegiate level after earning Atlantic 10 Freshmen of the Year honors. 
Jay Threatt, Delaware State
Threatt doesn't get much notoriety playing in the Southland Conference, but it's hard to keep this turnover-forcing machine off this list. After originally being enrolled at George Mason, the 5'11" point guard transferred to Delaware State after his freshman season.
In his first season for the Hornets in '09-10, Threatt led the NCAA in steal percentage by recording a steal on 5.52 percent of opponents' possessions and Delaware State finished No. 1 in the nation in defensive turnover percentage at 28.3.
Threatt came through with a repeat performance in 2010-11 with 93 steals in 30 games, good for 3.1 per game and fourth overall in the NCAA—proving his sophomore season was no fluke. 
Festus Ezeli, Vanderbilt
The 6'11" 255-pound center is one of the more underrated players in the country as he ranked No. 15 in the nation with 88 total blocks (2.6 BPG) during his breakout season with the Commodores. He possesses excellent length, strength and athleticism and was finally able to utilize those tools in becoming a major threat on both ends of the floor.
Ezeli plays physical and aggressive defense, but his inability to stay out of foul trouble is why he only averaged 22.6 minutes per game last season for the Dores. The Nigerian native is still learning how to defend away from the basket and while he's improved his awareness, must do a better job staying straight up on shooters if he wants to stay in the game longer.
C.J. Aiken, St. Joseph's
The 6'9" sophomore power forward uses his superior length and feel on the defensive end in becoming a terrific shot-blocker. After averaging eight blocks during his senior season of high school at Plymouth Meeting (PA), Aiken stepped in to become a huge presence defensively for St. Joe's, averaging 3.5 blocks per game as a freshman—leading the Atlantic 10 and good for third overall in the country last season.
He recorded nine blocks against La Salle and George Washington and seven against Villanova, Rhode Island and Fordham. If Aiken adds muscle to his pencil-thin frame this summer, he could become the best shot-blocker in the country next season. 
Tu Holloway, Xavier
Holloway isn't blessed with great height at 6'0", but makes up for it by playing with toughness and high energy at the defensive end. He has good feet, quickness, muscular frame and solid length, making him a defensive pest in the Atlantic 10.
Overall, Holloway is a great defender at the collegiate level due to the effort he gives combined with the disciplined system he plays in. Holloway led Xavier with 1.4 steals per game and earned a spot on the Atlantic 10's All-Defensive Team last season. 
Williams Mosley, Northwestern State
The 6'7" 220-pound center led the NCAA in blocks last season with 4.9 per game for the Demons. During the 2010-11 season, Mosley record 11 blocks twice against Centenary and LSU-Shreveport (triple-double) and 10 at Lamar.
By season's end, he moved into second in Southland Conference history in blocked shots (330 career) and earlier eclipsed the NSU career blocks mark.
Mosley was selected to the Mid-Major Defensive All-America team, chosen by a panel from the Collegeinsider.com college basketball website. The senior-to-be is on pace to finish in the NCAA's top five in career blocks. 
Michael Gilchrist, Kentucky
Gilchrist has the makeup to join the elite class of defenders in college hoops next season and will likely fill the role DeAndre Liggins leaves behind as defensive stopper for Kentucky. Standing 6'7" 210 pounds, he possesses top-notch athleticism and plays with a relentless motor each time he hits the floor.
Gilchrist was hands down the best defender in the 2011 class due to his commitment and competitive drive to be a well-rounded player. Look for the freshman to be that guy who does the dirty work for Kentucky next season.
It's up to him how far he wants to go—and judging by his character, there's no doubt in my mind he'll be a winner on both levels. 
Michael Porrini, Kent State
The cornerstone of Kent State's defense was named Mid-American Conference Defensive Player of the Year for 2010-11. As a JUCO transfer in his first year for Kent State, Porrini was a major force in helping the Flashes to lead the MAC in field-goal percentage defense and three-point percentage defense.
He had 12 games of at least three steals, and finished fourth in the conference with 1.8 steals per game. Porrini is such a good defender because he possesses rare quickness, strength and energy level. Like many on this list, he plays hard—a skill some guys have and some guys don't. 
Robert Sacre, Gonzaga
At 7'0" with a 260-pound muscular frame, Sacre is one of the most physically imposing players in the country. The senior-to-be center has always had the body and build of a player that should dominate at this level of competition; if I could create an ideal body-type of a collegiate center, it would definitely be Sacre.
His presence alone is a deterrent to opposing teams that even think about entering the lane. He's taken a few knocks from critics in the past for not being able to reach his full rebounding potential considering his size and strength, but his speed and footwork improved last season. He's typically been able to get good position on his defender in the post and has averaged nearly two blocks per game over the last two seasons for Mark Few at Gonzaga. 
Terrence Jones, Kentucky
Overshadowed a bit last season on the defensive end by Liggins and with most of the focus around his offensive abilities, Jones made tremendous strides defensively for the Wildcats.
Despite seeing his offensive role decrease as the season progressed, the versatile combo forward showed signs of maturity in accepting his role, playing with intensity and toughness on the defensive end. His on-ball defense was instrumental in getting Kentucky to the Final Four last season. 
Late in games, Jones had more game-changing plays defensively than he did offensively. Standing 6'9" 245 pounds with a long 7'2" wingspan and strong frame, Jones more than holds his own in the post. Jones averaged 1.9 blocks per game and tied for No. 11 in the country with 244 total defensive rebounds for the Wildcats.