Arizona Wildcats Recovering Quickly After Derrick Williams, MoMo Jones Depart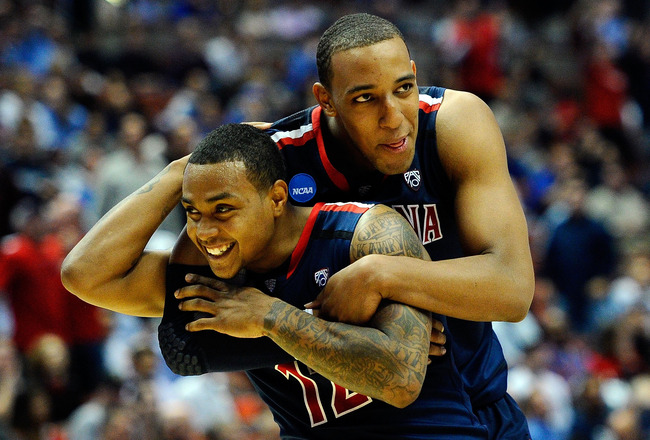 Kevork Djansezian/Getty Images
Here's the beauty of Sean Miller's two-year resurrection of the Arizona hoops program:
Despite losing the potential No. 1 NBA draft choice in phenom Derrick Williams (though Kyrie Irving appears to be the consensus pick,) and a fiery, clutch point guard in MoMo Jones (the team's second-leading scorer in 2010-11), the outlook for next season is still heavy on potential.
Headed to Tucson, Ariz. are four of the country's elite recruits and set to return are seven rotation regulars, including three starters. Arizona will enter next October with a higher level of expectations than the last one (and that ended with a mad dash through March).
Come inside for a closer look at what Arizona lost from last season's Elite Eight run, followed by the reasons the program is on the verge of another deep tourney trek despite those departures:
(Remember, people: this piece is based on the observations of one writer who is a lifelong follower of University of Arizona sports, an unabashedly-biased view point. The experts on Arizona basketball (those who follow it closely on a day-in, day-out basis and have access to the program's key figures) include: Bruce Pascoe, Greg Hansen and Patrick Finley of the Arizona Daily Star, Anthony Gimino and staff of TucsonCitizen.com, Jody Oehler of 1490-AM Tucson, and the crews of PointGuardU.com, the Wildcat Sports Report and GOAZCATS.com . Most of the opinions formed in this writer's articles and slideshows are gleaned off of the hard information provided by those sources. Expect them to be linked to often. Read/listen to them all.)
Keep Reading

Arizona Wildcats Basketball: Like this team?