Jim Boeheim Leads Call for Cancer Awareness at Yankee Stadium Ceremony
May 16, 2011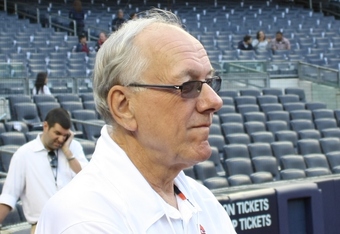 It was Coaches Versus Cancer night at Yankee Stadium in the Bronx last Wednesday night as 10 Division I coaches appeared to show their support in the fight against cancer.
The coaches appearing at the pregame ceremony and introduced to the crowd were Jim Boeheim of Syracuse University, Mitch Buonaguro of Siena College, Mo Cassara of Hofstra University , Tommy Dempsey of Rider University, Matt Doherty of Southern Methodist University, John Dunne of Saint Peter's College, Mitch Henderson of Princeton University, Steve Lavin of St. John's University, Mike Lonergan of George Washington University and Mike Rice of Rutgers University. 
Coaches Versus Cancer is a nationwide collaboration between the American Cancer Society and the National Association of Basketball Coaches (NABC) that empowers basketball coaches, their teams and local communities to make a difference in the fight against cancer.

The program is most often seen through the Coaches Versus Cancer Tournament held at Madison Square Garden during the college basketball pre-conference season and the game each season when coaches around the country wear sneakers with their dress clothes while coaching their teams. The program seeks to increase cancer awareness and promote healthy living through a year-round awareness effort. 
Coaches Versus Cancer was originated from an idea by Norm Stewart, former head coach of the University of Missouri's men's basketball program, and a cancer survivor, who challenged fans to pledge a dollar amount for every three points made by his team during the season. 

Now, more than 2,000 Division I, II and III college coaches are involved in the program. which has raised nearly $50 million since its inception. Additionally, over 100 high school coaches participate in the program.
Coach Jim Boeheim of Syracuse was identified to have prostate cancer in December 2001. He took a three-game leave of absence from coaching to have surgical treatment but just a year later guided the Orange to the 2003 NCAA Championship.

In 2009, he accepted the role as national spokesman for the "Know Your Score: Fight Prostate Cancer" campaign. The 2005 inductee into the Naismith Memorial Basketball Hall of Fame described the Coaches Versus Cancer program:
"The thing we are trying to do, obviously everyone is trying to raise money, but more importantly to raise awareness, so people get early detection. All of us talk about how we get early detection, and are still walking around and healthy. I think that proves a good point to people to get colonostomies get prostate exams for men, get those two things done, you have a chance to save your life if you get cancer." 
Regarding some of the program events, the Syracuse coach said, "We have a ball in Syracuse, a gala, and a golf tournament. There is a national golf tournament we are in Kawai, then the Coaches versus Cancer (basketball) Tournament in New York City we play in every three or four years and the "National Suits and Sneakers" days in which all the coaches around the country wear sneakers." 
Steve Lavin, who coached UCLA to six NCAA Tournament berths and again this past season, his first at St. John's in New York, took the Red Storm to the NCAAs for the first time since 2002.  Coach Lavin announced in April his own prostrate cancer condition for which he is planning treatment with his doctors.  He commented on the Coaches Versus Cancer program: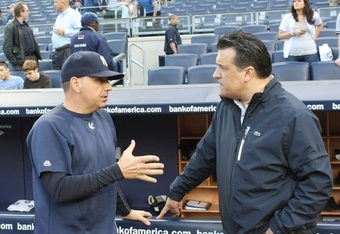 "It is a group of people who share a commitment, have strong convictions, in terms of being a champion of a great cause, which is finding a cure for cancer and supporting that with anything it takes, That is what this about."

As to events, "There are a number of events that particular coaches will sponsor whether a gala or a golf tournament tied into an auction, so there are a number of creative ways that you can participate in the fight against cancer." 
The head coach of the 2011 Metro Atlantic Athletic Conference Champion St. Peter's Peacocks, John Dunne, commented:
"It is tremendous, so many coaches are here, and that so many people do such good deeds to battle cancer.  I'm just happy, glad and fortunate to be a small part of that."
Mitch Buonaguro was the lead assistant coach at Siena College when the Saints won the MAAC title and appeared in the NCAAs three consecutive times from 2008 to 2010. The former Fairfield University head coach from 1985 to 1991, who was promoted to head coach at Siena this past year, commented:
"Coaches Versus Cancer is very close to all of us, the coaches have gotten very involved up in the Albany area.  We are raising the money for a great cause. Tonight we are really excited about being at Yankee Stadium, and being with some of the really good coaches in the country. We really take this fight against cancer very seriously, we want to raise money and beat it." 
At Rider University in New Jersey, Tommy Dempsey was the 2007-08 MAAC Coach of the Year and the Division I Metropolitan Basketball Writers Association Coach of the Year when he took the Broncs to a 23-win season. This past year Rider was again a strong season with a 23-11 record and CIT post season berth.

Coach Dempsey said, "The whole group of coaches do a great job with Coaches Versus Cancer, all the coaches, we are all bought into the cause. It has affected every coaches life in some way.

"Anytime we have the opportunity to come here, or do anything to support the Coaches Versus Cancer Foundation, we all jump at it.  Everyone has their own little thing within their own program, nationally we all wear the sneakers one weekend as a sign of solidarity that we are all in this fight together."
Our best wishes and prayers go out to Coach Lavin for his 100 percent recovery from his current cancer condition and to all who are suffering from cancer in one way or another. Perhaps many of us can help with a Coaches Versus Cancer fundraising program over the summer or during next year's basketball season. As the coaches pointed out, we all have friends or family who have had one form of cancer or another. Programs like this make a big difference.  

Ken Kraetzer covers Iona basketball and West Point Football for WVOX 1460 AM in New Rochelle, NY. His mother, father, and sister have had cancer challenges. Reach him on kgk914@aol.com.