Oregon Ducks Basketball: 5 Reasons to Be Excited for the 2011-12 Season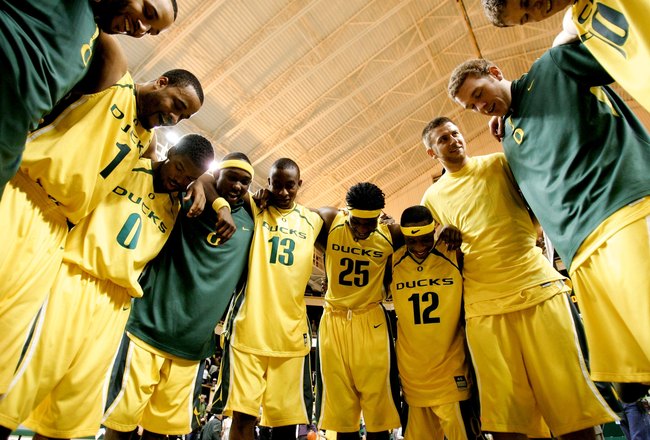 Jonathan Ferrey/Getty Images
Expectations were not very high for the Ducks last season. After firing coach Ernie Kent, multiple player transfers, including the Ducks star center, few experts believed Oregon would have any success in the 2010-11 season.
But the Ducks far exceeded expectations, and next season looks to be even more promising for Duck Nation.
Here are the five things that should have Duck fans quacking.
5. Matthew Knight Arena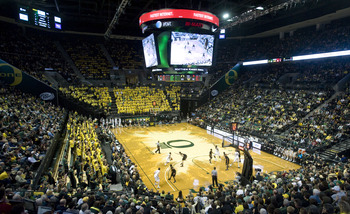 Steve Dykes/Getty Images
What goes into home court advantage? The crowd? The students? The building?
I'm not one for superstition, but what looked to be an awful season in 2010-11 turned out to be pretty great for the Ducks.
And it isn't crazy to credit some of that to the new Matthew Knight arena. So far, the Ducks have a record of 9-3 at the new arena, much better than the rest of the season.
And this place is attracting big names. Recruits are dying to play in this mind-blowing spectacle, and it will benefit the Ducks for a long time.
Beating USC in the arena's opening night is just a sign of great things to come.
4. 2011 Pac-10 Tournament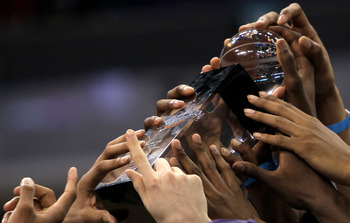 Stephen Dunn/Getty Images
The Ducks finished the regular season in seventh place in the Pac-10 conference.
With little hope heading into the tournament, the scrappy Ducks fought their way to a tough win over Arizona State, and then a blowout win over a very good UCLA team.
While the Ducks fell to the Huskies, there's no shame in that. The Ducks have been fighting to the whistle in every game, winning games they seemed to have no chance in.
Watch for Oregon to compete for the Pac-12 title next season.
3. CBI Championship

Steve Dykes/Getty Images
Some critics were skeptical of a team with a losing record making it into a postseason tournament. But little did they know, the Ducks had a few tricks up their sleeves.
Oregon won five of six tournament games, and never lost at home. Oregon not only competed strong in the tournament, they were nearly perfect and ended up beating out Creighton for the tournament title.
You can think of the post season as the start of preparation for next year.
I see good things ahead.
2. Jabari Brown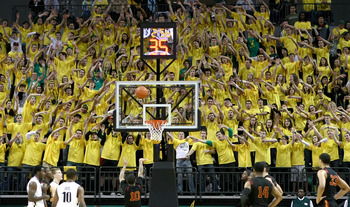 Jonathan Ferrey/Getty Images
Few people still don't know this young man's name. A five-star, All-American recruit according to Rivals and Scout recruiting, and one of the top shooting guards in the country.
Oregon will need a big star to step up and replace five-year man Joevan Catron. Brown is just the man to do it.
If Brown can keep his ego in place and work hard in the offseason, Oregon will be a force next year.
I just hope Brown is not a one-and-done.
1. Dana Altman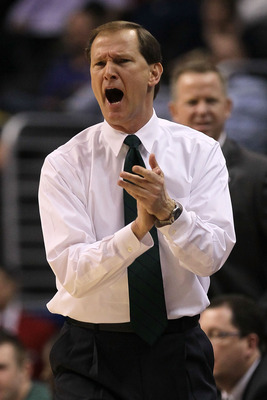 Stephen Dunn/Getty Images
What is there left to say about Coach Altman? Rumors were floating around after Ernie Kent's firing a year ago, with names like Brad Stevens and Tom Izzo surfacing.
Little did we all know that they were just that—rumors. Oregon eventually hired Altman out of Crieghton, a very successful coach with a long history of success.
And he's done even better than Duck fans could have hoped for. Many analysts didn't have the Ducks winning a single conference game, yet they almost won the conference tournament.
No one in their right mind would have believed the Ducks would have been playing basketball later in April than Duke.
But the Ducks did. Sure it was in the CBI, but Oregon far exceeded expectations, and the credit has to go to Coach Altman and his players.
Keep Reading

Oregon Ducks Basketball: Like this team?