Lil Wayne Rocks Skylar Diggins Notre Dame Women's Basketball Jersey on Stage
April 15, 2011
All-American Notre Dame women's basketball player Skylar Diggins made headlines for helping lead the Fighting Irish to the NCAA Tournament final a few weeks back, especially by scoring 28 points in a semifinal upset of the No. 1 UConn Huskies.
But shortly thereafter, the point guard made headlines for something else. Namely, catching the eye of some very popular people.
After the Irish's Final Four win over UConn, rapper and renown sports fan Lil Wayne tweeted: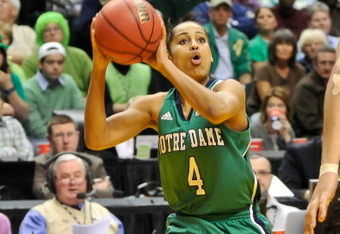 Jamie Sabau/Getty Images
"I'm like, 'I didn't know we were married, but this is huge,'" Diggins told reporters the next day. "Him just watching the game and watching us play, I think that says a lot about how big women's basketball is becoming."
According to Yahoo:
"Diggins is the subject of a new rap song inspired by her NCAA tournament performance. She has her own blog on ESPN.com. And in addition to her shout-out from Lil Wayne, singer Chris Brown also saluted her on Monday, telling her "congrats beautiful."
Now, the latest honor: Lil Wayne wore a replica Diggins jersey on stage Tuesday night during a concert at Indiana University's Assembly Hall.
Once again, Diggins was honored. Notified on Twitters of Lil Wayne's nod to her play, she responded: