Final Four 2011: 5 Bold Predictions for the Final Four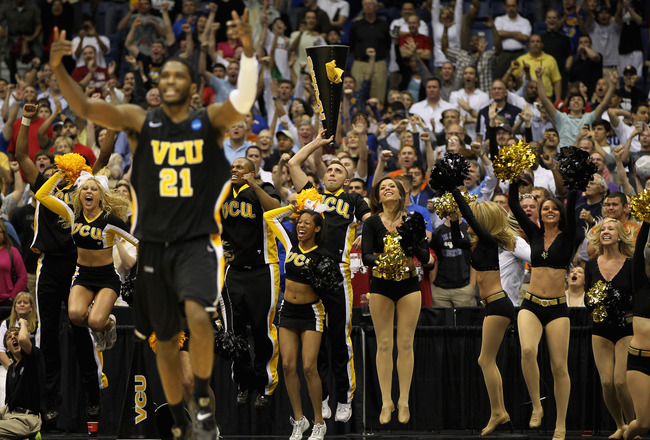 Jamie Squire/Getty Images
The NCAA Men's Basketball Tournament is down to the Final Four, and only one team can be crowned the national champions.
For just the third time in college basketball history, the Final Four will not have a No. 1 seed, as the participants are a mixture of big name schools and underdogs.
The Kentucky Wildcats will face off against the UConn Huskies and the Butler Bulldogs will take on the surprising VCU Rams. With all of the last-minute drama and excitement the tournament has brought so far, the Final Four is destined to be filled with surprises.
UConn Will Beat Kentucky by Double Digits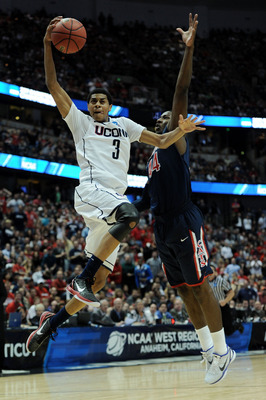 Harry How/Getty Images
The UConn Huskies have really impressed in this tournament despite the skeptics (including me) who doubted them.
They are on a dominating winning streak that has seen them blow through the competition. The Huskies have beaten teams that are twice the size they are and have overcome every obstacle.
They have seen some of their younger players like Jeremy Lamb rise to the occasion and become a clutch player during this fantastic run. UConn matches up well against the Wildcats, and they should get an easy win and advance to the national championship game by double digits.
One Game Will Go to Overtime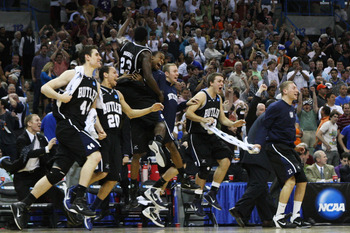 Streeter Lecka/Getty Images
This may not seem like such a bold prediction, but with just three games left, the odds are against overtime. However with the way this tournament has shaped up, one thing is for certain, anything can happen.
In a tournament filled with buzzer-beaters and nail-biting finishes, the finale will be filled with drama, and at least one game will go to overtime.
Butler and VCU Combine to Score Less Than 120 Points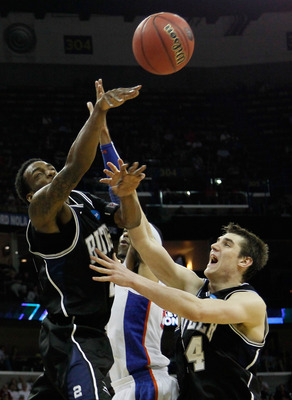 Kevin C. Cox/Getty Images
If you like defense, then tune into the first-round game between Butler and VCU.
Both teams play a solid halfcourt offense and rely on defense to win ballgames. While a rash of three-pointers could blow this bold prediction out of the water, I am confident this will stay below 120 points.
This game will be a chess match between two up-and-coming coaches will turn into a slow-down, grind-it-out type of game. The game will be exciting, but defense will rule the night in a low-scoring slug fest.
Kemba Walker Will Score 40 Points Against Kentucky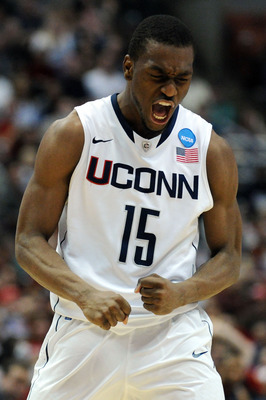 Harry How/Getty Images
Walker is hands down the best player in the tournament, and he has the ability to take over a basketball game. Big players step up in big games, and the stage is set for Walker to score big.
Walker has a favorable matchup, and head coach Jim Calhoun knows how to put him in matchups to succeed. Calhoun switches Walker to the position with the weaker defender to give him a great chance to shine.
Walker goes off for 40 as he takes over the Final Four.
Butler Will Win the National Championship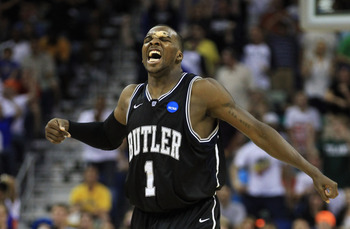 Streeter Lecka/Getty Images
Why not?
The Butler Bulldogs have the most experience since they were on this national stage just a year ago and were a buzzer-beater away from winning it all. Matt Howard is a solid leader on the court, and Brad Stevens is the hottest coach in the land.
They play solid defense, and when they are down, they never give up.
Shelvin Mack is becoming a shining star on this team and is the go-to-guy with the game on the line. In what should be a brilliant finish to a stunning tournament, the Butler Bulldogs will be crowned the 2011 national champions.
Matt Regaw is a B/R Featured Columnist and the founder of BookieBlitz.com, your one-stop shop for sports articles, previews and predictions. Feel free to contact Matt at mregaw@gmail.com.
Keep Reading

UConn Basketball: Like this team?