NCAA Tournament 2011: Kansas Vs. VCU Preview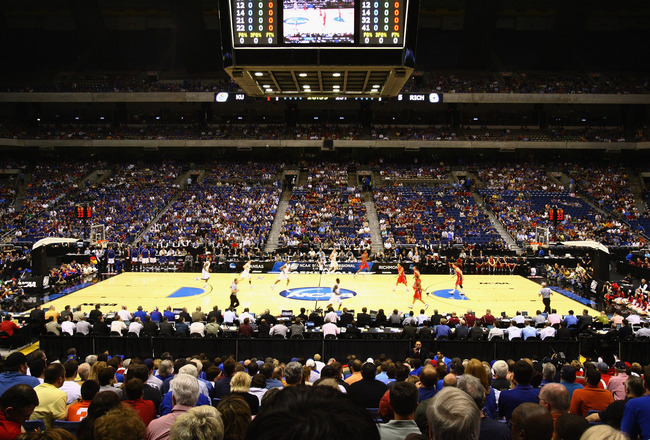 Maribel de la Torre/Getty Images
The Elite Eight is upon us in the NCAA Tournament, and Sunday has two great games, one of which is when Kansas takes on VCU.
The Jayhawks are the only remaining No. 1 seed and they take on the only double-digit seed left in the field in 11-seed VCU.
Kansas has looked strong throughout the tournament, winning all three of their games by at least 14 points. The Jayhawks took care of another potential Cinderella in Richmond on Friday night, beating them by 20.
VCU pulled off convincing upsets over Georgetown and Purdue, winning both games by 18. They then barely got past Florida State on Friday, winning by a single point in overtime. Even more impressive about the VCU run is the fact that they had to win a play in game just to make the field of 64.
Now one of the biggest basketball programs in the nation takes on a team that many said did not even belong in the field, with a berth in the Final Four on the line.
The following slide show breaks down the starting five, benches, coaches and momentum and picks a winner for this Sunday afternoon battle.
Feel free to comment below with your own predictions of the score.
Starting Five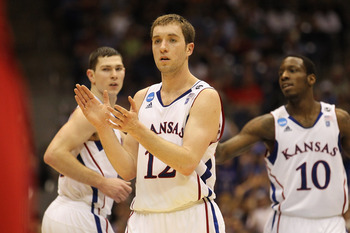 Ronald Martinez/Getty Images
Although both teams have bench players that can contribute, the starting five of both Kansas and VCU is the bread and butter of each team.
For Kansas the Jayhawks are led by a three-guard, two-forward design. Up front for the Jayhawks is twin brothers Markieff and Marcus Morris.
These two brothers have been pretty dominant for the Jayhawks all season, averaging a combined 30.7 points and 15.6 rebounds per game. The Morris' did struggle against Richmond, only shooting a combined 6-18 from the field.
The three guards for the Jayhawks are Brady Morningstar, Tyrel Reed and Tyshawn Taylor. None of these players average over 10 points a game but one of them could break out in any game. Against Richmond Morningstar made four three-pointers and totaled 18 points.
VCU runs an even smaller team than the Jayhawks, and usually has four guards on the court at the same time. Down low the Rams have Jamie Skeen who is their leading scorer and rebounder. Also throw in D.J. Haley who may have to play more to combat the Morris twins.
At the guard slot the starters for VCU have been Joey Rodriguez, Bradford Burgess and Ed Nixon. Burgess has the ability to put up a lot of points, as he scored 28 against Florida State. Five foot ten Rodriguez is the heart and soul of this team and has become the face of this Cinderella.
Advantage: It is hard to argue against the Morris twins and center is a big weak spot for VCU. Kansas has the better starting five.
Bench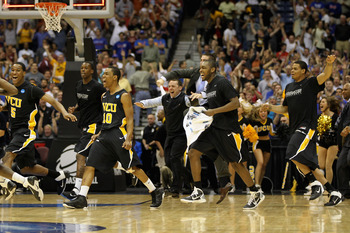 Jamie Squire/Getty Images
Both of these teams used their bench extensively in the Sweet 16 with eight Kansas players and six VCU players coming off the bench.
The most valuable two players to come off the bench for Kansas are Josh Selby and Thomas Robinson. Selby gives them about eight points a game as a guard and Robinson will give them a little less than eight points and six-and-a-half rebounds as a forward.
VCU uses their bench to a much larger extreme as shown in their win over Florida State when four players had at least 19 minutes off the bench.
Brandon Rozzell is a player who can rotate with the guards and averages just a shade under 12 points per game. Rob Brandenberg and Darius Theus also give VCU valuable guard contributions while Juvonte Reddic gives them a bit more size up front.
Advantage: This is a tough decision because Kansas receives smaller contributions from a bunch of players where as VCU receives a big contribution from just a few players.
Kansas may have the deeper bench but I give VCU the advantage because of the talent they can rotate through.
Coaching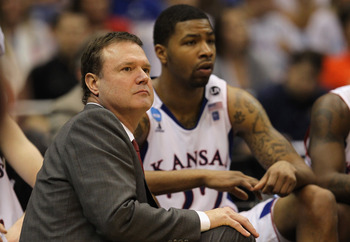 Ronald Martinez/Getty Images
To get a team to the Elite Eight one must be a great coach, and that can be said about both Bill Self of Kansas and Shaka Smart of VCU.
Self is a college basketball legend who has been named National Coach of the Year and Big 12 Coach of the Year multiple times.
Self lead the Jayhawks to the 2009 National Championship and will not at all be distracted by the bright lights of the Elite Eight. Self has a career winning percentage of .747.
Shaka Smart is only in his second year as a head coach but has already proven than he can take a program to the next level.
Smart is best know for his havoc style of play, in which he gives his players the freedom to do as they please on the court.
Advantage: Smart is going to be a great basketball coach for years to come, but it is hard to argue with Bill Self who has established himself as one of the best in the country.
Self gives Kansas the advantage here.
Momentum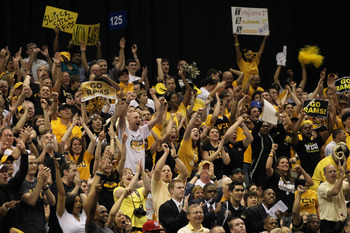 Jamie Squire/Getty Images
If a team is able to catch fire during the NCAA Tournament they can go far just on their momentum alone.
The Kansas Jayhawks have easily won in the first three rounds, and look to be on cruise control so far through the tournament.
VCU has had to win four games to make it this far, and up until their game against Florida State they were also on cruise control. The big question that looms regarding the Rams is will this extra game catch up to them.
Kansas has been more consistent, but maybe a close game for VCU that got their heart beating and put them in more of a pressure system was good for their future.
Advantage: In order for both these teams to be here they must have some momentum, but I like what VCU has done and I think a overtime game will help them to regain their focus.
Final Verdict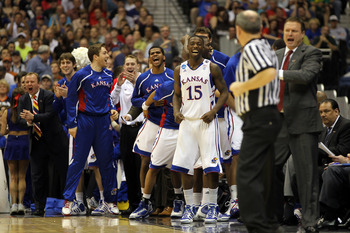 Jamie Squire/Getty Images
A VCU upset here would make for a George Mason like story, and there is absolutely potential for this to happen.
However Kansas is the best remaining team in the field and it would take a poor effort by them and a great effort by VCU for an upset to be had.
The Jayhawks are going to be able to control the paint on both sides of the floor and the run and gun style of VCU does not match up well against the athletic guards of Kansas.
I'm not saying we won't see a memorable upset, I'm just saying I would not bet on it.
Final Score Prediction: Kansas 78 VCU 63
Keep Reading

Kansas Jayhawks Basketball: Like this team?