Iona Joins CIT "Final Four" with 78-63 Win Over Buffalo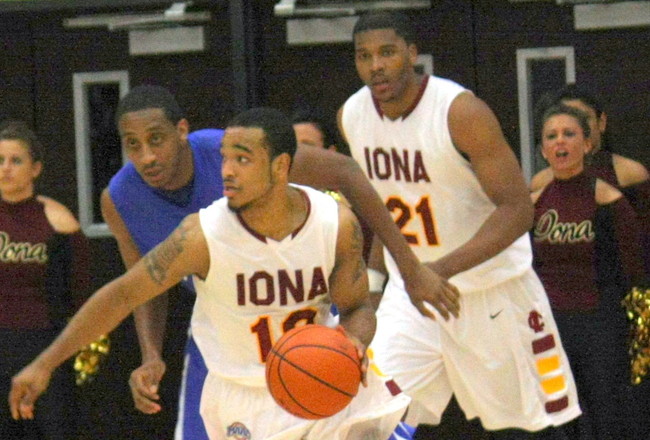 The Iona Gaels played their first home postseason game in 15 years and did not disappoint their fans and students by using strong outside shooting from junior Jermel Jenkins and 28 points generated off turnovers to defeat visiting Buffalo 78-63 in the quarterfinals of the CollegeInsider.com Tournament.
Jenkins, the junior from Jersey City, made seven of 11 three-point attempts and 8-of-15 overall from the field to generate his career-best offensive performance. Leading the Bulls with a double-double was 6'6" freshman Javon McCrea from Newark, NY, who came off the bench to score 29 points on 13 of 16 shots made from the field while grabbing 10 rebounds.
Iona will now play in the CIT Final Four against Eastern Tennessee on Saturday at 2 PM.
CIT Final Four Set with Iona, SMU, Santa Clara, and Eastern Tennessee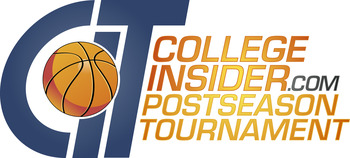 In the other quarterfinal action of the tournament:
SMU now 20-14, had a Monday night quarterfinal win 57-50 over Northern Iowa. Eastern Tennessee defeated Ohio University 82-73 in Johnson City, TN Tuesday night. The Buccaneers were led by the 27 points of Justin Tubbs who made seven three-point shots.
Santa Clara won the late game Tuesday night 95-91 over San Francisco. The Broncos received great performances from their guards in an up-tempo game against the Dons. Backcourt players like Evan Roquemore had 30 points including five of seven on three-point shots, while Kevin Foster had 27 points including 12 of 15 from the foul line.
The Mustangs will host Santa Clara, also 20-14, on Friday night at 7 PM in Dallas.
Eastern Tennessee will host Iona College on Saturday at 2 PM.
Here are the results of earlier rounds:
THE 2011 CIT SCHEDULE/RESULTS
All times EST
MONDAY
SMU 57, Northern Iowa 50
TUESDAY
East Tennessee State 82, Ohio 73
Iona 78, Buffalo 63
Santa Clara 95, San Francisco 91

FIRST ROUND (March 14-16)

MONDAY March 14
Buffalo 75, Quinnipiac 68
TUESDAY
Ohio 65, Marshall 64
East Tennessee State 76, Furman 63
Jacksonville 71, East Carolina 66 (OT)
Northern Iowa 84, Rider 50
Air Force 77, North Dakota 67
Santa Clara 68, Northern Arizona 63
Hawaii 76, Portland 64
WEDNESDAY
Western Michigan 74, Tennessee Tech 66
Iona 85, Valparaiso 77
SMU 64, Oral Roberts 57 (OT)
San Francisco 81, Idaho 73
SECOND ROUND (March 18-19)

FRIDAY
Santa Clara 88, Air Force 75

SATURDAY

Buffalo 49, Western Michigan 48
SMU 63, Jacksonville 62
San Francisco 77, Hawaii 74
The Hynes Center at Iona College Hosts Third Postseason Game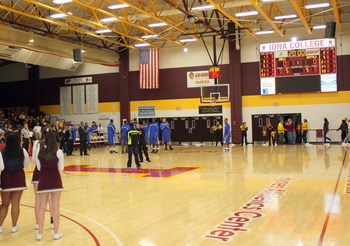 Hynes Center Court at iona College
Tuesday night was Iona College's first opportunity to host a postseason game since an National Invitation Tournament game in 1996 against St. Joseph's. That night Iona lost 82-78.
When I was a graduate student at Iona in 1983, the Gaels hosted St. Bonaventure in an opening-round NIT game defeating the Bonnie 90-76. The Gaels went on to play the second round at Lincoln, and Nebraska lost to the Cornhuskers 85-73.
It was a festive night Tuesday as longtime Gael's fans know a meaningful game like this doesn't happen very often.
Over 1,600 Attend CIT Game in New Rochelle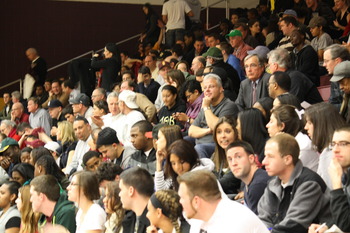 Good Crowd Came Out For Game
A good crowd of 1,638 attended the first NCAA postseason game in New Rochelle since 1996 and the third time ever.
The cheerleaders, dance team and live band provided a lively atmosphere and energy to support the Gaels against a strong Buffalo team playing it's third road game of the tournament.
Iona's First NCAA Champion Recognized Before the Game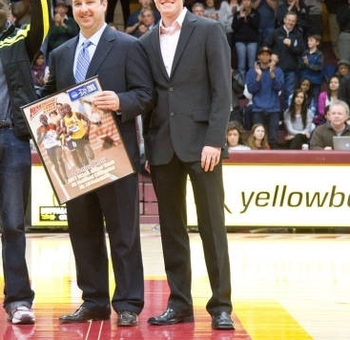 (Courtesy Iona Sports Information)
Prior to the start of the game, Iona College cross country runner Leonard Korir was honored for winning the first NCAA championship in Iona history when he won the NCAA Men's Indoor Track and Field 5,000 national championship on March 11th.

Leonard Korir who is from Iten, Kenya won the title at the 2011 NCAA Men's Indoor Track and Field national championship held at Texas A&M University. Korir became the first national champion in Iona athletics history.

"That was phenomenal," said an ecstatic head coach Ricardo Santos. "Lenny has worked extremely hard this year and it has paid off. Both the coaching staff and Lenny believed he could do it and he went out there, gritted his teeth and wouldn't give up the lead, simply awesome."

Korir blazed a time of 13:26.01 setting a new NCAA Championship and Iona College record in the 5K event. The previous championship standard was 13:28.93, set on Mar. 14th, 2003 by Arkansas' Alistair Cragg. Iona's record was held by standout graduate Richard Kiplagat, a time of 13:39.87 set at the Tyson Invitational in 2006. Korir's time was nearly four seconds faster than Craig's mark and nearly 14 seconds faster than Kiplagat's time.
Congratulations to Leonard and all in the Track and Field program at Iona.
Iona Cheerleaders Perform for Postseason Crowd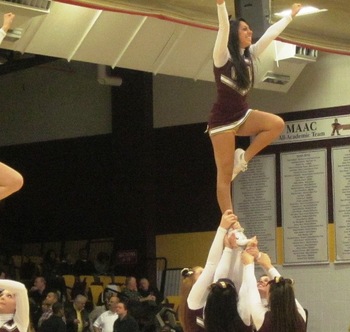 Iona Cheerleaders
Iona's Cheerleaders, Dance Team and Band do a great job at every Gael's home game to create an exciting atmosphere for college basketball.
Iona Defeated Valpo in CIT First Round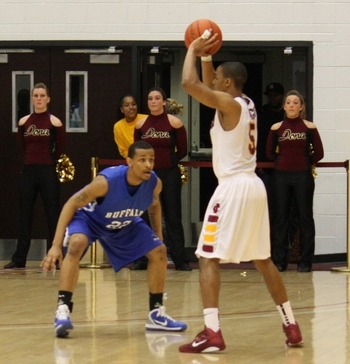 Rashon Dwighthad five assists against Buffalo
Iona came into the game after being upset in the Metro Atlantic Championship Game and losing the conference's NCAA invitation to Saint Peter's. In its first round CIT game the Gaels went out to Valparaiso and defeated the Crusaders 85-77.
Iona senior guard Rashon Dwight is defended by Buffalo freshman Auraum Nuiriankh from Baltimore, MD in the early going of the game.
Buffalo Comes into Iona After 2 CIT Wins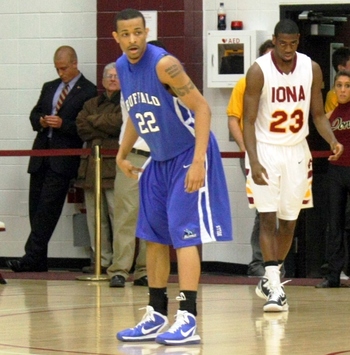 Buffalo's Auraum Nuirrriankh had seven points
Buffalo came into the game after winning two CIT road games at Quinnipiac 75-68 and at Western Michigan 49-48. Their leading scorers during the season have been junior guard Zach Filzen at 15.4 points per game and senior guard Byron Mulkey who averaged 13.1.
Freshman Auraum Nuiriankh from Baltimore, Maryland pictured here guarded by Randy Dezouvre of Iona, was playing in his eighth straight game for the Bulls.
Buffalo Freshman Forward Impresses All with Break-Out Performance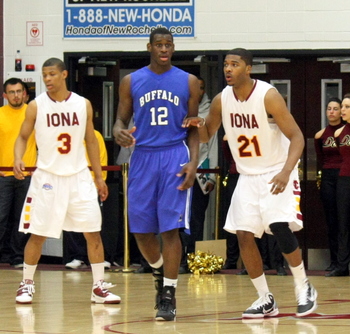 Machado and Rodriquez guard UB's Javon McCrea
Freshman forward Javon McCrea has scored 11.2 points per game coming off the bench and 6.4 rebounds per contest.
Pictured here guarded by Scott Machado and Alejo Rodriquez, McCrea entered the game with less than two minutes gone by and immediately gave the Bulls offense from the inside.
In the first half the 6'6" McCrea made seven of ten shots mostly from the inside and scored 16 points.
Alejo Rodriquez Helps Iona to an Early Lead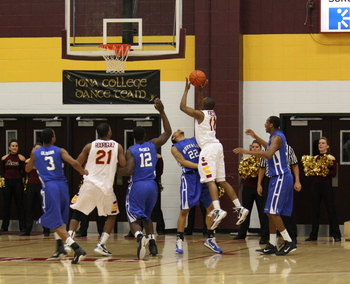 Trinity Fields shoots in first half
Iona's senior forward Alejo Rodriquez (#21 following a shot by Trinity Fields) helped Iona to an early 6-0 lead on a layup to open the game, followed by two free throws by Sean Armand and another layup.
Alejo had four rebounds and six points in the first half.
Buffalo Twice Goes out to 4-Point First Half Leads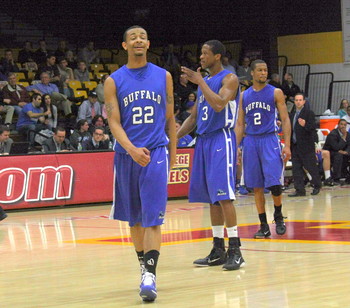 The Bulls played a strong first half taking the lead several times. At 11:46 Javon McCrea hit a layup to take a 21-17 lead over Iona.
Iona went out to a five-point lead 26-21 with 9:36 left on consecutive threes by Sean Armand, Jermel Jenkins and then Armand again.
A layup and subsequent foul shot by MCCrea, followed by a three by Nuiriankh and another lay up by MCCrea gave the Bulls another four-point lead with 3:24 left in the quarter.
Chris Pelchers Grabs 4 First-Half Rebounds.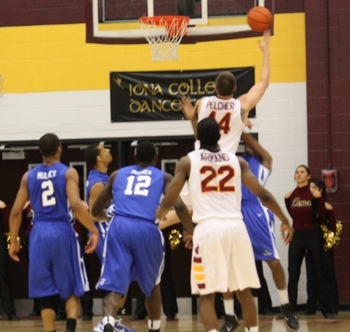 Iona's Chris Pelcher provides Gaels offense off the bench
Iona sophomore forward Chris Pelcher played six minutes in the first half giving a breather to senior Alejo Rodriquez. He grabbed four rebounds, hit one free throw and blocked a shot.
Randy Dezouvre Makes 2 Jumpers To Help Iona to a 41-36 Lead at the Half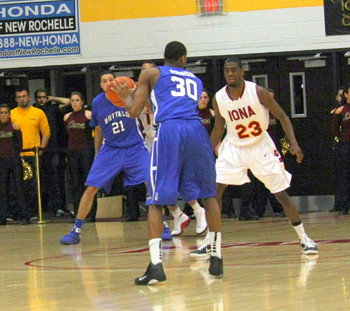 Randy Dezouvre guards Titus Robinson
With Iona down 34-30 with 2:58 left in the half, Iona junior Randy Dezouvre from Montreal made a two-point jumper. Sean Armand followed with a three-point shot to give Iona the lead at 35-34.
Scott Macado added a free throw followed by a layup by UB's Javon MCCrea to retie the game at 36 all.
Iona took a five point half-time lead on a dunk by Alejo Rodriquez. and a three-point shot by Dezouvre.
Jenkins and Dwight Build Iona's Lead Starting the Second Half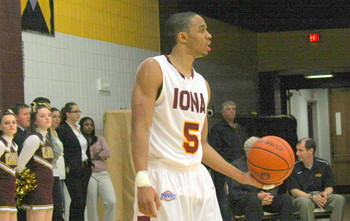 Senior Rashon Dwight hopes for two more games.
Jermel Jenkins got Iona off to an eight-point lead with a three-point shot at 17:46 to open second-half scoring.
After a layup from UB's Javon McCrea, Rashon Dwight got a layup to restore an eight-point lead with16:17 left.
Mulkey's 3-Pointer Keeps Bulls Within 3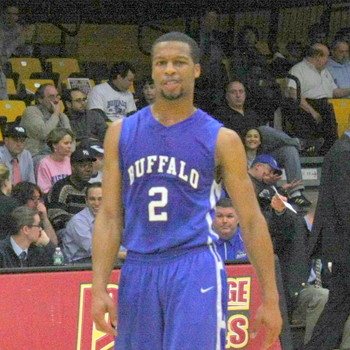 Sr. Byron Mulkey had 12 points in his last college game
With the Gaels gaining momentum, UB's Byron Mulkey made a three-point shot to bring the deficit to five, 46-41.
McRea followed with a dunk to bring the Bulls to within three at 46-43.
Mike Glover Makes "Statement" Dunk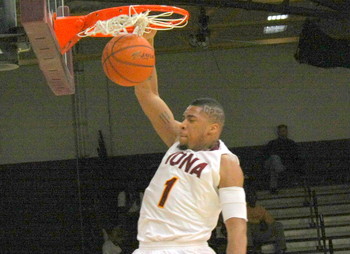 Mike Glover Adds a Monster Dunk in second half
After the dunk by MCCrea brought the game within three, Scott Machado rushed the ball up court and passed to Mike Glover who went in alone on the basket with a full head of steam and made a statement dunk to give Iona a 48-43 lead with 15:02 left.
Although MCCrea answered with a two-point jumper a moment later, the Glover dunk appeared to be the turning point where Iona took control of the game.
Iona Breaks Game Open with 8-1 Run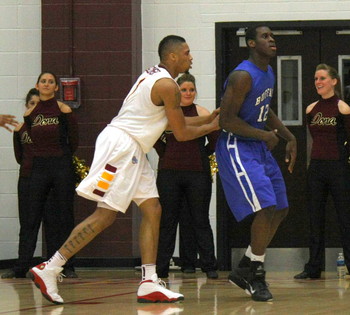 Mike Glover guards Javon McCrea who had 27 points for Buffalo
With 8:49 left, Mike Glover made a layup to start Iona on an eight point to one run with Jermel Jenkins contributing two three-point shots separated by a UB free-throw made by Jaween Alston.
At 7:25 left, Iona held the lead 62-50.
UB's Byron Mulkey Makes a 3-Pointer To Keep Game Within 10 Points at 3:31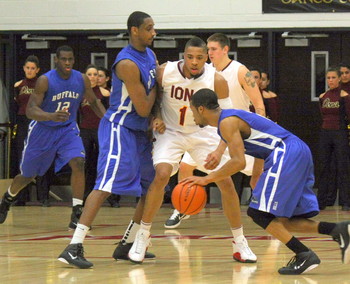 Mike Glover fights off Buffalo screen
With 3:31 left, UB's Byron Mulkey made a three-point shot to bring the Iona lead back to nine, 67-58. This was the last time the difference would be less than double digits. Scott Machado answered with six points to decide the contest.
Machado Goes on a 6-0 Run to Give Iona a 15-Point Lead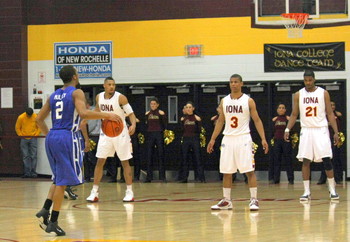 Buffalo challenges the Iona Defense
Iona junior point guard Scott Machado made a layup and then four straight free throws to decide the game by giving Iona a 15-point lead 73-58 with 1:07 left.
Iona Wins Second Game in CIT 78-63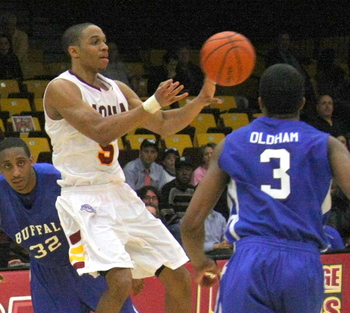 Rashon Dwight Passes
Rashon Dwight made two free throws with 27 seconds left to finish with ten points along with five rebounds and four assists.
Mike Glover was double-teamed throughout much of the game and had eight points and four rebounds on the night in 27 minutes.
Scott Machado nearly had a double-double with nine points and nine assists.
Jayon James and Sean Armand Pleased with Results
Jayon James and Sean Armand have at least one more game this season
Freshman Sean Armand started in place of the injured Kyle Smyth and contributed 11 points including three three-point shots and two free throws in 16 minutes.
Junior Trinity Fields came in and provided one basket, a rebound and an assist.
Junior Randy Dezouvre showed a shooting touch with a three-point basket, a two-point field goal and a free throw. Randy also provided four rebounds and three assists in his 11 minutes.
Sophomore Chris Pelcher came in and gave breathers to both Rodriquez and Glover, covering 14 minutes of playing time. He contributed seven rebounds along with three points and a steal.
Jayon James also saw playing time in this postseason win by Iona.
Buffalo Bulls Finish Season Winning 2 of 3 in CIT and a 20-14 Record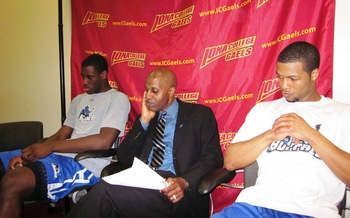 Disappointed Buffalo Coach and Players
Veteran Bufffalo coach Reggie Witherspoon in his 12th year coaching the Bulls, was disappointed in postgame discussions with the end of the season but pleased with the efforts of his team which was scheduled into three CIT tournament road games.
Freshman forward Javon McCrea had a break out game with 29 points, with no three-point shots attempted and three free throws made. McCrea made it look easy, shooting all layups and dunks. He shot 13 of 16 for the night and added 10 rebounds for a double-double. Quite a future for this player from Newark, NY.
Senior Byron Mulkey ended a proud career with 12 points, five assists and four rebounds.
Jermel Jenkins and Scott Machado After the Game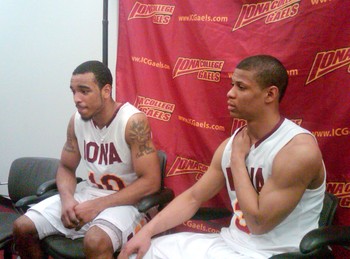 Jermel Jenkins and Scott Machado at Post Game Press Conference
Jermel Jenkins was Iona's top scorer coming off the bench with a career high 23 points including seven three-point shots.
Scott Machado nearly had a double-double with nine points and nine assists. He took a hard fall under basket and had the bruises to show for the hard fought win.
Both looked pleased with the result in which will probably be Iona's last home game of the year. The team learned after the game that their next opponent would be East Tennessee on Saturday afternoon.
A scramble began for Iona officials to arrange transportation and secure game films for East Tennessee. These are tasks they are more than glad to perform because it gives them all one more game, and perhaps a chance to play in a postseason national championship game.
CIT "Final Four" Has Iona at Eastern Tennessee and Santa Clara at SMU
THE CIT semifinals are set with Santa Clara, Southern Methodist, Eastern Tennessee and Iona College still standing for games to be played on Friday night and Saturday afternoon.
Santa Clara won the late game last night over San Francisco so they will play a semifinal game at SMU in Dallas Friday night. The Broncos received great performances from their guards in an up-tempo game against the Dons.
Backcourt players Evan Roquemore had 30 points including five of seven on three-point shots and Kevin Foster had 27 points including 12 of 15 from the foul line.
Eastern Tennessee defeated Ohio University 82-73 in Johnson City, TN Tuesday night. The Buccaneers were led by the 27 points of Justin Tubbs who made seven three-point shots.
SMU at 20-14 comes off a Monday night quarterfinal win over Northern Iowa. The Mustangs will host 20-14 Santa Clara on Friday night at 7 PM in Dallas.
Iona now 24-11, will travel to Eastern Tennessee (also 24-11) for a scheduled 2 PM Saturday semifinal at the Buccaneers Memorial Coliseum.
Keep Reading