NCAA Tournament 2011: UCLA Bruins Play Great but the Florida Gators Play Better
March 19, 2011
Mike Ehrmann/Getty Images
UCLA Bruins basketball has come to an end for the 2011 season with a third-round loss to the Florida Gators.
Still, there is no shame in Westwood. UCLA's last performance of the year was anything but dull.
The squad played their hearts out and left every thing they could muster on the court. There is not a single aspect of their game that can be criticized or pointed to as a reason for coming up short against a red-hot Gator team.
The fact is, UCLA played great.
Josh Smith had arguably his best game of the season. 
Reeves Nelson was grabbing rebounds, drawing fouls and making baskets in the paint. 
Tyler Honeycutt was blocking shots and making outside jumpers.
Malcolm Lee was scoring and grabbing rebounds.
Lazeric Jones was beating double teams on the dribble and dishing out assists.
The whole team contributed admirably. They stayed focused throughout the game and didn't make many turnovers. They played together as a team as well as they have all year. They were able to beat the Gator's 2-3 zone—an area of some concern in prior games for the Bruins—all game long. They rebounded, hustled, got to loose balls, forced turnovers and made their free throws for the most part, though not when it counted most.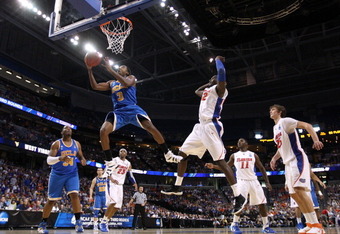 Mike Ehrmann/Getty Images
No, UCLA's performance was good enough to win most nights. So why did they come out on the short end of the score line then?
Simply put, the Bruins did not lose this game as much as Florida won it. The Bruins played a great game, but the Gators played even better.
From the comfort of my easy chair, it appeared that Florida didn't miss a single crucial shot the entire game. Sure, they missed a basket now and then, but whenever the Bruins had a chance to make an impact, the Gators would score. Every time the Bruins needed a defensive stop, Florida would hit a three-pointer or grab an offensive board for a put-back.
On this afternoon, Florida was an unstoppable juggernaut. They would have beaten any team today.
UCLA gave it their best shot, but their best just wasn't good enough.
UCLA are to be commended for a superb end to a great season. To get as far as they did with as young a team as they have is remarkable.
There were so many reasons why the Gators could have blown out the Bruins. They had played poorly in recent games, getting spanked by Oregon in the Pac-10 tournament and blowing a 23-point lead to Michigan State. They came from the supposedly "weak" Pac-10 and were up against the SEC regular season champs in Florida. All the CBS pundits were claiming that UCLA had no chance against the Gators. Florida was playing a virtual home game in Tampa and had the crowd firmly on their side.
Yet with 66 seconds to go and down by only a single point, UCLA had a chance to win.  But junior guard Erving Walker scored the last seven points of the game; he never missed on any of his shot attempts, which included a three-pointer and four free throws.
Walker, who averaged 37 percent from beyond the arc during the regular season, shot 60 percent against the Bruins. As a team, the Gators hit 43 percent of their threes and shot 50 percent from the floor overall.
In the end, that was the difference in the game. UCLA fought as hard as they could, but Florida would just not miss.
If there were one area that the Bruins could have done better, it would be with their own three-point shooting. The Bruins aren't known as a three-point shooting team, but their 23 percent shooting on 13 attempts against Florida was far too low, even for the Bruins.
With Pauley Pavilion being renovated, the Bruins will not have any true home games next year. But with no seniors on the team, the Bruins should still be able to improve on this season.
Hopefully each player will take some time in the summer to practice their free throws and three-point shots.
Until next season… Peace Bruin fans.