NCAA Tournament 2011: 10 Standout Stars of the 2nd Round
Harry How/Getty Images
Big upsets, big shots and big defensive plays.
The second round of this year's NCAA tournament was anything but boring. Many players have contributed to the madness so far this March, but 10 have definitely made their mark.
Their teams' success in the future will reveal how they will be remembered, but these players will be known as the superstars of the second round, that is, until they step on the court again.
Here is a tribute to those who have shined, but will have to prove themselves again in the tournament's third round.
Juan Fernandez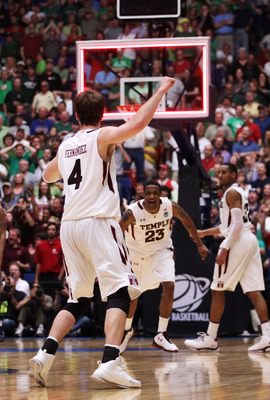 Christian Petersen/Getty Images
Juan Fernandez led the Temple Owls over Penn State University as he snuck around his defender to put up the game-winning shot with 0.4 left on the clock.
It looked like the game was headed to OT after Penn State's star guard Talor Battle drained a deep three to tie the score at 64, but Fernandez felt an extra quarter wasn't needed as he single-handedly sent the Nittany Lions packing.
By the buzzer, Fernandez tied the game's leading scorers with 23 points.
Matt Howard
Nick Laham/Getty Images
Precious time was running off the clock as Butler was trying to put in the tie-breaking bucket in the final seconds to top Old Dominion.
The ball was flying around the rim and it looked like the score would remain stagnant at 58 going into overtime, but Howard somehow got a hand on it for the winning tip just before the clock read zeros.
The last-second lay-in gave him 15 points and five boards for the game.
While the Bulldogs probably won't make it back to the national championship game, because of Matt Howard they'll be moving on to Round 3 to face the Pitt Panthers.
Demonte Harper and Kenneth Faried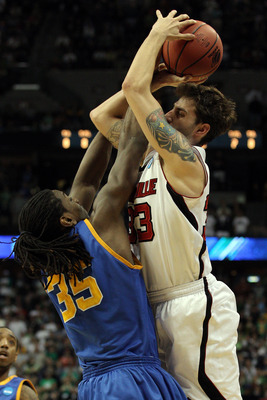 Justin Edmonds/Getty Images
While neither of these players was the leading scorer in perhaps the biggest upset in the second round, they both played crucial roles in the final seconds of Morehead State's surprising victory over No. 4 seed, Louisville.
Demonte Harper dribbled patiently at the top of arc. His underdog team was down by two and he had missed his first five attempts from deep.
But that didn't stop Harper from heaving up a trey and draining it with 4.2 left to put the Eagles up 62-61. He only had eight points, but if those were his only three I'm sure he'd have been satisfied.
The Cardinals had one more shot at suppressing a valiant upset attempt, but Kenneth Faried blocked Mike Marra's desperation three-point attempt to seal the deal.
No foul was called and in my opinion, it was the right decision.
Faried had a double-double with 12 points and 17 boards. Morehead State will advance to take on Richmond, who also pulled off an upset over Vanderbilt.
Brandon Knight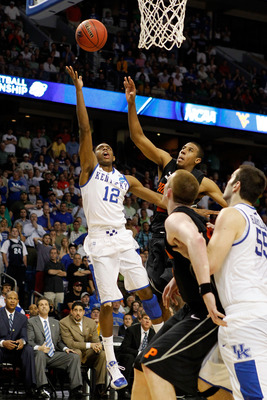 J. Meric/Getty Images
The freshman was held scoreless through the first 39 minutes and 58 seconds of Kentucky's second-round matchup with No. 13 Princeton.
But fortunately the saying goes, "It's not how you start, it's how you finish."
Knight had missed all of his seven attempts to score until he drove and laid in the game-winning bucket to save his school from a devastating upset that would have been equal to the disappointment rival Louisville was handed by Morehead State.
Kevin Anderson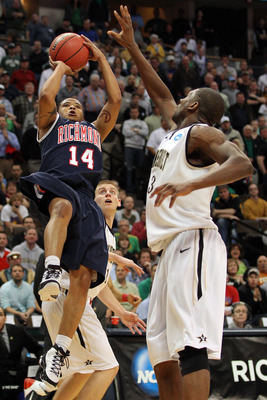 Justin Edmonds/Getty Images
The Richmond Spiders knocked off Vanderbilt thanks to the performance of their senior guard Kevin Anderson.
Anderson led all scorers with 25 points and put the Spiders up by three with a crucial floater with 18.7 seconds to play.
He scored 16 in the second half as Richmond finished off the upset 69-66. The Spiders will advance to face Morehead State, who was also an underdog that emerged victorious from the second round.
Jimmer Fredette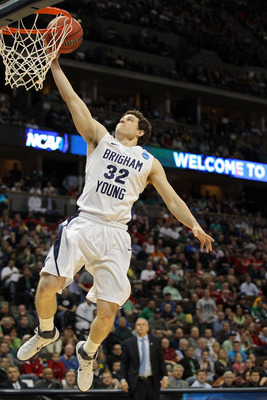 Justin Edmonds/Getty Images
While the Cougars could never completely put away the Wofford Terriers, Jimmer Fredette made sure Brigham Young University would come out on top.
Fredette put up 32 points and added seven assists despite being the obvious focus of Wofford's defensive effort.
BYU will play Gonzaga on Saturday. The Cougars will go only as far as Jimmer can take them in the tournament. That could be a good thing,
Jacob Pullen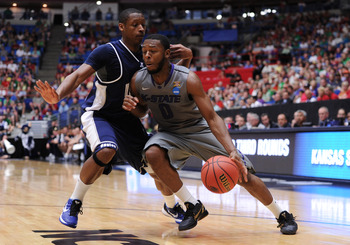 Harry How/Getty Images
Pullen pulled the Wildcats away in the end as Kansas St. defeated a Utah State team that refused to go down easily.
Despite not practicing the day before due to illness, Jacob Pullen managed 22 points and five assists.
Kansas St. will play No. 4 Wisconsin on Saturday.
Tristan Thompson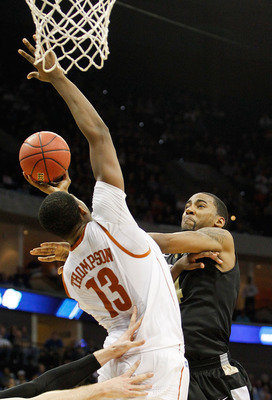 Tom Pennington/Getty Images
Seven blocks, 10 rebounds and 17 points was Thompson's stat line as his all-around effort bolstered the Texas win over the Oakland Golden Grizzlies.
His defense was what really stood out as he had a career high in swatted shots.
The Longhorns will move on to face Arizona.
Derrick Williams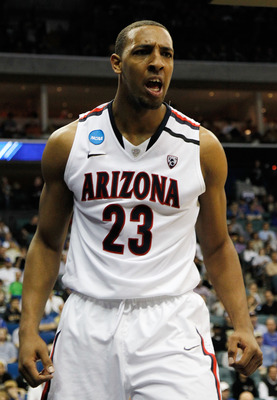 Tom Pennington/Getty Images
The Memphis Tigers nearly upset the Arizona Wildcats, but Derrick Williams had other ideas.
Williams had 22 points, 10 rebounds and one block.
That one block made all the difference. It came in the final seconds and it resulted in the rejection of a potential game-tying shot.
Williams' swat sealed it for the Tigers, who will take on Texas in the third round.
Isaiah Thomas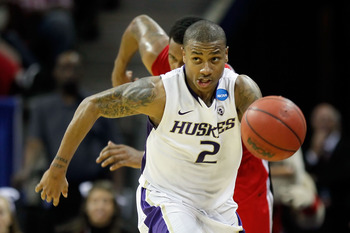 Kevin C. Cox/Getty Images
Although Georgia's Trey Thompkins may have been the player of the game with 26 points and 11 rebounds, Thomas led Washington to the win with 19 points and seven assists.
However, his best play of the game may have been the final one.
Thomas broke up a down-court pass that would have given the Bulldogs a good opportunity for a game-tying three in the final seconds.
Thomas and the Huskies will battle UNC on Sunday.
Keep Reading