NCAA Bracket 2011: Which Players Will Make or Break NBA Draft Stock?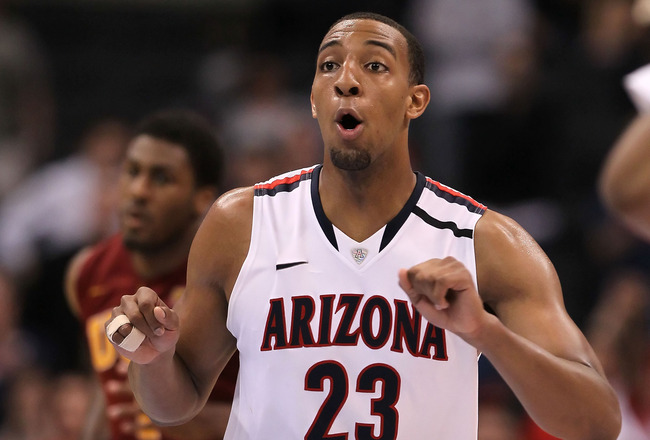 Jeff Gross/Getty Images
The madness of March brings many things. For NBA scouts, however, it bring plenty of talent all into the same tournament. Early-round exits kill players' stock, while deep runs in the tournament can shoot them up the draft boards.
For example, Butler reaching the 2010 Final Four was great for Gordon Hayward, as he was selected within the top 10 of the following NBA draft.
On the other hand, an early-round exit will surely make drop a player's draft stock. Scottie Reynolds was a first-team All-American, and after his Villanova Wildcats lost in the second round he wasn't even drafted that year.
While a significant amount of this depends on team success, the majority of it is on the player himself.
So what players will have big tournaments? What players will fold and subsequently drop down the draft boards?
Here is a look at 10 players who will make or break their draft stock during this NCAA tournament.
10. Kemba Walker
Chris Trotman/Getty Images
Projected right now: End of the first round
Best-case scenario: Lottery pick
Worst-case scenario: Mid second round
Breakdown: Does tons of things on the court that scouts love. Can score in bunches, is good at getting to the rim, knocks down big shots, is a team leader and can handle the ball.
Kemba is only a 6'0" point guard, which wouldn't have hurt him a few years ago. Now that point guards keep getting taller and stronger, Walker is somewhat undersized.
The main knock on his game is his decision-making, which is huge. Walker really wants to score, so he tends to force the issue too often. He really looks to draw the foul too frequently and needs to kick it out more often.
Verdict: Kemba can only carry Connecticut for a game or two. After that he will need help from his teammates. Chalk him up to be drafted between 22 and 30 should he decide to leave after this season.
9. Jimmer Fredette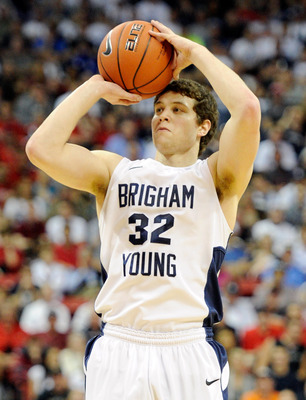 Ethan Miller/Getty Images
Projected right now: Late lottery pick
Best-case scenario: Top five
Worst-case scenario: Top 20 pick
Breakdown: Jimmer has as sweet a shooting stroke as college basketball has seen in years. He can shoot off the dribble or pull up from anywhere on the floor.
The big question on Jimmer comes down to whether he can run the point or not. He has expanded his dribbling and point guard skills over the years, but it might not be enough for scouts.
Jimmer doesn't possess high-end athleticism and will likely get knocked on for that. He has developed over the years, very similarly to shooting guard converted to point guard Stephen Curry.
While Jimmer certainly doesn't have the quickness or athleticism of Curry, he can shoot just as well (if not better) and is a good decision-maker with the ball.
Verdict: The lack of big men will hurt BYU and Jimmer, resulting in his stock dropping somewhat. After the tournament expect Jimmer to be drafted somewhere from 12 to 16.
8. Brandon Knight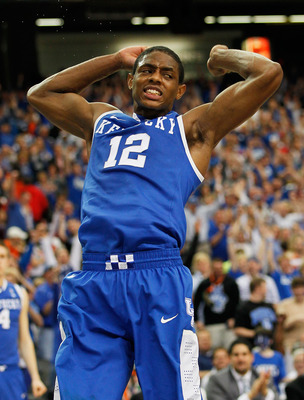 Kevin C. Cox/Getty Images
Projected right now: Mid first round
Best-case scenario: Top three pick
Worst-case scenario: Top 25 pick
Breakdown: Knight has the elite athleticism to be a top pick in the draft, but he hasn't put it all together this year.
Coming into the year as a top three recruit in the country, Knight was expected to lead Kentucky. However, he has been inconsistent throughout and has seen his stock fall as a result.
If Kentucky can make an Elite Eight run, Knight and company could be in for another historic first-round draft class.
Knight does have the new NBA point guard look, being a tall and strong guy that can handle the ball. He is extremely athletic and can blown by defenders at will. One more strength to his game may be his underrated defensive play.
The knock on Knight so far is him playing his age. He is still a freshman and shows it almost every game. He can force the issue a little too much and can sometimes fade out of games.
Verdict: Knight's stock goes as far as Kentucky does. He has supreme NBA qualities and will be drafted regardless of the team's result. If Kentucky loses early, Knight will be top 20; if it goes deep, he will be top eight.
7. Tristan Thompson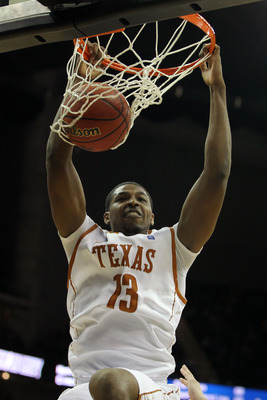 Jamie Squire/Getty Images
Projected right now: Top 20
Best-case scenario: Top seven
Worst-case scenario: Second round or comes back to school
Breakdown: Since Texas received a surprise No. 4 seed, the motivation for Tristan Thompson and the whole team will be there. Texas was a definite No. 1 seed a few weeks ago and now has lost several of its past games leading into the tournament.
Thompson can be an extremely dominant power forward by absolutely dominating games at times. He is very athletic, uses his body well and has high upside as a pro.
Tristan has an awkward jump shot, but that is something that can be worked on. He isn't as skilled as most people might want him to be, but his athletic ability makes up for it.
Verdict: If Texas can win at least a few games in the big dance, Tristan will have to play a key role. More so than that, if the Longhorns can make a Final Four run, Thompson could see a Tyrus Thomas-like jump in draft stock.
Expect Texas and Thompson to use their low seed as fuel, meaning Thompson should be a lottery pick.
6. Markieff Morris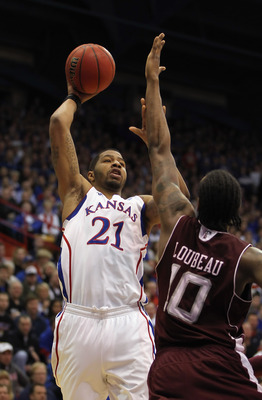 Jamie Squire/Getty Images
Projected right now: Mid first round
Best-case scenario: Top 10 pick
Worst-case scenario: Late first to early second round or return for senior season
Breakdown: Markieff is the more neglected of the Morris twins, but that could change in this tournament. Marcus is much more versatile and more of a "do-it-all" type of guy, but Markieff has his strengths as well.
Markieff is a legitimate big man and has improved every week of the season this year. He has solid post-up moves, plays good defense, has great hands around the basket and possesses good basketball IQ.
Markieff keeps improving statistically and has become a consistent double-double man the past few weeks.
If Kansas can go deep into the tournament, Markieff should get a lot of credit for his impact in the frontcourt, which could make him a lottery pick when the draft rolls around.
Verdict: Kansas goes to the Final Four, and the Morris twins will go pro afterwards. If Markieff can impose his will during the Big Dance, expect him to lock himself inside the lottery, if not the top 10.
5. Jared Sullinger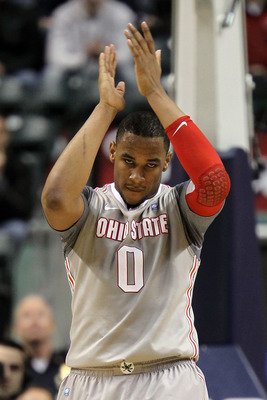 Andy Lyons/Getty Images
Projected right now: Top five pick
Best-case scenario: No. 1 pick
Worst-case scenario: Top 10 pick
Breakdown: Sullinger is a lock top 10 pick, but can always move himself up to No. 1.
He has a great body and will have to use it to advance Ohio State multiple games. Jared is one of the heaviest power forwards in the tournament, adding to his advantage.
He bruises players down low and will have to impose his will every game.
Just a freshman, Sullinger is more than capable of being the most valuable player in the entire tournament.
Sky is the limit, Jared, and worst-case scenario will still have you sitting pretty come draft time.
Verdict: If Ohio State can avoid trouble early, Sullinger will lock himself in the top five. If Ohio State makes the Final Four or wins it all, you could very well be looking at your No. 1 overall pick for this year's draft.
4. Terrence Jones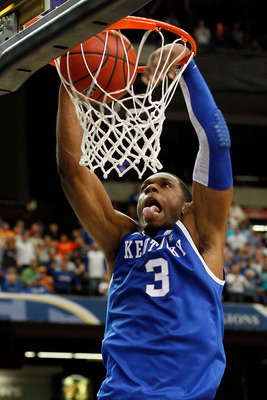 Kevin C. Cox/Getty Images
Projected right now: Lottery pick
Best-case scenario: Top three pick
Worst-case scenario: Top 20 pick or returns for next year
Breakdown: Like his teammate Brandon Knight, Terrence Jones is a very athletic player on the court.
Jones was somewhat of an afterthought in Kentucky's loaded recruiting class, but he became "the man" once the season started.
Jones is as versatile as they come and can guard almost any position. He can dribble the ball very well, which will make him a big threat when NBA power forwards try to guard him.
He can score in many ways and has good footwork when moving around in the paint. Jones is also a solid rebounder, which is why he is so versatile.
Terrence's shot is very funky, but it tends to fall more often than not.
Like Tristan Thompson, Jones could see a Tyrus Thomas-like boost in draft stock if the Wildcats can make it to the final weekend.
Verdict: Terrence and the Wildcats will at least make it to the Sweet 16, meaning he and Brandon Knight will be gone. Expect Jones to go between No. 8 and No. 12 in the draft.
3. Kyrie Irving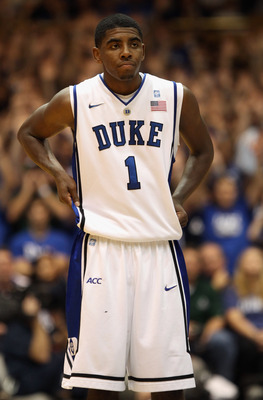 Streeter Lecka/Getty Images
Projected right now: Top seven pick
Best-case scenario: No. 1 pick
Worst-case scenario: Falls out of lottery or comes back to school
Breakdown: Surprising college basketball news broke this week when Duke announced Kyrie Irving will return for the NCAA tournament. For Duke, this is a boom or bust opportunity.
Irving is an elite point guard and was fabulous before he was injured early in the season.
Kyrie has all the point guard tools pro scouts want, possessing great athleticism to go along with his decision-making. Irving has drawn comparisons to other crafty NBA point guards, like Memphis guard Mike Conley.
However, the freak injury he sustained earlier in the year can only hurt his stock. Not that Irving is fragile or injury prone, but who knows how often weird injuries happen to him?
Irving comes back at a dangerous time. If he's not at least 90 percent and ready to play, he could really hurt his draft stock.
Verdict: This comes down to how ready Kyrie is to play. If he's healthy, he can carry Duke to the Final Four and possibly another championship. If not, he could sit the bench and watch Duke go down early.
This is a huge risk on Coach K's part. He's a great coach, so give him the benefit of the doubt.
Expect Kyrie to be a top three pick come draft time.
2. Harrison Barnes
Streeter Lecka/Getty Images
Projected right now: Top seven
Best-case scenario: No. 1 pick
Worst-case scenario: Late lottery or returns for sophomore year
Breakdown: Coming into the season as the nation's No. 1 recruit, Harrison Barnes had a less than impressive first half of the season. However, he has flipped the switch and can carry UNC whenever he chooses.
It seems like UNC goes as Harrison does. He is super quick with the ball and has a great shooting stroke that should only improve.
Harrison also has big-play ability. He hit a clutch go-ahead three against Florida State and recently hit a big three to force overtime against Clemson.
Barnes has already improved his stock the past few weeks and can continue to do so with a solid showing in the Big Dance.
Barnes' main flaw is his left hand, and improvement in that area can easily come with practice. Don't be surprised if Harrison takes over the tournament; this kid has elite talent.
Verdict: Harrison needs to keep rolling on the momentum he's been building and most likely will. Barnes will be a top five pick in this year's draft.
1. Derrick Williams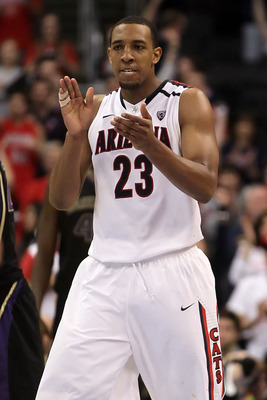 Jeff Gross/Getty Images
Projected right now: Top three pick
Best-case scenario: No. 1 pick
Worst-case scenario: Top 10 pick
Breakdown: Nobody has more to gain in this tournament than Derrick Williams. At the same time, nobody has more to lose.
Williams is currently regarded as a top five pick and will need to play well to keep that status.
A first-round exit would be absolutely devastating to Williams' draft stock.
Derrick is a very smart player, knowing how to use his body to get to the line at a high rate. He also knows how to get others involved at the right time, using his slashing ability to help others score.
Williams is somewhat of a "tweener" and will have to shake that role in order to cement his stock. The "tweener" label is tough to lose, but acquiring a consistent jump shot would do just that for Williams.
He isn't the most reliable around the perimeter and has plenty of work to do to maximize his game.
Williams has a huge tournament ahead of him and needs to do everything he can to keep his team in the tournament for as long as possible.
Verdict: Arizona will be out early in this tournament, not going past the Sweet 16. As a result, Williams will go anywhere from No. 2 to No. 6 in the draft.
Keep Reading