NCAA Bracket 2011 Predictions: 10 Sleepers That Could Sneak into the Sweet 16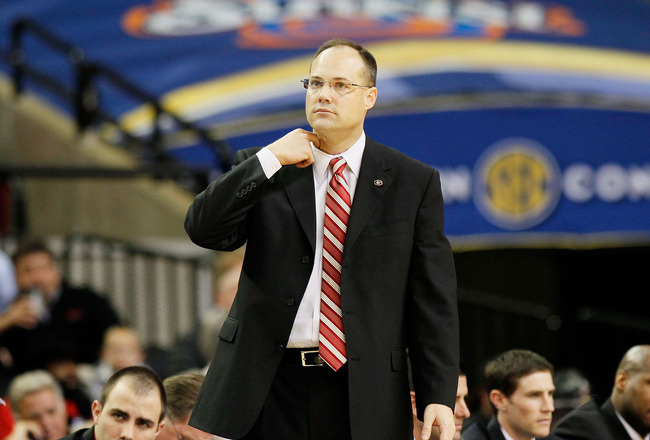 Kevin C. Cox/Getty Images
Every year, there are five or six teams that surprise us all and make it past the first round—or even the second on some occasions. And then there is always a team that takes it a step further.
In this slideshow, we will be looking at 10 teams that could sneak up and beat teams that many think they don't match up well with.
These teams are mostly considered underdogs, even in their first-round game, and they all seem to have a fatal flaw that can—and likely will—come back to haunt them at some point in the tournament.
For these teams' fans, most would be ecstatic for one win in this tournament; and, if that happens, they will be expecting more and more from the team as they play their next game. Then, a loss will only devastate a fanbase that was expecting very little in the beginning.
These teams all have the hope that something magical is ahead of them—that they might get hot at the right time and take a run to a championship. These teams have a golden opportunity ahead of them, and we will take a look at why they could move further than anyone is expecting.
Michigan Wolverines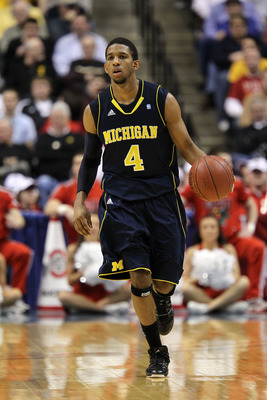 Andy Lyons/Getty Images
Joe Lunardi went as far as to say that the selection committee was overzealous when it came to putting Michigan as an eighth seed, and he may be right.
The Wolverines run an offense that uses three or four guards at once. The offense is based around successful outside shooting and trying to make mismatches with the extra speed on the court. This attack is led by Darius Morris, who is averaging 15.2 points per game to go along with 6.7 assists.
Their defensive philosophy is usually a man-to-man approach that will mix in a 2-3 or a 1-3-1 zone every once in a while. Morris and fellow guard Tim Hardaway Jr. both average one steal per game, while tweener Zach Novak leads the team with 5.7 rebounds per game.
The Wolverines rank 253rd in the country by averaging only 66.1 points per game, and 300th with 32 rebounds per game. They shoot fairly well, as their 44.4 field-goal percentage ranks 130th.
The Wolverines statistics don't look pretty at all, but they have shown an ability to win some of their bigger games. They are 7-9 against tournament teams in the regular season, and have won four of their last six games.
Villanova Wildcats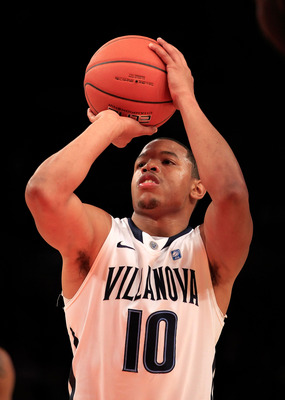 Chris Trotman/Getty Images
The Wildcats were selected as the ninth seed in the East Region, and I think that they can make some noise when the games roll around.
Villanova comes into the tournament with little positive noise around it due to losing 10 of its last 15 games. Whenever you least expect a talented team to make a run, that's when they tend to do it.
The Wildcats are another team that puts the offensive focus on their guards, who must make them very proud. Corey Fisher has averaged 15.4 points per game and 4.8 assists, all while shooting at 33.1 clip from three-point range. Fellow guard Corey Stokes comes in with 15 points and 3.3 rebounds per game.
Their defense is a mixed bag of tricks. You will see the Wildcats in man-to-man, press and zone, using every kind of defense that you can think of to give your offense a headache in an attempt to get turnovers.
The Wildcats have struggled heavily recently, but they were 9-9 against tournament teams in the regular season, and 9-5 prior to their most recent slide.
Florida State Seminoles
Sam Greenwood/Getty Images
The Seminoles come into the tournament as the Southwest's 10th seed, and get what many consider a favorable matchup in the first round against Texas A&M.
The Seminoles run a motion offense that focuses on forward Chris Singleton—who they hope is healthy enough to contribute heavily—and guard Derwin Kitchen. Singleton averages 13.8 points and 7.1 rebounds per game, while Kitchen comes in with 9.9 points and 3.6 assists per game.
They run a high-intensity, man-to-man defense that has worked very well thus far. They led the Atlantic Coast Conference by only allowing their opponents a 36.5 field-goal percentage. They also led the ACC in blocked shots with 167, and ranked second in steals with 8.9 per game.
Bernard James (2.3) and Singleton (1.6) lead the way in blocks per game, while Kitchen averages 1.7 steals a game and Singleton again comes in with an incredible 2.1 steals per game.
With Singleton as the lead player in points, rebounds and steals, he is the definite star of this team. If he is good to go, they should be able to beat the Aggies, though the possible second-round matchup against Notre Dame could be a completely different story.
Penn State Nittany Lions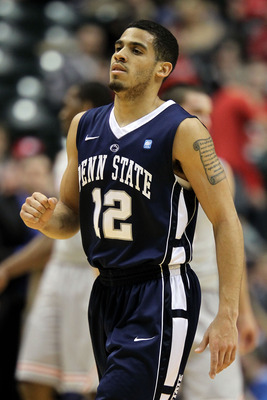 Andy Lyons/Getty Images
The Nittany Lions battled their way through the season by going 19-14 (9-9 in the Big Ten) and come into the tournament as the West Region's 10th seed.
The Nittany Lions run a slow-paced offense because of depth reasons, but they are pretty efficient as they possess three double-digit scorers. Talor Battle is the unquestioned leader of the team, and is an all-around good basketball player. All of their starting five players average over 30 minutes per game. Battle leads the teams in points with 20.1 per game while Tim Frazier leads the way with five assists per game.
The Nittany Lions mix zones up well over the course of a game, allowing less than 63 points per game from their opponents. Tim Frazier leads the Nittany Lions with one steal per game, while Jeff Brooks leads the team by averaging 1.4 blocks per game. Brooks is also the team's leading rebounder (6.5).
The Nittany Lions need some help off of the bench, but it doesn't look like it is coming anytime soon. While their defense is very good, they only average 63 points per game, not giving them very much breathing room.
If they can get any help off the bench, the Nittany Lions can make a surprising run in the tournament.
Memphis Tigers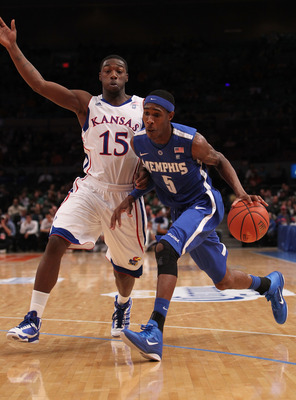 Nick Laham/Getty Images
Just a few years ago, the Tigers were the talk of the college basketball world. This team still has a chance to make some noise of its own. The Conference USA champions are going completely under the radar, with Joe Lunardi announcing that they will be a one-and-done team.
Coach Josh Pastner is going to do his best for that not to happen. The Tigers have nine players that average double-digit minutes, showing their depth. Their offense is based around starting four guards and using their skills to create mismatches. They are led in points by Will Barton (12.3 per game, and second in assists with five per game), and Tarik Black leads the team in assists (5.2).
The Tigers mix up their defense, but whatever they choose to do, they do it pretty well. They have the speed and personnel to create turnovers at a high pace, and frustrate opponents.
They have a remarkable five players (Barton, Chris Crawford, Charles Carmouche, Wesley Witherspoon and Joe Jackson) who average at least one steal per game. Black leads the team with 1.6 blocks per game.
The Tigers average a healthy 72 points per game, and can create turnovers—two things that could make them upset specialists and a sleeper to make it to the Sweet 16.
UNLV Rebels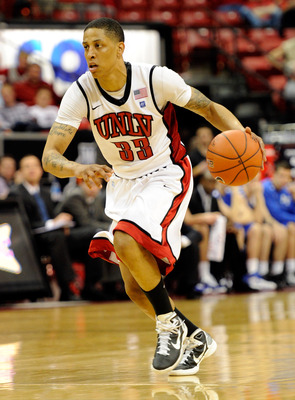 Ethan Miller/Getty Images
The Rebels quietly put together an impressive 24-8 regular season record, going 11-5 in the Mountain West Conference.
The Rebels thrive in transition as their lack of great individual talent leaves them having to make jump shots. They focus their offense on player movement to try to get good looks. Guard Tre'Von Willis and tweener Chace Stanback lead the scoring, as both put up at least 13 points per game. Oscar Bellfield leads the team with 3.8 assists per game.
A man-to-man approach on defense is the strength of the team, as it allows them to be very stingy. They only allow their opponents an average of 62.6 points per game.
Like Memphis, the Rebels have five players (Willis, Bellfield, Stanback, Justin Hawkins and Anthony Marshall) that average at least one steal per game. Role players Carlos Lopez and Quintrell Thomas are tied with 0.8 blocks per game.
The Rebels were 0-5 against BYU and San Diego State in the regular season and conference tournament, but the defense, coupled with a few hot shooting nights, could help the Rebels sneak out of the first round before upsetting Kansas.
Gonzaga Bulldogs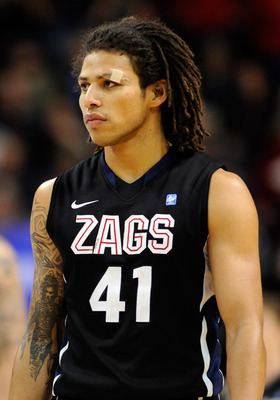 Ethan Miller/Getty Images
If you look at their numbers, you would think that the Bulldogs would have gotten better than an 11th seed. The Bulldogs averaged 76.7 points (23rd in country), 37.4 rebounds (55th), 15.3 assists (32nd) and an outstanding 47.9 field-goal percentage (10th), making them one of the most complete teams in the nation.
The Bulldogs have great inside men in Sam Dower, Elias Harris and Robert Sacre. They use an inside-out game that allows their perimeter players in Steven Gray, Marquise Carter and David Stockton. Gray leads the team with 13.8 points per game, while Gray picks up 3.8 assists per game.
The Bulldogs mainly play man defense, but will mix in a zone every once in awhile. The defense works well for the group, as opponents make fewer than 40 percent of their shots from the field.
Mark Few has a well-coached team that I think will make some noise in the tournament. They are balanced offensively and are very good on defense. Couple that with a team free-throw percentage of 75.9, and they are one of the top sleeper teams this year.
Missouri Tigers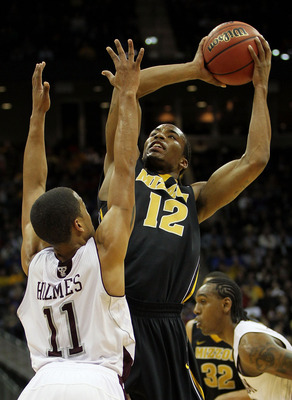 Jamie Squire/Getty Images
"If the Tigers could play the NCAA Tournament at home, they'd be a Final Four team every year. But '40 minutes of hell' are usually '40 minutes of mediocrity' away from Columbia. I don't like Missouri's chances to advance at all."
That's what Joe Lunardi had to say about the Tigers. Not exactly a show of confidence is it?
The Tigers are ranked ninth in the country in scoring with 81.4 points per game, and 13th with 16.5 assists per game. They drown you with shots, as their 46.1 field-goal percentage is 60th in the league. Marcus Denman (17.1) and Laurence Bowers (11.6) lead the scoring.
While they will run different types of defense, all of them have on constant in mind: create turnovers. They want to increase the tempo to better fit their players, and it works fairly well. Not as well as some teams in the past, but the Tigers can still get you into their type of game and hurt you.
Bowers and Ricardo Ratliffe lead the team in rebounds with 6.1 per game. Phil "Flip" Pressey leads the team with 1.8 steals per game. Bowers leads the team with 1.9 blocks per game.
While no games will be played at home, the Tigers will be trying to bring the "40 minutes of hell" to the tournament.
Marquette Golden Eagles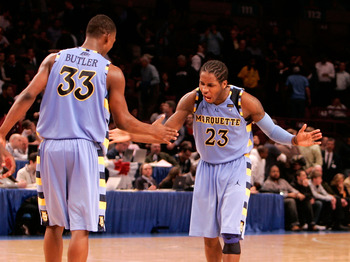 Mike Lawrie/Getty Images
The Golden Eagles are 20-14 this season, going 9-9 in the Big East, and landing themselves the 11th seed in the East Region.
Marquette runs a guard-driven offense that likes to get out quickly in transition. If forced into a half-court offense, the Golden Eagles make sure to get their touches in the paint and work inside out. They led the Big East in scoring with 76.1 points per game. Jimmy Butler (16 PPG) and Darius Johnson-Odom (15.9 PPG) are mainly to thank for the high scoring total, though the whole team gets involved with the scoring.
The Golden Eagles' main weakness seems to be defense. The only positive that they have is that they are quick enough to get turnovers, though it doesn't happen enough.
For the Golden Eagles to move past the first matchup with Xavier, they are going to have to get a little better defensively or hope that Xavier has a fit of turnovers. The Golden Eagles can score with most teams; it's just the defense that holds them back.
Georgia Bulldogs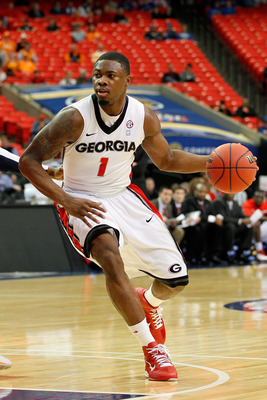 Kevin C. Cox/Getty Images
The Bulldogs feature two of the best players in the country in Travis Leslie and Trey Thompkins—both of whom will likely play in the NBA. Even with those two though, the Bulldogs ended up with just a 21-11 record and a 10th seed in the tournament.
The fact that some people are writing off the Bulldogs, though, makes them—in my opinion—the sleeper of the tournament. The worst loss for the Bulldogs was a 104-91 loss in double overtime to Florida. No other loss saw them lose by more than eight points. Georgia also had a chance to win up 25 games, as they let late leads crumble or came up just short in comeback efforts.
With Thompkins and Jeremy Price on the inside and Leslie, Dustin Ware and Gerald Robinson at the point, the Bulldogs have a good all-around offense that doesn't just need its two best players to be stars. The inside-out approach allows Thompkins and Price to try and get into a rhythm early and let shooters Ware and Robinson do their thing later on.
The Bulldogs mainly use a man defense that works very efficiently. Teams have to work to get baskets against this defense, as opponents just shoot 39.6 percent from the field.
The weakness to this team is depth, so it is vitally important for Georgia to stay out of foul trouble. Other than that, they turn the ball over too much.
But if they can keep those relatively in check, this team can play with anybody in the country.
Ask Kentucky or Florida how it is to play them.
Keep Reading