March Madness 2011 Predictions: Florida's Chances in the 2011 NCAA Tournament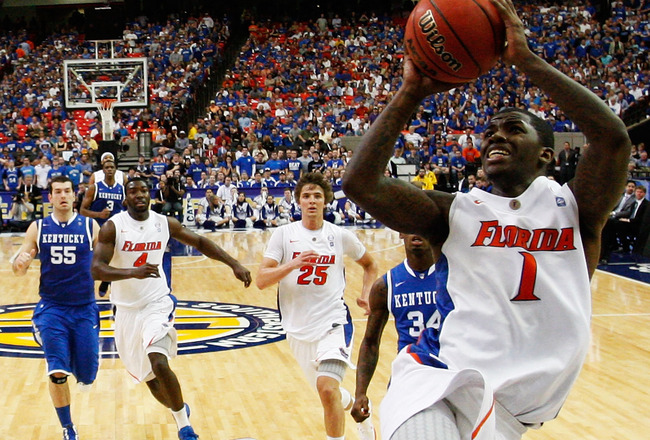 Kevin C. Cox/Getty Images
The Florida Gators, long solely a football school, has found some talent in the basketball division of college sports this decade, most notably with the back-to-back championships of 2006-07. This year's Gators team is a far cry from the dominant team which had three top-ten picks on it. This is a Gators team that seems to have a fetish for overtime and pressure, for winning against elite teams then falling to mediocre ones.
The 2011 Gators were fortunate enough to be seeded 2nd in the Southwest Region after clinching the regular season SEC championship and finishing runner ups in the SEC Tournament.
Each of these slides represent potential match-ups the Gators will have throughout the tournament, up until where I think they'll fall. Keep in mind I'm choosing to focus on likely match-ups, which means barring upsets, so I apologize in advance if the No. 16 seed play-in winner upsets Pittsburgh and I didn't include them.
First Round: Vs. UC Santa Barbara (18-13) Big West Champions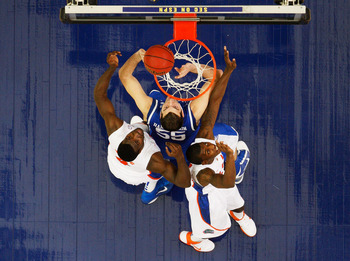 Kevin C. Cox/Getty Images
Looking at this, it should be an easy game for the Gators. UCSB ranks a shocking 184th in the country in points, and 284th in rebounds. Florida has soundly defeated much, much better teams than them.
But as always, there's the possibility for an off-game, or a strong motivational push by the Gauchos. Florida may be off or disappointed after losing to Kentucky in the SEC title game, and while they've beaten better teams, they also lost to the likes of Jacksonville University.
Odds of Winning:
Very High
Second Round: UCLA (22-10) or Michigan State (19-14)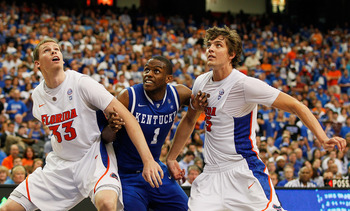 Kevin C. Cox/Getty Images
More than likely, the Bruins should be the team advancing to face the Gators in the field of thirty-two (what should we call it, the Thirsty Thirty-Two? Get back at me on that). The Spartans, usually a perennial powerhouse under Tom Izzo, have fallen off this year, a measly 19-14 and 4-8 against the AP Top 25. Some suspected that they might not qualify.
Should Michigan State win, the Gators will have a much easier time. The last time these two teams met was last season, in which Florida was able to sneak by in a two-point win. This team can't compare to last years, so the Gators might be pulling for the upset.
The Bruins, 2-2 against the Top 25, had a good season, though not up to par as the usual Pac-10 championship and number one seed that they usually enjoy. Florida outranks them in most statistical categories, and has played a much tougher schedule than them.
As always, if Florida plays as they should, they should hang with both teams. If they're off, then they're in trouble.
Chances against MSU:
High
Chances against UCLA:
Moderate
Third Round: BYU (30-4), Gonzaga (24-9) or St. John's (21-11)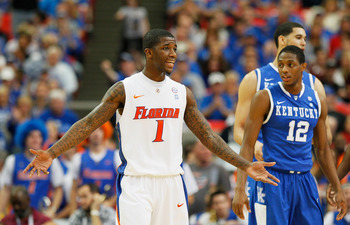 Kevin C. Cox/Getty Images
In the Sweet Sixteen, these are where things get difficult. More than likely, the BYU Cougars are the ones who Florida will face to advance to the next round. St. John's and Gonzaga are more of upset picks than potential match-ups, so we'll focus on the BYU matchup.
BYU is as good as they're portrayed. They have one of, if not the, best college basketball players in the country, Jimmer Fredette, who recently scored 52 points in a conference tournament game, mainly a reason they rank 8th in the country in points. If they hadn't lost Brandon Davies due to a violation of the honor code, then they would be a much more scary matchup.
Chances against St. Johns:
High
Chances against Gonzaga:
Moderate
Chances against BYU:
Low
Conclusion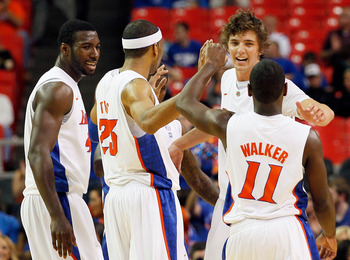 Kevin C. Cox/Getty Images
Barring a spectacular effort by Florida combined with a poor showing by Jimmer, I can't see Florida advancing past the Sweet 16. The Gators unfortunately are too inconsistent in their play, and haven't been able to beat somebody of this caliber, with exception to Kansas State.
If Florida should win, they may have a good shot at making the Final Four. A reunion with KSU may occur, as well as a potential matchup with Pittsburgh or Wisconsin.
Keep Reading

Florida Gators Basketball: Like this team?