NCAA Bracket 2011: Top 5 Upsets Waiting to Happen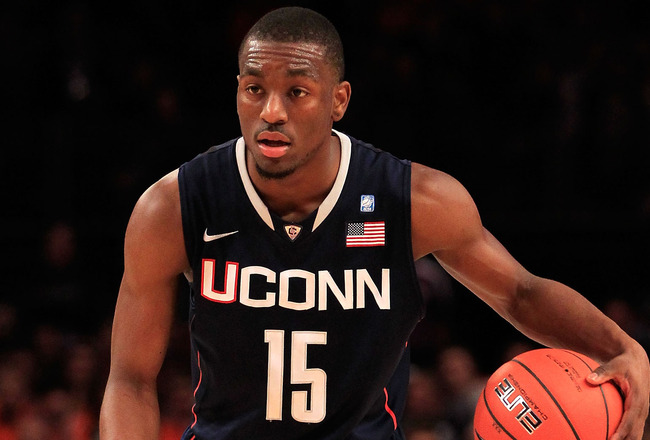 Chris Trotman/Getty Images
The 2011 NCAA tournament bracket has been written and teams now know who they are playing in the first round.
College sports are always competitions between haves and have-nots. March Madness is one of the only times during the year where the have-nots square up with the haves and, occasionally, come out on top.
There will be a mid-major no one expects in the Sweet 16 this year. A No. 1 or No. 2 seed will go down to the wire in its first-round game against a school no one has heard of. And six teams seeded in the top five will not see Round 2.
Which upsets should you pick to beat your coworkers in your entirely legal, no-financial-stakes bracket pool? Keep an eye on the following matchups.
No. 3 UConn vs. No. 14 Bucknell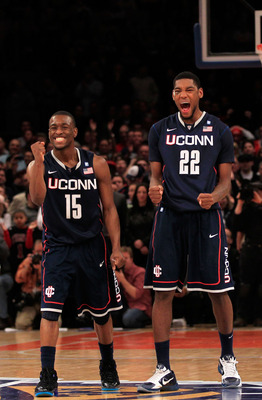 Chris Trotman/Getty Images
UConn is coming off the extremely emotional high of winning five games in five days (four against top-25 opponents) to win the Big East championship.
This also means they played five games in five days—a feat that rarely, if ever, occurs in college basketball. UConn will be tired. And they drew giant-killer Bucknell in the first round.
After upsetting Kansas and Arkansas in 2005 and 2006, Bucknell established its reputation as an upset waiting to happen.
Brian Cohen is one of the best defensive players in the country and will defend Kemba Walker, one of the country's best scorers. In addition, Bucknell has size in 6'11" sophomore Mike Muscala and shooting from sophomore guard Bryson Johnson.
No. 4 Wisconsin vs. No. 13 Belmont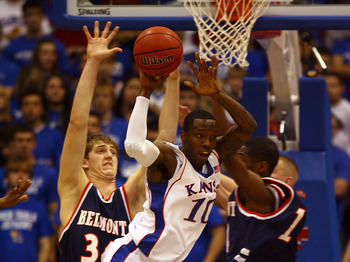 Jamie Squire/Getty Images
Belmont stormed onto the national radar three years ago when they almost upset No. 2 seed Duke in the first round of the tournament.
This year, they might be primed to finally pull off a first-round upset against the Wisconsin Badgers.
Wisconsin ended the season on a weak note with back-to-back losses, first to Ohio State in a game that wasn't close, and then in the first round of the Big Ten tournament to Penn State with an unusually low score of 36-33.
The last time an Atlantic Sun team won in the NCAA tournament, former conference member Georgia State beat Wisconsin in 2001.
No. 3 Syracuse vs. No. 14 Indiana State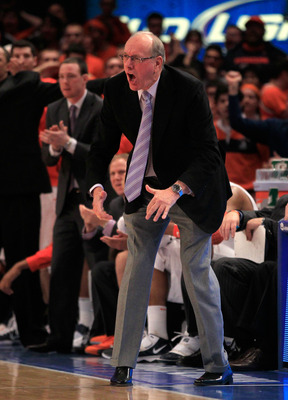 Chris Trotman/Getty Images
Jim Boeheim is a spectacular coach with an NCAA championship on his resume.
Indiana State is a basketball team that has to go back to 1979 to find its biggest success, back when Larry Bird took the team on a magical tournament run, only to lose to Magic Johnson's Michigan State Spartans.
This year, Indiana State will make noise once again. Big East teams have struggled in the NCAA tournament in recent years, and Syracuse might be one of the first ones out this season.
Freshman point guard Jake Odum will have to find his mid-range shot early and often for the Sycamores, and he will have to show maturity in ball distribution.
Jim Boeheim teams have been upset in the first round before (Vermont and Texas A&M in 2005 and 2006), and Indiana State could just do it again.
No. 7 Texas A&M vs. No. 10 Florida State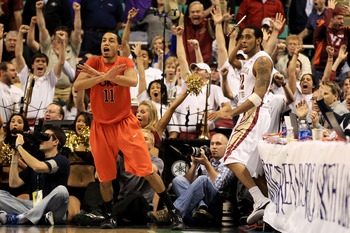 Streeter Lecka/Getty Images
Florida State is lucky to be in the NCAA tournament. But they were incredibly unlucky to lose to Virginia Tech in the ACC tournament.
Was the ball still touching Derwin Kitchen's hand when he shot it? I still don't know.
The fact is Florida State is going to come out grateful for a chance, but motivated to prove themselves after such an awful defeat.
Texas A&M lost three of their last five games to end the regular season. The cold streak will continue into the first round.
No. 7 UCLA vs. No. 10 Michigan State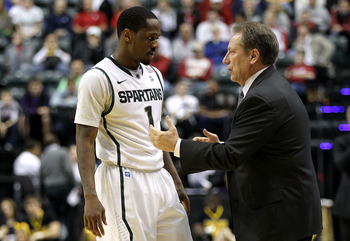 Andy Lyons/Getty Images
Michigan State had a disappointing season after beginning the season ranked in the top five nationally.
The Spartans come into the tournament hot, however, winning five of their last eight games, including a win against ninth-ranked Purdue in the Big Ten tournament.
UCLA is a team without seniors, and that lack of leadership will hurt them against a more-talented Michigan State squad.
Tom Izzo is known for making his teams outperform their seed. He has twice reached the Final Four with a team seeded at No. 5. A little seven-10 upset should be nothing.
Keep Reading

UConn Basketball: Like this team?