NCAA Basketball: Ten Players to Watch in Their Conference Tournaments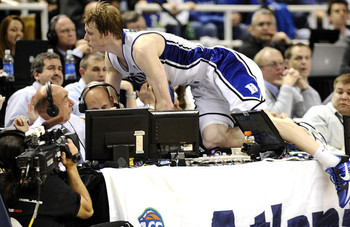 With the NCAA regular season finally complete, it's March Madness again. I personally can barely contain my excitement. I mean, I've been looking for an excuse to slack off at work for the past few months and with a full slate of games to watch this week, my office bandwidth will be running a bit slower than usual.
The conference championship means something different for each team. For some it's an opportunity to move up, or down, in the NCAA tournament seeding. For teams on the bubble a strong showing in their conference tournament is the difference between playing in the NIT or the big dance. For the bottom feeders? It's one last chance to redeem a lost season and grab an unprecedented seed in the NCAA tourney.
This list encompasses not necessarily the 10 best players in the nation, simply the ten players that should most draw your attention this week, for better or ill.
Kemba Walker, Connecticut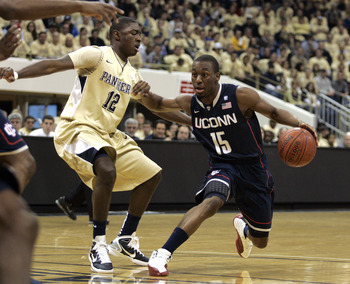 Justin K. Aller/Getty Images
What more can you say about this guy? Walker has been absolutely lighting it up all season. In the ultra-competitive Big East, Walker has shown himself to be a man among boys. As the entire nation is certainly aware of at this point, Walker is averaging 23 ppg, but also 4.3 assists and 1.8 steals.
Look for him to continue to carry UConn in the Big East tourney this week and who knows? If he can truly show up, carry them all the way to the finals.
Kyle Singler, Duke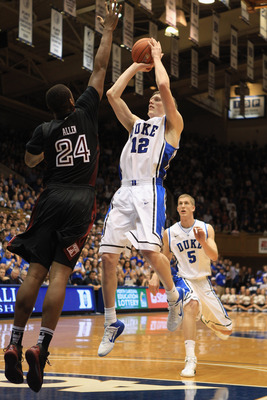 Streeter Lecka/Getty Images
As a Duke fan, I wish I was putting Singler in this article as a player to watch due to being on a hot streak entering ACC tournament play. Sadly it is quite the opposite. Singler looked nothing short of awful against UNC on Saturday night. He has been absolutely terrible from beyond-the-arc in the past several games, shooting barely 10% from three point land.
Duke lives and dies by the three and for them to have a shot at beating UNC in the championship game, assuming they even get there, Singler needs to find his stroke.
If he doesn't, Duke may be facing an early exit this week and lose any chance at a #1 seed next Sunday.
Derrick Williams, Arizona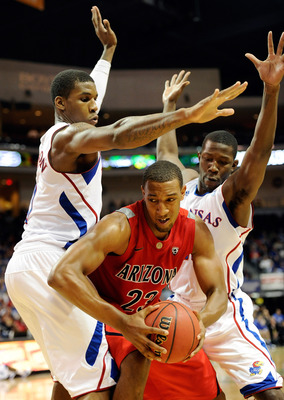 Ethan Miller/Getty Images
Arizona will go as far as Williams can lead them. The only player on the team averaging double-digits in points, Williams is a scorer, plain and simple. The guy puts up points in bunches and boy is he fun to watch.
In a relatively weak Pac-10, a strong showing from Williams should help them secure a conference title and a good seed in the NCAA tourney.
If someone finds a way to slow him down look for the Wildcats to struggle this week.
JaJuan Johnson, Purdue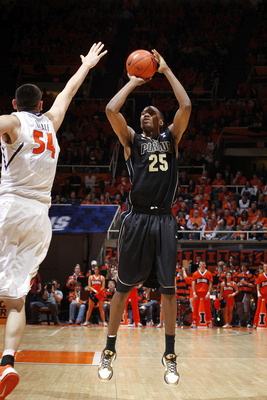 Joe Robbins/Getty Images
Many people counted Purdue out for the season when Robbie Hummel went down with a torn ACL before the season had even began. I can count myself among them and I would probably have been right if it weren't for you meddling kids...Sorry, I don't feel any post is complete without a Scooby Doo reference.
Where was I?
Right, college basketball. As I was saying, when Purdue lost Robbie Hummel it looked like the team would struggle this season, that is until JuJuan Johnson really came into his own. A candidate for Big Ten player of the year, Johnson has been nothing short of astounding this season, averaging 20.5 points, 8.1 rebounds and 2.4 blocks per game.
Although Ohio State and Wisconsin both present great challenges for the Boilermakers, a huge game from Johnson may be enough to lead Purdue to a conference title.
Kendall Marshall, North Carolina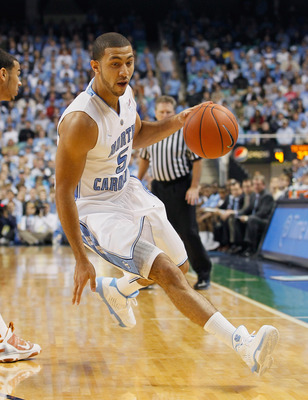 Kevin C. Cox/Getty Images
I hate North Carolina with more passion than the guy who stole my girlfriend in sixth grade—and that's saying something. Kid was a real jerk.
But I can't help but admire the play of freshman point guard Kendall Marshall. It pains me to say this but Marshall may very well be the best point guard I have seen—and hated—in the ACC since Steve Blake. I know, I know, what about Ty Lawson? Although he was certainly more athletic, a player with Marshall's court vision is an increasingly rare specimen in the college game.
Did I mention he's only a freshman? If he can continue to carve up opposing defenses, look for UNC to stay blazing hot heading into Selection Sunday.
Nolan Smith, Duke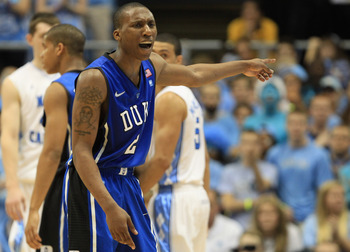 Streeter Lecka/Getty Images
With Singler not playing up to his usual high level, Smith has had to take control of the Blue Devils offense. He has looked great all season and although I am obviously biased, I still believe he is the best player in the nation. If Duke is going to have any shot at winning the ACC tournament this week, Smith is going to have to put the team on his back. If he does—and one, just—one, other Duke player can step up and have a good game each round, Duke has a very realistic shot at winning the ACC, as we spoiled Duke fans have grown so accustomed.
Austin Freeman, Georgetown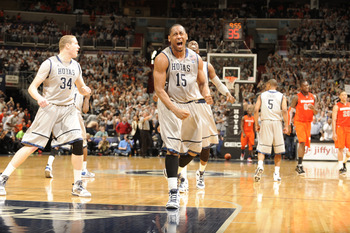 Mitchell Layton/Getty Images
With Chris Wright out for the Big East tournament, things aren't looking good for my Hoyas. I know, I know, I'm a Duke fan, but hey I can still root for my school too right? Austin Freeman is one of the best players in the nation, and if the Hoyas are going to make a deep run in the Big East tournament, Freeman is going to have to show up big each and every game.
Freeman has looked like a first-team Big East player all year, averaging 17.8 points a game, while adding 2.5 assists and 3.6 boards. Keep an eye out for him this week, if he gets hot the Hoyas may just make a run for it...
Isaiah Thomas, Washington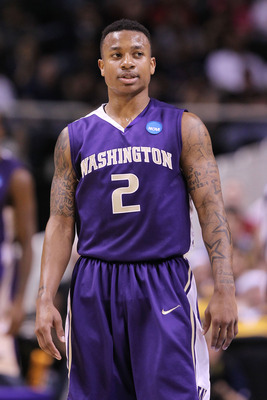 Jed Jacobsohn/Getty Images
Following Abdul Gaddy's season ending injury, Isaiah Thomas really came into his own. Averaging 16.6 points and 5.6 assists per game, Thomas is Washington's most important player and if he can continue scoring at a solid clip and spreading the ball well during the course of the tournament, Washington just may have a shot at the Pac-10 title.
Solid guard play is so important in March and luckily for the Huskies, this is an area that need not be a concern.
Marcus Morris, Kansas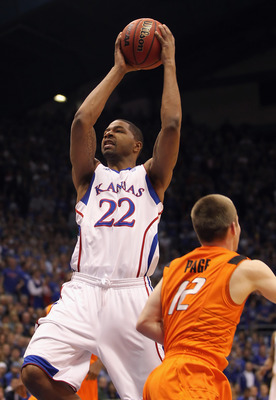 Jamie Squire/Getty Images
Marcus Morris has been absolutely phenomenal this year. Averaging 17.3 points and seven boards per game, look for Morris to continue to dominate the paint this week and ensure a Jayhawks victory in the Big 12 conference tournament. Unless that is, our last player has something to say about that...
Tristan Thompson, Texas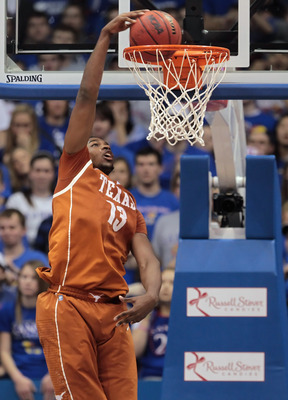 Jamie Squire/Getty Images
If Texas if going to win the Big XII tourney, Tristan Thompson is going to have to go blow for blow with Marcus Morris. Just a freshman, Thompson is averaging 7.7 boards a game and 13.5 points. If they're going to be partying in Austin, Thompson has to put together a huge game against Kansas, assuming both make it to the championship game.
So in Conclusion...
Grab your remote, order a pizza, and call in sick to work. March Madness is upon us once again. In the words of the great Charlie Sheen, it's all about...Winning.
Keep Reading

Georgetown Basketball: Like this team?