5 Coaches on the NCAA Hoops Hot Seat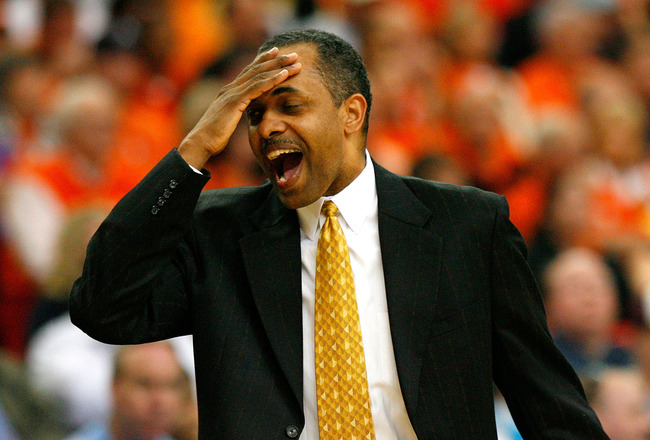 Kevin C. Cox/Getty Images
In college basketball, the postseason is everything. Making a deep run in the NCAA Tournament equals happy fans and a coach who can breathe a sigh of relief about his job security—at least for the next season.
With only a matter of days before conference tournaments start, here's a look at five coaches who desperately need a ticket punched to the Big Dance to avoid the spring and summer coaching carousel of college basketball.
South Florida's Stan Heath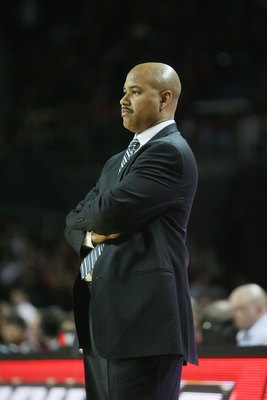 Andy Lyons/Getty Images
Heath led the Arkansas Razorbacks to two straight appearances in the NCAA Tournament before bolting for the Big East, but has had no such luck for the South Florida Bulls.
In four seasons, Heath has failed to break .500 in conference play. This year, the Bulls are headed for their worst conference finish since 2006. Unless South Florida makes an unlikely magical run in the Big East Tournament, Heath could be headed for the exit.
N.C. State's Sidney Lowe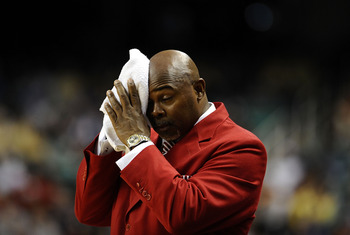 Jeff Zelevansky/Getty Images
Fans love the blazing red blazer he wears to home games, but the Wolfpack faithful have started to growl in Lowe's fifth season.
After replacing long-time coach Herb Sendek, Lowe was expected to restore N.C. State's illustrious history. Instead, he's failed to make the NCAA Tournament each year of his coaching tenure, and has failed to crack the top half of the ACC standings all five seasons, compiling a 25-43 record in conference play so far.
If Sendek got ran out of Raleigh after leading the Wolfpack to five straight tourney bids, there's no telling what Lowe's future holds after this year.
Texas Tech's Pat Knight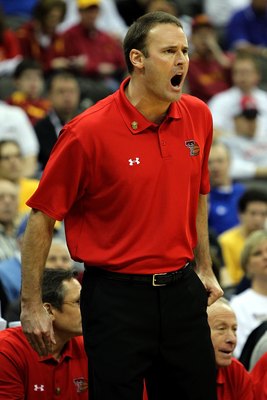 Jamie Squire/Getty Images
His dad may be the winningest coach in men's college basketball, but so far, none of that mojo has rubbed off on Pat Knight. In his third full season coaching the Red Raiders, Knight has watched his team slip to the cellar of the Big XII with a 4-9 conference record so far.
In fact, Knight has failed to win more than four conference games in any of the seasons he's been at the full helm of the Texas Tech program. At this point, even an NIT championship—which is still a long shot—may not be enough for the folks in Lubbock to secure Knight's future with the program.
Illlinois' Bruce Weber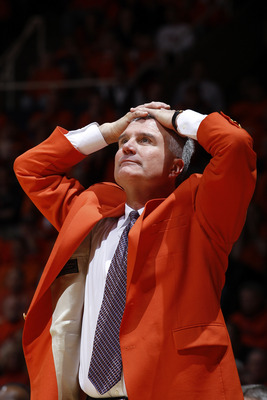 Joe Robbins/Getty Images
When Bill Self left Illinois to become the head coach at Kansas, the Fighting Illini looked long and hard for a suitable replacement. After leading his team to the national championship game against UNC in 2005, it looked like Bruce Weber was just the man for the job.
But enthusiasm for Weber has waned in Champaign lately after the Illini have made some less-than-stellar postseason appearances. Illinois hasn't been past the first weekend of the tournament since that magical Final Four run in Weber's second season, and unless he can turn the ship around and make the Sweet 16 this year, fans and boosters may be looking for a fresh face on the sidelines.
Georgia Tech's Paul Hewitt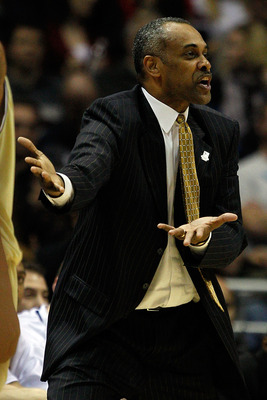 Jonathan Daniel/Getty Images
Hewitt is one of the longest-tenured coaches in the vaunted Atlantic Coast Conference, having spent 10-plus seasons leading the Yellow Jackets. Despite leading his team to the 2004 Final Four, the rap on Hewitt is that he has done less with more talent during his time in Atlanta.
Since 2003, five of Hewitt's players have been taken in the first round of the NBA draft. That includes Derrick Favors, who was picked third overall last year. Despite a boatload of talent, Hewitt has struggled in the ACC, with his last winning conference record coming in 2004.
Hewitt kept his job last year by squeaking into the Big Dance thanks to a deep run in the ACC Tournament, but Hewitt will have to do more than that this year to become college basketball's latest member of the coaching carousel.
Keep Reading