College Basketball: 10 Teams Who Will Have to Sweat Out Selection Sunday
Ronald Martinez/Getty Images
As we hit late February, the key term to describe college basketball this season is "parity." No team has broken away from the pack, and few teams have really been able to take themselves off the bubble.
Here we review the top 10 teams who will have to sweat it out on Selection Sunday.
Baylor Bears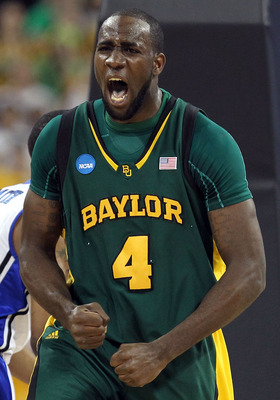 Ronald Martinez/Getty Images
If there is a more underwhelming team in America, let me know. Baylor embarrassed themselves on Saturday, dropping a home game against listless Texas Tech, playing right into what everybody says about coach Scott Drew: great recruiter, terrible coach.
Texas Tech had no Mike Singletary, and watched their two big men, Jaye Crockett and D'walyn Roberts, foul out within the first ten minutes of the second half. Still, Baylor couldn't convert.
Coming into the game, I would have given Baylor a bid. After, I'd be happy to see them in the NIT. They looked terrible in their game before Texas Tech (a 64-50 win over NAIA Wayland Baptist), and their only impressive win of the season is a two point win at Texas A&M.
Currently in a three-way tie for fifth in the Big 12, Baylor will need to go at least 3-1 in their final four games (at Missouri, Texas A&M, at Oklahoma State, Texas), and then probably win at least a game in the Big 12 tournament to give themselves a shot.
Butler Bulldogs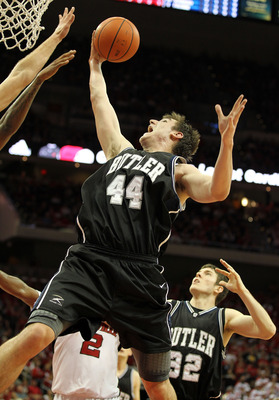 Andy Lyons/Getty Images
The Bulldogs have picked it up as of late, winning six in a row since a shocking upset at Youngstown State. But that still may not be enough. At 20-9, 12-5, Butler is in third in the Horizon League and will have to win at least two games in the conference tournament to have a chance.
They do own neutral-court wins over Washington State and Florida State, as well as home wins over Cleveland State and Valparaiso (first and second in the Horizon League), and a road upset of Cleveland State.
Still, they own a couple of really bad losses (at Youngstown State, home against Evansville, and a 24-point shellacking at Wisconsin-Milwaukee) that may stick out more than their big wins.
If Butler wins their season finale (home against Loyola Chicago), and can win at least two games in the Horizon League tournament, they'll be in a good position to be dancing again.
West Virginia Mountaineers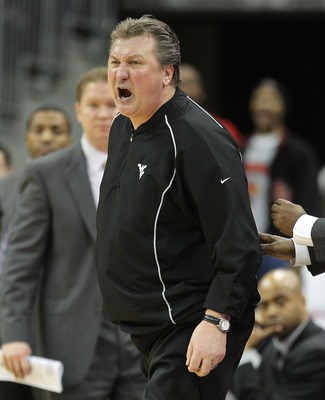 Andy Lyons/Getty Images
With their win at home over Notre Dame on Saturday, West Virginia looks like they're in good shape to make the tourney. With wins at Georgetown, and home wins against Purdue, Notre Dame, and Cleveland State, West Virginia has a very nice resume.
Their pitfall? The rest of their schedule. Despite their big wins, they're only in eighth in the Big East, and their last four games are at Pittsburgh, at Rutgers, and home games against UConn and Louisville.
There's not one easy game on that list, and if the Mountaineers drop three of four, they'll need to win at least two games in the Big East tournament to guarantee themselves a spot.
Maryland Terrapins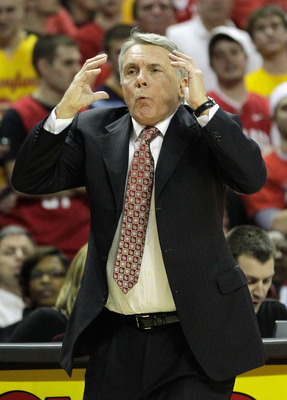 Rob Carr/Getty Images
Maryland has seemingly been on the verge of a big win all season. But unfortunately for them, that counts for nothing at the end of the day. Currently tied for sixth place in the ACC, Maryland would be fine in almost any other year.
But with the ACC being so down this year, they have work to do to get themselves into the picture. Their most impressive win this season was at Penn State, and I'm not exaggerating when I say that.
They are 0-8 against teams with a Top 50 RPI. Their RPI is 85. Unless they can get to the finals of the ACC tournament, I'd be shocked if they got in.
Boston College Eagles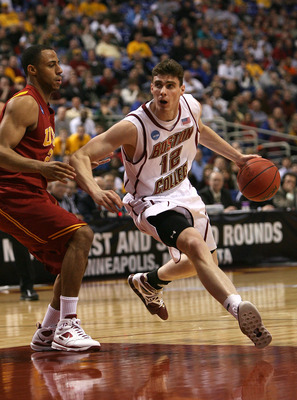 Jonathan Daniel/Getty Images
BC is in a similar position as Maryland. Both teams are in the middle of the pack in a weak ACC, and both teams will need help down the stretch to get in.
The difference? BC owns a neutral court win over Texas A and M, and a season sweep of Maryland, a team they'll be competing with on the bubble. BC is 1-6 against teams in the Top 50 RPI, but they own an RPI of 45—much better than Maryland's.
If BC can get out of their recent rut (2-5 in their last 7), they should be one of the last teams in. The rest of their schedule (home against Miami, at Virginia, at Virginia Tech, home against Wake Forest), leaves it very possible for them to win out, finish ACC play with a winning record, and hit the 20-win plateau.
Richmond Spiders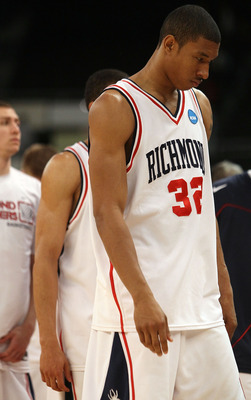 Elsa/Getty Images
Richmond has a lot going for them. They have a marquee win over Purdue, impressive out-of-conference wins over VCU, Seton Hall, and Wright State, and already have 21 wins. The Atlantic 10 is one of the best mid-major conferences in the country, and Richmond is currently in third in the conference. Unfortunately for them, they were blown out by Temple and Xavier (first and second) in their only two games against them. The rest of their schedule is fairly easy, meaning they should get to 24-7 and 13-3 in conference heading into conference play.
If they win out, and win a game in the conference tournament, Richmond should make the tournament.
Kansas State Wildcats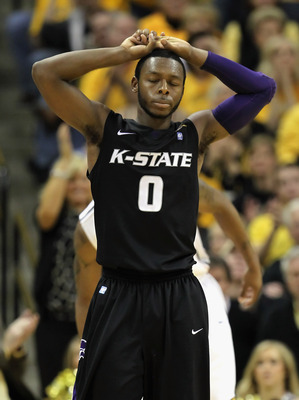 Jamie Squire/Getty Images
Kansas State has had quite the up and down season. They started the season No. 3 in the polls, only to completely drop off the face of the earth. Stuck in a three-way tie for fifth in the Big 12, they seem to be peaking at the right time, with a huge win against No. 1 Kansas on Monday night.
The rest of their resume isn't nearly as impressive (wins over Virginia Tech, Gonzaga, Washington State and Baylor). At 18-8, and 6-6 in conference, Kansas State can't afford to end the season with a losing conference record.
Their next four games are tough (at Nebraska, Missouri at home, at Texas, Iowa State at home), but if they can go 2-2 in the stretch, they'll enter the Big 12 tournament with 20 wins to their name, and a marquee win over Kansas.
A win in the Big 12 tournament should be able to solidify a spot for them.
Nebraska Cornhuskers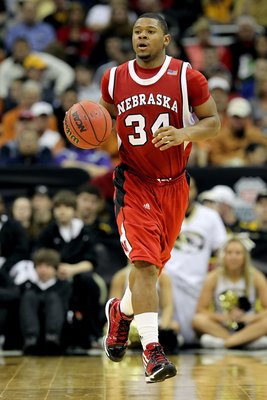 Jamie Squire/Getty Images
Even after their win over Texas, I'm not sure Nebraska has enough to make the tournament. They also own a home win against Texas A and M, but outside of that, the rest of their resume is pretty weak. They also lost to Davidson and Texas Tech. If they lose to Kansas State at home on Wednesday, anything short of a run to the Big 12 finals will relegate them to the NIT.
But if they get by Kansas State, and can go 2-1 in their final three, they'll have a shot to make the Big Dance with a win or two in the conference tournament.
UNLV Runnin' Rebels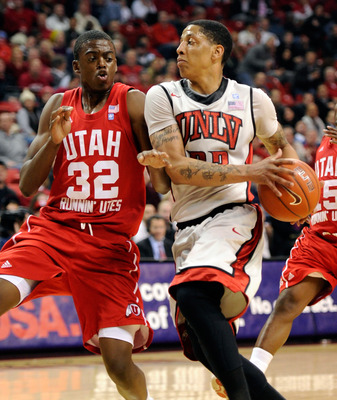 Ethan Miller/Getty Images
With the fantastic seasons San Diego State and BYU are enjoying, people have forgotten about UNLV in the Mountain West.
But they own wins over Wisconsin, Murray State, Virginia Tech, New Mexico and a road win over Kansas State.
They've hit the 20-win plateau, and if they win out (at New Mexico, Wyoming, at Utah), they should be locks for the tournament. However, if they were to slip up and finish 2-1 in their final three, they'll need to win at least a game in the conference tournament to solidify their chances.
UCLA Bruins and Washington Huskies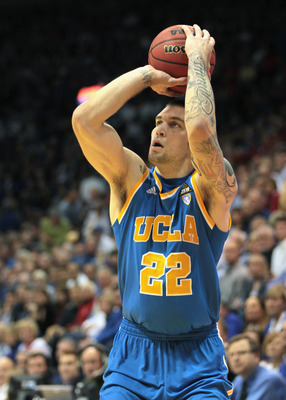 Jamie Squire/Getty Images
Wins over BYU and St. John's stand out for the Bruins, and they're helped by playing in a "power" conference. Washington owns a 17-point blowout win over Arizona, and a win over UCLA, a team they'll likely be competing with for the Pac-10's second spot. However, the Pac-10 has been awful again this season, with Arizona the only team to be a lock.
So, who gets the spot if it comes down to UCLA and Washington? That will probably be decided on Thursday, March 3rd, when Washington hosts UCLA. If Washington wins out, including their match-up with UCLA (at Seattle, home against Washington State, UCLA, and USC), they'll end the season 22-8, and second in the Pac-10, meaning they'll virtually be a lock.
But if UCLA can pull off the upset, they'll be in a great spot to go dancing. UCLA can help their cause with a win at home over Arizona, giving them their third big win of the season.
Keep Reading