Syracuse Basketball: The 9 Most Disappointing/Overrated Players Since 1990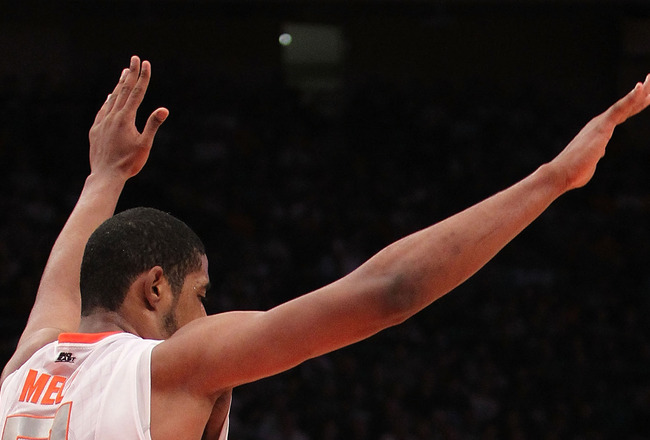 Freshman Fab Melo has been a disappoint to most Syracuse fans so far this season.
Nick Laham/Getty Images
The Fab Melo experiment has been a bust so far for Jim Boeheim and the Syracuse Orange. The pre-season Big East Freshman of the Year is averaging two points and two rebounds in just ten minutes of action. Not ready to call him a bust just yet, but here is my top nine most overrated players at Syracuse since 1990. All stats are courtesy of SUAthletics.com and Orangehoops.org.
9. Donovan McNabb- 1996-97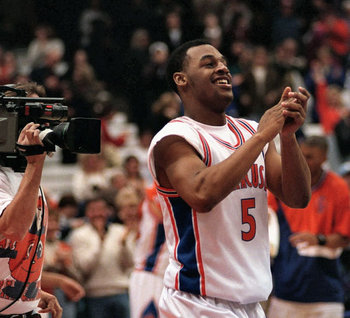 courtesy from www.carozzastrengthtraining.com
It drives me nuts when announcers refer to Donovan McNabb as a two-sport star in college. He is, without question, the best quarterback to ever play at Syracuse, but he really didn't do anything on the basketball court.
McNabb saw little action as a reserve guard his freshman year when the Orangemen lost to Kentucky in the 1996 National Championship.He only played in five games that season and shot just 2-of-12 (16.7 percent) in less than four minutes of action.
McNabb's numbers weren't much better his sophomore season. He played less than eight minutes a game and averaged 2.8 points and 1.1 rebounds on the year.
McNabb quit basketball after the season to focus solely on football. He set a Big East record with 77 touchdown passes and threw for 8,389 yards in his career. He was a four-time First-Team All Big East Quarterback and the three-time conference Offensive Player of the Year.
It's safe to say his popularity on the football field made him a fan favorite on the hardwood, despite his lack of production.
8. Preston Shumpert- 1999-02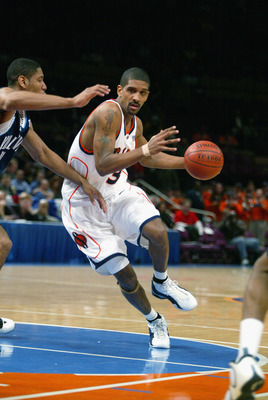 Al Bello/Getty Images
Preston Shumpert was a good shooter...but that's about it. There is no question the guy had range. He shot 43.7 percent from the field for his career and averaged just under 21 points a game his senior year.
Shumpert set the SU single-season (88) and all-time mark for three-pointers (249) in 2002 but never developed into an all-around player. He was very temperamental and was not known as a good passer or defender.
During his senior year, Shumpert's off-the-court dispute with teammate DeShaun Williams destroyed SU's season. The Orangmen started out 14-2 before taking a 4-9 nose-dive down the stretch. Syracuse lost in the first round of the Big East Tournament and was forced to play in the NIT.
Shumpert also never led the team to a deep post-season run. In 2001, the Orangemen lost to Kansas 87-58 in the second round of the NCAA tournament. It was the worst post-season loss in school history.
7. Terrence Roberts- 2003-07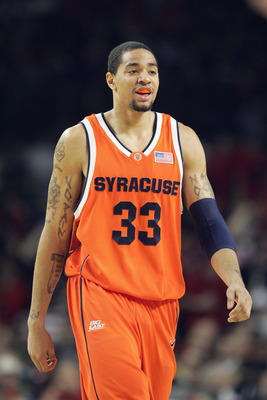 Andy Lyons/Getty Images
Terrence Roberts was part of the first recruiting class after the Orange won the 2003 National Championship. Big things were expected from this group and Roberts.
Roberts had all the tools to be an elite forward in the Big East. He was big (6-9, 238) and extremely athletic. Only problem was-- he was extremely inconsistent.
He had poor hands, shied away from contact and, like most Syracuse forwards, he was an awful free-throw shooter. Roberts shot 48 percent for his career from the line and did not have great touch from mid-range.
Roberts averaged almost nine points and eight rebounds per game his senior season, despite playing with an injured knee. He never really lived up the potential or player fans thought he would be and his class did not enjoy a lot of post-season success.
The Orange lost in the first round of the NCAA Tournament his sophomore and junior years and made it to the quarterfinals of the NIT his senior season.
6. Wes Johnson- 2009-10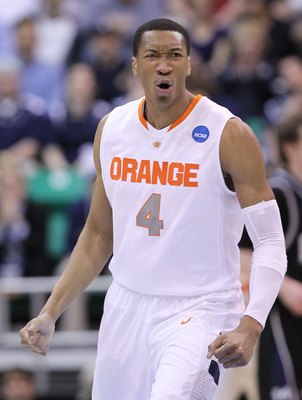 Jed Jacobsohn/Getty Images
Everyone fell in love with Wes Johnson and I guess my overall opinion on him was that he was good, not great.
Johnson transferred from Iowa State after his sophomore season. He was forced to sit out a year but burst onto the scene at Syracuse.
He scored 25 points against North Carolina in the Preseason NIT tournament and immediately became a star for the Orange.
His warm smile and fun personality made him incredibly easy to like and led the team to it's first number one ranking since 1988. The Orange also earned a top seed in the NCAA tournament but fell to Butler in the Sweet 16.
Johnson benefited from playing on a terrific team. The Orange had strong leadership with Andy Rautins and Arinze Onuaku and had four players averaging double-digits that season.
He was a terrific leaper and rounder but settled for too many outside jumpers. He disappeared in big games down the stretch and never established himself as a go-to scorer.
Johnson is a good player but was over-hyped because of Syracuse's success. Averaging 16 points and eight rebounds shouldn't put you in discussion for first team All-American.
Carmelo Anthony averaged 22 points and 10 rebounds as a freshman and also led his team a national championship. Melo got the job done, Johnson did not with a team that should have won it all.
5. Donte Greene- 2007-08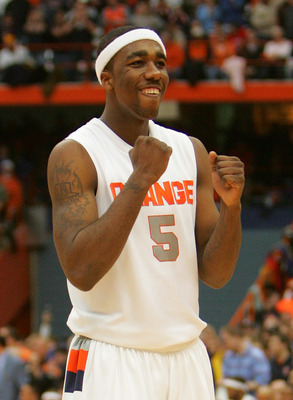 Marc Squire/Getty Images
Does anybody even remember Donte Greene?
If you don't, you're lucky.
He was a McDonald's All-American in high school and was expected to be a one-and-done guy at Syracuse, which he was.
Only problem was, he didn't win.
I have no problem with guys playing a year and jumping ship. Carmelo Anthony did and it worked out pretty well for Syracuse.
Not so much with Greene.
He was very talented, but also extremely selfish with the ball.
You never saw Greene (6-11, 286 lbs) banging inside in the Big East. He was too busy jacking up ill-advised shots, most of them from behind arc, and not playing team basketball.
He lacked leadership, never made others on the court with him better and couldn't get the 'Cuse into the NCAA tournament.
Greene's freshman stats looked good on paper-- 17.7points, 7.2 rebounds a game but the end result was a trip to the NIT...great.
Greene was drafted 28th overall by the Memphis Grizzlies, who then traded him to Houston, which then shipped him off to Sacramento.
Don't expect to hear from him anytime soon with putting up six a game in the league.
4. Billy Edelin- 2002-05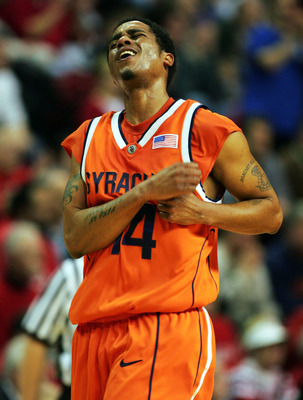 Ezra Shaw/Getty Images
Billy Edelin could have been something special.
He was supposed to be the next great point guard at Syracuse. That didn't happen.
Heavily recruited out of high school, Edelin debated going right to the NBA before committed to Syracuse.
Off-the-court issues however, hampered him right from the start.
His freshman season was postponed after some alleged troubles with the ladies, then he missed the first 12 games of the following season for playing basketball in a local church league before being reinstated at the school.
Edelin played well off the bench in his first season playing for the Orangemen and was a key contributor to the 2003 National Championship team.
He had good ball skills, nice vision and great size for a point guard. Only problem was he couldn't stay out of trouble.
Edelin missed the end of his sophomore and junior season due to personal reasons and then transferred to Mountain State University in West Virginia.
He pulled out of there after a week and decided to play overseas in Belgium.
Never made it to the NBA and never met his full potential.
3. DeShaun Williams- 1999-2002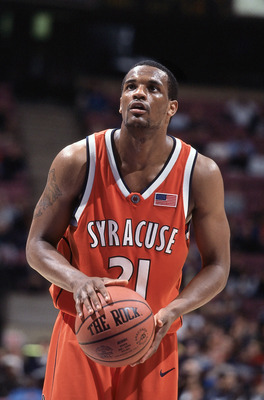 Noren Trotman/Getty Images
DeShaun Williams did more harm then good to the Syracuse basketball program.
Williams was a talented scorer who had a bad attitude and a poor work ethic.
His ball handling skills were suspect and steadily increased turnover totals each season.
Williams was also a cancer in the locker room. He dogged it in practice, played selfish basketball at times and distracted the team with a host of off-the-court issues.
Williams was involved in a number of bar fights, barely did his school work and was caught in a riff with teammate Preston Shumpert and his girlfriend.
That issue played a huge role in Syracuse's late-season collapse as the Orangemen found themselves playing in the NIT, instead of the NCAA Tournament after a 14-2 start.
Williams was kicked out of school his junior year and played one year at Iona.
He could have been a star. Now his claim to fame is playing in the ABA back in 2006.
Good riddance.
2. Paul Harris- 2006-2009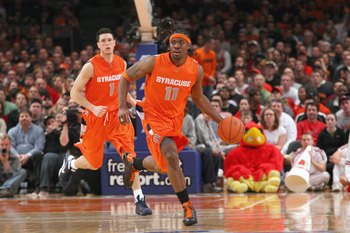 Jim McIsaac/Getty Images
Paul Harris had a rock solid body...and head.
Physically the guy was impressive.
He was 6-5, 220 and all muscle. Harris was very gifted athletically but never made the best decisions and was constantly Jim Boeheim's whipping boy.
What he lacked in brains, he made up in hustle. Harris was a good teammate and an excellent rebounder.
That said, he never lived up to the hype.
Harris was one of the top players in the country coming out of high school and was supposed to be a one-and-done guy.
Harris showed signs of improvement but with no mid-range jumper and poor ball handling skills, the NBA wasn't going to call anytime soon.
He averaged 12 points and eight rebounds his junior year and decided to jump ship to the league with high school teammate Johnny Flynn.
Good move for Flynn (6th overall by T'wolves)
Bad move for Harris (undrafted)
1. Jason Hart- 1996-200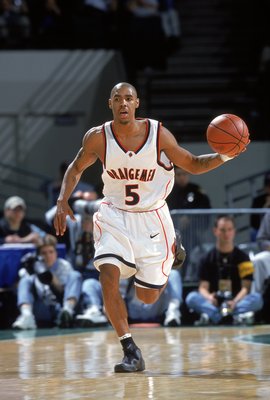 Doug Pensinger/Getty Images
Jason Hart is without question the most overrated Syracuse basketball player in my opinion.
He almost backed out of his commitment to play at UCLA or UNLV and I wish he did.
Hart was named to Syracuse's All Century team, which to this day still makes me sick.
Not only does he not deserve to be on the list, he should be considered as one of the worst point guards in Syracuse history.
Hart was extremely quick and scrounged up a bunch of steals for Syracuse. He set a school record with 329 swipes and finished second all-time in assists with 709.
Hart averaged 11.4 points, 6.5 rebounds and 3.3 turnovers a game for his career. Not bad stats but not great either, considered what he did, or did not do for that team.
Hart never made Syracuse or any player on that team better with his point guard play. He played too fast, out of control and committed way too many turnovers.
As stated above, Hart had 329 steals in his career and committed 436 turnovers. Believe me, he gave up more then he took back.
He 'led' Syracuse to two Sweet 16 appearances, an NIT bid and a first round loss in the NCAA Tournament.
His quickness may have gotten him drafted but Hart has seen little success in the NBA playing for nine different teams.
Keep Reading

Syracuse Basketball: Like this team?