Hawaii Takes Utah State to Double OT: Aggies Survive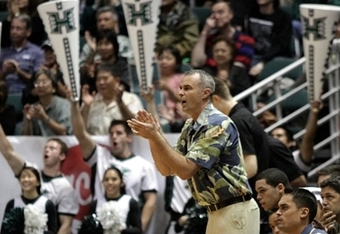 The Rainbow Warriors left their three-game winning streak in the dust on Saturday night as the Utah State Aggies maintained their perfect conference record by defeating Hawaii 89-84.
The opening moments of the first half would be the prime indicator of what was to come for Hawaii. Hawaii had several prime opportunities to catch an early lead, but missed shots from the low post that were ill advised or ill-made.

As a result, Hawaii could barely hang in with the Aggies after a 22-all tie at the 12:30 mark. Hawaii went on a seven-minute drought while Utah State chalked up a nine-point lead.

Within the last two minutes of the first half, Hawaii was able to cut the lead to four on two heads-up plays but lost concentration following an offensive rebound with seconds left that allowed the Aggies to slip in a last second basket before the half expired.
As Hawaii returned for the second half, it first appeared that Utah State would run away to an easy win, but Hawaii battled back and the Aggies got a bit lax. At the four-minute mark, Hawaii had cut the lead back to only a single point.

Two minutes later, the Warriors took the lead by a single point and extended the lead to two points with under a minute left. Then with 39 seconds left, Utah State's Brian Green got off a game-tying shot that eventually took the game to overtime.
Jeremiah Ostrowski had a excellent performance that sparked an overtime where Hawaii built up with three-point lead with 28 seconds and no timeouts left for either team. Brian Green once again answered the call, burying a three-pointer with 13 seconds left. Hawaii failed to bring the game to a close with a missed opportunity from under the basket.
The second overtime immediately set Hawaii at a disadvantage when an intentional foul allowed the Aggies to pull out to an early four-point lead. Hawaii responded yet again with another turnaround at just above the two-minute mark and took a one-point lead on a Hyram Johnson three-pointer.

Then, four quick points with 30 seconds remaining left Hawaii down by two following the 19th lead change of the game. The Aggies extended their lead to three and held on to win the contest 89-84.
Zane Johnson had a banner night scoring 25, followed by a 15-point Ostrowski performance. Bill Amis went only 6-of-13 from the field but still managed a double-double in the loss by adding 12 rebounds.
The performance turned in by Brian Green proved to be the difference for the Aggies as he turned in a 22 point night with two of his three 3-point shots sending the game into overtime twice and allowed Utah State to gather a win.
Hawaii drops to 12-9 overall and 3-6 in the WAC while Utah State improves 19-2 and keeps their unbeaten record in the WAC untarnished, moving to 8-0.
Hawaii hits the road again for an Idaho tour beginning with Boise State on February 3 at 7:05pm MST followed by a change in time zone when they take on the Vandals of Idaho two nights later at 7:05 PST.
This article is
What is the duplicate article?
Why is this article offensive?
Where is this article plagiarized from?
Why is this article poorly edited?