BYU vs. San Diego State Basketball: Aztecs Visit Provo for 1st Place in MWC
January 25, 2011
Wednesday night will be the date of more than just any game for San Diego State and Brigham Young basketball. 
For both, a game for first place in the Mountain West Conference. 
For BYU, an opportunity to hand San Diego State its first loss of the season. 
For San Diego State, a chance to get the toughest game of the season out of the way and still be undefeated.
Here is a breakdown of what each team will need to do in order to be successful on Wednesday night.
Keys for BYU
Get Jimmer Going
We all know how good Jimmer Fredette is. However, he is sometimes a little streaky. The Cougars should get him open early in the game in order to get him in a good rhythm from the start.  
There Is Still More Than Jimmer
Although Fredette is the top scorer in the nation, BYU has other guys that can score. Jackson Emery and Brandon Davies both score in double digits, plus Noah Hartstock is right behind at 9.8 PPG. All three of those players can support Fredette well.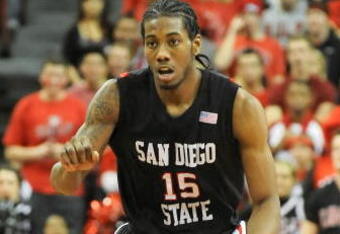 Ethan Miller/Getty Images
This game does not have to be the "Jimmer Fredette Show" in order for BYU to win.
Get to the Charity Stripe
Brigham Young is No. 1 in free-throw shooting in the Mountain West and one of the better free-throw shooting teams in the nation. It would benefit the Cougars to use that statistic to their advantage and get to the line a lot against the Aztecs.
Jimmer Fredette shoots 90 percent from the stripe, Noah Hartstock makes over 87 percent and Jackson Emery and Charles Abouo both shoot over 71 percent.
Don't Be Afraid To Foul
Unlike BYU, San Diego State is not such a great free-throw shooting team. The Aztecs are last in the Mountain West at just 67 percent from the charity stripe. The Aztecs' only have one player who shoots over 70 percent from the foul line is Kawhi Leonard (70.6 percent).
This leaves the Cougars with a pair of simple strategies.
Don't be afraid to play physical. Make the San Diego State players make a pair of free throws rather than give them a layup.
The Cougars might choose to foul a little earlier than the conventional time if they are losing late in the game. Of course, this strategy depends a lot more on the game situation, including BYU's foul situation and the amount of the Cougars' deficit.
Battle on the Boards
Rebounding could very well be the deciding factor in this game. BYU is one of the best rebounding teams in the nation (No. 17) with 40.2 RPG. San Diego State is not quite up there with only 35.9 RPG. 
However, the Aztecs have a couple of good big men in Kawhi Leonard and Malcolm Thomas who possess the ability to dominate the boards.
Contrarily, the Cougars have only three players averaging more than five rebounds per game, and no one averaging more than six. The Cougars pride themselves on having many players that can all do a mediocre job on the glass.
Keys for San Diego State
If They Can Win This Game, the Rest Will Feel Like Cupcakes 
I know "cupcakes" is an exaggeration, but I just want to get my point across. This is undoubtedly the toughest game left on the San Diego State schedule, granted that the Aztecs still have to face UNLV and BYU one more time and that every conference game on the road is no given win.
However, this game is still the toughest on the schedule.
If San Diego State can come away from BYU with a win, its chances for an undefeated season look that much more realistic. It is still far-fetched with more than a month of college basketball left, but it remains possible.
Establish Themselves Early
As I said before, every conference road game is a tough one—especially when you are playing the No. 9 team in the nation, which has not lost in over a month. The environment will be hostile, loud and most likely intimidating. 
The Aztecs have to put all of that behind and come out and do their thing from the get-go. If they fall behind early, it could be tough to come back.
There Are Lots of Guys Who Can Score...Use Them
San Diego State has benefited all season from having six players averaging more than seven points per game. Of course, Kawhi Leonard and D.J. Gay will be counted on as the main offensive threats, but the Aztecs cannot get too caught up in going to their stars. 
Malcolm Thomas, Billy White and Chase Tapley all know how to put the ball in the hoop, too.
Guard the Perimeter
BYU shoots the ball and shoots it well. Both Jimmer Fredette and Jackson Emery shoot over 40 percent from beyond the arc, and Noah Hartstock has hit his share, shooting 15-for-25 from three-point range on the season (60 percent).
BYU will definitely hit some three-pointers in this game. There is no way to prevent that.
However, if the Aztecs do not guard the perimeter well, Fredette, Emery and Hartstock will get more open looks, which means more three-pointers. These guys are some of the better shooters in college basketball. Do not let them get more than their share of three-pointers, and do not let them get gelling early.
Battle on the Boards
Leonard and Thomas are both strong rebounders, but they will have to be extra strong on Wednesday night in order to get the Aztecs a victory on the road.
My pick: I like San Diego State, and I like the idea of an undefeated season. However, I have to go with my mind over my heart and take Brigham Young in this one. These are two very talented teams, and both will make the NCAA tournament and have a good chance at making a deep run in March. (Would it be crazy to even say early April?) In the end, the Marriott Center will be rocking, just as BYU will be doing. 
This game will be televised on CBS College Sports, and I recommend tuning in, even though it will be a late night for us East Coasters. 
Look for this one to stay tight through the final buzzer.
My line: BYU by two
For more college basketball news and updates, follow Jesse Kramer on Twitter @Jesse_Kramer.