College Basketball's Top 5 In-Your-Face Defenses of 2010-11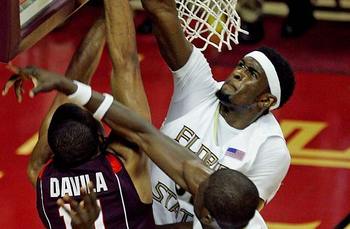 The old saying goes something like, "Offense sells tickets, but defense wins championships."
One of the best ways to come out on top in any game is to prevent your opponent from making shots and scoring points.
They can't win if they're not putting it through the hoop, right?
The following five teams have posted a combined 70-20 record, and they have done it with defense.
They hold their opponents to the lowest field goal percentages in the country.
Whether or not they play man-to-man or zone defense is not the issue. What matters is getting in the shooter's face and consistently challenging his shot.
Good defenders know when to run out and trap a ball-handler, when to pinch in the lane and when to hedge out to bother a shooter before help arrives.
These teams do it better than anyone else...
5. Syracuse Orange
Nick Laham/Getty Images
Opponents' FG Percentage: 36.8
Defense is a staple of Syracuse Orange basketball.
If you're going to play for Jim Boeheim, you better be ready to work, and work hard, on defending, challenging the shot and stopping the other team from scoring.
This approach has worked well.
In the last 35 years, Boeheim's Syracuse ball clubs have won 847 total games, second only among active coaches to Mike Krzyzewski of Duke University.
Syracuse's 2-3 zone is the Bermuda Triangle; teams venture in and get lost in a tangle of arms. Some fear it so much they dare not enter, instead forcing three-point shots, usually to their detriment.
The size and quickness of the Orange players effectively take away most open shots.
Syracuse has virtually shut down its opponents' three-point shooting, only allowing them to make 28.1 percent from beyond the arc.
Syracuse (18-1, 5-1) missed injured junior forward Kris Joseph (pictured) on Monday night when they came up short against Pitt for their first loss of the season. His length is a huge irritation on the wing.
4. Texas Longhorns
Chris McGrath/Getty Images
Opponents' FG Percentage: 36.8
If you play against Rick Barnes' 2010-11 Texas Longhorns, you are in for a long night.
You will face some of the most talented and physical players in the nation.
You will also experience relentless pressure from their man-to-man defense.
Texas (14-3, 2-0) has not just dined on the weaker non-conference diet that some big programs typically devour in November and December.
They limited Illinois to 38.4 percent shooting and Pittsburgh to 42.1 on back-to-back nights in New York's Madison Square Garden.
They held Michigan State to a meager 29 percent while snapping the Spartans' 52-game non-conference winning streak at home.
Only Southern California, which hit 48.9 percent, shot well against the Longhorns.
Tristan Thompson (pictured), an energetic 6'8" freshman, covers a lot of ground. He leads the team with 33 blocks and 21 steals.
The Longhorns will face two consecutive defensive challenges this week, as they face Texas A&M at home and Kansas on the road.
3. Alabama Crimson Tide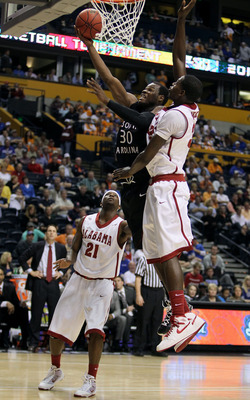 Andy Lyons/Getty Images
Opponents' FG Percentage: 35.8
"Watch out for the Tide" is not only good advice down at the Gulf Shores beaches, but on the SEC hardwood too.
Kentucky, last night, was the most recent team to experience the Crimson Tide's suffocating defensive pressure, as Alabama upset the No. 12 Wildcats.
Kentucky shot just 38 percent from the floor (normally 47 percent) and 33 percent from beyond the arc (normally 42 percent) and was held 14 points below its league-leading scoring average of 80 points.
Junior forward JaMychal Green (pictured) not only leads the team in scoring but is also tops in rebounds and blocks. His physical presence in the lane leads other teams to consider their options.
The Crimson Tide do a great job of limiting good looks and challenging the shot on the perimeter, only allowing their opponents to shoot a paltry 29.5 percent from three-point range.
With last night's upset, Alabama (11-7, 3-1) is still right in the thick of the SEC race. Their defense will be what makes a difference in many of their upcoming contests.
2. Nebraska Cornhuskers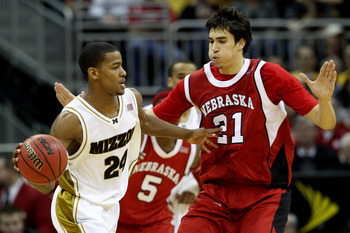 Jamie Squire/Getty Images
Opponents' FG Percentage: 35.1
When people check out the box scores and wonder how Nebraska is winning, the answer is defense.
Not only have the Cornhuskers only allowed their opponents to shoot barely above 35 percent, but they also limit their scoring to a measly 55.5 points per game (No. 3 in the nation).
Nebraska's style of defense isn't going to get the Huskers on SportsCenter very often. They don't block that many shots (4.2 bpg), and they don't steal the ball too often (6.6 spg).
What Doc Sadler's squad does very well is play hard-nosed, good-positioned defense that applies consistent pressure from the opening tip until the final buzzer.
The Cornhuskers (14-4, 2-2) limit their opponents to 28.6 percent shooting from beyond the arc.
Jorge Brian Diaz (pictured), a 6'11" sophomore center from Puerto Rico, clogs the middle and makes it difficult for anyone to get anything done inside.
1. Florida State Seminoles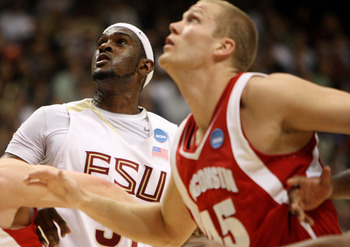 Jed Jacobsohn/Getty Images
Opponents' FG Percentage: 35.0
The biggest upset of the 2010-11 season so far was pulled off by the Florida State Seminoles, beating the No. 1 Duke Blue Devils, 66-61.
It wasn't hard to figure out how Leonard Hamilton's squad did it...it's called defense.
FSU shut down Duke's high-powered offensive attack by holding the Blue Devils to 31.1 percent shooting, 31.4 percent three-point shooting and limiting them to 24 points under their season average.
This was not just one exceptional night of effort. The Seminoles are the best team at shutting their opponents' shooting in check in the nation.
Florida State limits its opponents to 28.9 percent shooting from beyond the arc.
They block 6.4 shots per game, No. 7 in the nation, and give up 61.4 points per game.
Stingy might even be an understatement.
Chris Singleton (pictured), an athletic 6'9" forward, not only tops the team in scoring (15.5 ppg) but also leads in rebounds (7.8 rpg) and steals (2.2 spg).
Florida State (13-5, 3-1) is currently in a four-way tie (with Duke, North Carolina and Boston College) for first place in the ACC.
For the Seminoles to stay in contention, their defense is going to be what carries them.
Keep Reading