Dick Vitale and the Top 25 Personalities in College Basketball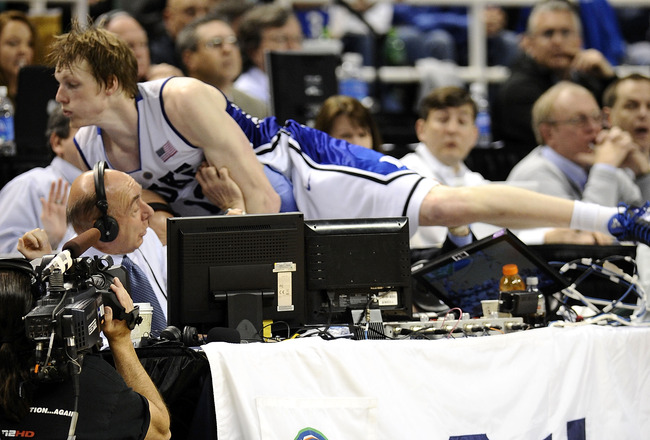 Jeff Zelevansky/Getty Images
Dick Vitale meet Kyle Singler.
Who says being a courtside analyst isn't dangerous?
When you can't actually be at the game, announcers and analysts help bring the game to life for you. At least the good ones do.
From the pregame "look-fors" to the in-game banter to the postgame recap, these personalities help us shape the event through their insights, humour and enthusiasm for the game.
Some are obviously better than others and while seasoned veterans are still manning the mikes at ESPN, CBS and ABC, some younger apprentices (many of them ex-players) are awaiting their respective turns to call the games they have been a part of in a different context.
Here is a list of some of the best (or maybe worst, some will opine) basketball personalities in today's college landscape.
25. Jay Williams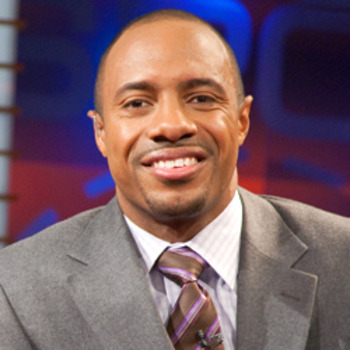 google images
One of the best college guards of all time, Williams had his NBA career cut dramatically short after a motorcycle accident. He joined ESPN full time in 2008 and is developing as an analyst.
He doesn't have the same strong opinions as some of the others, but his commentary is insightful and often right on the mark.
24. Miles Simon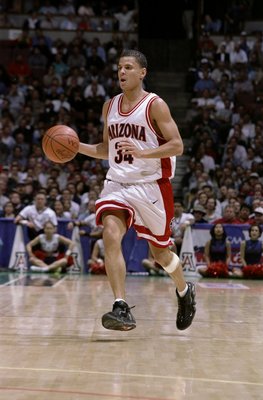 Todd Warshaw/Getty Images
The former standout guard for the Arizona Wildcats, Simon has played professionally in a number of places and more recently was an assistant coach at Arizona under Lute Olsen.
Simon was the MOP of the Final Four in 1997, when the Wildcats won the national title in overtime over Kentucky.
He is one of the newest members of the ESPN team, and like Williams, has great insight as a former player.
23. Greg Anthony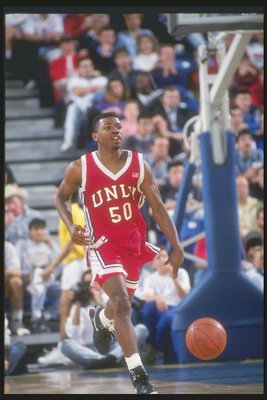 Ken Levine/Getty Images
You won't see him on ESPN much, unless they happen to be doing an NBA game. However, Anthony is a regular on Yahoo! sports with Jason King, doing recorded segments that cover any number of college topics.
Watch him as March approaches. He has a very good take on the upset specials.
22. Billy Packer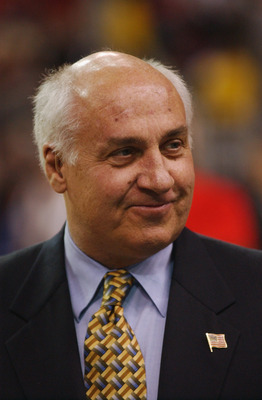 Doug Pensinger/Getty Images
He probably shouldn't be this low on this kind of a list, but he is now retired after being the face (and voice) of what is now March Madness for 34 years, virtually since its inception.
Packer was who he was. He said things that some didn't like, was arrogant and never apologized for anything he did or said.
Packer was fired in 2008, after 27 years at CBS.
21. Steven Bardo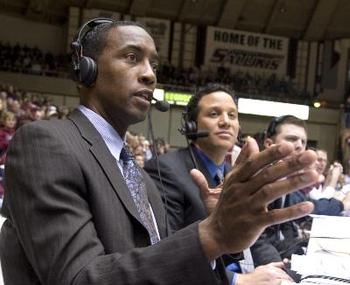 google images
Bardo is another former player with Final Four experience, having played for the Fighting Illini in the Big Dance.
He is an excellent analyst and tends not to pull any punches. He can be heard providing commentary for Big Ten, WCC and Conference USA games.
20. Brad Nessler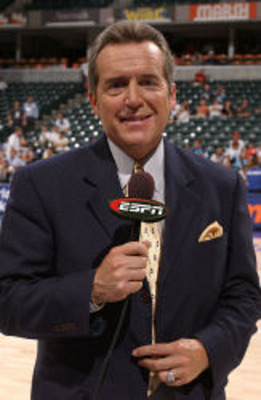 google images
Nessler is steady but unspectacular. He calls the game without bias and has been the voice of the SEC since 2003.
Initially a football announcer, along with some NBA work, Nessler is an ESPN fixture for feature games as well.
19. Brent Musberger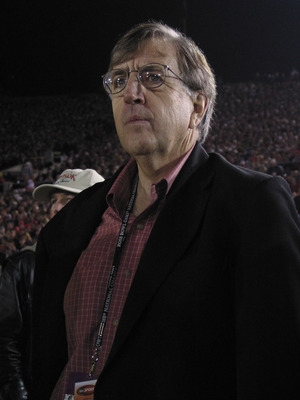 Stephen Dunn/Getty Images
Apparently, this guy has a drinking game named after him.
Musberger has been a fixture for college football and basketball forever. First with CBS and now with ABC and ESPN, Musberger was recently elected to the National Sportscasters and Sportswriters Association Hall of Fame.
He has a unique style, and love him or hate him, is entertaining.
18. Adrian Branch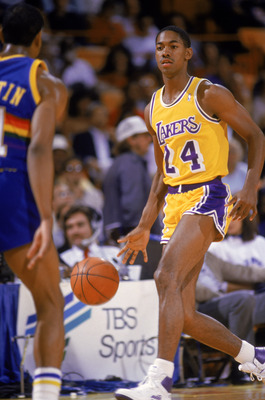 Mike Powell/Getty Images
Now those are some nice shorts.
Sorry about the bad pic, Adrian. Branch is another former college star who has found a home in the ESPN studio. As a player in high school, he was named MVP of the McDonald's All-American game, one that also featured Michael Jordan.
He always smiles, whether he is calling someone out or admiring his play. A very intelligent analysis is the norm for Branch.
17. Doris Burke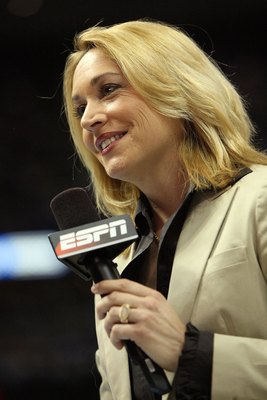 Doug Pensinger/Getty Images
Burke has a long list of firsts that are usually attached to her name. She was the first woman to be an analyst for a Big East men's game, and the first woman to be the primary analyst on a men's College basketball conference package.
She has done sideline reporting and colour commentary since 1996, primarily for ESPN, and is undoubtedly on par with any of her peers.
16. Jimmy Dykes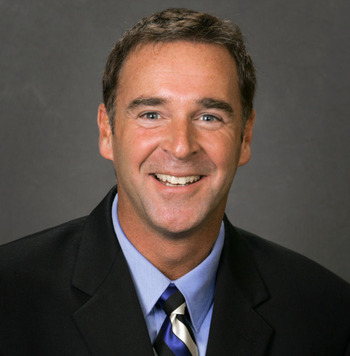 google images
The long-time partner of Brad Nessler, Jimmy Dykes is like the proverbial kid in the candy store EVERY GAME!
He is enthusiastic about every matchup, every contested shot, every steal. He breaks down the game as efficiently as his partner Nessler calls it and shows little, if any bias.
15. Dan Shulman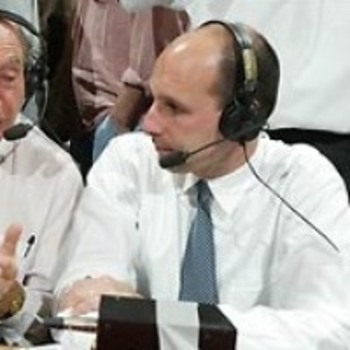 google images
Shulman has very quietly become one of ESPN's "go-to" guys, often pairing with Dickie V to temper the latter's zeal for Duke, North Carolina or Kansas.
He is articulate and more than most, because of who he is often paired with, can feed the analyst for an easy dunk.
Shulman isn't flashy; he just does a consistently good job.
14. Doug Gottileb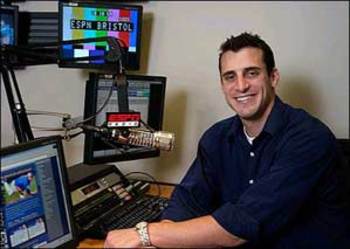 google images
There aren't too many who have an indifferent opinion about Gottileb. Either you love him or you hate him.
He tends to be very direct and really doesn't seem to care if his questions or comments irritate people. Too often though, he tends to play the foil, and looks for something negative to say. Regardless, his in-studio banter at ESPN with some of the other veterans there can be pretty comical.
13. Hubert Davis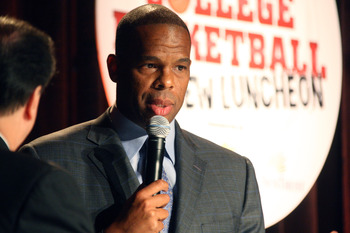 Scott Cunningham/Getty Images
This former North Carolina Tar Heel yuks it up on College Game Day with the likes of Jay Bilas and Digger Phelps, occasionally finding the sidelines for some colour commentary.
Though he is often jazzed about his lack of defensive prowess, Davis is knowledgeable without being too judgemental.
12. Digger Phelps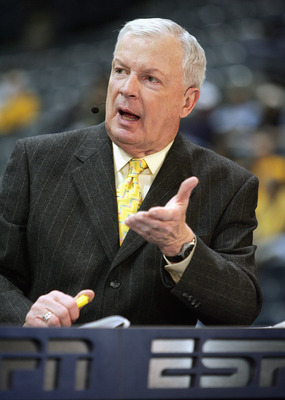 Jonathan Daniel/Getty Images
Another mainstay on College Game Day, Phelps is passionate and to-the-point with his analysis and game breakdowns. He sometimes strays on the point, which seems to both confuse and amuse the others on the panel.
In terms of his love for the game, Digger is second only to one.
11. Fran Fraschilla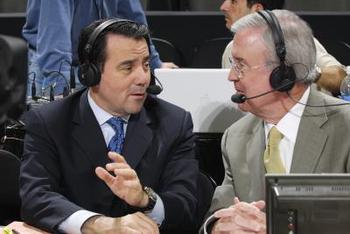 google images
Fraschilla is a long-time analyst who currently works Big East and Big 12 games.
He has a great knowledge and passion for the game and can break down a sequence or set as good as most. At times, he seems to focus too much on some of the individual aspects of the game. However, he too is well-loved and also has a drinking game named after him. Check the link for details.
10. Jim Nance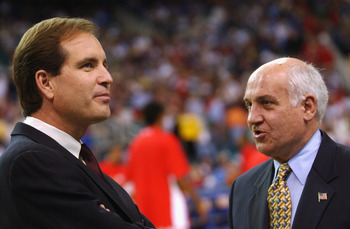 Doug Pensinger/Getty Images
As much as Billy Packer was a fixture at March Madness, so was longtime partner Jim Nance.
Nance does much of his work in the spring, his culminating task being the National Championship Game. He is a smooth announcer that somehow managed to escape Billy's influence and bias when calling the games.
9. Seth Davis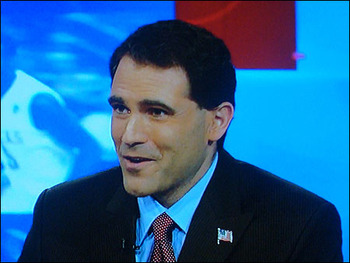 google images
Davis is currently in his sixth year as a studio analyst for CBS and also writes for Sports Illustrated.
In addition to his experience as a player and broadcaster, Davis has written several books, the latest being "WHEN MARCH WENT MAD: The Game That Changed Transformed Basketball", the story of the build-up to the 1979 Magic Johnson/Larry Bird National Championship showdown.
8. Bob Knight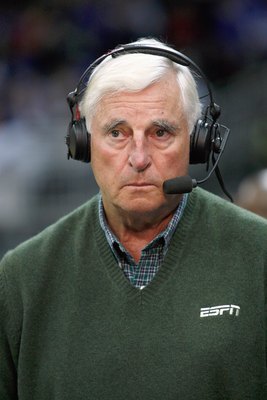 Jamie Squire/Getty Images
What to say about this man?
Knight is no doubt one of the most knowledgeable analysts working. His commentary is, positive or negative, most often warranted, and he certainly doesn't play favorites.
He does tend to get focused on one or two players or aspects of the game, mostly fundamental habits, and at times doesn't let up, i.e. he was pretty relentless about the kind of game Tu Holloway was having against Cincinnati.
7. Len Elmore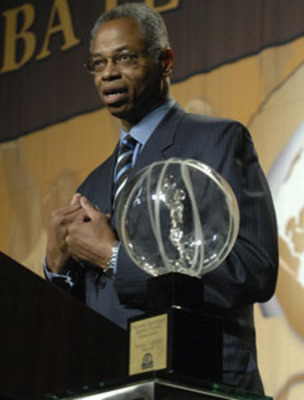 google images
Elmore is a very good analyst who says what needs to be said.
He is concise, without the hyperbole of some of the others, and has a great understanding of the game at all levels.
If you've watched him, you also know that he schooled Bill Walton once.
6. Clark Kellogg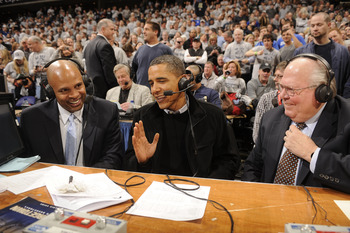 Mitchell Layton/Getty Images
Kellogg has been a fixture at ABC and now CBS for years as a feature analyst and colour commentator, usually for Big Ten games.
His style is not a forceful one, but he makes his point and is great with halftime adjustment strategies, at least from the booth.
5. Erin Andrews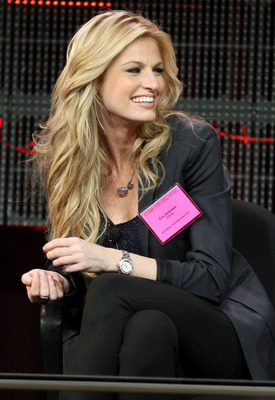 Frederick M. Brown/Getty Images
Erin Andrews. 'Nuff said.
4. Jay Bilas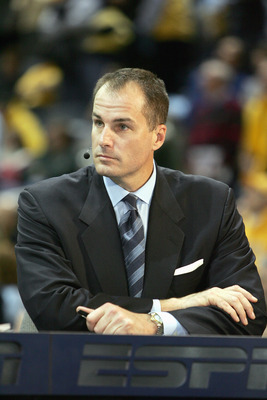 Jonathan Daniel/Getty Images
Jay Bilas can be perceived in two ways: he is an arrogant know-it-all who uses large, unnecessary words to condescend his inferiors during telecasts, or he is a passionate, articulate analyst with a strong personality.
Either way, he is good. He understands the game and is not afraid to say things that others won't dare, even if they are 100 percent true.
3. Bill Raftery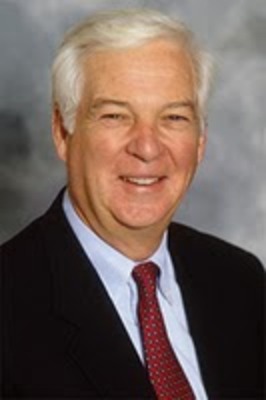 google images
A basketball (professional and college) analyst forever, Raftery has an easy-going, appealing demeanour.
It seems he often wishes to talk about what the media team did the night before (usually a reference to some form of libation) and has developed some unique, one-of-a-kind phrases for use during games.
What the heck does "ONIONS!" mean anyway?
2. Gus Johnson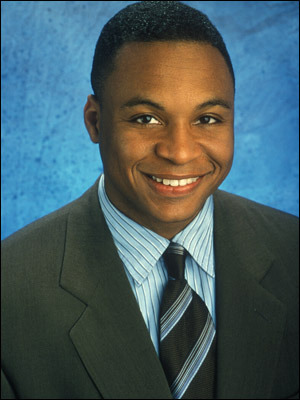 google images
Nobody, and really there's no one even close, has the highlight-reel calls like Johnson.
He calls every game like the Final Four and makes exciting games even more so, if it is possible. Sure, some of his calls are off the charts, but for unbounded kid-like enthusiasm, Gus Johnson is second-to-none.
1. Dick Vitale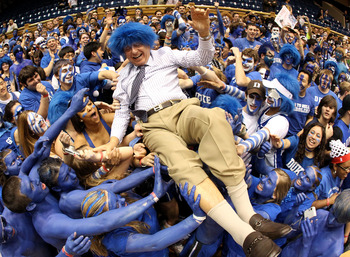 Streeter Lecka/Getty Images
What can you say about Dickie V that hasn't already been said? Don't answer that.
While his skills as an analyst are wanting, no one has raised the profile of college hoops as much as he has in the past 15 years.
He is no Billy Packer (according to Billy Packer), but he is genuine and his passion for the game's players, coaches and fans is unparalleled. His efforts to raise money to support cancer research in honor of a fallen friend is tireless and noble, especially since the people he canvasses have the means to make a difference.
Keep Reading