Mountain West Basketball: Wyoming Cowboys Have the Talent To Make Some Noise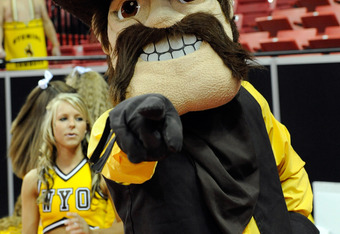 Pistol Pete Is Predicting Big Things For The Pokes
Ethan Miller/Getty Images
When my friend Danielle asked me to tag along with her to check out the University of Wyoming men's basketball team in their matchup against Kennesaw State, I jumped at the opportunity. I hadn't seen the team play all year, and only briefly skimmed over a few stories about them in the local paper. I was eager to see what this year's squad was made of.
The talk around my hometown of Cheyenne was bleak. The public assessment seemed to be a resounding, "We're just not that good." Even head coach Heath Schroyer echoed these sentiments to the local media.
A quick scan of the team's results through their first 13 games painted a clear picture of inconsistency. Set back by injuries to some key players, the pokes have yet to post a win against a Division I opponent with a winning record and remain winless on the road this season.
Close losses to 12th-ranked Missouri (10-point loss) and Big East contender Providence (seven-point loss) are perhaps indicators that this year's pokes have the heart and talent to compete with top-level programs.
The Kennesaw State Owls visited the Cowboys hoping to improve upon a meager 2-9 start. The speedy, athletic lineup, lead by point guard Spencer Dixon (15.2 ppg), looked determined to push the ball up the floor and increase the tempo.
The similarly athletic Cowboys, lead by dynamic sophomore guard Desmar Jackson, were happy to run with the Owls, which lead to a sloppy, but hard-fought and fast-paced opening to the contest.
Junior college-transfer guard Francisco Cruz shined in the first half for the Cowboys, forcing the action from the wing and making some very impressive passes, along with a couple threes.
Both teams played scrappy defense throughout the first half, but it was the Cowboys abysmal rebounding on both sides of the floor that allowed the Owls to get multiple second-chance opportunities and head into the half with momentum on their side.
UW's rebounding should improve when 6'10" center Adam Waddell works his way back into the lineup after recovering from an injury.
Coach Schroyer deserves serious props for his halftime adjustments. The Cowboys came out of the locker room in a flurry, quickly snatching momentum away from the Owls with a tenacious 2-3 trapping zone that effectively neutralized Dixon for the remainder of the game. Desmar Jackson's lightning-quick hands and feet were on display as he recorded six steals and 21 points, largely off second-half transition buckets.
Forwards Amath M'Baye and Djibril Thiam also went to work in the second half, each finishing the game in double figures in points and with six and seven boards, respectively—a trend that will have to continue if UW wants to rise up in the conference this season.
UW came out with excellent energy in the second half. The Pokes are a very quick, athletic team and should look to up the tempo and energy whenever possible.
The Cowboys' second-half effort and some timely shooting late in the game allowed them to come away with the 68-55 victory.
This was by no means a marquee win for the Cowboys, but in the opinion of this first-time observer, I'd say they certainly exceeded my expectations.
Desmar Jackson is a primetime guard with exceptional speed, hands and finishing ability. I was also very impressed with Fransisco Cruz's floor leadership, as well as point guard Jaydee Luster's ability to manage the game late and make big-time passes.
Adam Waddell's return should remedy some of the rebounding woes, but until the forwards can get tougher and more fundamentally sound on the glass, UW will surely struggle to defend and rebound against quality opponents.
UW will be putting a lot of teams on their heels with excellent backcourt athleticism and ball pressure. Our talent at guard should get us some wins against the lower rungs of the Mountain West. Against the elite teams like BYU and San Diego State, we should be expected to struggle, not for lack of heart and will, but simply for lack of size, strength and skill in the paint.
If Wyoming native Adam Waddell can emerge as a top-tier rebounder and scoring threat in the post, the Cowboys might be surprising a lot of critics this season with a winning conference record.
This article is
What is the duplicate article?
Why is this article offensive?
Where is this article plagiarized from?
Why is this article poorly edited?