College Basketball: The Best Individual Performances Thus Far in 2010-2011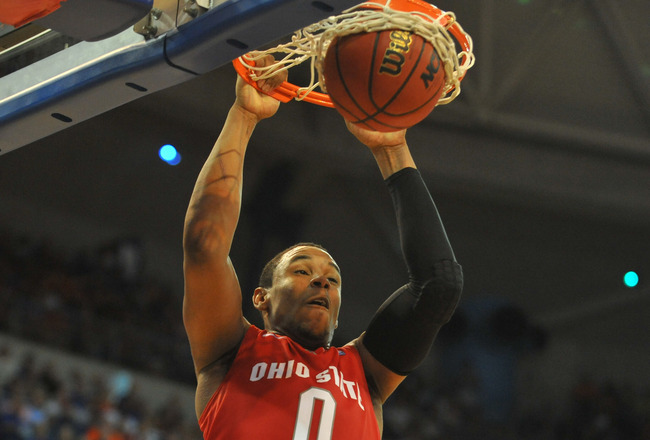 Al Messerschmidt/Getty Images
When it comes to college basketball, it can sometimes be difficult for individual players to put up huge numbers because of the team oriented and generally low scoring nature of play in most conferences around the country.
Making things even more difficult is the fact that most of the players who are capable of having these stand-out nights find themselves on rosters full of immensely talented players and are forced to share the rock rather than takeover a game.

Which makes it all the more impressive when one of these collegiate athletes has a night that truly stands out. Having watched a few of these games, it really is a thing of beauty to see one of the best players in the nation firing on all cylinders right from the opening tip and not letting their foot off the gas until the clock hits 0:00.

Through just about a month of college basketball we've already seen quite a few performances that have wowed fans across the country and made us all look twice at a players stat line.

Whether they've been guards or bigmen, played in small or major conferences, scored 40 points or grabbed 20 rebounds, these are the best individual performances thus far from the 2010-2011 college basketball season. Let's just hope these guys are saving something for March Madness.
Chris Singleton: 11/14 VS. North Carolina Greensboro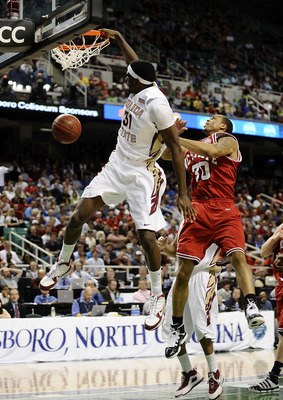 Jeff Zelevansky/Getty Images
Stat Line: 22 points, 11 rebounds, 6 assists, 10 steals, 4 blocks

Ask anyone who is familiar with the ACC and they'll tell you that Florida State's Chris Singleton is one of the most talented players in the country when he's on his game.
The versatile 6'9'' 225 forward can hurt you in a multitude of ways but he's best known for his fierce defense.

On November 14th against North Carolina Greensboro, not only did Singleton post 22 points and 11 rebounds he also notched 6 assists, 10 steals, and 4 blocks making this a triple double of epic defensive proportions in leading the Seminoles to an easy 97-73 win.

Generally when a player gets a triple-double at any level of basketball it comes in the form of points, rebounds, and assists simply because those are by far the easiest stats to accumulate 10 of.
But the fact that Singleton was able to achieve his triple-double with 10 steals is extremely impressive and the Junior forward from Georgia was only four assists away from the incredibly rare quadruple-double.

And while Singleton has struggled with consistency during his career at Florida State, something tells me we haven't seen the last of his incredible play in the 2010-2011 season.
Kemba Walker 11/17 Vs. Vermont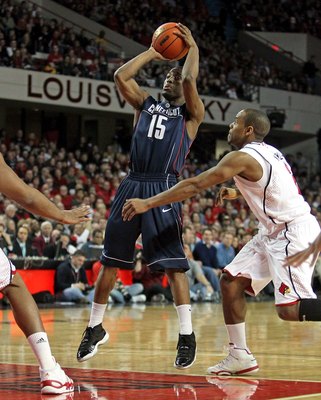 Andy Lyons/Getty Images
Stat Line: 42 points, 8 rebounds, 3 assists, 1 steal
A lot of people thought Kemba Walker might have a very good Junior season but when he dropped 42 against Vermont in the Huskies second game of the season it definitely raised more than a few eyebrows.

Through nearly a month of college basketball you could pretty much put any of Kemba's early season stat lines in the category of best individual performances thus far, but his 42 point explosion (even if it did come against a team from the America East Conference) was the start of what has been a truly awe inspiring eight game stretch for the 6'1'' guard from the Bronx.

On this night, Walker hit 15 of his 24 shots and despite the fact that UConn ended up winning 89-73, the Huskies were actually trailing at halftime.
This deficit didn't last long as Walker engineered a 14-4 run early in the second half and an 11-1 run with around eight minutes left which put the game away.

As if scoring 42 points in 37 minutes isn't impressive enough, Walker added 8 rebounds, 3 assists, and a steal to round out one of the best individual performances of the young college basketball season.

Honorable Mention: Like I said above you could make an entire slideshow out of Walker's early season exploits and his 24 point, 13 rebound, 10 assist triple-double against Maryland-Baltimore County deserves a mention. Triple-doubles are never an easy feat but this came against an 0-10 team during a 30-point blowout.
Kenneth Faried 11/21 Vs. Florida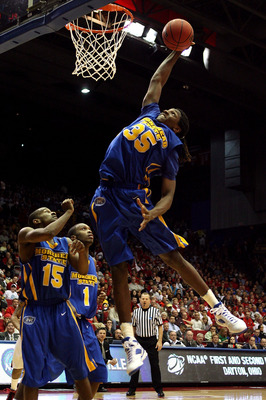 Andy Lyons/Getty Images
Stat Line: 20 points, 18 rebounds, 2 assists, 2 steals, 2 blocks
If you haven't heard of Kenneth Faried it's probably because he plays for a Morehead State team that hails from the Ohio Valley Conference, but make no mistake, there's nothing mid-major about Faried's game.

The 6'8'' forward who never saw a rebound he didn't like. He has been playing some of the best ball in the country through the first few weeks of the 2010-2011 season and has opposing coaches and NBA scouts alike taking notice.

The Morehead State Eagles don't play the toughest schedule in the country, but when Faried had the opportunity to go up against the then ninth ranked Florida Gators in late November, he made the most of it.

Despite the fact that Morehead State fell to Florida by the score of 61-55, Faried completely outplayed the Gators frontcourt of Vernon Macklin and Alex Tyus scoring 14 of his 20 points in the second half and almost rallied the Eagles to a shocking upset.

In addition to his game-high 20 points, Faried collected 18 rebounds and threw in 2 assists, 2 steals, and 2 blocks just for good measure.
After the game, Florida head coach Billy Donovan was singing Faried's praises not only proclaiming him an NBA-ready player but comparing him to Dennis Rodman.
Keith Benson 11/27 Vs. Austin Peay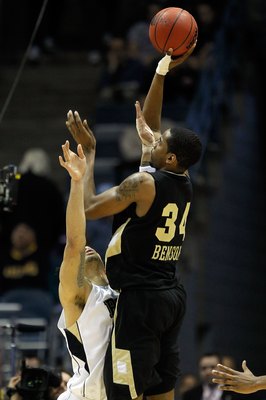 Jonathan Daniel/Getty Images
Stat Line: 22 points, 22 rebounds, 7 assists, 1 steal, 6 blocks
A couple of days ago most people would have thought the school Benson plays for is located in California. But after the 6'11'' center helped the Oakland Golden Grizzlies nearly beat Michigan State and then upset the previously undefeated Tennessee Volunteers, this unknown Michigan school has gained national attention.

Benson is without a doubt the teams best player and you could look to his performance against West Virginia, or the 26 points and 10 rebounds he posted in Oakland's upset over Tennessee to show the kind of talent he has.
However, his play against Austin Peay is definitely one of the most outstanding performances of the college basketball season thus far.

During this overtime thriller, Benson compiled an insane double-double totaling 22 points and 22 rebounds and rounded his night out with seven assists and six blocked shots. Granted, the game was against Austin Peay but it's hard to ignore such an incredible stat line.

The Golden Grizzlies will play Michigan and Ohio State before kicking off their Summit League conference schedule and while they're not a household name, both of these Big 10 schools would be wise to pay special attention to Benson and Oakland.
Kyrie Irving: 12/1 Vs. Michigan State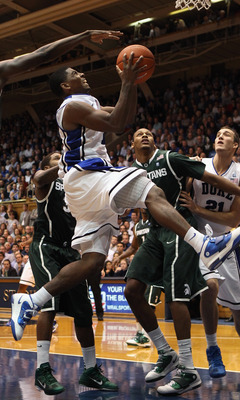 Streeter Lecka/Getty Images
Stat Line: 31 points, 6 rebounds, 4 assists, 2 steals, 2 blocks
Before we learned of his potentially season-ending toe injury, this was one of the games that had everyone talking about Kyrie Irving not only being the best Freshman in the nation, but possibly being one of the best players in all of college basketball.

Playing in just his seventh college basketball game against an extremely talented Michigan State team, Irving was clearly the best player on the court when he lead Duke to an 84-79 win.

Even with the likes of Nolan Smith and Kyle Singler standing on the wing, Irving continued to blow by whichever Michigan State player was unfortunate enough to be standing in his way and finished with 31 points on 8/12 shooting and 13/16 from the line.

Unfortunately for Duke and college basketball, Kyrie is out indefinitely with an injured toe and many are speculating that the talented Freshman point guard is done for the season.
Whatever happens to Irving, there's not much doubt that he would have posted a few more monster games if he was healthy.
Tyler Honeycutt 12/2 Vs. Kansas: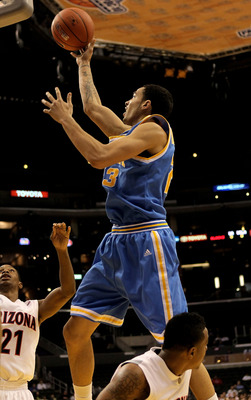 Stephen Dunn/Getty Images
Stat Line: 33 points, 9 rebounds, 4 assists, 2 steals, 1 block

When UCLA took the court a few weeks ago to square off against the Kansas Jayhawks it was going to take a huge effort form them to trade blows with one of the best teams in the nation.

And while the Bruins ended up on the losing side of the 77-76 final score, they nearly pulled off the upset thanks to the huge day from Tyler Honeycutt.

The versatility of the 6'8'' Sophomore forward was on display for the entire game as Honeycutt scored inside and out, rebounded the ball, and even hit a crucial three pointer to tie the game at 76 with just seconds remaining.
Honeycutt simply dominated a talent-rich Jayhawks roster scoring 33 points on 11/15 shooting including 5/6 from behind the arc while adding nine rebounds and four assists to his stat line.

Honeycutt's monster day may have been overshadowed by the controversial foul call in the waning seconds of the game which allowed Mario Little to give Kansas a one point win. Tyler's performance against the Jayhawks was without a doubt one of the best of the young college basketball season.


Tyler Zeller 12/4 Vs. Kentucky: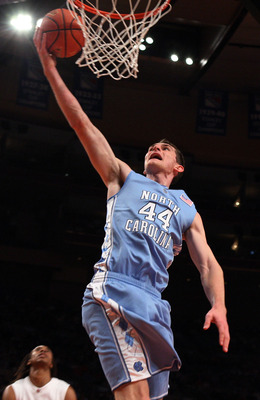 Jim McIsaac/Getty Images
Stat Line: 27 points, 11 rebounds, 5 blocks

Just when it looked like the wheels were going to fall off North Carolina's season for the second straight year, Tyler Zeller put the Tar Heels on his back and carried them to a 75-73 win over Kentucky.

Throughout pretty much the entire game and especially down the stretch, Zeller was a nightmare for the Wildcats as he scored a career-high 27 points, grabbed 11 rebounds and blocked five shots.
Not only did the Junior forward have a great statistical game but he scored 12 of North Carolina's final 16 points and hit the go-ahead free throws with under a minute to play.

It was clear that the Kentucky bigmen didn't have an answer for Zeller who operated with ease in the paint hitting eight of his 13 shots and going 11 of 12 from the line in what was a crucial win for a North Carolina team that had lost three of its first seven games.

It's hard to say where North Carolina will be by the end of the season but if Tyler Zeller plays like he did against Kentucky—the Tar Heels have a much better chance of being in a good spot come March.
Charles Jenkins 12/8 Vs. Binghamton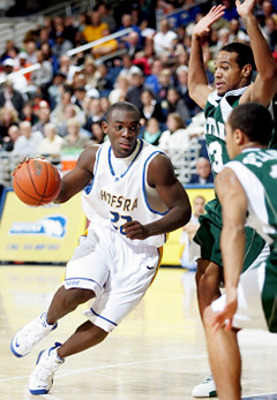 Hofstra University
Stat Line: 40 points, 5 rebounds, 6 assists, 2 steals, 1 block
The Hofstra Pride aren't known as a very big basketball school but Charles Jenkins has been generating some serious buzz for the program with his play thus far. The 6'3'' senior shooting guard is the nation's fourth leading scorer at 25.5 per game and has made a nightly habit out of lighting up scoreboards.

Against Binghamton just a few days ago, Jenkins who is about to enter the exclusive 2,000 point club, went for a career-high 40 points in an 89-85 overtime victory. The Queens native connected on 14-22 shots while chipping in five rebounds, six assists, and two steals in what was one of the better individual offensive displays of the young season.

Jenkins and Hofstra obviously don't play the toughest schedule so it wouldn't be a surprise to hear his name associated with similar scoring outbursts a few more times before the season is over.
Terrence Jones 12/8 Vs. Notre Dame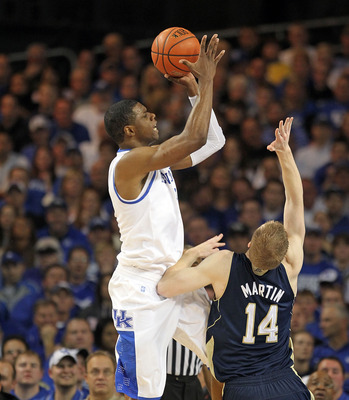 Andy Lyons/Getty Images
Stat Line: 27 points, 17 rebounds, 3 assists, 1 steal, 2 blocks
While the beginning of the Kentucky season revolved around the loss of Enes Kanter due to eligibility issues, Terrence Jones has emerged as one of the best players in the nation.
It didn't take long for the 6'8'' southpaw to announce his presence on the national scene as he dropped 25 points and 12 rebounds in his first collegiate game and hasn't looked back since.

Jones has had his share of outstanding games already, but the one that stands out in my mind was his 27 point 17 rebound explosion against a then undefeated and 23rd ranked Notre Dame squad.
The versatile forward caused match-up problems all night for the Irish and he used the evening to showcase his multifaceted game.

It should be fun to watch what Jones has in store for the rest of the college basketball season, because his play thus far has made it pretty clear that he's one of the most talented players in the country.
Jimmer Fredette 12/11 Vs. Arizona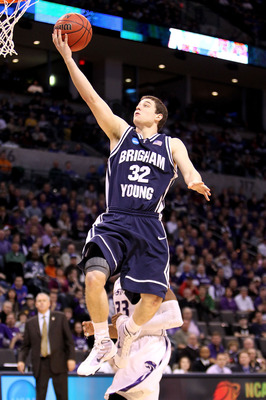 Ronald Martinez/Getty Images
Stat Line: 33 points, 9 rebounds, 3 assists, 1 steal

When Fredette is playing the way he did against Arizona just a few days ago, there might not be a more explosive scorer in college basketball. Thanks in large part to Jimmer's huge day, BYU easily dispatched a talented Arizona team by 22 points in a game that was really never very close.

Fredette posted a season-high 33 points and a career-high nine rebounds which helped the Cougars jump out to an early 28-10 lead from which they would never look back.

We all know that the 6'2'' senior from upstate New York is one of the best players in the country and there's little doubt that college basketball fans will witness a few more huge days from Fredette before his college career is finished.
Jared Sullinger 12/9 Vs. IUPUI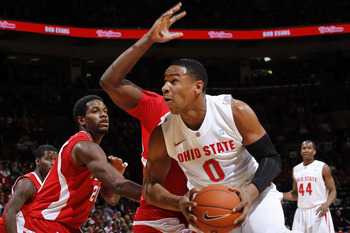 Joe Robbins/Getty Images
Stat Line: 40 points, 13 rebounds, 1 assist, 2 steals
The Ohio State Buckeyes are one of the favorites to win it all this season and their talented Freshman, Jared Sullinger, is one of the biggest reasons why.
The wide-bodied power forward who is simply a bull in the paint has gotten off to an incredibly hot start this season and should continue to abuse defenders down low.

In what was a much closer than expected game against IUPUI, Sullinger went off for 40 points on 12/17 shooting and looked like a man amongst boys for the entire evening.
The 6'9'' 280 pound freshman helped Ohio State climb out of a surprising nine-point second-half deficit by ending the game on a 34-14 run of which Sullinger scored 22.

Sullinger's 40 point night set an Ohio State Freshman record and served as a wake-up call for anyone who hadn't acknowledged the impressive start that the Columbus native had gotten off to.
While it's unlikely that Sullinger drops 40 again this season, especially because he's playing with plenty of talented perimeter players, he's more than capable of going for a 20-20 game so stay tuned.
Klay Thompson 12/8 Vs. Gonzaga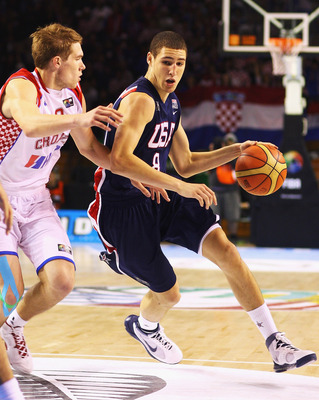 Phil Walter/Getty Images
Stat Line: 24 points, 6 rebounds, 6 assists, 7 steals, 1 block
Klay Thompson is one of the biggest reasons why Washington State is sitting at 7-1 and the 6'6'' guard has had his share of huge games already this season.

Against a Gonzaga team that started the season in the Top 25, Thompson led a furious second half surge in which he scored 21 of his 24 points and spearheaded the Cougars 22-point victory.
Thompson shot eight of 14 from the field which included four of seven from deep while adding six rebounds, six assists, and an impressive seven steals to his stat line.

After a very productive Sophomore effort, Thompson is out to a great start in 2010 and is looking to become a more consistent player and leader for Washington State. Games like the one he had against Gonzaga just a few days ago certainly aren't hurting his cause.
Keep Reading