Big Ten Basketball Week 5: Ranking The Conference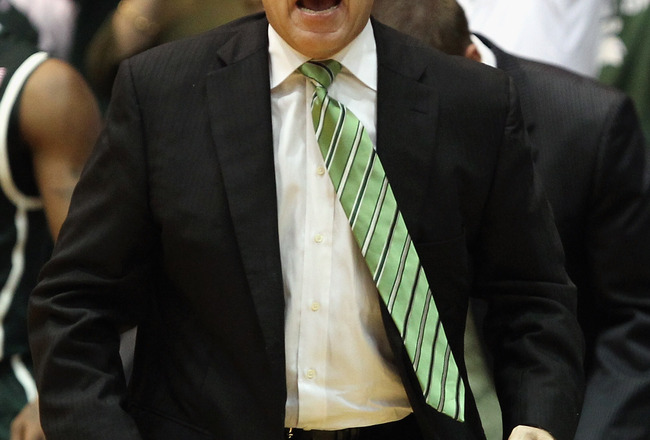 Streeter Lecka/Getty Images
Basketball season has kicked off with a bang this year.
We have already experienced a lot of nail biting match-ups that truly show us why we all love college basketball so much.
The Big Ten is off to a great start, and is truly proving itself as the best conference in America. They have some great non-conference wins including a victory in the ACC/Big Ten Challenge for the second season in a row.
Here is a ranking of the best conference in America!
James Evens is a Purdue student and Basketball/Football Featured Columnist for the Boilermakers, along with being a Writing Intern at Bleacher Report. Follow him on Twitter or like him on Facebook.


11. Iowa Hawkeyes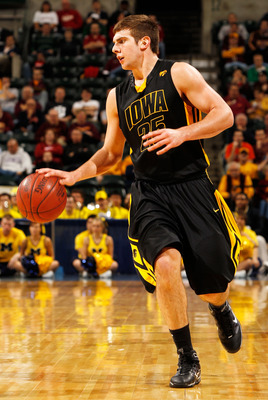 Jonathan Daniel/Getty Images
The Hawkeyes have not started the season off strong. They have a record of 5-4 and embarassing losses to South Dakota State and Long Beach State.
They are led by 6'5" sophomore guard Eric May. May is averaging 13.5 points per game and is shooting an astounding 58 percent from beyond the arc. Along with the great shooting May has averaged 4.3 rebounds and 2.3 steals per game.
The Hawkeyes are still a very young team and have showed some signs of brilliance this season, including putting up 111 points on SIU Edwardsville.
They only have one scholarship senior on their team in 6'7" forward Jarryd Cole and are still looking for the leadership and experience to be an excellent team.
Look for the Hawkeyes to stay at the bottom of a tough conference this season.
10. Penn State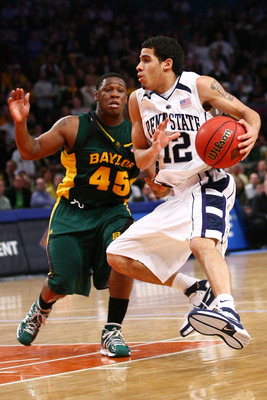 Chris McGrath/Getty Images
Penn State has had a fairly decent start to their season. They have a record of 7-2 but have lost to the only two decent teams they've played in Maryland and Mississippi.
The Nittany Lions are led by Senior guard Taylor Battle.
Battle is a great player and terrific slasher. He is averaging 20.3 points per game, along with 3.4 assists and 4.9 rebounds. Battle is one of the most electrifying players in the league and will be playing ball at the next level.
Other than Battle, the Nittany Lions have only one other key player and that is senior forward Jeff Brooks who is averaging 14 points per game with 7.8 rebounds.
The Nittany Lions will struggle once they have to face the top tier programs of the Big Ten and are still looking for a key victory this season.
Unfortunately, the great career of Taylor Battle will have to end at the bottom of the conference.
9. Michigan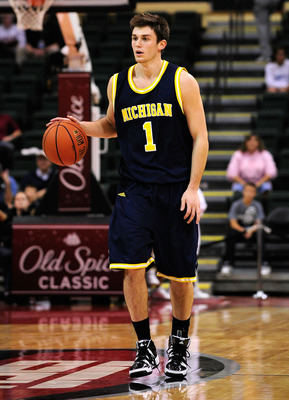 Sam Greenwood/Getty Images
Michigan has had a fairly strong start this season recording a record of 6-2. One of their two losses was a 3 points loss to number 10 Syracuse.
Although the game against the Orange was close, the Wolverines lost to a bad UTEP the same weekend.
The Wolverines are led by sophomore guard Darius Morris, who is averaging a little over 14 points a game along with 7.5 assists, four rebounds, and almost two steals per game. Morris brings a quickness to the Wolverines that is needed in their offense and will be the bright spot of their season this year.
Along with Morris, Michigan is excited about a young freshman Jordan Morgan.
Morgan the 6'8" 240 pound forward out of Detroit is quickly developing into a force on the post.
He will have to learn fast as conference play is just around the corner where he'll be posting up against some of the best big men in the nation.
Michigan is rebuilding.
They will be good in a few years.
For now, they just need to finish with a winning record, earn a few, key conference victories and teach these youngsters how to win consistently.
8. Indiana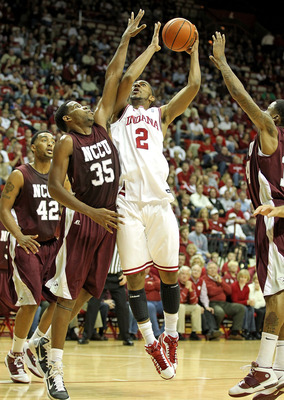 Andy Lyons/Getty Images
Tom Crean is really starting to get this Indiana program out of the dumps, as much as this Purdue fan hates to admit it.
The Hoosiers have started with a 6-1 record and are looking forward to a match-up against No. 16 Kentucky.
One thing the Hoosiers have going for them this season is their shooting.
They have shot 50 percent from the field, which is enough to sit them at 13th in the nation in this category.
While they have yet to face any REAL competition, this is still and impressive statistic.
The Hoosiers are led by 6'8" forward Christian Watford.
So far this season, Watford has averaged 17.8 points, 5.9 rebounds and a block in each game. Watford is really coming on and should have a great year for the Hoosiers.
Indiana also has another rising star on their team in Verdell Jones III, the 6'5" guard out of Champaign, Illinois. Jones, has averaged 14.3 and almost two steals per game this season.
Tom Crean is a great coach who is starting to turn around this storied program.
This season the Hoosiers are hoping for an NIT berth, to start rebuilding their presence in some form of postseason play.
7. Wisconsin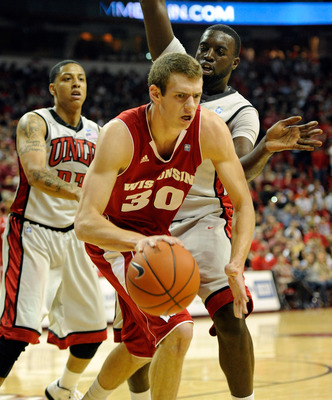 Ethan Miller/Getty Images
Wisconsin has had a disappointing non-conference season so far, starting the season with a record of 7-2.
The Badgers have lost to UNLV and Notre Dame this season, with their highest profile victories coming against North Carolina State, and Boston College.
Wisconsin is led by 6'10" senior Jon Leuer.
Leuer is averaging 20 points, 7.8 rebounds, two blocks and one steal per game, along with shooting an astounding 50 percent from behind the three point line.
He is the key factor to Wisconsin winning the game, although he does need support.
Leuer's right hand man is the 6'1" Jordan Taylor.
Taylor is averaging 15.1 points, and 4.5 rebounds this season. Along with these stats the junior guard is shooting 36 percent from beyond the arc.
Wisconsin is going to be a great team and will make the tournament this season, as the Big Ten will more than likely get seven berths.
This is where it becomes hard to start ranking the teams, and to me, Wisconsin just isn't as talented as Northwestern or Minnesota this season.
6. Northwestern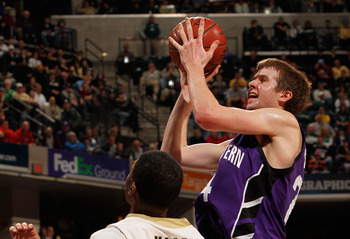 Jonathan Daniel/Getty Images
Northwestern has started the non-conference season with a record of 5-0. They have been playing inspired basketball and are looking to make their first NCAA Tournament in school history.
Northwestern is led by John Shurna, who is quickly turning himself into one of the most electrifying players in college basketball.
Shurna is averaging a whopping 22.4 points a game along with two assists, four rebounds and a steal. All of this is while he has been shooting a crazy 62 percent from the behind the three point stripe.
If Shurna can lead the Wildcats to their first tournament berth while continuing to put up the numbers he is, he will be a candidate for national player of the year.
Northwestern is a very well rounded team that plays great defense. They will be a thorn in the side of many teams. Look for them to not only make the tournament this season, but to be successful as well.
5. Minnesota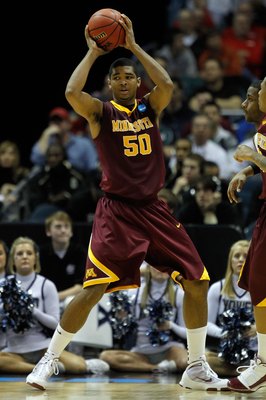 Jonathan Daniel/Getty Images
Minnesota has had a great start to the season.
The #20 Gophers have had key victories against North Carolina and West Virginia to start the season off 7-1.
Minnesota is led by Blake Hoffarber.
Hoffarber, a 6'4" guard is off to a big start in 2010.
He has been averaging 15.3 points, almost five assists, four rebounds and a steal per game, along with shooting 38 percent from beyond the arc. He basically led the team to the victory against UNC with 20 points.
Although Hoffarber is key, the team is very dependent on their two big men—6'8" Trevor Mbakwe, who is averaging 14 points, 10 rebounds, a block, a steal so far this season and 6'11" junior Ralph Sampson III who is averaging 11.6 points, 6.4 rebound, and 2.4 blocks on the season.
These two big men are developing into one of the most dominant low post presences in the country and will be a real force to be reckoned with in the NCAA Tournament.
4. Illinois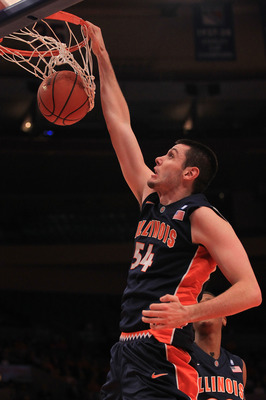 Chris McGrath/Getty Images
Illinois has a strong team, and has a lot of returners from last season.
They are currently ranked 17th in the nation and have a record of 9-1 on the season, with their one loss coming to 25th ranked Texas.
Illinois is led by 6'3" senior guard Demetri McCamey who is off to a terrific start.
McCamey is averaging 16.3 points, 7.2 assists and a steal, along with shooting 52 percent from the three point line this season. McCamey is truly the leader of this team and when he comes out to play, they are nearly impossible to defeat.
Along with McCamey, the Illini are led by guard D.J. Richardson and big men Mike Davis, and Mike Tisdale.
Tisdale is one of the most highly touted big men in the Big Ten. He is a 7'1" beast who can step out and hit the three if need be.
He adds a great dynamic to an already dynamic squad.
While Illinois has played with great effort thus far, they have a tendency to play lazy basketball from time to time and that will hurt them come Big Ten time.
3. Purdue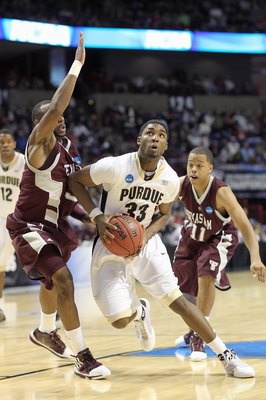 Otto Greule Jr/Getty Images
Purdue is playing decent basketball this season even without their star forward Robbie Hummel.
The Number 18 Boilermakers have started the season with a record of 8-1.
Purdue is led by their two senior stars E'twaun Moore and JaJuan Johnson.
Moore the 6'3" senior out of East Chicago, Indiana is a slasher who has the ability to score everywhere on the court. Moore is averaging 20.6 points per game and 6 rebounds. He is also one of the best defensive players in the country and is quietly one of the best players overall.
Johnson is a 6'10" senior forward out of Indianapolis.
He is a powerful, athletic, big man that has what it takes to not only play the post, but hit the jumper as well. Johnson is averaging 17.6 points, 8.6 rebounds, and two blocks per game this season. He has had a great season including a 29 point game. He is often subject to double teams and that really creates an advantage for Purdue.
Purdue has a great team and has one of the best defenses in the nation this season. They have one more non-conference test left when they face West Virginia in January.
The Boilermakers are looking to win a Big Ten title this season and while it's a tough road, they will be in the hunt.
2. Michigan State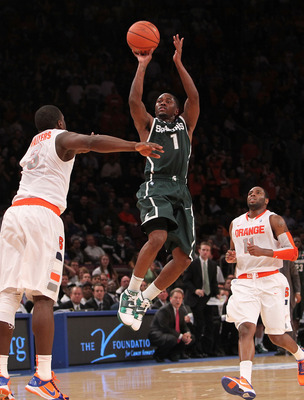 Nick Laham/Getty Images
The Spartans have had quite the disappointing start to the season this year.
They have a record of 6-3, with all three losses coming from teams that are ranked in the top 10, in UConn, Syracuse, and Duke.
The 8th ranked Spartans are led by Kalin Lucas, the 6'1" guard who is regarded as one of the best players in college basketball.
Lucas has averaged 14.1 points this season and his stats cannot translate to what he does on the court. He is the floor general, capable of creating plays for his teammates out of thin air.
Along with Lucas, the Spartans are led by guard Durrell Summers and forward Draymond Green.
Summers is averaging 14.9 points and almost 5 rebounds per game. He really provides a spark to the offense and defense when he is on the court.
Green is averaging 13 points a game and almost 10 rebounds. His stats pretty much speak for themselves as he is able to dominate in the low post.
The Spartans will have another great season and will contend for the Big Ten Title.
1. Ohio State
Joe Robbins/Getty Images
Thad Matta has done it again. His second ranked Ohio State Buckeyes are really fun to watch and have started the season with a record of 7-0.
The Buckeyes are led by freshman forward Jared Sullinger.
Sullinger is proving himself as not only the best freshman, but one of the best players in the nation.
The 6'8" forward is averaging 18 points, 10 rebounds and a steal per game. In the game against IUPUI, Sullinger finished with 40 points and 13 rebounds. This was his second straight 13 rebound performance.
Along with Sullinger, the Buckeyes return many from their great team last season including senior David Lightly.
Although his last name is Lightly, he shouldn't be taken lightly. He has averaged 13.4 points, 3.6 assists, five rebounds and two steals per game. He is one of the most versatile players in the conference this season.
The Buckeyes are my favorite for the conference title. Although they will have to face some tough competition, they will be able to pull through.
Keep Reading