Kevin Durant And The 25 Players We Wish Played All Four Years of College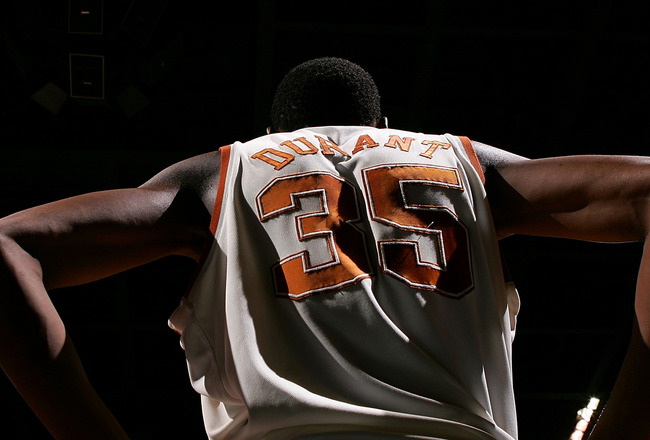 Jonathan Ferrey/Getty Images
The relationship between college and professional basketball has always been a bit skewed. In the past, there were very few rules regarding whether players had to attend college or how they should go about advancing their careers. It was common practice for high school players to attend college for all four years before trying their luck in the NBA. But occasionally, players choose the fame and money over the education and camaraderie of the college game. The occurrence of players leaving early has become very commonplace nowadays and reveals a great what-if scenario. What if it were required for players to play in college for all four years before leaving for the NBA? How would some of the best have turned out?
Gordon Hayward, Utah Jazz, Butler, 2008-2010, Two Years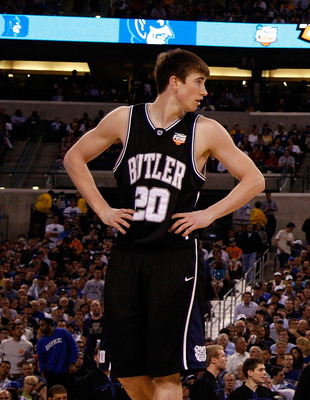 Jonathan Daniel/Getty Images
Gordon Hayward really upped his draft stock last season by leading Butler to the championship game in the NCAA tournament. The way he led the team through their games caused him to be picked as the ninth overall pick by the Utah Jazz in the 2010 NBA Draft. His departure left a Butler team, poised for another great season, lackluster at the beginning of this season. However, what if he would have stayed?
Shelvin Mack wouldn't have to be the best player on the floor for the entire game; Hayward would have taken a load off of many of the players on Butler's team. He also would have been the player that he was at the end of last season. His surprising maturity as only a sophomore proved to be one of the most important attributes he contributed to his team. If Hayward would have returned, then there is a distinct possibility that they could still be ranked and the Bulldogs may have made the end of the Duke game more of a contest. In fact, if the beginning of the season is any indication, the Bulldogs may not be able to compete without Hayward leading the way.
Josh Smith, Atlanta Hawks, No College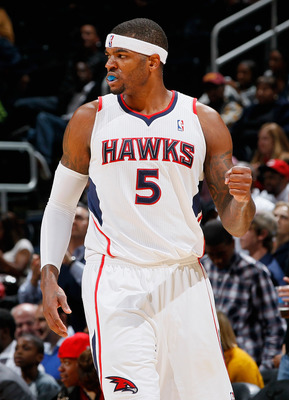 Kevin C. Cox/Getty Images
Josh Smith is a seven year NBA veteran that opted to skip college and go directly into the NBA. Smith attended the famous Oak Hill academy, known for producing plenty of great basketball prospects and stars. He was selected number 17 in the NBA draft in 2004. Drawing on his amazing athletic ability, Smith has become one of the better defenders in the NBA and is known for his high-flying dunks and athletic plays.
This particular skill set is what would make him an amazing star in the college game. Smith's domination in the NBA reveals how good he would have fit in the NCAA. He would have been a dominant presence in the paint and his athletic ability could have made him a fan favorite in the college game. Everyone loves someone who can fly high and dunk hard.
Smith originally signed a letter of intent to Indiana University, where he would have played under then-coach Mike Davis. During the years during which Smith would have played for the Hoosiers, Indiana began its spin into the lackluster cyclone of failure in which they still reside. A lack of good recruits and some bad losses led Davis to be fired later in 2006. However, if Smith would have become a Hoosier, it is possible that he could have single-handedly kept the Hoosiers in the elite tier of programs.
Marvin Williams, Atlanta Hawks, North Carolina, 2004-2005, One Year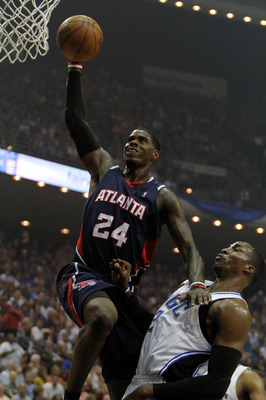 Doug Benc/Getty Images
Now in his sixth year in the league, Marvin Williams was one of many recent sub-par second overall draft picks. He was heralded as a future superstar in the NBA after having a successful freshman season at North Carolina. Alongside the big three of Raymond Felton, Rashad McCants and Sean May, Williams helped lead the Tar Heels to a national championship. However, once he left the school, it was on to a life of overpayment and under performance in the NBA.
Although his future may have seemed bright in the NBA, hindsight tells us that it may have been brighter in Chapel Hill. He produced quite well in his freshman year in a limited role coming off the bench. The next year, without their top seven scorers from the year before, the Tar Heels lacked consistency and lost a few games they shouldn't have without a clear and set leader. Tyler Hansbrough was a freshman and the Tar Heels lost in the second round to future Final Four member George Mason.
If Williams had stayed, he could have been the leader on this team. With a championship under his belt, he could have been a great leader for a young Tyler Hansbrough. With both of them down low, the Tar Heels may not have lost to George Mason and could have made another run to the Final Four. Then, the next year, the Tar Heels brought in Ty Lawson, Wayne Ellington, and Brandan Wright. Imagine the team that was knocked out in the Elite Eight and eventually won a championship with Marvin Williams.
Williams could have developed his game in his extended tenure at UNC, which is seemingly exactly what he needed. The NBA is less of a development league and more of a performance league. If he would have stayed with Roy Williams to develop his game, he may have had more success as a professional as well as possibly winning more championships with the Tar Heels.
Chauncey Billups, Denver Nuggets, Colorado, 1995-1997, Two Years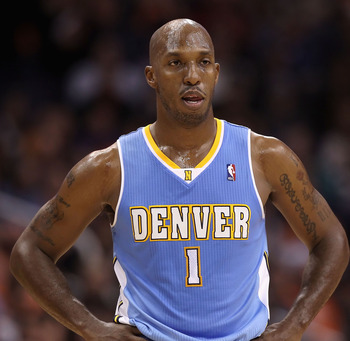 Christian Petersen/Getty Images
Chauncey Billups mainly developed into the draft pick he was during his time at Colorado. A McDonalds High School All-American, Billups chose to stay in-state with Colorado. He was an immediate impact, averaging 18.5 points per game in his two seasons in Boulder as well as 5.6 rebounds per game and 5.1 assists. His sophomore season, he was named Big 12 1st Team player and he lead the Buffaloes to their first tournament win in over thirty years.
If he would have stayed, Billups could have become one of the most storied players in college basketball. His statistics during his first two years were amazing and he could have been a shoo-in for National Player of the Year by his senior season. Billups didn't really make an impact in the NBA for a couple of years, due to injuries and lack of playing time, but eventually blossomed into one of the premier guards in the NBA.
Along with his own success, Billups may have helped the future of the Buffaloes. Players are more likely to commit to a school if there is a framework for a good team in place. Billups could have provided that framework as a strong leading guard to help mentor future generations in Boulder. We may have seen many more great seasons from Colorado.
Blake Griffin, LA Clippers, Oklahoma, 2007-2009, Two Years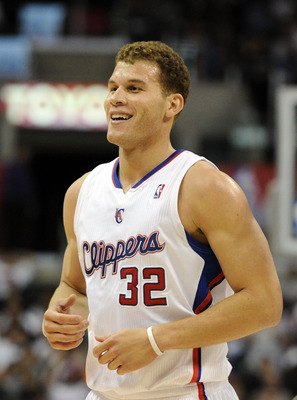 Harry How/Getty Images
As Blake Griffin's monster rookie campaign continues, I can only imagine what Norman, Oklahoma would be like if Griffin was still crashing the boards in maroon and white. His freak athleticism has made him an awesome contributor to the Clips and the Naismith Award Winner could have kept Oklahoma a winning program.
Barring that he wouldn't have gotten injured in College, Oklahoma had plenty of talent to keep winning games. Under-performing point guard Willie Warren wouldn't have had to try and carry the entire team and big man Tiny Gallon would have had a great frontcourt teammate to share the load. As a two-seed in the NCAA tourney the year before, the Sooners had everything in place to continue their dominance.
Griffin would have been a sure candidate for a repeat as Player of the Year and the Sooners would be title contenders. Griffin has shown this season that he is easily an NBA star and he would have shown as his development only occurred in the college game against inferior athletes. Oklahoma would definitely be off to a better start this season.
Greg Oden, Portland Blazers, Ohio State, 2006-2007, One Year
Chris Graythen/Getty Images
Greg Oden may be the personification of what is wrong with leaving college basketball early. Oden was the Number 1 pick in the 2007 NBA Draft after a stellar season with the Ohio State Buckeyes. However, his performance in the NBA has been much less than expected. Oden got to play 61 games his first season before he injured his knee for the first time. Last season, Oden only played in 21 games and he is yet to play in this season, nor do people expect him to. His chronic knee injuries have been the only thing people remember about him from the last couple of years.
His future in Columbus seems much better than what has transpired so far in his NBA career. In his freshman season he reached the title game where the Buckeyes lost to the Florida Gators. However, Oden was named to the All-America team and Ohio State was bringing in a great recruiting class the next season including future first round draft picks Kosta Koufos and Evan Turner.
If Oden had stayed the Buckeyes would surely be a contender the next couple of years for national titles. Also, assuming he stayed healthy, he could have been a perennial All-American and attempted to continue success in a very tumultuous college basketball landscape. Oden could have been the masthead of a ship that was contending for dynasty status amongst the basketball elite.
Dwyane Wade, Miami Heat, Marquette, 2000-2003, Three Years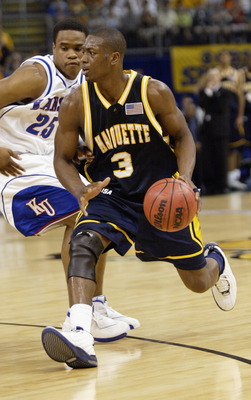 Craig Jones/Getty Images
Although he attended Marquette for three seasons, Dwyane Wade only played for the Golden Eagles for two of them, due to the fact that he was deemed ineligible for the 2000-2001 season. Wade's ability to perform in the clutch was a huge reason his draft stock rose so much his junior season. He led Marquette to a Final Four berth by performing like a star in the NCAA tournament. His triple double against the heavily favored Kentucky Wildcats was only the fourth in NCAA tournament history and his draft stock rose even more because of it.
The Golden Eagles couldn't follow their success the next season however. The loss of Wade was too much for them to handle and they could only make the NIT. If Wade would have stayed, the Golden Eagles had the ability to repeat a deep run into the tournament. Starters Steve Novak and Travis Diener did return to the team and ran the team with experience, but there was no one to give the ball to at the end of the game. Although it may not seem like there was much incentive to return, Wade could have had another chance at a title as well as a higher spot on everyone's radar, maybe becoming a higher draft pick the next season.
Derrick Rose, Chicago Bulls, Memphis, 2007-2008, One Year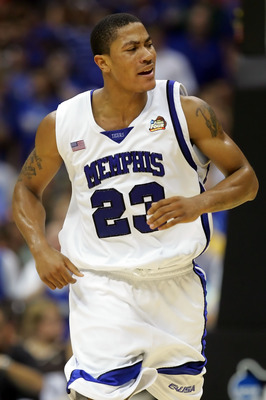 Ronald Martinez/Getty Images
This What-if situation is even more hypothetical than the rest of them. Rose was deemed ineligible after he left Memphis, so even if he would have stayed for the rest of his collegiate career, he wouldn't be able to play. However, if we assume the premise that he wasn't ruled ineligible, the upside to Rose staying in Memphis has crazy potential.
Rose had already played in one championship game and he had the opportunity to do that again. Although Chris Douglas-Roberts was leaving, a freshman by the name of Tyreke Evans was coming in. Rose was more of a distributor so having Evans may have decreased his scoring but it could have increased his assists. Seeing that Memphis only lost three games the next season, having Rose running the point may have given them the ability to get to the Final Four instead of their exit in the Sweet Sixteen. Memphis might have had some continuity to their program and they could still be one of the premier teams this season.
As for Rose's pro career, it probably wouldn't have turned out as well as it has. Rose had the number one spot locked up when he left, and he became the franchise player in Chicago. Had he waited until the 2011 Draft, he might not have. Even if he could keep up his level of play, the number of athletes in this year's draft may have dropped Rose's stock a little. If he went to a club with other stars on the team he may not have gotten the breaks he needed to propel him to his level of success.
Tyreke Evans, Sacramento Kings, Memphis, 2008-2009, One Year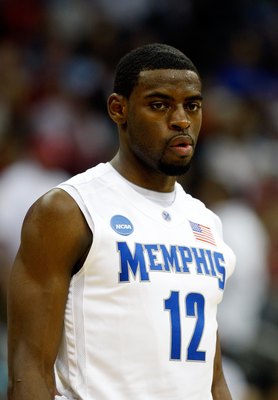 Jamie Squire/Getty Images
Tyreke Evans proved last year in his rookie season that he was worthy of the fourth pick in the draft. Winning the rookie of the year in the NBA is a solid way to prove your worth. If he would have stayed in Memphis however, we have no idea what his worth would be. After Evans announced that he would be leaving for the NBA Draft, Coach John Calipari announced he would be leaving Memphis to go to Kentucky.
This brings two things into question, would Calipari have stayed and if he did would all his recruits have still come? If Calipari had stayed in Memphis, we could have seen a dynasty forming. Calipari, if nothing else, has proved that he knows how to recruit. He has a continuous flow of amazing athletes in and out of wherever he coaches, but if just one of those had stayed to form a continuously winning team, we could have seen a new wave of coaching style in basketball.
Evans could have formed a league of superstars in Memphis. Imagine if his example had led to others staying as well. A super team could have been created and the Memphis Tigers would be perennial favorites.
Brandon Jennings, Milwaukee Bucks, No College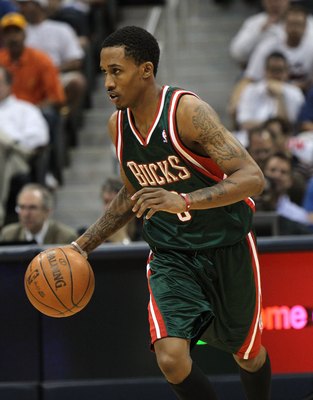 Mike Zarrilli/Getty Images
Brandon Jennings emerged from a shroud of mystery last season in the NBA. His rookie campaign included a 55 point game for the Bucks and reminded people why he was one of the best recruits in the country. But Jennings didn't want to play the college game, so he went off to Europe to make money while everyone else was attending classes and getting an education.
If he had chosen the other path, Jennings could have changed the direction of an entire program. It seemed that when he announced his decision to forgo his college career, Arizona was the team leading the way for his services. If Jennings had gone to the desert to play he may have saved a couple years of despair down in the heat.
His contributions his first season may have been helpful, adding his services to those of Jordan Hill, Nic Wise, and Chase Budinger. The Wildcats made the Sweet Sixteen, but lacked a cohesiveness needed to advance any further. Jennings ability to see the floor could have been a great addition to this team. The next season however would be even more important. A sophomore Jennings would be able to help freshman and now star Derrick Williams mature. This current season, the Wildcats might have pulled that upset against Kansas, making them a legitimate threat in the Top 25.
Shaquille O'Neal, Boston Celtics, Lousiana State, 1989-1992, Three Years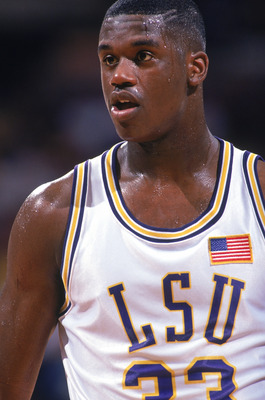 Getty Images/Getty Images
Shaquille O'Neal is easily one of the greatest centers in the history of NBA Basketball. And although he did have a very successful tenure in Baton Rouge, O'Neal bypassed college greatness in order to go to the NBA. His statistics had slowly increased over his last two season at LSU and he was in prime position to be the all-time record holder in rebounds and blocks.
O'Neal had averaged 27.6 and 24.1 points per game in his sophomore and junior seasons respectively and also had 14.7 and 14.0 rebounds. The statistics are even more interesting when you look at his totals. The record for career blocks in the NCAA is set at 535. Shaq had 412 blocks after just three seasons in Baton Rouge. That may seem like a big difference, but he had put up 157 in the last season he was there. His stats had just increased over the past couple of years as well. If he put up just one more season with 157 blocks he would have the block record by more than thirty. Shaq was also only 353 rebounds from the record that Tim Duncan would go onto set about 5 years later.
Although his NBA career has turned out pretty well, Shaq could have immortalized himself in the college game by achieving the rebounding and block record by staying just one more season.
Steve Francis, Beijing Ducks, Maryland, 1998-1999, One Year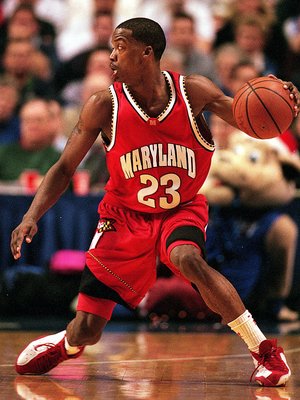 Andy Lyons/Getty Images
Stevie Franchise (or so he was called) may have had a deterioration to his career to rival any in history. Once a three-time all-star and rookie of the year, Francis's career took a turn for the worst once he left Houston and tried to expand his game to other cities. After a mediocre stint in Orlando, Francis then jumped to New York and then back to Houston, but now he plays in the Chinese Basketball Association for the Beijing Ducks.
Staying in College Park could have provided a haven for up and coming Francis. Surprisingly to a lot of people, Francis only played for the Terps for one season, having school hopped among junior colleges his first two years of eligibility. He was a second-team All-American and he said that he was "99% sure" that he was returning for a senior season, he still opted to go into the draft.
If Francis would have stayed for his senior season, the Terps could have easily repeated their success from the year before. They reached the Sweet 16 the year before under Francis's leadership and his superb play. He averaged 17 points per game, but more importantly brought a flashy quality to the team. Everyone loved to watch Francis play the game and his dunks could raise a stadium.
I wish he would have stayed so he might have had more maturity and he could have played in the NBA longer; his game was never the question, it was just his attitude. Watching Stevie Francis play college basketball was an awesome experience that not many players have brought since then.
O.J. Mayo, Memphis Grizzlies, USC Trojans, 2007-2008, One Year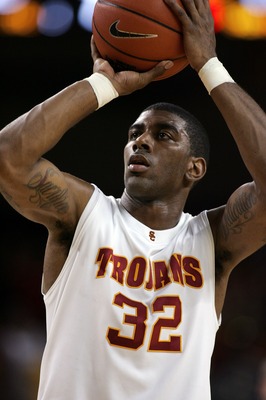 Victor Decolongon/Getty Images
Much like Derrick Rose, playing the What-If game with O.J. Mayo is difficult. USC also had to vacate wins from the season that O.J. Mayo played in because he had received improper benefits from a Sports Management Agency through Rodney Guillory. However, putting this past us, it is interesting to see where the future of USC basketball would have gone.
Mayo would have shared the backcourt with another star the next season, DeMar DeRozan. If this was the case, it would be a strange combination of who was willing to distribute the ball more. It seemed that Mayo was a very selfish player in college, racking up 20.7 points per game and only 3.3 assists. Mayo also ran the point guard position which is different from his natural shooting guard position.
It is difficult to predict what the Trojans would be doing if Mayo had stayed all four years. It seemed that at times he was very unhappy in SoCal. I think he would have continued to be a productive player in the USC and would have continued to garner support for All-American status and would have eventually evolved into one of the best players in the country. Not the most outrageous of predictions, I know, but Mayo didn't seem like he was emotionally mature when he first arrived at USC, so I think that his maturation as a player would have matched that as a person. Four years of college could have done O.J. lots of good.
Tracy McGrady, Detroit Pistons, No College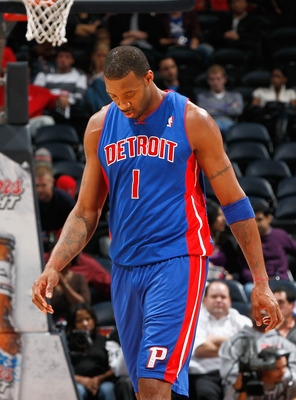 Kevin C. Cox/Getty Images
Coming out of high school, Tracy McGrady was easily one of the best prospects in the nation. In his senior season, he averaged 27.5 points, 8.7 rebounds, 7.7 assists, and 2.8 steals per game while scoring with high efficiency from the field, three point range and the free throw line. He was all set to commit to Kentucky when he started receiving lots of interest from the NBA. This was before the one and done rule, so McGrady said, "I considered college, but I want to make it to the top, and I had a chance to do that earlier," and so he went into the NBA where he was drafted number 9 overall by the Toronto Raptors.
Had McGrady actually gone to Kentucky, he may have continued a dynasty that could have been like UCLA in the 70's. Kentucky had just come off of two consecutive appearances in the Final Four, one winning them a championship, and one just losing. McGrady would have saddled up with the '98 "Comeback Cats" that ran past Stanford and Utah to win their third title in three years.
McGrady's talents would have been virtually unmatched in this era of College Basketball. He was one of the most athletic players to ever debut in the NCAA, but his raw talent could have used some molding. If one man was going to do it, Tubby Smith would be a very good choice. McGrady could have made himself much more cohesive to the NBA style of play by playing for a superb coach in college and he most likely would have found himself of the owner of some hardware while in the college game as well.
Michael Beasley, Minnesota Timberwolves, Kansas State, 2007-2008, One Year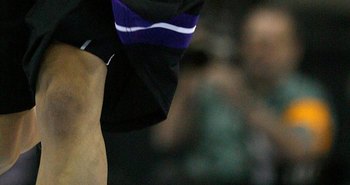 Jamie Squire/Getty Images
Michael Beasley was one of the most dominating athletes in college basketball from recent memory. Averaging 26 points and 12 rebounds per game in his one season in Manhattan, Beasley quickly rose to the top of the NBA charts. It seemed as soon as he got the chance, he bolted from the tiny college town to bigger and better things in South Beach.
Just imagine how last year's team could have been improved by having Beasley, or this year's team for that matter. Beasley was an unstoppable force as a forward. That was all that was missing from the team. in his eagerness to bolt to the NBA, Beasley overlooked the great supporting cast that he was leaving behind. Denny Clemente and Jacob Pullen were still around and they would have been outstanding people to shoulder the load with.
Kansas State could be fighting tooth and nail with Duke this season. Their matchup from earlier in the season would be much closer I assure you. Beasley is such a superior athlete that he would have flourished in the college game under guidance and care that he can't get in the harsher NBA environment. Kansas State could easily be in contention for their first title this season with Beasley as their leader.
John Wall, Washington Wizards, Kentucky Wildcats, 2009-10, One Year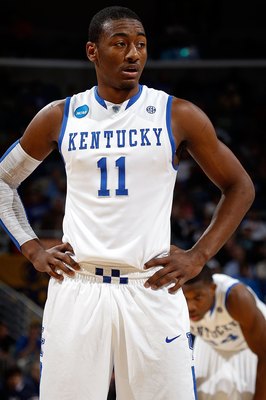 Chris Graythen/Getty Images
John Wall might have been Calipari's golden boy. From a coached that has brought in so many great talents to let them fly right out the door, only John Wall was hyped as one of the best players college basketball had ever seen. He was so outrageously dominant in what he did, the only logical place for him was in the NBA. So he went there, as any sensible player would.
However, if he would have stayed, he would have created a buzz in Lexington that hadn't been there for more than a decade. After Calipari's recruiting class this season has already brought in returns, adding John Wall to the Mix would be absurd. Wall performed every aspect of the game perfectly last season; passing, driving, shooting and decision-making were all on point. If added to this year's team, they may have been unstoppable.
Wall could have created a team around him that would rival every team in the history of basketball. If he would have stayed, he had the potential to be one of the best to ever play the college game. Everyone around him got better last season, and the Wildcats proved it by making it to the Elite Eight barely touched. If Wall had returned for his remaining three seasons, there is no doubt in my mind that he would go down as one of the best to ever play the game.
Dwight Howard, Orlando Magic, No College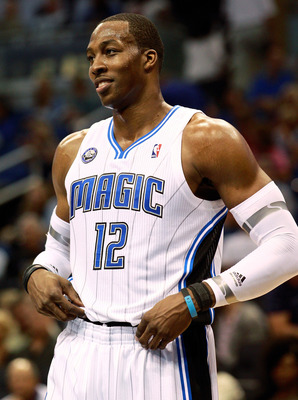 Sam Greenwood/Getty Images
Dwight Howard was one of the last people to jump directly to the NBA out of High School. Had he decided to go into a college, he would most likely have gone to either Duke or Florida. For the sake of argument, we'll diverge down the two different paths.
Had Howard gone to Duke, he obviously would have been under the tutelage of the great Coach K. He is one of the best in the business in taking some under-appreciated talents and turning them into stars. Very rarely has he come across the ability to take a great player and making them even better. Howard would have given him this opportunity. He would have joined a squad with J.J. Redick and Sheldon Williams making Duke a very dangerous. They easily could have challenged future champions North Carolina for the ACC title and possibly given them a couple more losses on the season. Who knows how far they could have gone in the NCAA tournament with another dominating force. Eventually he would sidled up with all of the Duke stars of now, while they were still young and impressionable. Who knows what damage they would have done back then.
The other possibility says he goes to play for Billy Donovan and the Florida Gators. This would have been just as they were rising back to power under the play of Joakim Noah and Al Horford. He would most likely have had to fight for playing time amongst them, however his natural talent would have easily won out. Howard would eventually become the best player on the team that won back to back titles in 2006 and 2007, making him immortal in the college basketball books. Who knows how his NBA career would have progressed afterward, but he would make a heck of a college player, and this most likely would have translated to the NBA, seeing as how he's succeeded in the actual present.
Allen Iverson, Besiktas (Istanbul), Georgetown Hoyas, 1994-1996, Two Years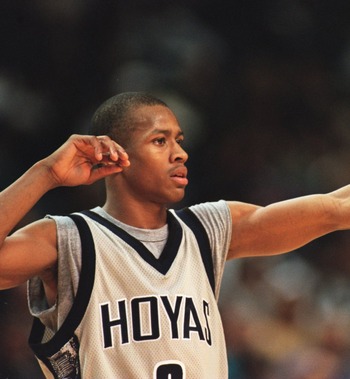 Getty Images/Getty Images
Allen Iverson showed us what play-maker basketball was. Possibly the first of the great, flashy guards in college basketball, Iverson was virtually unstoppable under John Thompson. His explosive first step that gave him so much success in the NBA was like a WMD in the college game, as no one in their right mind would even try to stop it.
The greatest asset Iverson could have given us as a player with two more years in college is entertainment. Iverson was always one of my favorite players to watch as a kid, whether in the NBA or in college. His showdown with Ray Allen in the Big East tournament is still one of my favorite games played in the history of college basketball.
Whether he was running the floor or playing defense, every single thing Iverson did reeked with potential energy. He was just radiating with this special energy that was previously unseen in the game of basketball. I was always sitting on the edge of my seat watching him. If he played the extra two years, we may not have seen as much of a decline in the program as we did in the following seasons. His success caused the Hoyas to go to two straight Sweet Sixteens and one of them was an Elite Eight.
Iverson's brilliance in college definitely carried over to the NBA, which makes me believe that he could have stayed and lit up the college game without any resulting consequences to his future brilliance.
Michael Jordan, Retired, North Carolina, 1981-1984, Three Years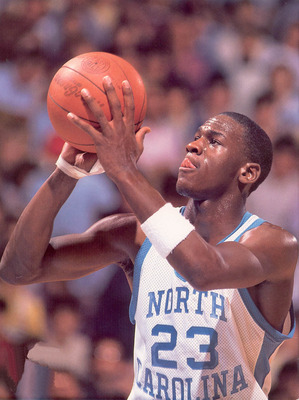 I feel almost blasphemous in saying anything that would possibly change the outcome of Michael Jordan's career. "His Airness" is probably the best to ever play the game. So thinking of how his career would turn out if he was to stay his final year in Chapel Hill is quite an intriguing possibility. He had already won an NCAA championship by that point, and he had also been named the Naismith Award winner for being the best player in the country.
Jordan attended UNC during years 2-4 of their streak of 13 straight years of which they made the sweet sixteen. The year after Jordan left the team, they managed to reach the Elite Eight, which they had accomplished two years ago when Jordan was a sophomore. It is reasonable to assume that under a team with Jordan as the senior leader, the Tar Heels may have made it to the Final Four or possibly beyond.
More than what his team may have accomplished, Jordan had a certain atmosphere about him. People knew that this kid was special when they watched him play. Jordan's playing ability was easily spread amongst his teammates and he brought a sense of excitement everywhere he went. Another season with Jordan would have just been another season of excitement in college basketball; it would be another chance for Jordan to astonish and amaze.
Kevin Garnett, Boston Celtics, No College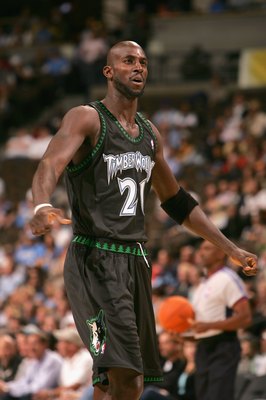 Doug Pensinger/Getty Images
Kevin Garnett was really the first successful player to jump from high school directly into the NBA. For a long time no one even attempted it (Garnett was the first in over 20 years). However, in his first two years, Garnett didn't manage to break through to his eventual self. This is what sparks my imagination as to what could have been if he would have gone to an inferior league to develop his talents.
Garnett had said that he would join DePaul to play basketball, but his decision to jump straight to the NBA was surprising as it was somewhat unprecedented. DePaul wouldn't have exactly been the greatest team that Garnett could have gone to, but he had chosen to go there along with another young prospect (Ronnie Fields, who had a rumored 50" vertical jump). The Blue Demons hadn't made an NCAA tournament appearance in four years and were by no means a powerhouse.
This could have been disaster for Kevin Garnett's career, or it could have been a boost. If he had gone to college and used the inferior competition to develop his talent then he may have been able to succeed quicker once getting into the league. However, this could have also backfired. If Garnett had gone to DePaul and played against lesser opponents, he may not have tried his best and therefore have been lesser prepared for his career ahead of him. Seeing as how it turned out for him, I really can't see any upside in hindsight for Garnett to attend college, especially since he is one of the better power forwards in the history of the game.
Carmelo Anthony, Denver Nuggets, Syracuse, 2002-2003, One Year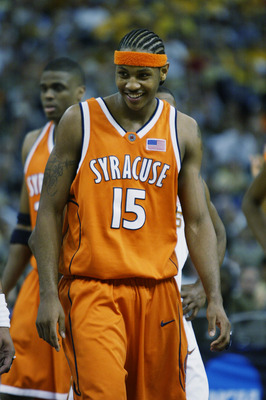 Craig Jones/Getty Images
Carmelo Anthony had quite a successful career in his one season under Jim Boeheim, but it begs, what if he had stayed longer? Anthony was already a fully developed athlete and had the skill set that every NBA player valued, so he bolted. But any longer of a tenure in Syracuse would have made him a legend.
As a freshman, Melo averaged 22 points and 10 rebounds. Not many people average double-doubles in college, but as a freshman it is absolutely crazy. His presence on the court was just as much of a factor in the game. Anthony played an unheard of 36 minutes a game. He was ridiculously conditioned and he was always an option down the stretch, barely ever fouling out of games. He earned NCAA second team All-American honors and the Most Outstanding Player of the NCAA tournament of which his Syracuse Orange won the title.
Melo was a fully-grown man, playing a developing boy's league, but the outlook for the future of the Syracuse team was just as bright. Star players Gerry McNamara and Hakim Warrick were both returning for two more seasons at least and their great play was all that Melo needed to lead the Orange to victory in the past. If Carmelo had decided to stay on as a contributor, Syracuse may have been able to win titles in the next couple of years behind the stellar play of all three.
Wilt Chamberlain, Retired, Kansas Jayhawks, 1956-1958, Two Years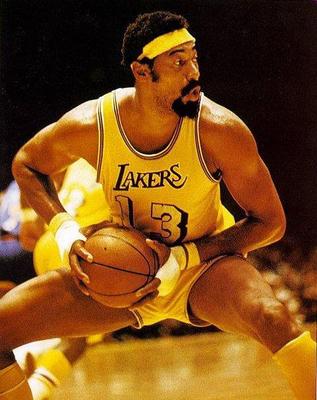 Wilt Chamberlain was already the most dominant player in basketball history by the time he left Lawrence. The Kansas star was averaging 30 points per game and 18 rebounds in college, and there was no system in the game that could possibly stop him. It was as if Chamberlain got bored with the college game so he decided to go to a more competitive league. He was an All-American both seasons in which he played for Kansas and he was the NCAA Tournament's most outstanding player in his freshman season.
The possibilities are endless for what could have happened if he would have stayed for the next two seasons in Kansas. Although they would have eventually been reset anyway, he most definitely would have set both the points and rebounds records in the country. The blocked shots statistic wasn't accounted for when he played, but I'm sure the 7-1 Goliath racked up a bunch of those as well.
Eventually he would have won a championship as well. He came close in 1957 only being edged out by a point by future champion North Carolina. The team two years later went to the Elite Eight before losing to Cincinnati. Just to lay it on the line, Chamberlain would have solidified his spot as the most dominant college player of all time if he had only played two more years, there is really no question about it.
Kevin Durant, Oklahoma City Thunder, Texas, 2006-2007, One Year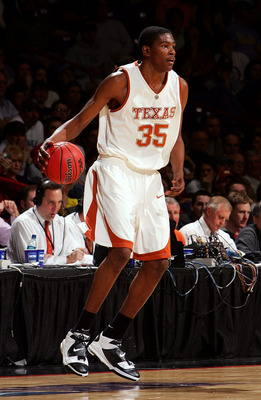 Jonathan Ferrey/Getty Images
Kevin Durant has had plenty of time in the NBA to show that he is the real deal. The defending scoring champion was just as good in college, and in comparison, probably better. He dominated the Big 12 and all of basketball that season, averaging just under 26 points per game and just over 11 rebounds. His double-double numbers didn't even do the lanky wonder justice as he controlled every aspect of the game. He was named the National Player of the Year by every major source including the Naismith and John Wooden Award.
If he had chosen to stay in school three more years, he would have continued to dominate. There is no way Durant wouldn't have led the Longhorns to at least one Final Four, and he probably would have won a title in his span as well. The roster surrounding him was always pretty fantastic, including his fantastic fellow freshman and future NBA players Damion James, Dexter Pittman and D.J. Augustine. Augustine would prove to be an All-American eventually and Damion James was one of the better players in the country last season.
Durant's ability to outreach and outperform NBA players would make him a virtual god in the college game. Durant would have been a perennial All-American and could have possibly been a multiple winner of the Player of the Year. Although he may not look it, he was and is a man amongst boys and is just that much better than every other college player.
Kobe Bryant, Los Angeles Lakers, No College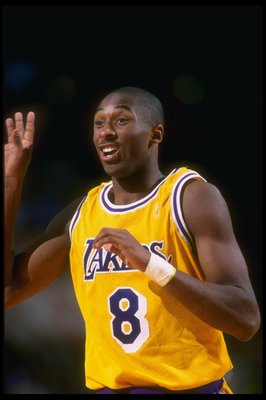 Todd Warshaw/Getty Images
Kobe Bryant went ahead and went straight to the NBA out of high school. Much like Garnett the year before him, Bryant was in uncharted territory. No one outside of himself and Garnett had done this in over twenty years. However, Kobe was ready for the big stage. After being dealt on draft day (a deal that the city of Charlotte will regret forever) Kobe ended in his home of Los Angeles. But, how would things have played out if he would have gotten an education?
Kobe says that he would definitely played for Duke. "There's no doubt about it," he said, "Every time I turn on the TV and see Cameron Indoor Stadium...I wonder what it would be like to play there..." Kobe would have joined a team that included future stars Elton Brand and Corey Maggette and eventually would have played with Player of the Year Shane Battier as well.
Kobe would have been able to transform the Blue Devils. The devils won a title the year after Bryant would have graduated from Duke, but it is still fun to dream about what he could have done with the teams he was there for. The Future Hall of Famer is obviously one of the best players of all time, but in college he would have been able to shine like no one could believe.
Like Jordan did at UNC, Bryant would have done at Duke. It would have drawn the two even closer together in comparison. The ultimate rivalry, would have been reborn in the flesh. The only downside is they didn't play each other in their respective primes. Bryant would have eventually been a National Player of the Year at Duke with a backup cast to win a championship easily.
I have no idea how his NBA career would have worked out had he gone to college, but something tells me that Kobe is a winner regardless of where he plays.
LeBron James, Miami Heat, No College
Andy Lyons/Getty Images
LeBron James didn't go to college. Everyone knows this. Everyone knows about how he was one of the last great high-schoolers to go straight to the NBA. Everyone knows how he was projected to be the next Michael Jordan and how he would change the game of basketball forever. Everyone knows that he has done everything to live up to expectations (outside of winning a championship, of course). What if everything everyone knows changed? How would the game of basketball be?
Say LeBron valued a college education more than immediate money. Say instead of declaring for the draft, Lebron chose to go to college. Although there were many schools recruiting him, many indications tip that Lebron James would have been attending school in Durham, North Carolina at Duke University.
LeBron would have done exactly what he did in the NBA, but tenfold. His presence in the college game would be such an invigorating factor, every future season would seem lackluster comparatively. LeBron's game has revolutionized the NBA, so just imagine what he would do to the skinny freshman in college that weren't good enough to go straight to the NBA.
LeBron's presence in Durham could have ran J.J. Redick out of town. He'd be a man among boys. When he played in the NBA at first, he was already one of the best players in the game. In college, he would transcend what the meaning of athleticism is. He probably wouldn't have averaged that many points or assists as he would be in a system that was obviously working very well already, but his ability to change a game of basketball would be all that he would need.
He could play anywhere Coach K would need him to. He could muscle up in the post, run the point, shoot if needed or defend anyone on the floor. He would just need direction. And Coach K would give it to him. Honestly, if LeBron had the right coaching, he could ascend to the best there ever was in college basketball. I have full faith that he would win the Player of the Year Award at least once in four years. He would probably have led Duke to a title that they wouldn't have otherwise won and made himself a legend on Tobacco Road.
To sum it all up, it would be unfair to every other college if LeBron James had gone to play at Duke.
Keep Reading