Taking the Next Step: Returning College Basketball Players Primed to Break Out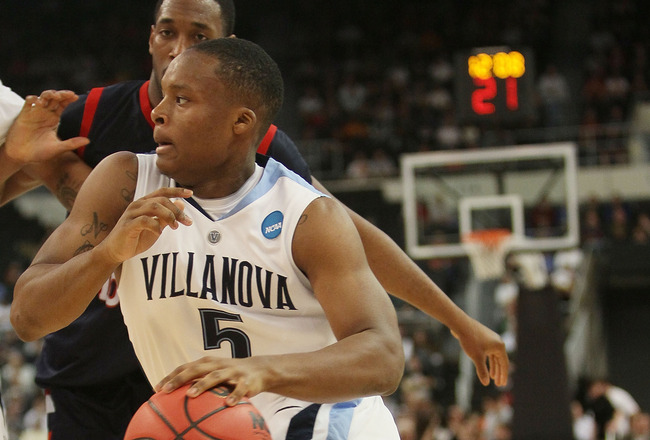 Elsa/Getty Images
Can you feel it?
College basketball is here. For those of us who eat, breathe and sleep NCAA hoops, this is one of the most exciting times of the year.
Midnight Madness has come and gone. While it might have subjected us to some awkward dancing, it also presented us with our first look at the returning stars and incoming freshman alike.
But one of the best parts of any college basketball season is noticing how much that project player from last season has matured and improved over the summer and is now a viable star this season.
In the day and age of "one-and-done" superstars, it would seem that there are more opportunities than ever for guys who stick around to step up because their program's best player decided to leave early and pursue an NBA career.
And while we almost always start our college basketball conversations with the impact freshmen and guys who dominated last year that figure to do the same again this year, it can be just as important to talk about those players who are ready to break out after a season or two of getting their feet wet.
This list is comprised of players who either paid their dues while sitting behind some great players or guys who played solid ball last season, but look ready to take their game to the next level.
Jordan Hamilton—Texas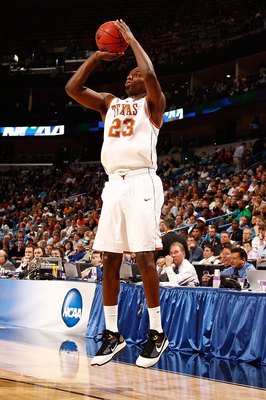 Chris Graythen/Getty Images
At the start of last season, Hamilton was one of the most heralded incoming recruits in the nation.
But the 6'7'' forward had an inconsistent freshman year for the Longhorns in which he showed poor shot selection and played selfishly at times.
But this doesn't mean that Hamilton didn't show flashes of brilliance as well last season.
While he only played 20 minutes per game for a deep Texas team, Hamilton displayed that he was a more than capable scorer. He averaged 10 points per game and posted a few breakout performances against Oklahoma State and Missouri, in which he scored over 20 points and established himself as a legitimate threat from beyond the arc.
In addition to his scoring ability, Hamilton has shown that he can make a difference on the glass. As he matures, Jordan should be a much better playmaker for Texas because he will command much of the opposing team's attention when he has the ball in his hands.
He's not the most athletically gifted player you ever saw, but the California native simply has a knack for putting the ball in the basket.
With the departures of Damion James, Avery Bradley and Dexter Pittman, Jordan Hamilton should have plenty of opportunities to do just that.
Alex Oriakhi—Connecticut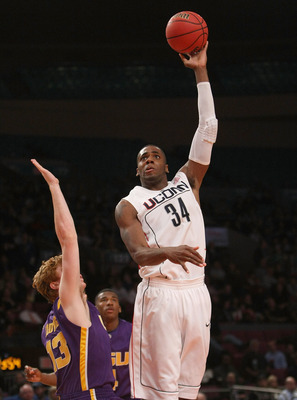 Nick Laham/Getty Images
If you watched any UConn games last season, chances are that you saw Oriakhi looking just a step too slow on pretty much every play.
You probably also saw Jim Calhoun yelling at the freshman like he had a bet with his assistants that he could make Oriakhi cry before the game ended.
But Calhoun is known for being the hardest on the players he expects the most from. Oriakhi is blessed with incredible athleticism and length in his 6'9'' frame, which gives him the potential to be a force rebounding the ball as well as a major factor on defense.
Despite his athleticism, the Massachusetts native had himself a somewhat disappointing freshman season. He struggled offensively and showed that he was still an extremely raw player whose game needed a fair amount of polishing.
All things considered, he put up decent averages of five points and 6.6 rebounds per game. But it's clear that a player with his physical skill set is capable of doing much better than that.
During the offseason, Oriakhi committed himself to becoming a more complete basketball player as well as hitting the gym to add some weight to his frame.
Because of this, his offensive game and post moves should be improved from last season. But Calhoun would probably be happy if Oriakhi became the big-time rebounder and shot blocker that he was hoping for when he recruited Alex.
As the start of the Huskies' 2010 season approaches, it's clear that Oriakhi will be more mature, experienced, and composed.
This should give him every opportunity to live up to his potential to become a dominant player around the basket.
John Jenkins—Vanderbilt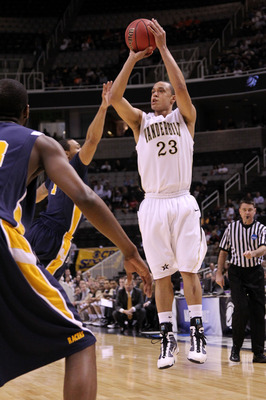 Jed Jacobsohn/Getty Images
Lost amid another disappointing Vanderbilt first-round exit from the NCAA Tournament was the emergence of freshman shooting guard John Jenkins.
The 6'4'' sharpshooter hit 48 percent of his threes during his freshman season, showing that he's got one of the better strokes in the NCAA from behind the arc.
While Jenkins has some work to do becoming a better distributor, his shooting touch is as consistent as they come. He's perfectly comfortable spotting up and draining shots when he's open or with a defender in his face.
Playing on an above-average Vanderbilt roster, Jenkins started the 2009 season coming off the bench, where he quickly showed that he could make defenses pay for leaving him unguarded. He went for double figures in 12 out of his first 17 collegiate games.
As the season progressed, it became tougher to keep Jenkins off the floor. By the end of February, Kevin Stallings and the Vandy coaching staff had enough confidence in the freshman to start him in some of the team's most important games.
With the departures of leading scorers Jermaine Beal and A.J. Ogilvy, the Commodores will be looking for players to step up and carry the scoring load.
This should allow Jenkins and his feathery shooting touch to scorch the nets all season long.
Wally Judge—Kansas State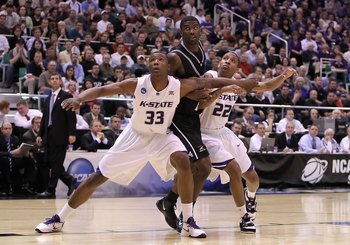 Christian Petersen/Getty Images
There were few incoming freshman in 2009 that entered the college basketball scene with as much potential as Wally Judge.
The 6'9'' power forward is as athletic as they come, weighing in at a chiseled 245 pounds and possessing superior leaping ability, quickness, and length. All of which make him a potential hazard for opponents under the basket and in transition.
However, Judge had his share of struggles during his freshman season. He averaged an underwhelming 3.3 points and three rebounds per game while continually finding himself in foul trouble.
In addition to adjusting to playing at the collegiate level, Judge dealt with a spinal injury for his entire freshman season that manifested itself as back pain and made it difficult for Wally to extend his arms above his head.
Judge underwent a surgical procedure over the summer to fix these issues. He has said that he feels like a new player, which is great news for Kansas State and really bad news for everyone else.
With a full season of experience under his belt (which included an Elite Eight appearance) and finally having a clean bill of health, Judge should emerge as a dominant post presence for the Wildcats this season.
Pairing with teammate Jacob Pullen, Judge makes KSU one of the best inside/outside combos in all of college basketball.
Darius Johnson-Odom—Marquette
Jed Jacobsohn/Getty Images
Johnson-Odom had himself a quality season for the Marquette Golden Eagles in 2009.
He Posted 13 points per game and managed to crack the starting lineup by the end of the season.
And while his first season for the Golden Eagles turned some heads, the former junior college transfer appears primed to have an even bigger impact in 2010.
The biggest strength of Johnson-Odom's game is his lethal shooting touch, which allowed the 6'2'' southpaw to hit 47 percent of his threes and consistently knock down shots with his feet set or off the dribble.
But Johnson-Odom's game is far from one-dimensional.
He's also an above average distributor who possesses a quick first step that allows him to get into the lane as well as being a very good and physical defender.
While Johnson-Odom is an undersized shooting guard, he more than makes up for this with his effort and athleticism.
He should emerge as one of the best players in the Big East this season while providing Marquette with another go-to scorer besides Jimmy Butler.
Deniz Kilicli—West Virginia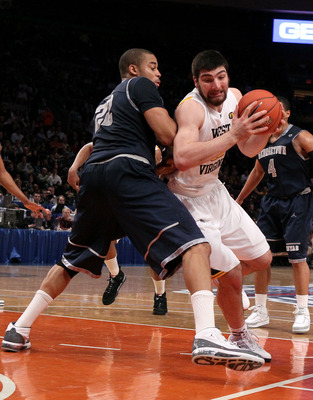 Jim McIsaac/Getty Images
Deniz Kilicli was supposed to infuse an already-stacked West Virginia team with a viable post presence in 2009.
But after sitting out for the first 20 games of the season because he played with professionals on a Turkish basketball team, Kilicli was never able to find his stride.
When he was finally eligible to play, the Turkish import was thrust into the heart of Big East competition. It was clear that, while he could score with anyone, his rebounding and defense were a liability whenever he was on the court.
While it looks like the bearded 6'9'', 270-pound Kilicli spends his free time uprooting trees from the ground, he didn't play with the toughness that was necessary to make him a game-changing big man for the Mountaineers last year.
As we enter the 2010 season, Kilicli has vowed to become a more motivated rebounder. His coach, Bob Huggins, has already said that he sees an improvement in that area of the power forward's game.
Assuming that Kilicli is more dedicated to hitting the glass this season, there's little doubt that he will be able to help West Virginia immensely. He does possess an extremely-polished post game, which allows him to score easily with his back to the basket as well as being able to step out and hit the open jumper.
Because West Virginia lost two of its leading scorers (Devin Ebanks and Da'Sean Butler) to the NBA, this should give Kilicli the chance to play a huge role in the Mountaineers offense in 2010.
As long as he can do the other things that Bob Huggins expects out of a big man.
Maalik Wayns—Villanova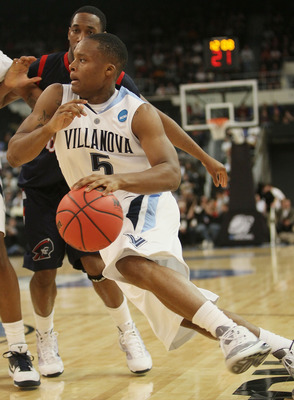 Elsa/Getty Images
Despite being stuck behind Scottie Reynolds and Corey Fisher last season, it was difficult for Jay Wright to hide how special Maalik Wayns figures to be in 2010.
The 6'1'' sophomore point guard is one of the quickest players in the country and when he has the ball in his hands, he simply looks like he's playing at another speed than everyone else.
Wayns possesses the quickness to blow by even the best defenders, which allows him to wreak havoc in the lane.
And while he's nearly impossible to stay in front of in half court sets, he's pretty much a blur on fast breaks blowing by any and all defenders in his path to the basket.
The Philadelphia native is also a tough competitor who is a solid defender. Even though he's known as a player who takes it to the hole, he showed last year that he is capable of doing damage with his jumper.
The departure of Scottie Reynolds leaves a big void on the Wildcats roster, but it also presents Wayns with a great opportunity to show just how talented he is.
Wayns should team with Corey Fisher to make one of the best backcourts in the country.
While he averaged just 15 minutes and 6.8 points per game last season, he figures to be one of the top players on a Villanova team that experts have pegged as one of the best in the nation.
Tyler Zeller—North Carolina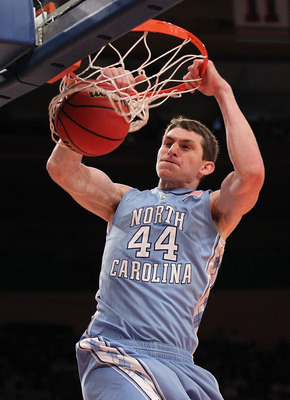 Nick Laham/Getty Images
It seems like we've been hearing the hype about Tyler Zeller coming into the last three seasons.
But the seven-footer hasn't been able to live up to these lofty expectations through the first two years of his college career.
Zeller's disappointing play over his North Carolina career can be largely attributed to injury troubles which caused the talented big man to miss a combined 33 games over his first two years. That never really allowed him to settle into a defined role on Roy Williams' roster.
It also didn't help that Zeller was playing in a crowded Tar Heels frontcourt which featured guys like Tyler Hansbrough, Ed Davis and Deon Thompson.
But in 2010, Zeller will be assuming a prominent starting role on a North Carolina team that will be looking to redeem what was a disappointing 2009 season.
There's little doubt that the junior power forward has all the tools necessary to become a productive leader for the Tar Heels. He's very mobile on the court and also possesses a post game that allows him to score with his back to the basket at an efficient rate.
When you combine this with his soft hands, length and above-average rebounding, Zeller figures to vastly improve upon his 9.3 points and 4.6 rebounds he averaged last season.
He should emerge as one of North Carolina's go-to players.
Quincy Acy—Baylor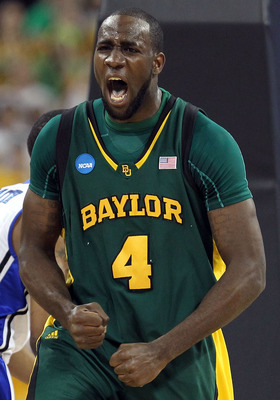 Ronald Martinez/Getty Images
Coming off one of the best seasons in Baylor's history, Scott Drew's squad faces the daunting task of replacing Ekpe Udoh, who was a huge part of the team's run to the Elite Eight in last season's NCAA Tournament.
Luckily for Drew, he has Quincy Acy, who looks primed to have a breakout year in 2010.
The 6'7'' Acy plays bigger than his height, thanks to his jaw-dropping athleticism which allows him to play above the rim and deliver some of the most vicious dunks in the nation.
Coming off Baylor's bench last season, Acy dunked his way to 9.3 points per game on an astounding 69-percent shooting while also adding just over five rebounds per game.
This season, Acy will be one of the Bears starters and should continue to rattle rims and bully opposing post players down in the paint because of his great combination of strength and athleticism.
While Acy's scoring range doesn't extend out to more than a few feet, he's extremely skilled at taking only high percentage shots.
He should be one of the more efficient scorers in the country this season while providing some great hustle on both ends of the floor.
Brian Williams—Tennessee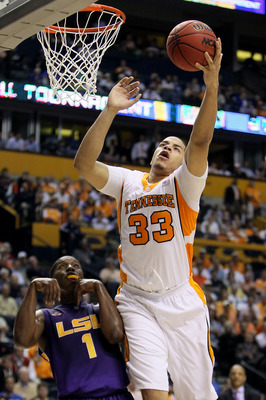 Andy Lyons/Getty Images
Another post player who has big shoes to fill is Tennessee's Brian Williams.
He will be looking to replace the departed Wayne Chism, who was the Volunteers' leading scorer and rebounder a season ago.
Williams is a rare breed in college hoops these days, as the 6'10'' 280-pound behemoth has stayed at Tennessee for the last three seasons. He enters his senior campaign as an experienced post player who's been around the college hoops landscape for quite some time.
During what was Tennessee's deepest tournament run ever, Williams played a huge role during the month of March. After securing a starting spot, he provided tough, physical play under the basket and did the dirty work on the glass, which allowed the perimeter players to shine.
In 2010, the Bronx native will be given the opportunity to play a bigger role in the Tennessee offense. It would seem that he's taking this opportunity very seriously, as he reportedly will be coming into the season in the best shape of his life.
With some extremely talented guards and wings on the roster, including Melvin Goins, Scotty Hopson and Cameron Tatum it would appear that Williams won't be most teams top priority.
This should bode well for the center, who should have a breakout 2010 season.
Michael Snaer—Florida State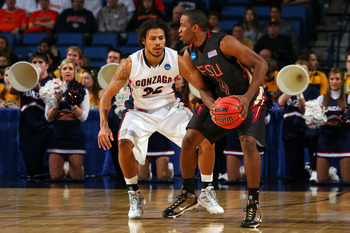 Rick Stewart/Getty Images
Snaer is a player who possesses tremendous upside thanks to his explosive playmaking ability and proficiency scoring the basketball.
Last season, he was one of the most highly-touted recruits in the country. But the athletic 6'5''guard came off the bench until February while he adjusted to the pace of the collegiate game.
Snaer had an up-and-down season which saw him play 23 minutes per game and average nearly nine points per contest. But he had a lot of trouble taking care of the basketball and at times simply played too fast for his own good.
That being said, Snaer could very easily lead Florida State in scoring this season thanks to his ability to get to the basket and finish among bigger players. While his shooting touch isn't lights out, he should be able to improve upon last seasons mediocre percentages as long as he focuses on taking better shots.
The California native is a demon on the defensive side of the ball and made contributions to the best defense in the country last season as he was able to guard multiple positions thanks to his quickness, size and tenacity.
While Snaer needs to slow his game down and put more of an emphasis on taking care of the ball, he's a superior athlete who should flourish in his second season at Florida State and provide them with some much-needed scoring.
Matthew Bryan-Amaning—Washington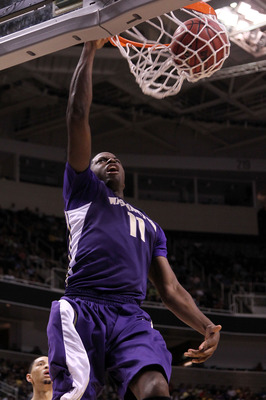 Jed Jacobsohn/Getty Images
For his three seasons on the Huskies, Matthew Bryan-Amaning has been a solid role player that gave the team another big body who could bang underneath the basket.
But as a senior, it seems that it is Bryan-Amaning's time to emerge as a go-to post option for Lorenzo Romar and the Huskies. The departure of Quincy Pondexter, who led the team in scoring and rebounding last season, opens the door for the 6'9'' 240 pound Bryan-Amaning to make his name known around the nation.
Despite getting out to a relatively slow start to his junior campaign, the London native raised his level of play during the second half of the season. He managed to score in double figures in 10 of the Huskies' last 14 games.
This includes a 15-point, nine-rebound performance against New Mexico in the NCAA Tournament, which helped Washington advance to the Sweet 16.
Bryan-Amaning is also a tremendous shot blocker in the low post and a gifted finisher around the rim who isn't afraid to take it strong to the cup, which helped him shoot 54 percent from the field last season.
Playing on a Washington team that has high expectations after last seasons success, Bryan-Amaning will be counted on to stay out of foul trouble and provide some low-post scoring and rebounding on a team that features the brilliant perimeter play of Isaiah Thomas.
Because of the hard work he has put in over the offseason and his increased role for the Huskies in 2010, Bryan-Amaning will vastly improve upon his 8.8 points and 5.9 rebounds from last season.
Keep Reading